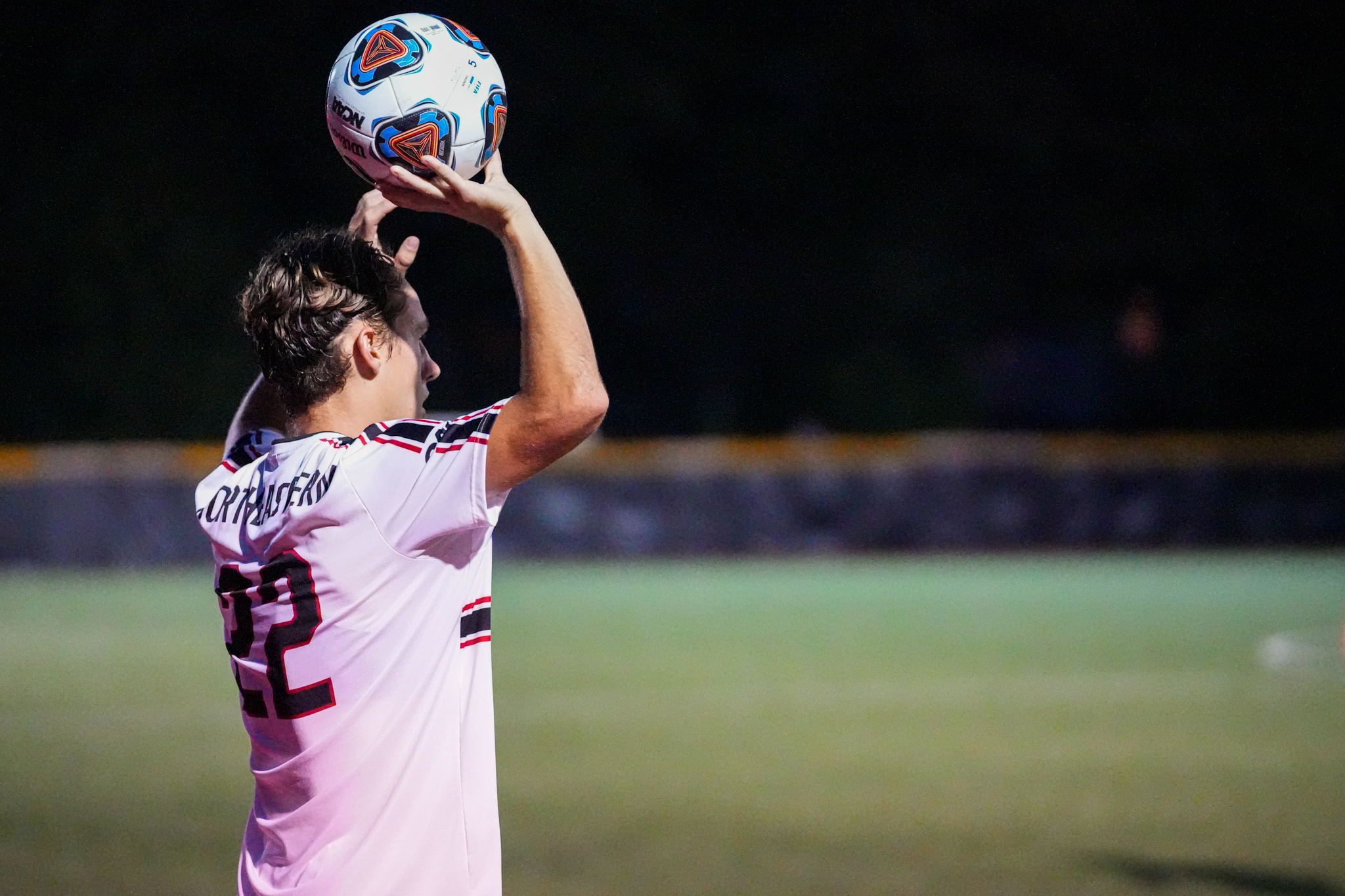 In his first year as head coach of the Huskies, Rich Weinrebe had 13 new players join his squad. Four of his five transfers — Tobias Wangerud, Fabrizio Cubbedu, Ole Kjørholt, and Ahria Simons — made instant impacts for Northeastern. That group made 58 starts combined for the team last season.
The freshman class was more of a mixed bag for Weinrebe. Midfielder Sami Baiche started in all but one game for Northeastern and Fraser Brown had two goals and two assists across his 17 games, but few others made meaningful contributions as rookies.
While the Huskies didn't lose too many players from last year's squad, they will be without Baiche and Kjørholt as well as forwards Ryan Massoud and Timothy Ennin. While last season was disappointing for the latter two, the Huskies are still losing very capable finishers with 36 career-goals between them.
Freshmen
Thomas Vold: Defender
Høvik, Norway
Vold comes in as the oldest player of Northeastern's rookie class. The 21-year-old full-back from Norway began his career as a club player for Stabæk Fotball. Vold eventually saw action for Stabæk II and was a member of the club's senior team that advanced to the highest division of Norwegian football. When it came to what qualities most stuck out to him, Weinrebe noted Vold's "excellent pass range, quickness, and versatility." While he brings in a ton of experience for a freshman defender and has impressed his coach with his skill, Vold still may be hard pressed to find minutes with Simons and fellow starting full-back Zach Sauer returning.
Mathias Hille: Defender
Tanus, Germany
Weinrebe is bringing in another foreign born freshman in Hille. Hille, who turns 20 in November, played for two different clubs in his native Germany before deciding to join the Huskies. Initially a midfielder for SV Wehen Wiesbaden's youth sides, Hille moved to center-back full time when he joined FC Eddersheim. The defender started in the majority of Eddersheim's games last season in the German sixth division. While he may not be the same player as Kjørholt right away, Hille's 6-foot-1 frame provides a solid option for replacing his size in the center of the back line. Weinrebe mentioned how the program was "thrilled" about the defender's "potential impact on day one."
Gus Mendieta: Defender
Charlotte, North Carolina
The lone east coaster in this year's group of newcomers is Mendieta. The 5-foot-10 defender from Charlotte was a two-time All-State honoree during his time at the Carmel Christian School and went to three state championships, winning one. Outside of high school, Mendieta played club soccer for Queen City Mutiny's U19 team in MLS Next. Throughout his club and high school career, Mendieta showed his talents all across the back line.
Neil Devnani: Midfielder
Los Altos, California
Devnani is the only midfielder in this group of freshmen Huskies. The 5-foot-9 California native impressed Northeastern with his "vertical burst" and "high soccer IQ." As a club player, Devnani saw action in both the Elite Clubs National League and in MLS Next. Last year, the midfielder averaged just under 80 minutes a game for Silicon Valley Soccer Academy's U19 team.
Transfers
Lucas Baran: Grad Student Defender
Minas Gerais, Brazil
Over his three seasons with Division II University of West Florida, Baran started in all 36 of the games he played in. It's possible that the grad student slots in right away in Northeastern's back line, replacing Kjørholt. Last season, Baran earned the captain's armband for the Argonauts and Weinrebe expects his leadership skills to carry over this year in Boston.
"[He] is a born leader who is always looking to improve and grow," Weinrebe said. "He'll bring a maturity to our back line that is needed in tight games, and tense moments."
Kevin Ogudugu: Graduate Student Forward
Oslo, Norway
Ogudugu comes to Northeastern as a grad transfer, having spent the last four seasons at the Universities of Virginia and Portland. As a sophomore with the Cavaliers, the 5-foot-9 forward played in all 16 games, started in 11 and contributed three goals and one assist. However, Ogudugu has been challenged by injuries over the last two years. He played just five games for Virginia in 2021 and did not make an appearance last season. If he's healthy, he should instantly boost a Northeastern offense that scored just 1.17 goals per game last season after averaging 2.11 the year before. With both Massoud and Ennin gone, Odugdu should line up with Wangerud as a starting forward for Northeastern this season.
Gregor Shaw: Graduate Student Goalkeeper
East Sussex, England
Northeastern will be the first American team of Shaw's football career. Before joining the Huskies, the 6-foot-3 Englishman played professionally in England's sixth, seventh, and eighth divisions. Shaw had two stints as a reserve goalkeeper for Eastbourne Borough FC with a stop at South Park Reigate FC in between. While Colby Hegarty will most likely retain his starting job between the pipes this season, Shaw will provide some solid insurance behind him. The only other keeper on the roster is senior Owen Kempton, whose sole collegiate appearance came in 2020 when he allowed four goals against Hofstra.
Ethan Franco: Junior Forward
La Jolla, California
In his first season with Colby College in 2021, Franco was named NESCAC Rookie of the Year after scoring eight goals. Last year, the forward's production for the Division III Mules slowed slightly. Playing in 13 total games (nine starts), Franco only scored four goals but did have a career-high four assists. While Northeastern will be his first Division I experience, Weinrebe is excited about what he will bring to the forward group.
"Ethan is a dynamic attacking player who is joining us from the most competitive Division III conference in the country," he said. "He is fantastic with the ball at his feet and is hungry to prove himself at the Division I level."
Kade Tepe: Sophomore Defender/Midfielder
Oregonia, Ohio
Tepe is the youngest of Weinrebe's transfer additions, coming to Northeastern for his sophomore year. Last season he played in all 20 games for IUPUI, earning a spot on the Horizon League All-Rookie team after tallying three assists. Before college, Tepe played for FC Cincinnati's youth academy and also trained with the Mexican national team. Tepe's versatility is a part of what drew Weinrebe to him. Throughout his career he's shown the ability to play throughout the defense and midfield.
Altogether, Weinrebe needed to use this offseason to find a replacement for Kjørholt in the middle of his defense and add some reinforcements to his attack.
Baran should solve the problem at starting center back and if not, Vold and Hille have the pro experience to step up and start as freshmen. Up top, it looks like Northeastern nailed the mark with the additions of Udugudu and Franco. At least one of the two should start alongside Wangerud or Brown.
In the midfield, the Huskies only really had to replace Baiche, as they still have one of the best playmakers in the conference in Federico Tellez. If Weinrebe doesn't find a use for Tepe in the defense, he could see some midfield action next to Tellez and there are still plenty of talented holdovers from last year's reserve group.
With this group of newcomers, Weinrebe gets to further reshape the roster in his preferred image and has a chance to contend for a conference title in his second season in charge of the Huskies.