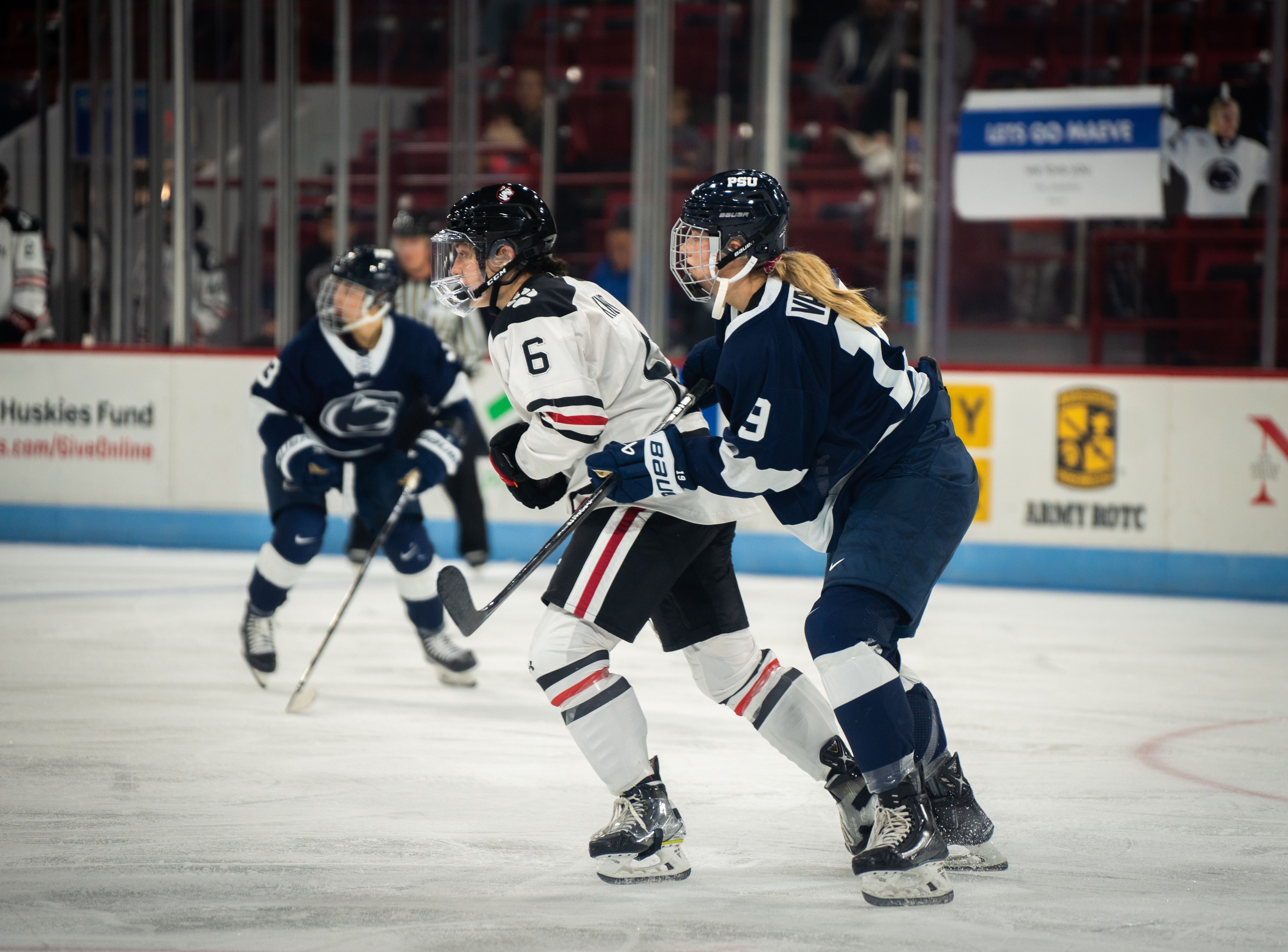 BOSTON — For the past five years, this weekend's series split with Penn State would have been a major disappointment for Northeastern.
But for this season's retooling squad?
Growing pains are to be expected. Perfection is no longer the measuring stick, and the Huskies won't demolish opponents every night on pure talent alone.
Opening the season with a two-game set against the 11th-ranked Nittany Lions, the new-look Huskies secured a tight a 1-0 victory in Saturday's opener, before dropping Sunday's rematch 2-1. Northeastern's young offensive pieces jelled for stretches of both games, but struggled to string together extended shifts of good play. The defense imposed their physicality at times, but also had repeated trouble winning forechecking battles and covering the weak side in their defensive end — all challenges the staff anticipated working through.
"From a systematic standpoint I think we're a little bit ahead of schedule to be honest with you," said Northeastern associate head coach Nick Carpenito. "We would love to have come out of here with two wins, but we'll take a split against a really, really good team with a quality defense. We built a pretty good foundation this weekend."
Both of the Huskies' goals this weekend were scored by promising young forwards, with freshman Peyton Compton delivering a power play goal in Saturday's win, and sophomore Lily Shannon blasting right-circle snipe in Sunday's opening frame. There was plenty to build on, and also reminders of Northeastern's new-normal after losing three of college hockey's top forwards in one offseason.
Here are four takeaways from the Huskies' first two games:
First line goes young around Katy Knoll
Among the most Huskies' most intriguing questions entering the weekend was who would play alongside fifth-year senior Katy Knoll on the Huskies' top line.
The answer: sophomore Holly Abela, who recorded six points in 36 games last season, and freshman Allie Lalonde, a highly-touted prospect lauded for her playmaking and eye-popping production in juniors.
On paper, pairing those two developing skill sets with the veteran Knoll makes perfect sense: Abela won't blow anyone away with any singular physical attribute, but her ability to carry the puck on breakouts and zone entries and distribute without panicking was a major reason why the first line was the Huskies' best at controlling possession on Sunday.
In contrast, Lalonde was explosive in transition and had some impressive dangles and forechecking sequences that translated into rapid-fire shot attempts, which also led to her team-leading six shots on goal during Sunday's contest.
"Katy's big, powerful, and can push most people around," Carpenito said. "I think Holly's a pretty big time playmaker, and Allie's kind of in between those two. I think [Lalonde] has opportunities to create for herself, but she's very good distributor as well."
Knoll only had four shots on goal over the first two games, and Penn State's big defensive front created challenges for her to move without the puck and find space for dirty-area goals.
"We want Katy Knoll going to the net, because that's where Katy Knoll does Katy Knoll things," Carpenito said. "She was a bit too [much on the] perimeter this weekend for that line to be effective, because she's the engine that they run through."
Power play has highs and lows, but give it time
The Huskies' lone goal Saturday came on the power play, but they failed to capitalize during any of their other chances this weekend. Though returning fifth-years Peyton Anderson and Megan Carter have prior experience on the advantage, there's no way to replace the production of Alina Müller, Chloé Aurard, and Maureen Murphy without some major growing pains.
Stepping into their place is Knoll, Lalonde, and Lily Shannon, with juniors Skylar Irving and Taze Thompson also seeing 5v4 time behind them. Penn State was fifth in the nation in penalty kill rate last year (89%), and special teams is one area where Carpenito and the staff expect a steeper learning curve.
"Even if you look back the last couple of years when we had certain other offensive weapons, the first couple of weeks usually weren't great [on the power play]," Carpenito said. "Our set is pretty unique and different and has a lot of movement, a lot of different cues."
The defense had bright spots, but also needs to tighten up
Northeastern's 21.6 shots allowed per game was tied for the NCAA's third-fewest shots allowed last season, and if these two games are any evidence, that number will climb this year.
It would be unfair to draw sweeping conclusions from just two games, especially with the pristine track record of Carter and senior Lily Yovetich on the top pairing. Still, the Huskies' defense will likely have some fixable miscues and defensive assignments to clean up on video as they prepare for LIU next weekend.
Penn State's Tessa Janecke was causing problems for Northeastern all weekend — she was probably the best skater on the ice — but it wasn't just her; a handful of Nittany Lions' skaters were slipping loose on breakaways and connecting on backdoor feeds. Penn State was physical inside on offense, and caused issues on the interior that Northeastern may not encounter against many of their Hockey East opponents.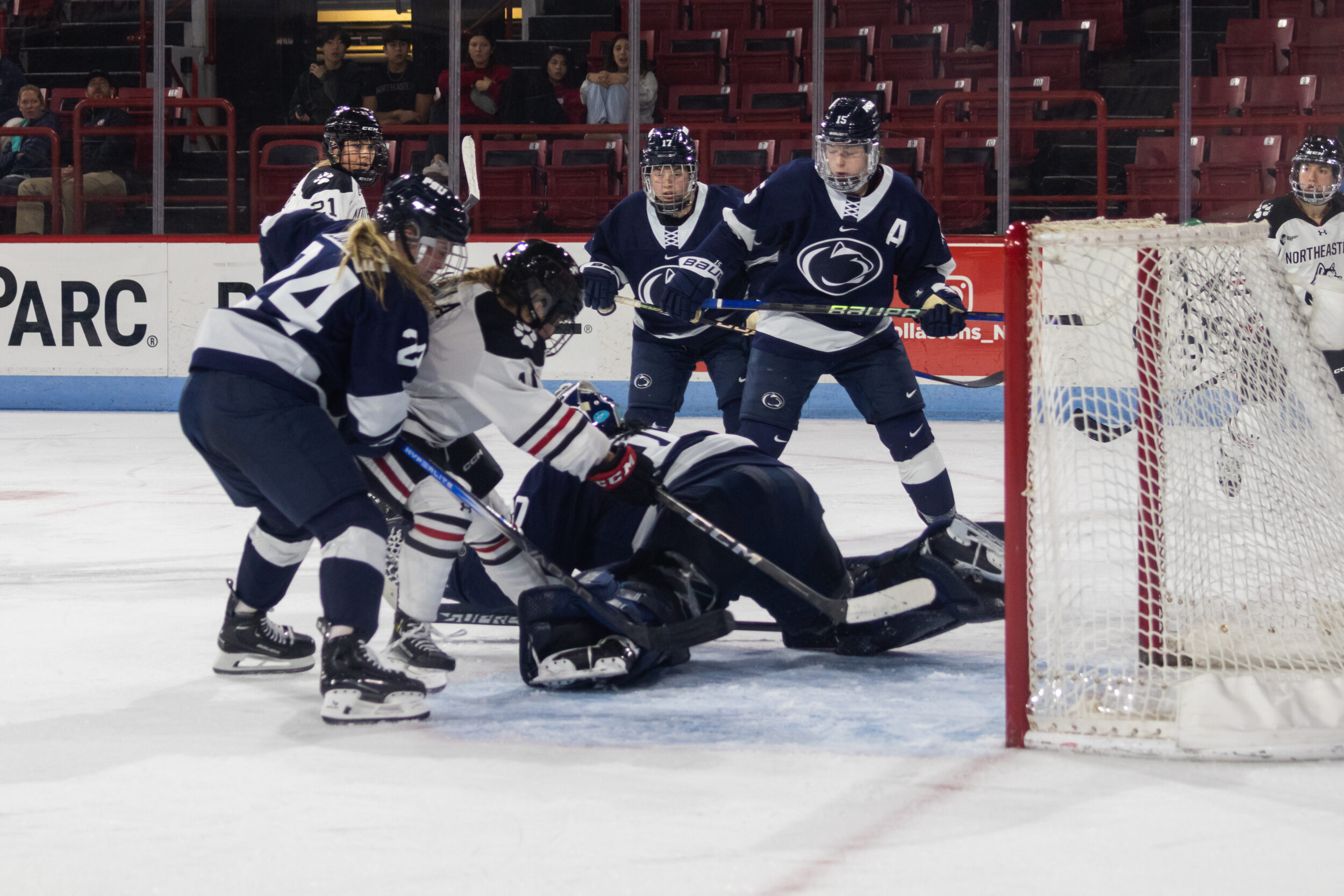 Gwyneth Phillips covered up many of the miscues with an outstanding performance in both games, allowing just two goals on 66 shot attempts, including some dangerous looks in transition.
Still, higher opposing shot totals will become more frequent this season without the Huskies' own first line dramatically controlling possession while on the ice, and miscues from younger players breaking out of the defensive zone.
Case in point: Penn State outshot Northeastern in both games this weekend, with a 27-23 margin on Saturday and 39-30 on Sunday. The last time the Huskies were outshot in the regular season was on Dec. 13, 2020 — almost three years ago. Likewise, the 39 shots she faced Sunday was the most Northeastern has allowed in a regular-season game since Feb. 14, 2020.
Skylar Irving is back at center, and Taze Thompson moves to wing
Irving burst onto the scene as a freshman in the 2021-22 season primarily playing center, but she was bumped to wing last season because of Knoll's move to center and the arrival of Thompson and Shannon. Though it only translated to six goals last year, she was still third on the team with 144 shots on goal — indicating room for an uptick.
Now slotted on the second line with wingers Thompson and Anderson, the staff feels confident Irving can hold up in the middle and increase her overall impact on both ends.
"Center was our initial plan for [Irving] when she first got here. She struggled a little bit with the D zone initially, but she's probably one of our defensive centers this year," Carpenito said. "Offensively, when she's not restricted to one half of the ice or in one lane as a winger, she's a lot more effective — especially in transition."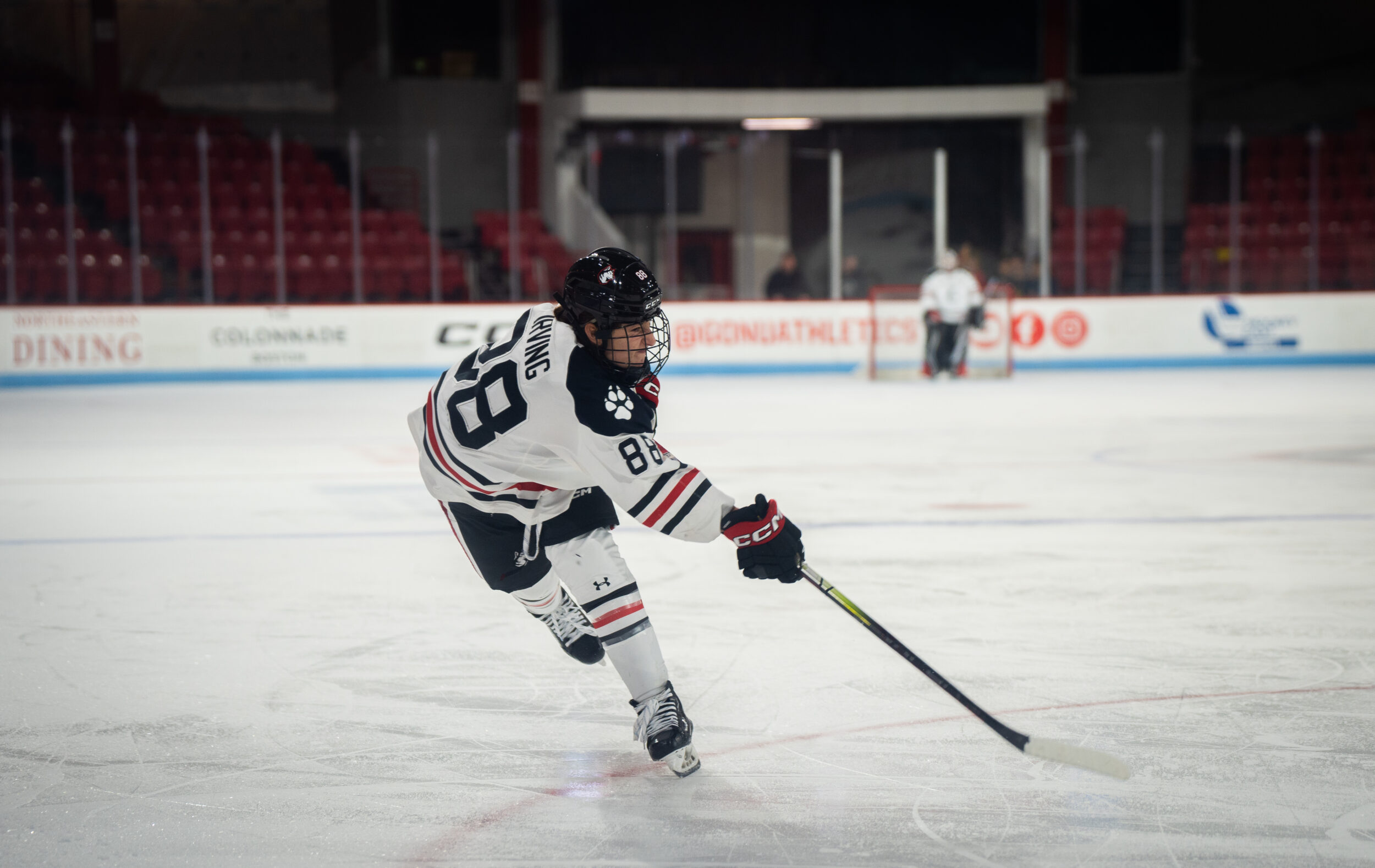 Thompson played both wing and center last year, and was the Huskies' top faceoff taker at 62.4% (181-109). Now at wing full-time alongside Irving, she did not take a single faceoff attempt this weekend — and overall, Penn State won 56.3% of faceoffs across both games.
Thompson only totaled four shot attempts over the weekend, including just one on net. Like Knoll, she may also have been disrupted slightly by Penn State's physical interior, and her fit with Irving had both bright spots and areas for improvement.
There are plenty of lingering questions after these two games, but that's perfectly normal for any team, and especially one with as much top-end roster churn as the Huskies had this offseason. The competition will get easier next weekend, when they head to New York for a two-game series against an LIU squad they outscored 13-2 in two contests last year.
For the first time since the upset to Boston College in the 2022 Beanpot semifinal, Northeastern's fans left Matthews Arena on the losing side Sunday. But with the impressive talent and flashes of elite potential this weekend, there's good reason to believe there won't be too many more sour endings to come.
WRBB Sports will have written coverage of next weekend's series against LIU, before returning to the airwaves on Friday, Oct. 6 for a rivalry showdown against Boston University.