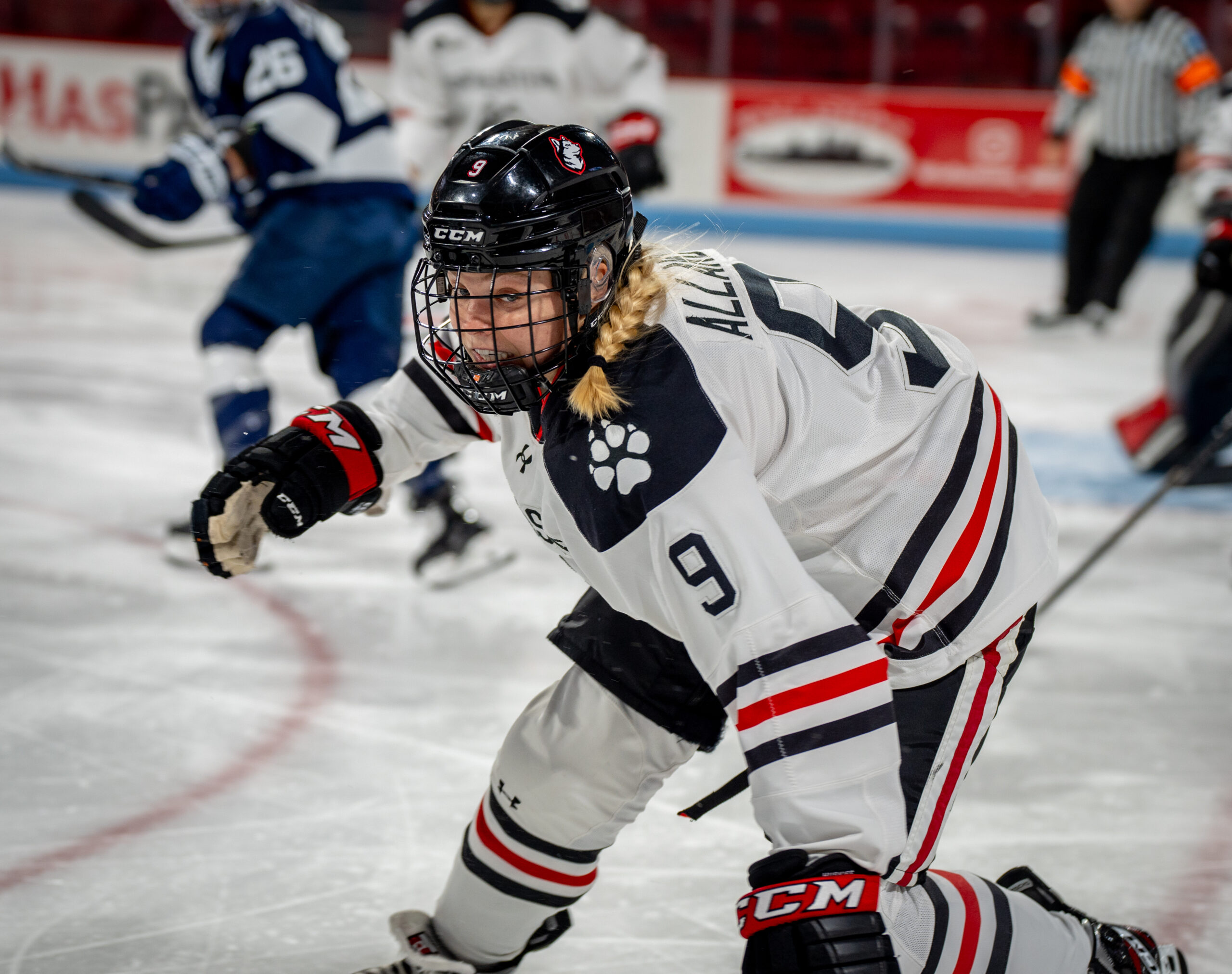 It was the ninth game of Kristina Allard's college career, and the New Hampshire native had family and friends on hand at the Whittemore Center for her first-ever meeting against her home-state team, UNH.
She never could have imagined how that game would change the course of her hockey career.
During her standout prep career at St. Paul School, Allard was a two-time captain, league MVP, and All-New England honoree. She was a prized recruit in Northeastern's 2022 class, and was already making an impact for the Huskies' defense early in her freshman campaign.
But during that Nov. 4 game last year, her dream was seemingly put in jeopardy. With just a few minutes left in the third period, Allard was hit while retrieving a puck, sending her knee into the boards. That pop — which would turn out to be an injury in her ACL and MCL — would be the season-ending moment for her, and she faced a nine-month road to recovery to resume one of her greatest passions.
Now, nearly 11 months after her devastating season-ending injury, Allard has made a full recovery ahead of her sophomore season. In the Huskies' season-opening series against Penn State this past weekend, she was on the third defensive pairing for both games.
"I remember my knee getting pinned and I heard something just pop and I knew immediately something was wrong," Allard explained. "I thought 'it's not that big of a deal, I'm gonna go out another shift.' My knee gave out and I fell in the middle of the ice."
In high school, Allard played track and soccer alongside hockey, and thrived in all three sports. To the Northeastern coaches, Allard projected to make an impact starting on day one with her well-rounded capabilities.
"The fact that she was a complete package athlete, once we figured that out about her [was] what sealed the deal for us," associate head coach Nick Carpenito said. "We knew that she would do really good things for her on the ice, but we knew she'd be a culture driver and someone that would be a beacon of our program."
Between soccer, track, and hockey seasons, Allard had been constantly on her feet from a young age. Now, she had to resort to a more sedentary lifestyle.
"A lot of people would struggle with that concept of just having to sit out for the rest of the season. At first it's kind of hard to grapple with, because you're not expecting those things to happen to you," Allard said.
While Allard worked to stay active and upbeat, the emotion her coaches felt most was sadness.
"The toughest part of it for us was seeing her starting to tilt her trajectory upwards and having everything stop." said Carpenito. "We were definitely bummed out but her recovery process was pretty incredible to watch as she figured out what to do and how to respect the process."
Her recovery involved a big focus on mental health, and her teammates were there every step of the way to make her a part of their family. She was putting in the physical work every day to build back strength and endurance in her knees, trying to make a speedy recovery.
Even with her injury, Allard was always showing up to practice to encourage her teammates. Likewise, her teammates would always check in with her and huddle around her on the bench, pushing her and giving her the motivation to come back.
"They still wanted me to be a part of the team even though I wasn't physically on the ice. I'm never going to forget that. For the rest of my life I will never forget the way they treated me and made me feel included," Allard said.
Allard was at every game, observing the action and learning from the motions of different passes and blocks, even if she wasn't on the ice.
"When you're out there in the stands watching the games, you get a general understanding of how plays develop," Carpenito said. "It was a reinforcement for all of the little things that she was really starting to excel at right before she got hurt."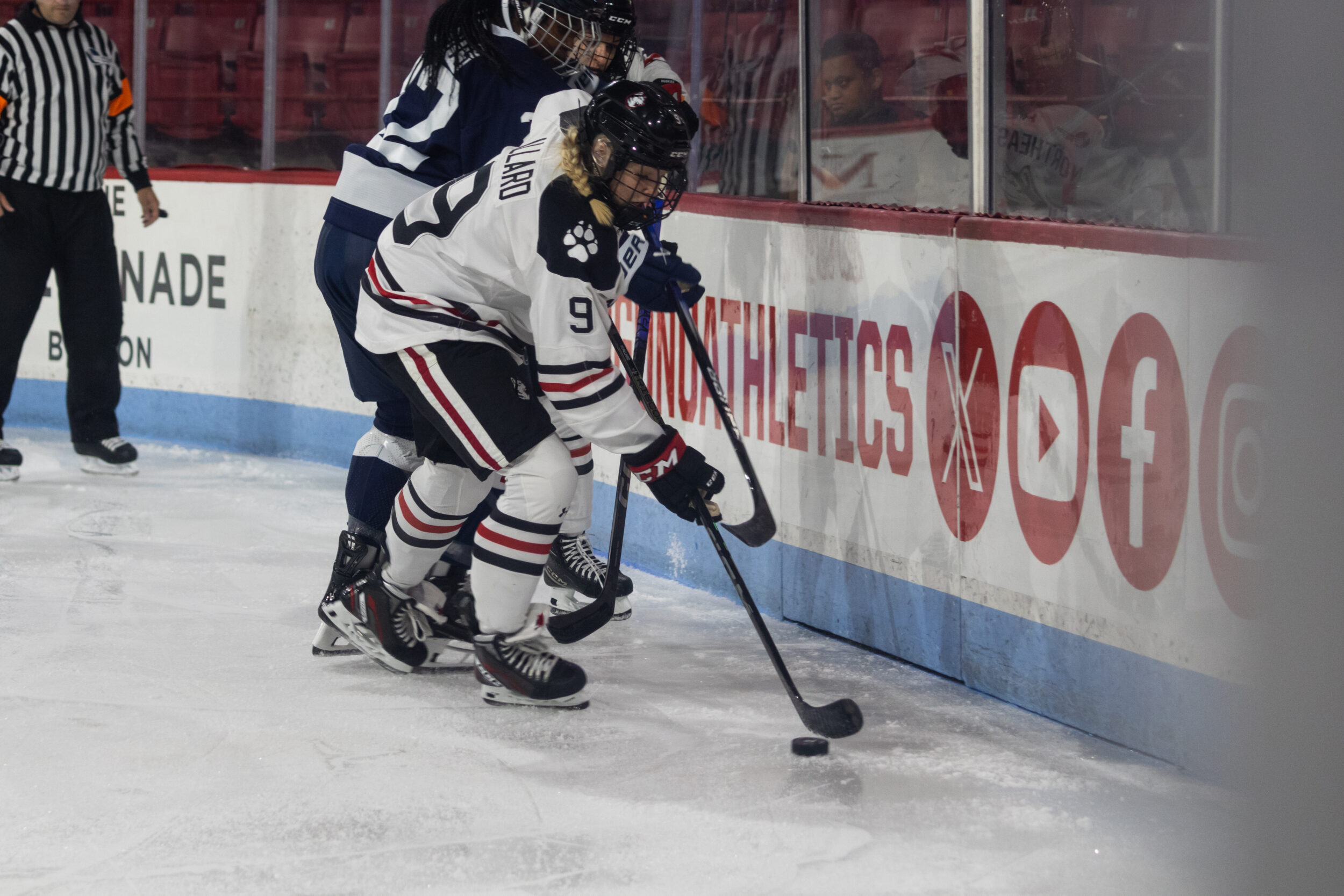 Forward Alina Müller was a tremendous mentor for her, taking her under her wing from day one and inspiring her as both a player and a person.
"Watching someone like [Alina] have the success she had was amazing. All of those girls work so hard every day, and I was able to watch that from an outsiders perspective," Allard reflected. "The dedication that this team has to the success and the name it's built up is incredible."
Allard got to watch her team win the Beanpot, Hockey East, and make it all the way to the Frozen Four from the bench. Now that she's back on the ice for the 2023-24 season, she gets a second chance at her first season along with some new teammates, while saying farewell to those who graduated and ensuring that their lessons are integrated into her play on the ice.
"I'd like to be a leader without a letter on my jersey and do what Alina and all those incredible people did for me, to help guide all the new players into a new journey," Allard said. "I want to be that rock for some players like Alina was for me."
Most importantly, she's had a fierce energy brewing for months that she has waited to unleash on the ice. While in the stands, she developed the game from a different angle, having an outside perspective on how she can act in those situations and apply it to the ice.
"I think I've developed more gratitude for the game of hockey. You don't realize it until it gets taken away from you," Allard said. "Every time I step on the ice, I have the biggest smile and it doesn't go away because I haven't had it for so long."
Not only is she excited for herself, but her coaches and teammates are also eager to see her back in the lineup. She played in both of Northeastern's home-opening matchups against Penn State, getting numerous shifts on the ice.
"I am excited for her to take that first shift because she has earned it. This is a person who's already inherently grateful for everything she gets," Carpenito said. "The fact that she got something that she loves taken away from her for a little while, she's gonna be so grateful to be back."