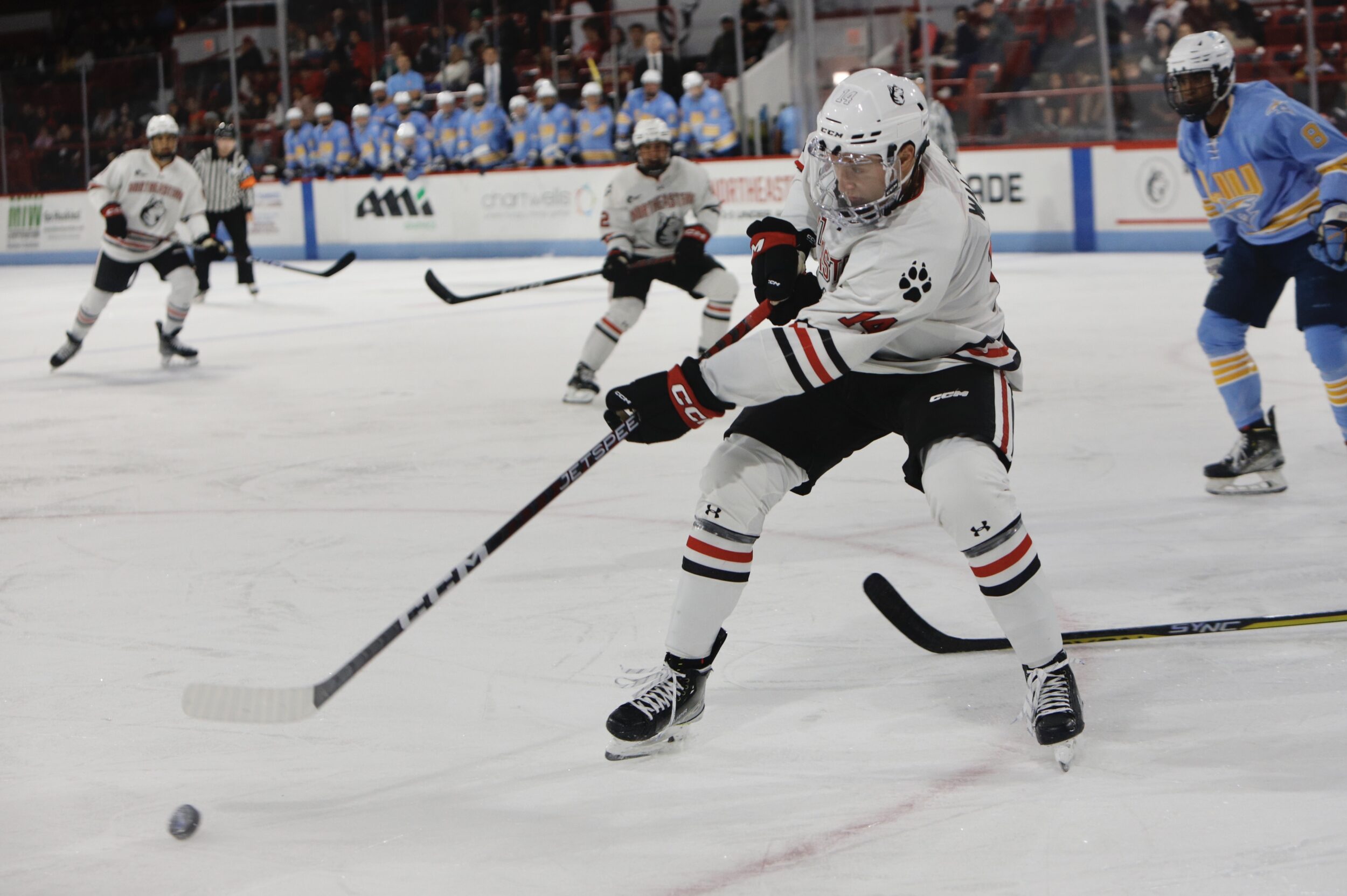 As Northeastern prepares to open their 2023-24 season against Stonehill on Saturday, the team will be without many key pieces from recent years, headlined by Devon Levi, Aidan McDonough, and a host of other high-pedigree players who departed the program this offseason. 
But even with loss of big-name talent, the Huskies have room for optimism: Jerry Keefe and the Northeastern staff bolstered their roster in the transfer portal as successfully as any team in the country, and the promising freshman class will be expected to make huge contributions from the start.
Here's an in-depth look at the Huskies' biggest losses and holes they must replace, and how those new players are expected to fill in the gaps: 
The Losses
Aiden McDonough
Aiden McDonough's departure leaves a scoring hole that needs to be filled, after finishing first on the Huskies in goals (20) and points (38), while also finishing top-five in both categories across Hockey East. The primary purpose of the Huskies' power play the past two seasons has been to get the puck to McDonough in the dots for a one timer, and that won't be an option this season. McDonough also had a knack for showing out in clutch situations over the past few seasons, highlighted by his two third-period goals against UConn last January to lead the Huskies to a comeback win, his last second goal against Merrimack clinch the Hockey East regular season title in 2022, and countless others. 
Devon Levi
To put it simply, the defense won't be able to make the mistakes they did last year. Levi will go down as one of the best college hockey goalies ever, and the Huskies were fortunate enough to have the netminder in college for two full seasons. Levi won the Mike Richter Award twice (2021-22, 2022-23) and was a top-10 finalist for the Hobey Baker Memorial Award twice (2021-22, 2022-23). Levi also boasted a .942 career save percentage with a GA/AVG of 1.90 across the 66 games he played. Last years' young defense should improve and the addition of veteran defender Pito Walton to the backend should help make the transition easier for freshman netminder Cameron Whitehead (more on him below), but Levi's level of play is just about impossible to replace.
Jayden Struble
While Struble only contributed 1 goal and 11 assists in his senior campaign, his defensive presence and puck handling at the blue line will be missed. He had a plus minus of +8 last season, and although that stat can be skewed, in Struble's case, it actually underrepresents his value. His physical presence along the boards and in front of the net is something that was lacking by the rest of the defensive core last season, and his ability to match with some of the best forwards in Hockey East is something that Keefe will look to fill this year.
Jack Hughes and Sam Colangelo
Junior Jack Hughes (Boston University) and senior Sam Colangelo (Western Michigan) both transferred and will play in college elsewhere this season. Both were second-round NHL draft picks, to the LA Kings and Anaheim Ducks, respectively, and their talent will be missed — the hope was for both to grow into top performers in Hockey East, though neither reached their full potential in a Northeastern uniform. Hughes struggled heavily in the defensive end with a team low -14, and second lowest was Colangelo at -4. Each brought some high-end skills — Hughes had phenomenal edge work and stick skills in space, and Colangelo has great puck possession skills and had one of the best wrist shots on the team last season —  but both players struggled to reach their full potential at Northeastern, and their top-six minutes must be replaced.
The Transfers
Alex Campbell
Offensively Campbell will slot in the Huskies' top 6, most likely on the first line along with junior captain Justin Hryckowian. The left-wing graduate transfer from Clarkson is a quick and nimble skater with a knack for scoring, and Keefe expects Campbell to be McDonough's replacement roll-wise,but not in the same style. While McDonough was a slower more powerful skater Campbell is all about edgework and speed. In his senior season he netted 14 goals for the Golden Knights and 34 goals across the three seasons he played. Also, Cambell scored six power play goals in his sophomore and junior seasons, as well as eight game winning goals across his three seasons at Clarkson. For perspective McDonough had 29 power play goals and 10 game winning goals across four seasons with the Huskies.
Pito Walton
One of the biggest adds Keefe made was Walton, a 6'2" 194-pound right handed defender who brings physicality and good puck-handling skills which make him a perfect fit atop the Huskies' defensive group. Through 88 games across 3 seasons at Princeton, Walton tallied 12 goals and 25 assists. More impressively, through those 88 games he only caused 18 penalties for 36 minutes. For perspective, sophomore Braden Doyle had 6 penalty minutes through 23 games last season – among Northeastern defenders who played 30+ games last year, then-senior Jeremie Buechler had the fewest with 14 penalty minutes. Walton's low penalty time is crucial, especially since he can be a massive asset on the penalty kill.
Matthew Staudacher
The Minnesota graduate transfer defender is a solid add for the bottom four of the Huskies defense. He will be paired with freshman Michael Fisher and will provide valuable experience as well as stable depth defending. Staudacher redshirted his senior season at Minnesota and did not play during the Gophers' run to the Frozen Four championship last year.
Brett Edwards
Edwards is a graduate transfer from the University of Denver. Although he wasn't a major scoring threat at Denver, he was a solid bottom six left winger with great defensive edge to his game. Expect Edwards to play a role on Northeastern's penalty kill and to play winger for freshmen Eli Sebastian and Billy Norcross.
The New Kids
Michael Fisher
Fisher will be a big addition for years to come in the defensive end. Although he will be playing on the third line this upcoming year after coming off a lower body injury last year, expect him to be a playmaker in the backend from the get-go. With elite edge work as well as great physicality, Fisher will be a two-way defender that could be a pleasant surprise as a depth piece for this season.
Billy Norcross, Dylan Hryckowian, Eli Sebastian
All three of these freshmen are expected to play within the bottom six for the Huskies. Eli Sebastian will most likely slot in at center, while Dylan Hryckowian and Norcross will fill out the bottom 6 right wing position for the Huskies. Both Sebastian and Dylan are coming off fantastic USHL seasons and both possess speed, quickness, and great puck handling ability and scoring prowess. Norcross is a bigger, more physical forward who had a strong showing in the BCHL this past year. Expect him to be a great puck protector with strong edges who will get valuable development time in the Huskies bottom six.
Cameron Whitehead
Whitehead was named to the Third USHL All-Star Team in 2022-23 and the expectation is that he will be the starter for every game this season, provided he is healthy. Whitehead is an average size goalie at 6'3", who is known for having great hockey sense and keeping up with what is happening around him. He also has great spatial awareness in terms of how much of the net he leaves open depending on the position of the puck.
With all the changes, expect some new-look lines as well. Here are my current projections for the Huskies' line combinations: