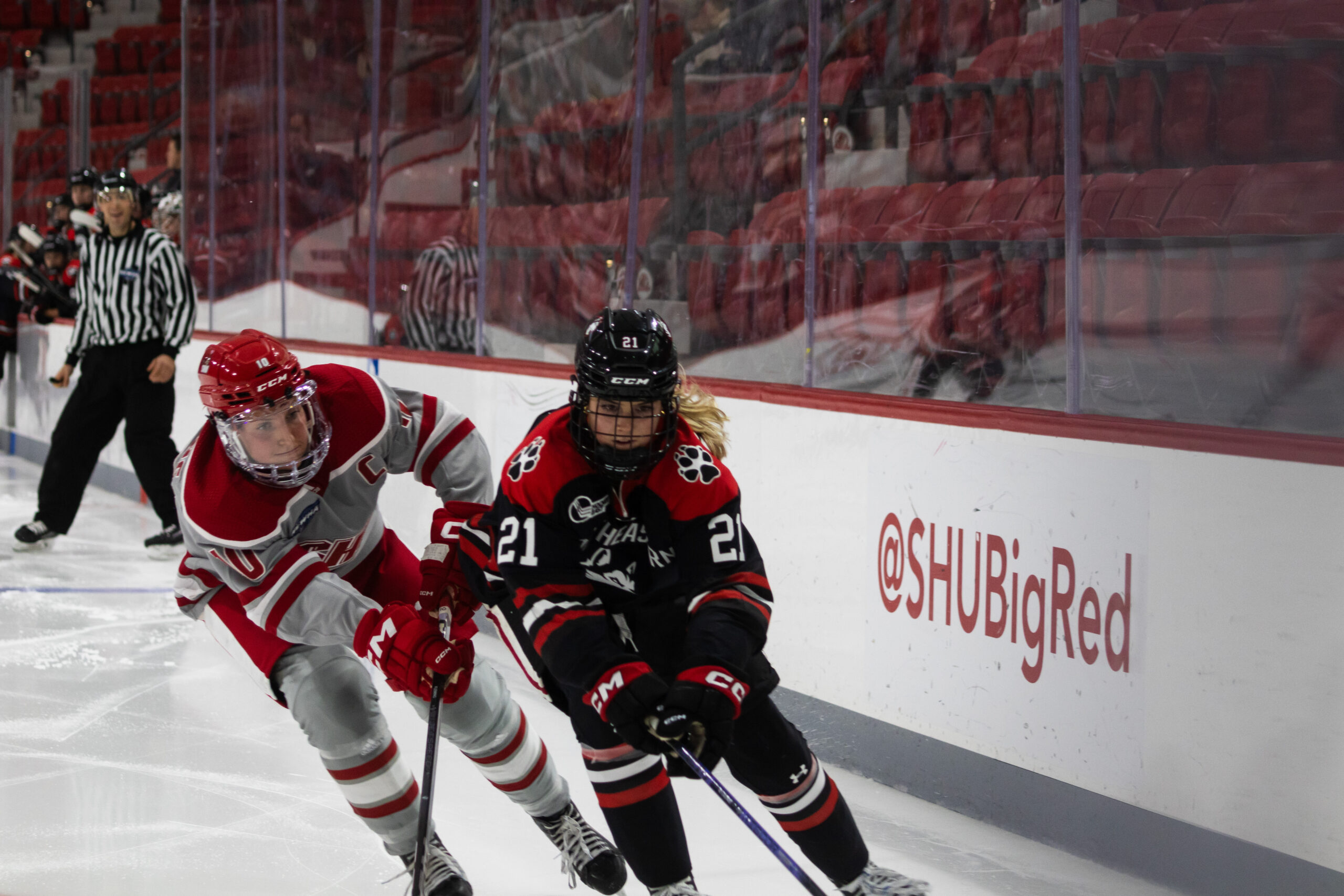 Coming off an upset loss to Merrimack last Friday, No. 10 Northeastern was in need of a rebound performance this weekend at the Icebreaker Tournament, which was held at the recently-opened Maritime Family Arena on Sacred Heart's campus.
Facing two unfamiliar opponents over the span of 24 hours, the Huskies came away with a split: They fell 2-0 on Friday to No. 13 St. Cloud State, a formidable opponent from the country's top conference, before rebounding with a 4-1 victory over Sacred Heart in the third-place game on Saturday.
While the Huskies' weekend performance had ups and downs, the young offense is developing and searching for answers — something the staff and players are learning to work through early in the season.
"We never question our players' level, we never question their drive and their passion," said associate head coach Nick Carpenito. "We've really got started locking down the little details now that we're about 10 games in."
Here's recaps from both of Northeastern's contests this weekend:
Friday: St. Cloud State 2, Northeastern 0
Squaring off against an experienced St. Cloud State squad in the opener on Friday, both sides took some time to adjust through a scoreless first two periods.
Northeastern struggled with cohesion: many players found individual successes and played strong games but were unable to connect with each other. On a 5-on-3 power play seven minutes into the third period, Northeastern had productive passes and set-ups in their offensive end, but couldn't quite get it past St. Cloud goaltender Sanni Ahola.
When St. Cloud returned to even strength, they brought back momentum and put their first goal on the board: Forward Katie Kaufman skated the puck behind the net into the crease. As she moved to the near side boards, she sniped the puck and fired it into the net over goalie Gwyneth Philips' shoulder.
Five penalties against Northeastern forced them to stay on their feet while getting tangled in difficult situations, but they still managed to kill every power play. Philips held strong in her fortress, making 28 saves throughout the game, and using every inch of her body to block shots.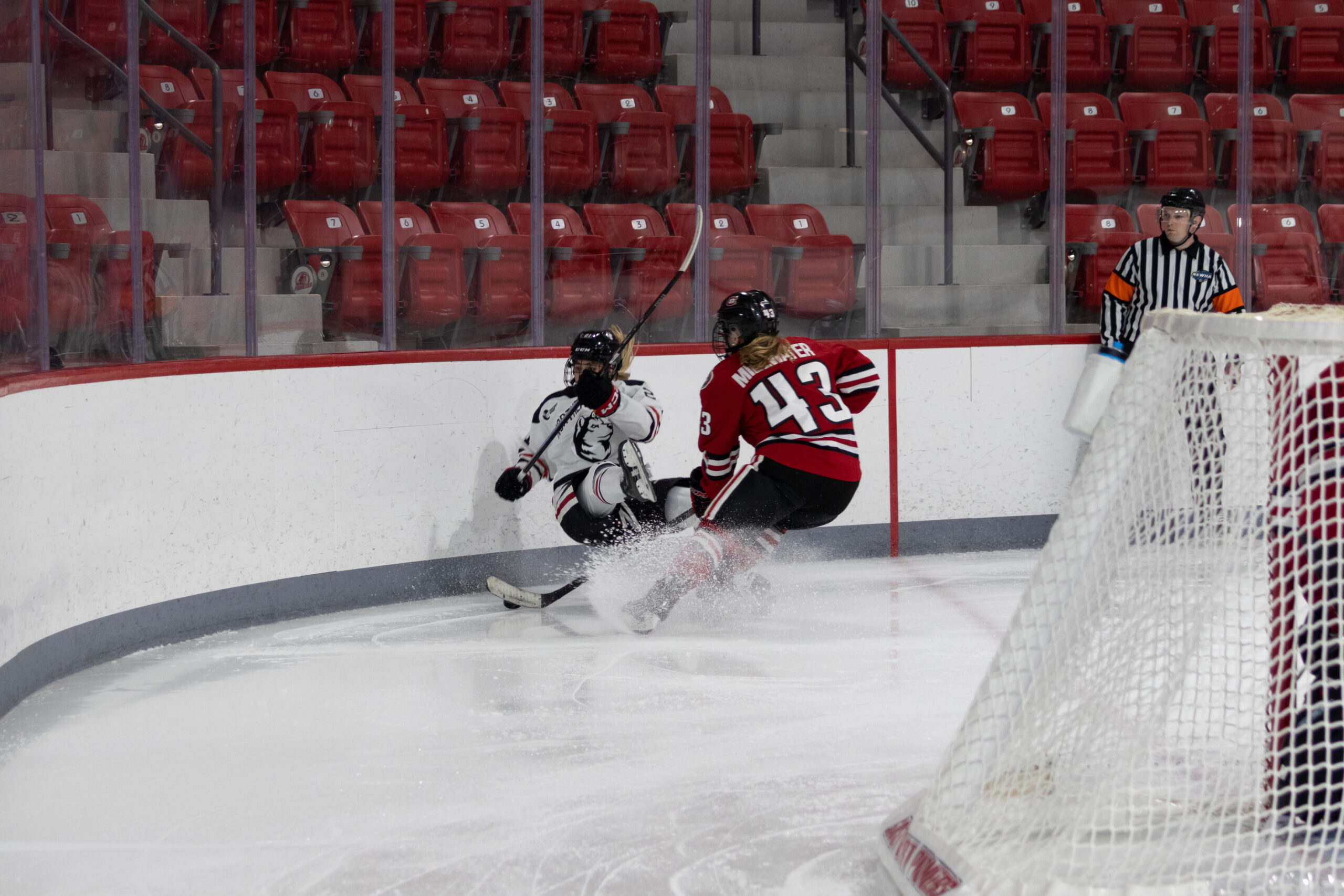 Philips exited the ice with 43 seconds left in the third period as Northeastern tried to make a last-ditch attempt for a tie, but instead, fifth-year Klára Hymlárová came from just past the blue line and scored an empty-net goal to seal it.
Saturday: Northeastern 4, Sacred Heart 1
In Northeastern's matchup with Sacred Heart on Saturday, cohesion was their motto — by shifting the lineup and remaining confident, the individual pieces clicked into place to maintain a dominant, controlling force on the ice.
They turned the weekend around with a 4-1 win against the Pioneers, only giving up one unlucky turn-of-chance goal
Northeastern's success began just three minutes into the game — Taze Thompson was beautifully set up by Skylar Irving and Alyssa Antonakis to score from the far circle, sneaking one past goaltender Jillian Petruno to score Northeastern's first goal of the weekend.
She didn't stop there — halfway into the first period, Irving sent a puck toward the net that was blocked, but Thompson stayed on its rebound bounce to catch Petruno off guard, sinking the puck into the net for her second goal of the game.
"I have to give a lot of credit to my two line mates, Katy and Skye. They were putting the pucks in really good areas, and I think I was in the right spot to finish them off, but definitely got to give a lot of credit to my teammates," said Thompson.
Those two goals were exactly what Northeastern needed to keep up their momentum after the tough loss the game before. With nine seconds left in the period, Knoll won a faceoff and passed to Irving, who scored her first goal of the season to give Northeastern a 3-0 lead.
"[Taze] is an older player. She's someone that we depend on. You know, that's what we need. We need the players that we depend on, our top six players, to produce," said Carpenito. "[Irving] has always been producing opportunities, but it was nice to finally see her capitalize on something and score a goal today."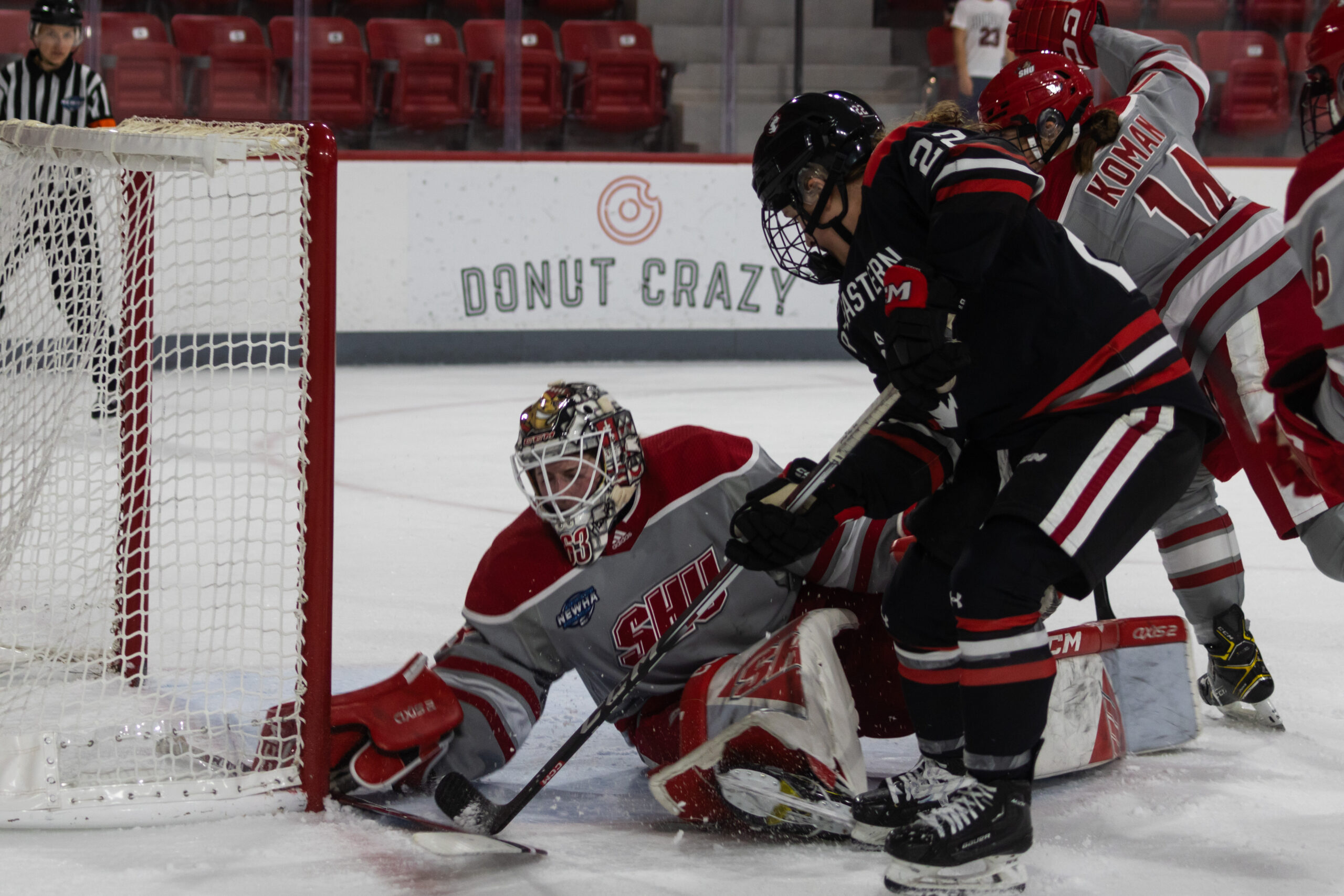 The second period was a big one for freshman Ella Blackmore, who recorded her first career goal on a nice feed from Knoll to put the Huskies up 4-0.
"There was a pretty close eye on [Blackmore] this weekend, we thought that she was going to be somebody that might be able to break through it," Carpenito said. 'She just does the simple things right. When she goes to the edge, she keeps her stick down, she communicates. We're excited to see her breakthrough."
The Huskies let down their guard in the third period, and the Pioneers were quick to take advantage of it — Cassie Nevers, after winning a faceoff, transferred the puck to Nicole Bessinger and in a lucky shot, snuck past Philips for their only goal of the game.
Even after giving a goal up, Northeastern came out on top with their three-goal lead that the Pioneers couldn't quite catch up to. They were able to find their footing on the ice to come out on top at 4-1, making a redemption from the day prior.
"In games like yesterday when everyone's off the stat sheet, you're holding your stick too tight, you're overthinking plays, and I really just think hockey is a game of basics," Thompson said.
"Once you get back to it, really good things happen."
As Northeastern returns to Matthews on Friday to resume their Hockey East slate, they will hope to use both their highs and lows from this weekend to improve their season-long outlook.
"Moving forward, we definitely want to put together a full 60 minutes, never take our foot off the gas no matter what the score is," said Thompson. "That'll set us up for a lot of success in the future."
WRBB Sports will have live coverage of the Huskies' series against Holy Cross next weekend. Emma Sullivan, Khalin Kapoor, and Zeno Minotti will be on the call of Friday's game at 7 p.m. from Matthews Arena.