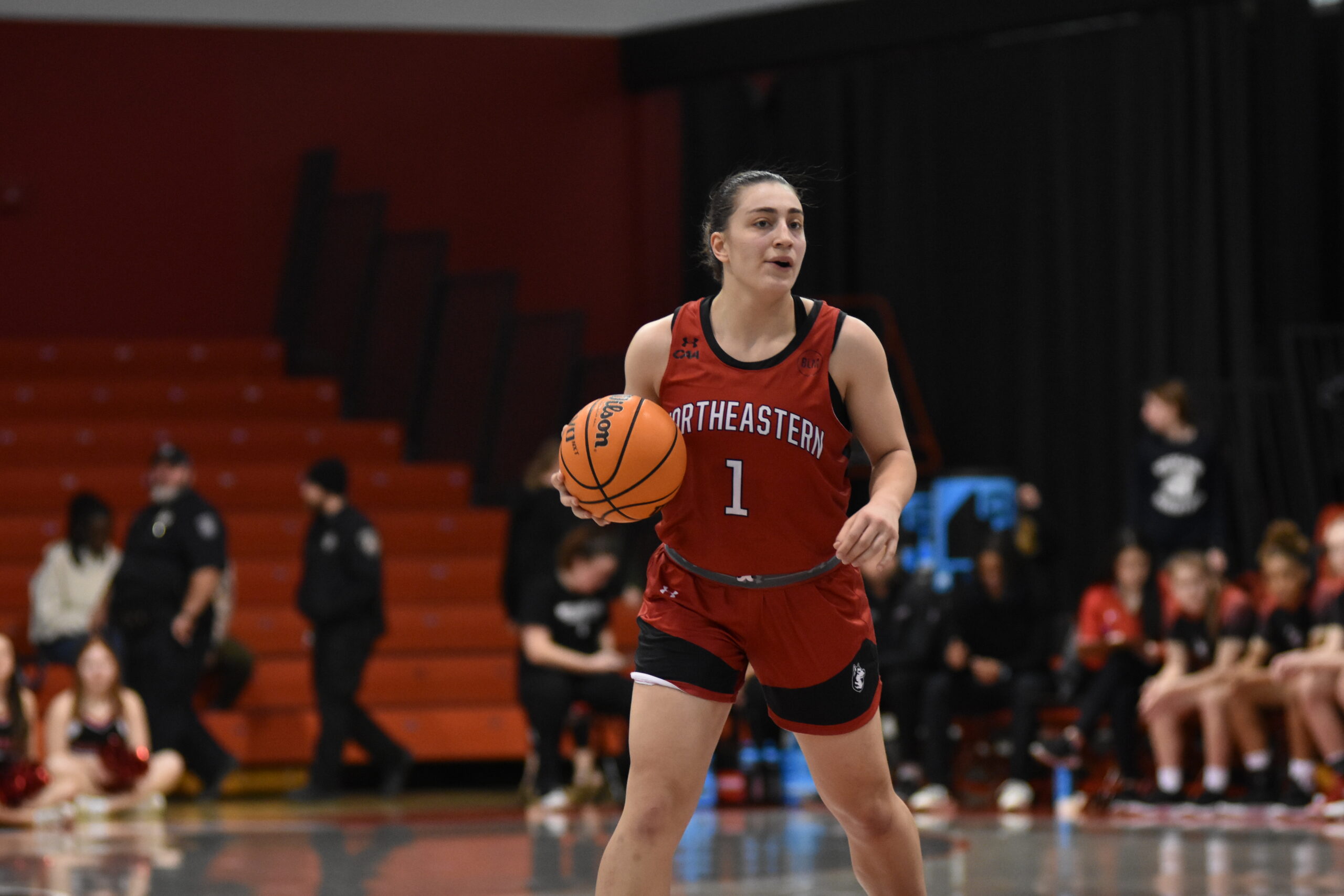 EASTON — It wasn't always pretty, but Northeastern pulled out a 73-61 win over Stonehill Monday night at Merkert Gymnasium, opening their 2023-24 campaign and Priscilla Edwards-Lloyd's head coaching career with a victory.
Both teams were clearly eager to begin their seasons, as the game started with a frenetic pace up and down the court. Senior guard Derin Erdogan scored the first Husky points of the season just five seconds into the game, right off of the opening tip, and the Skyhawks were not afraid to match Northeastern's tempo.
The Huskies jumped out to an early 10-4 lead, but Stonehill looked to the deep ball to get back in the game. The Skyhawks went 3-for-11 from three-point range in the first quarter, moving the ball around the perimeter and generating relatively open looks from deep. Graduate student guard Anna Boruta, who transferred to Stonehill after playing four years at Northeastern, led the Skyhawks with seven points in the quarter, taking advantage of her elevated role.
Junior guard Gemima Motema and senior forward Deja Bristol each had six points in the second quarter for Northeastern. Motema made seven of her first eight field goal attempts in the game as she feasted in the interior off the drive. Bristol was a presence on both ends of the floor throughout the night, and her celebrations fired up her teammates. The senior wasn't afraid to let loose, whether it was after drawing a charge or finishing through contact on offense.
Despite the Huskies shooting a solid 58% from the field in the first half, they went into the locker room up by just five. Stonehill was able to get offensive rebounds and generate second-chance opportunities to offset their not-as-efficient shooting — the final points of the half were scored by the Skyhawks after Northeastern couldn't corral a defensive rebound with five seconds left on the game clock, handing their opponent a momentum boost going into the break.
On the other side of halftime, Boruta started to heat up again, hitting two three-pointers in quick succession and cutting the lead to one possession. However, the Huskies were able to hit a couple timely threes of their own to keep Stonehill at bay — one from Erdogan, and one from freshman guard Yirsy Quéliz. Quéliz received a surprising amount of playing time in her first collegiate game, possibly in part due to Erdogan being shaken up by a collision early in the second quarter. The rookie, who Edwards-Lloyd previously described as "Derin's understudy," played 19 minutes Monday night, the most of any non-starter for Northeastern.
"Yirsy was ready when her number was called," said Edwards-Lloyd. "She's been working really hard in practice, she's been getting worked in practice too, but she still found a way to come up here today and show up, which I knew she was capable of."
Erdogan did not appear to be seriously bothered by the injury and shared the floor with Quéliz at times throughout the night. Fifth-year guard Jaelyn Batts was out Monday night, another factor that likely freed up some playing time for Quéliz.
Motema opened up the Huskies' fourth-quarter scoring with a rare three-pointer, and would finish the night with 22 points, tying a career high, despite her production trailing off a bit in the second half.
"I love [Motema's] aggressiveness," Edwards-Lloyd said. "I told her yesterday, you're an elite scorer, and this team needs that, so she's been taking advantage of the work that she put in this summer. She's been working on her outside shot … just continuing to work on her reads. When you're that good of a scorer, you're going to draw more defense, so making that pass out is something that she'll continue to work on."
Senior guard Maddie Vizza, who has dealt with injuries for much of the past two seasons and started Monday night for the first time since 2021, also finally saw a deep shot go through in the fourth quarter, giving Northeastern their first double-digit lead with the triple. However, Stonehill would not go quietly, rattling off an 8-0 run featuring back-to-back buckets by senior guard Jada Thornton to cut the lead to five.
Bristol was able to break the run with a putback that was the Huskies' fourth chance on the possession, as Northeastern was able to grab boards and get more opportunities like the Skyhawks did earlier in the night. Bristol was fighting hard with Stonehill freshman center Isabella Mallory for much of the late stages of the game — Mallory, who at 6-foot-2 is the tallest player on the Skyhawks' roster, represented the biggest physical defensive challenge to Bristol. However, it ended up being a missed shot from Mallory, followed by a made jumper by Motema, that effectively sealed the game for the Huskies in the closing minutes.
Bristol finished second on the team in scoring with 17 points, but her career-high 16 rebounds were just as impressive. The reigning CAA Sixth Player of the Year was in the starting lineup for Monday's game after starting just two of the 28 games she appeared in last season.
"Deja's worked really hard to get in elite shape this offseason," Edwards-Lloyd said. "Her ability to play more minutes is something that we feel really good about. She'll continue to manage her body and her minutes well, but I felt good with how she was able to go out and play tonight and still maintain a high level."
Despite letting the Skyhawks hang around for much of the game, Northeastern ended up winning by 12 points, a higher margin than their first meeting with Stonehill last year. The Huskies were able to shake off the rust and give Edwards-Lloyd her first career win as a leader of the coaching staff.
"It felt like a first game," Edwards-Lloyd said. "There were definitely some moments. Definitely was a little crazy at times, but I feel good about how the team responded and we got back to doing our things and really finished strong."
Northeastern hosts UMass on Thursday night at 7 p.m. in their home opener. Peyton Doyle and Jordan Walsh will have the call for WRBB.