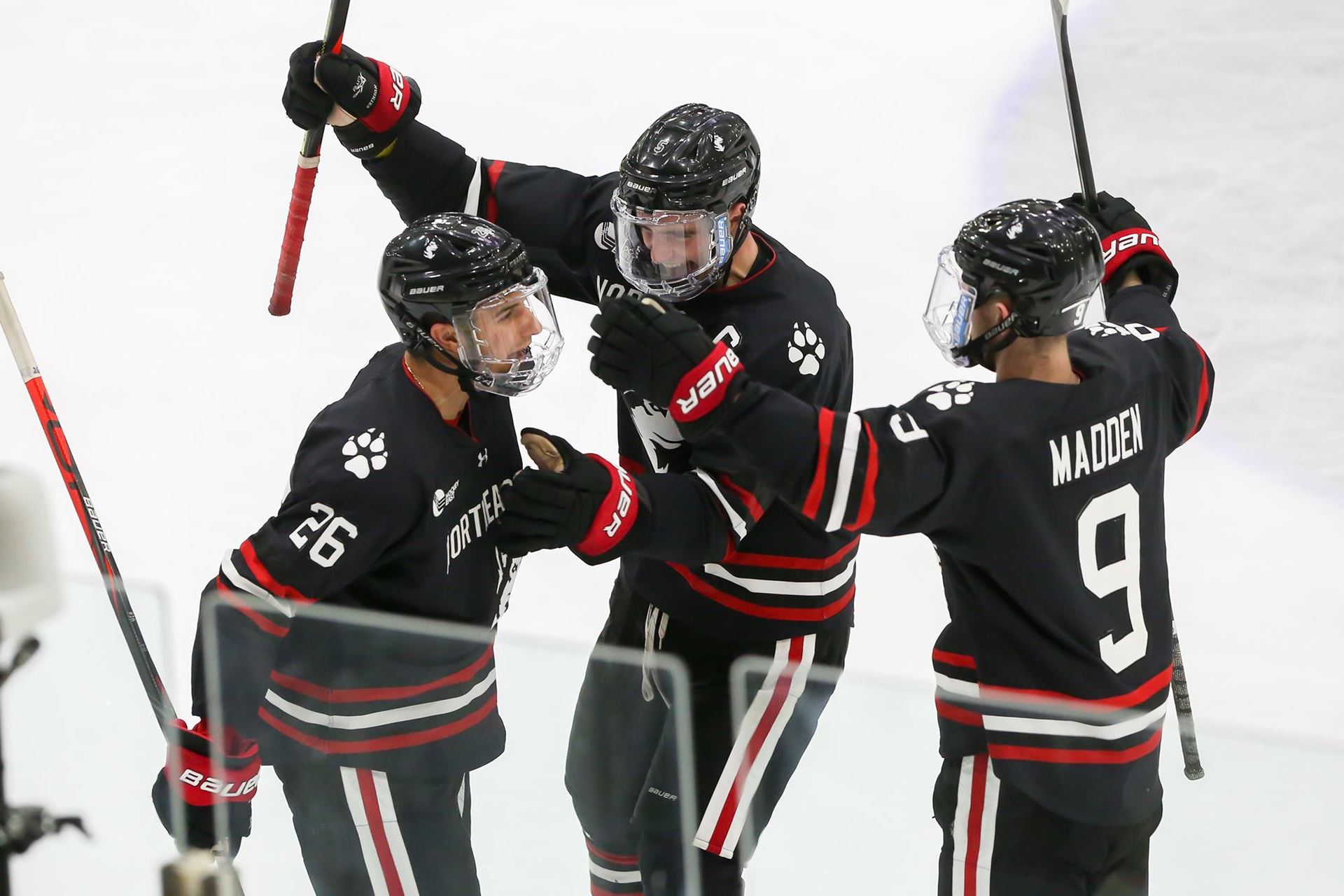 By Adam Doucette
ST. CLOUD, MN — The Huskies bounced back in a big way on Friday night in St. Cloud, Minnesota.
They looked nothing like the team that suffered a disappointing 2–2 tie against Holy Cross last Saturday. The intensity was there from the get-go — something coach Jim Madigan emphasized after the last game.
He called it "a great team effort," and "a great response from last weekend's game."
The battle of the Huskies began with Northeastern imposing their will early in the first period. Center John Picking, a big net-front presence as of late, got the scoring going for Northeastern 8:32 into the first period.
In the final minute of the first period, St. Cloud mounted a furious attack. They created numerous offensive chances, but Northeastern's defense and goaltender Craig Pantano stood strong and took a one-goal lead into the first break.
St. Cloud came out strong in the second period and center Sam Hentges notched the tying goal just 4:30 into the frame. It appeared that the momentum had swung in favor of St. Cloud and their raucous home crowd, but Northeastern would not let that happen.
Play evened out towards the middle of the period, and Tyler Madden put Northeastern back on top with a goal halfway through the second. He tacked on another with just 36 seconds remaining in the period, giving Northeastern a two-goal cushion. Madden has four goals in the team's first five games.
The third period opened with relatively even play from the two Husky squads, but midway through the frame St. Cloud fed the puck to a streaking forward. What seemed like a one-on-one chance was negated when Northeastern defenseman Jordan Harris made a fantastic diving stop, laying out and poking the puck away while avoiding a penalty.
It wasn't pretty, but the Northeastern defense weathered the St. Cloud storm in the final ten minutes. Goaltender David Hrenak was pulled with under two minutes remaining and Northeastern took advantage, icing the game with a Biagio Lerario empty-netter.
This marks Northeastern's second game, and second win, against a nationally ranked opponent this season. The No. 11 Huskies sit at 4–0–1 (1–0–0 HEA). St. Cloud, playing its first game in two weeks, suffered its first loss of the season after two ties.
"We kind of went at our guys, and they really responded," said Madigan on the coaching staff challenging the team.
The strong start was crucial, and the end result was exactly what they wanted.
Northeastern and St. Cloud face off again Saturday at 7 PM ET (6 PM Central). Matt Neiser and Adam Doucette will have the call beginning fifteen minutes before puck drop.