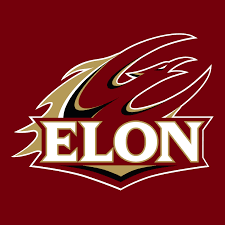 Last Season: 13–21 (7–11, seventh place CAA); lost to Northeastern in CAA semifinal
Head Coach: Mike Schrage, Second Season
Preseason Poll Projected Finish: Fifth
Departures — ppg/rpg/apg (fg% / 3fg% / ft%)
G Seth Fuller — 1/0/1 (26/19/100)
G Andy Pack — 2/1/0 (23/28/85)
F Duje Radja — played six games
G Marcus Sheffield II — 18/5/3 (42/40/82)
Additions
G Darius Burford (Top 15 player in his class in Illinois, via Prep Hoops Illinois)
F Michael Graham (Three star recruit, via 247 sports)
F Brandon Harris (Three star recruit, via Rivals.com)
G Charles Mendys (Transfer from Roanoke College, stats N/A)
G JaDun Michael (Four Star Recruit, via 247 sports)
G Ikenna Ndugba (2019–20 with Bryant: 7/5/3, 42/31/69)
G Lars Nilsen
By Peyton Doyle
Last year Elon improved under first year head coach Mike Schrage. Although they ended up finishing seventh in the CAA and started off conference play with a 1–7 stretch, the Phoenix made impressive strides as the season went on and upset William & Mary in the CAA quarterfinal before being eliminated by Northeastern in the next round.
Last season their scoring came from their backcourt, with grad transfer Marcus Sheffield II setting a program record for most points in a Division I season. The dynamic freshman Hunters (Woods and McIntosh) combined for 22 points and five assists per game. McIntosh was also named to the Kyle Macy Freshman All American team last season. Sweet-shooting sophomore Zac Ervin showed scoring potential last season, but will sit out this year after undergoing knee surgery to fix a torn ACL.
Elon's biggest addition is four-star recruit JaDun Michael. Michael earned All-State honors his last two years in high school and should fit well with the duo of McIntosh and Woods to solidify a strong perimeter attack for Elon. But he is recovering from a late May shoulder surgery that may dampen his minutes and production for a bit.
Shrage will also hope for significant production from incoming freshmen Michael Graham and Brandon Harris, who were ranked 41st and 51st at their positions nationally. Graham provides a 6'10" presence in the paint, Harris versatility on the wing.
Another notable addition is grad transfer Ikenna Ndugba, who notched 14 points and five assists per game in 2017–18 with Bryant University. The following year, however, Ndugba suffered a season-ending injury and did not have quite the same production in 2019–20, so it will be interesting to see how Schrage uses him.
Similar to last year, Elon will get most of its production from small, versatile lineups. The only true "big" they have is newcomer Graham.
Bottom Line: It will be difficult for the Phoenix to make up for Sheffield's scoring, but there is hope for this young squad. Woods and McIntosh already showed their talents in their freshmen seasons, and if they can get help from newcomers JaDun Michael, Michael Graham, and Brandon Harris, the Phoenix could be an explosive offensive squad with a tournament run in its future.