By Jordan Baron and Milton Posner
BOSTON — It was hard to know what to expect heading into Saturday afternoon's contest.
The Elon Phoenix, courtesy of multiple cancellations, had missed scheduled games against perennial powerhouses Duke and North Carolina, and had parlayed the CAA's weakest non-conference schedule into the best non-conference record. They were also missing key contributors Zac Ervin and Jerald Gillens-Butler, both of whom are coping with season-ending injuries.
In their scramble to fill their schedule, Northeastern took the opposite route, winning just one of six non-conference games against a steady diet of Power 5 squads. According to KenPom, they had the 17th toughest schedule in Division I.
So, as has so often been the case in a pandemic season, it was tricky to gauge where the teams stood relative to each other. After an explosive 46-point second half handed the Huskies a 75–52 victory, perhaps we have our answer.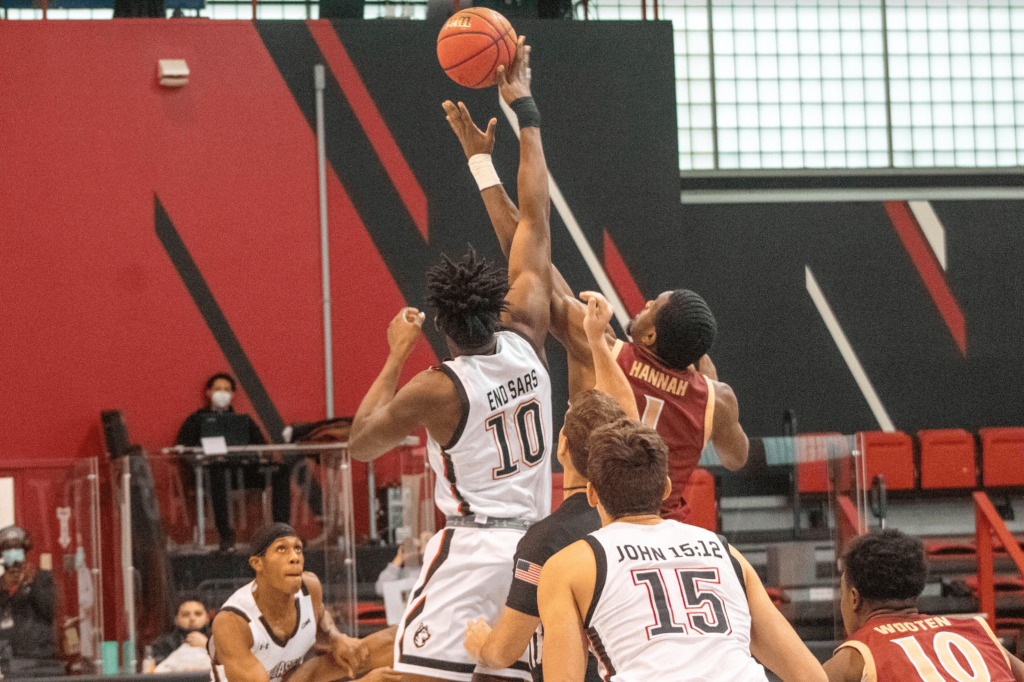 Both teams struggled in the first half, creating — and clanking — plenty of open shots. After the Phoenix (3–2, 0–1 CAA) dropped seven unanswered points, the Huskies (2–5, 1–0 CAA) found a rhythm, as Jahmyl Telfort and Coleman Stucke spotted up from deep to get Northeastern back into the game.
The Huskies were aggressive in the paint all game — pushing through traffic, driving to the rim, and landing themselves at the charity stripe. Elon generated very few first-half free throws as Northeastern — finally defending a team without huge height, weight, and strength advantages — committed just four fouls before the intermission.
As the teams entered the locker rooms, the Huskies held a 29–26 lead. There must've been some magic in the locker room, however, as the Huskies came out ready to rumble.
Their suddenly unstoppable defense keyed the run, as multiple Husky forwards flew through the air to stifle Elon shots.
"We just settled down and shared the ball a little better on the offensive end, penetrated with a purpose, got better spacing and better ball handling," Coen noted. "Our defense allowed us to get some rebounds and get out in transition and get easier baskets before their defense was set."
Elon gradually sliced the 13-point lead to five with 12 minutes to play, but a red-hot Tyson Walker keyed another Husky run. Seven minutes later, the lead was 19 and the game was well in hand.
"Whenever Tyson gets his going and gives guys a couple threes," Telfort said, "and other guys are aggressive driving to the rim, that changes the game for us."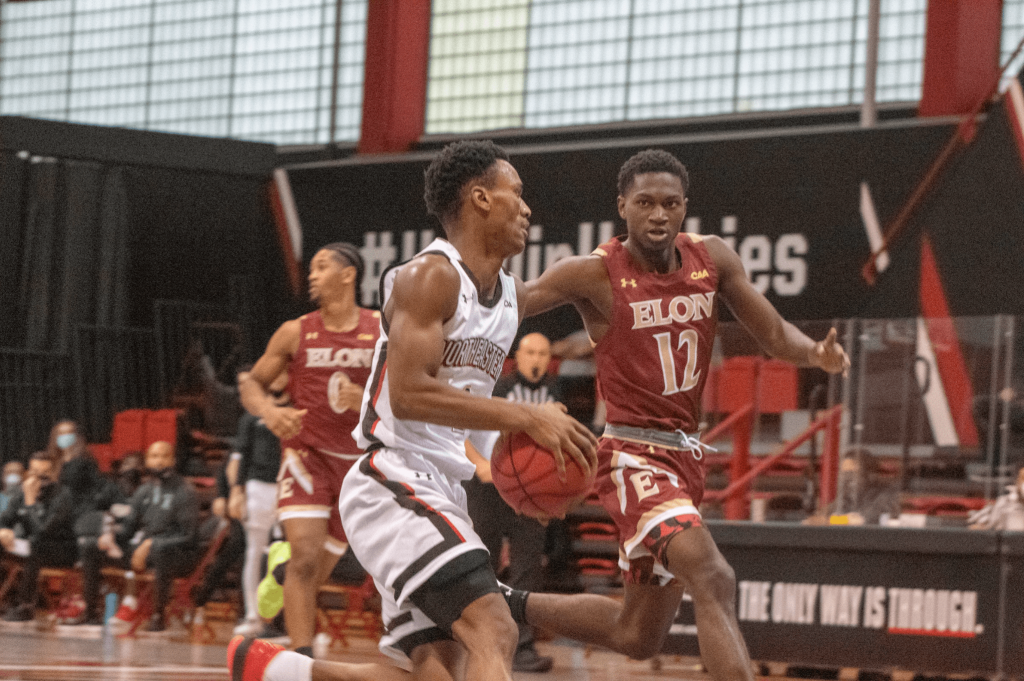 "We altered a couple things, what we were trying to do on ball-screen coverage," Coen explained. "They had him bottled up a little bit, played him a little bit physically, and I thought he was just anxious. Instead of letting the game come to him he was trying to take over the game in the early portion. As soon as he relaxed and let the game come to him, his offense started flowing."
And it was in garbage time that the game's greatest surprise came to pass. With three minutes remaining, Stucke received a pass at the top of the key. With five seconds remaining on the shot clock after a wild, unproductive possession, and with Stucke focusing mostly on spot-up shooting this season, the hope of gaining anything from the possession was fleeting.
But Stucke sidestepped the defender, charged left, took flight, and slammed down a monstrous dunk in traffic. He hung from the rim for a few seconds before dropping to the floor with the Husky bench erupting beside him.
The dunk proved to be the final nail in the coffin for Elon, as the Huskies grew their lead to 23 before the final buzzer sounded.
Telfort led the way for the Huskies with a career-high 20 points on seven-for-13 shooting. After standing out with elite spot-up shooting in the non-conference games, he showed a much deeper offensive package Saturday, replete with drives to the cup and consistent off-ball movement.
"I pride myself on doing everything on the court," Telfort said. "I feel like I'm not just a shooter, I can handle the ball, drive it well, I can rebound, I can defend. So I just pride myself on showing that."
Walker, who struggled with his shot early before finding his groove and range in the second half, posted 18 points, five boards, and six dimes. Stucke logged 15 points on five-of-six shooting.
The Huskies will take on the Phoenix again at home tomorrow. Jordan Baron and Milton Posner will call that game, with coverage beginning at 11:45 AM Eastern.