Story by Peyton Doyle and Milton Posner
Photos by Jordan Baron
BOSTON — Northeastern men's basketball's 72–63 win over James Madison on Saturday afternoon wasn't exactly surprising. The Huskies were on an absolute roll coming in, and while the Dukes boasted a seemingly solid record, they hadn't played much in the way of sturdy competition.
But when the buzzer sounded, it was hard not to marvel at the totality of what the Huskies had achieved. It was their seventh straight win, matching the streak from two seasons ago that took them to the NCAA Tournament. It was their best start to a conference slate since an eight-game run eight seasons before. It moved head coach Bill Coen to within one game of Jim Calhoun's career program record of 250. And it showed just how many weapons this young Huskies team can wield.
It began with Tyson Walker, who scored eight quick points to keep pace with the Dukes' Matt Lewis. Lewis entered the game as the reigning USBWA National Player of the Week after nailing nine of 12 three-pointers against Towson on Saturday. But both players tailed off after a quick start, posting passable scoring totals on iffy efficiency.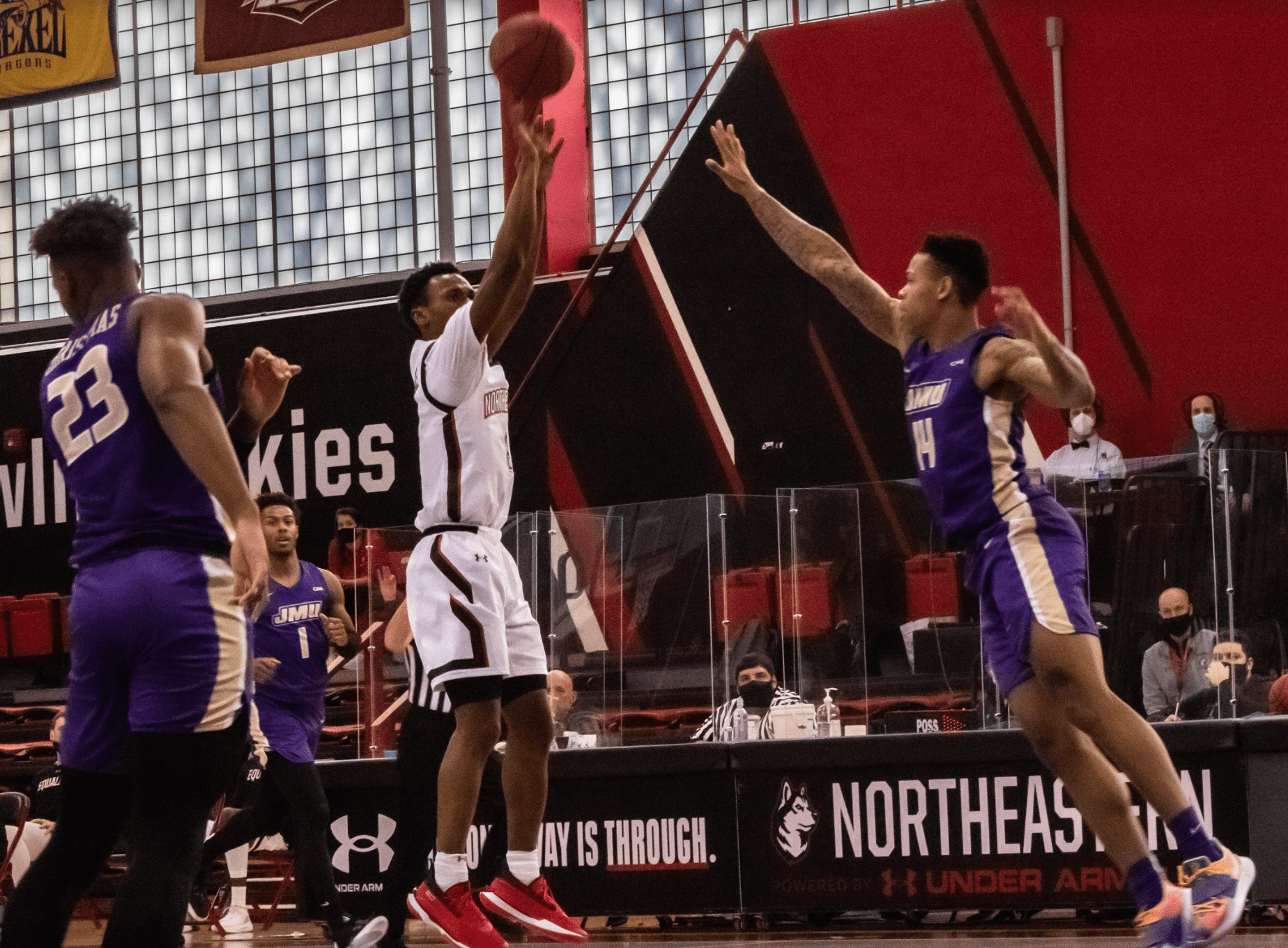 The rest of the half belonged to Chris Doherty, as the red-haired Goliath hounded the Dukes to a tune of 10 points and seven rebounds — four of which came on the offensive glass — in the first half. Doherty was often the lone Husky in the paint, valiantly battling for boards among legions of Dukes.
"It goes beyond the first half," Coen said. "You look at the Charleston series, in game one he did a monster job on the boards, a lot of grit and toughness. And then he had the tip-in for a victory [in game two]."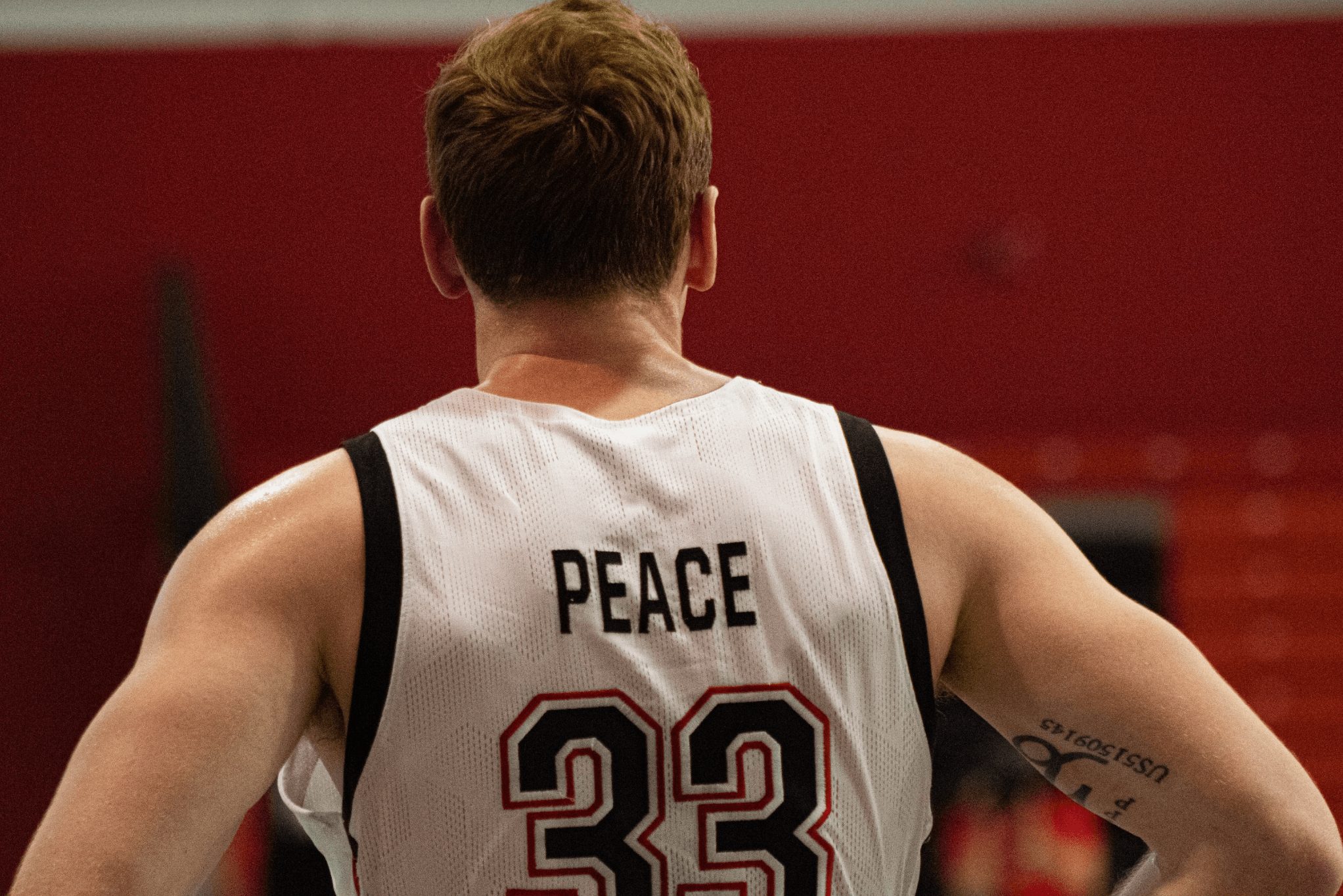 But Doherty's momentum would come to a screeching stop with about eight minutes left in the second half. After James Madison's Vado Morse (14 points) attacked him in the pick and roll, Doherty leaped to contest the layup. He landed awkwardly on his right ankle and immediately grabbed it as he lay under the basket. Though he managed to lift himself and hobble downcourt, he made a beeline for the Northeastern bench and soon sank to the court in pain.
Though Doherty seemed to be moving with a less pronounced limp later on, he did not return to the court, and Coen said the "tweaked" ankle meant Doherty's status for tomorrow's rematch is uncertain. It's a gut punch for the Husky big man, who had just returned to the swing of things after missing four games earlier in the season with another injury.
But by that point, the Huskies had all but blown the game open.
The first half was close; JMU led for much of it before Northeastern seized the momentum to build a 37–31 halftime lead. The second half was not, and Jahmyl Telfort was the reason why.
After a scoreless first half, the freshman exploded for 23 points in the second. The only Northeastern players to have bested his total in a half are a who's who of program mainstays and stars: Bolden Brace, TJ Williams, David Walker, JJ Barea, and Jordan Roland.
"He scored in a variety of ways," Coen said. "Transition threes to drives to the basket to offensive rebound putbacks to mid-range shots. He got on a roll."
For most of the half, Telfort kept pace with the entire James Madison team, ultimately nailing nine of his 12 shots and punctuating the affair was a fastbreak alley-oop slam.
Shaq Walters also chipped in 15 points of his own in a team-high 37 minutes, including 10 in the second half. He and Telfort combined for all but two of the Huskies 35 second-half points. Walters nailed three momentum-grabbing triples — he's shooting above 42 percent on the season — and added eleven rebounds and four assists.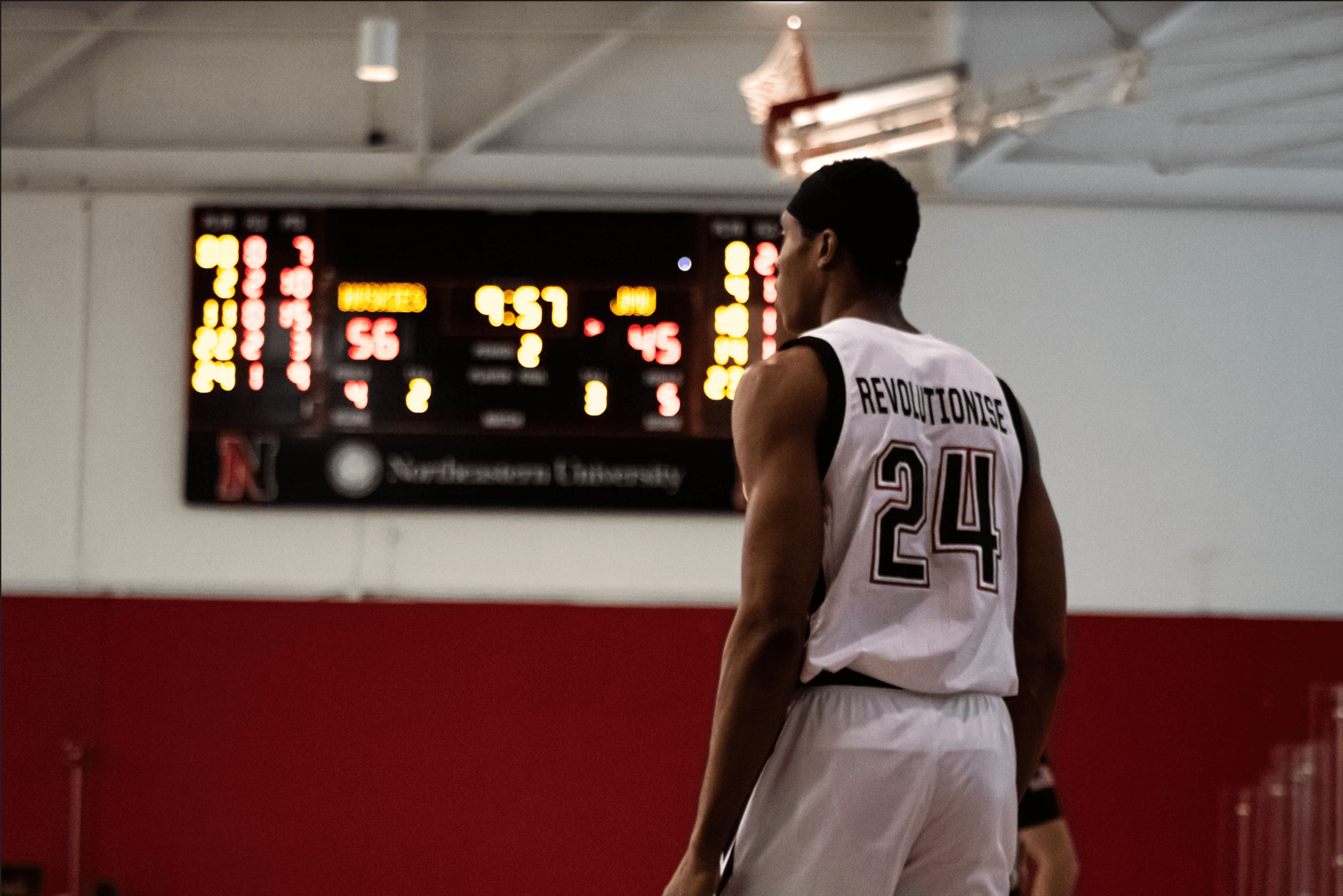 On defense, the Huskies did an excellent job slowing down Lewis and the quick-hitting Dukes, holding the senior to just five second half points on seven shots. Northeastern also had a much improved perimeter defense coming out of halftime; JMU connected on just 27 percent of their triples in the second half after hitting 57 percent in the first.
When asked about his game plan to slow Lewis, Coen simply replied, "Shaq Walters."
He waited a good few seconds before adding, "That was our game plan. In case you guys haven't noticed, Shaq Walters is a pretty good defender. Every day he draws the best assignment. He takes pride in his defense, he's got size and strength, he's committed to that end of the floor, and he gives 110 percent effort."
None of this is to say the Huskies ran away with the game entirely. After going up 20 points with two-and-a-half minutes to go, the Huskies watched the lead quickly contract as the Dukes' reserves mounted a furious run.
"They extended really, really, high; they almost had four guys above the free-throw line," Coen said. "A trapping, attacking zone, kind of a 1-1-3 zone. We got lucky . . . but we settled for too many quick threes against it. That's what it's designed to do — bait you into falling in love with the three. I'm sure we're going to see it again tomorrow, so we've got to execute better against it."
But the lead was too much to overcome, as the Huskies held on for a nine-point victory to extend their unbeaten streak in conference play. Coen can tie the all-time program record for wins tomorrow, and although he's consistently downplayed any comparisons to Jim Calhoun — and deferred credit to the players, assistant coaches, trainers, support staff, and university — it would mark a momentous achievement in the career of the CAA's longest-tenured coach.
WRBB will call that potentially historic game, with coverage beginning a few minutes before the 12 PM Eastern tipoff. Mike Puzzanghera, Jordan Baron, and Justin Diament will be on the call.