CHAPEL HILL, NC — Pandemic seasons, as it turns out, don't unfold with any semblance of narrative cohesion. Most of the time, it feels like an eight-year-old on a sugar high is trying — and failing — to tell you a story.
Your UNCW games got cancelled due to a positive COVID-19 test within their program? Okay. Chop off the W.
The Northeastern men's basketball team, which proved a glutton for Power Five punishment in December, took the rarest of mid-February detours to play a non-conference game against one of the most illustrious programs in the history of intercollegiate sports. The result, a 82–62 North Carolina win, wasn't shocking. But that's not to say that nothing about the game was.
For starters, it was scheduled in a manner bizarre even by pandemic standards. Faced with three cancelled home games in a nine-day span, North Carolina — you know, the team with more Final Four appearances than any other — took to Twitter to replace them.
Northeastern, which was already engaged in talks to play the Tar Heels and was willing to make the trip on short notice, answered the call. North Carolina was the fourth Power Five team the Huskies had played this season, as they had already lost by six to Syracuse, by 18 to Georgia, and by 22 to No. 8 West Virginia. This willingness to meet a challenge is reflected in their strength of schedule, which, according to KenPom, is more than three points per 100 possessions better than the next-best CAA team. The Huskies are also the only CAA team to have a positive number in that stat.
But for Northeastern head coach Bill Coen — whose next win will break Jim Calhoun's program record — the games are a welcome challenge.
"It's always a risk when you play that type of schedule because it's not likely you'll have tremendous success against those types of programs," he admitted the day before Wednesday's game. "But we had moments. Each and every game showed us a little bit more who we could become."
As far as North Carolina went, Coen noted that "there isn't a player who, growing up, didn't become familiar with North Carolina's program and the great tradition here. So right away that brand name got our guys really excited."
He also added that he relished the chance to confront his team with A-plus versions of different schemes, including Syracuse's 2-3 zone and West Virginia's rebounding. For North Carolina, it was rebounding and transition offense.
"We didn't tell them about the four seven-footers [at first]," Coen said with a smile. "And then we got into the scouting report and saw some film, and there was a little concern there."
With Armando Bacot, Day'Ron Sharpe, Walker Kessler, and Garrison Brooks all standing at least 6'10" and weighing at least 240 pounds, Northeastern struggled to keep pace. In a showing reminiscent of Derek Culver and Oscar Tshiebwe's dominance in West Virginia, the quartet combined for 45 points and 36 rebounds, with Sharpe's 15 points and Brooks's 13 boards leading the way. It also didn't help that the Huskies were missing big man Chris Doherty, who is nursing a sprained ankle sustained against James Madison on January 23.
"They got position down low, dominated the backboards, and we didn't have the numbers to compete," Coen explained. "We tried to front and back the low post and give the perimeter big a bit of space. That hurt us a little bit. But there's not much else you can do . . . They have multiple five-star recruits in their front line and they just come in waves. Even when I thought we did a pretty good job, the fatigue factor, particularly up front, made a difference.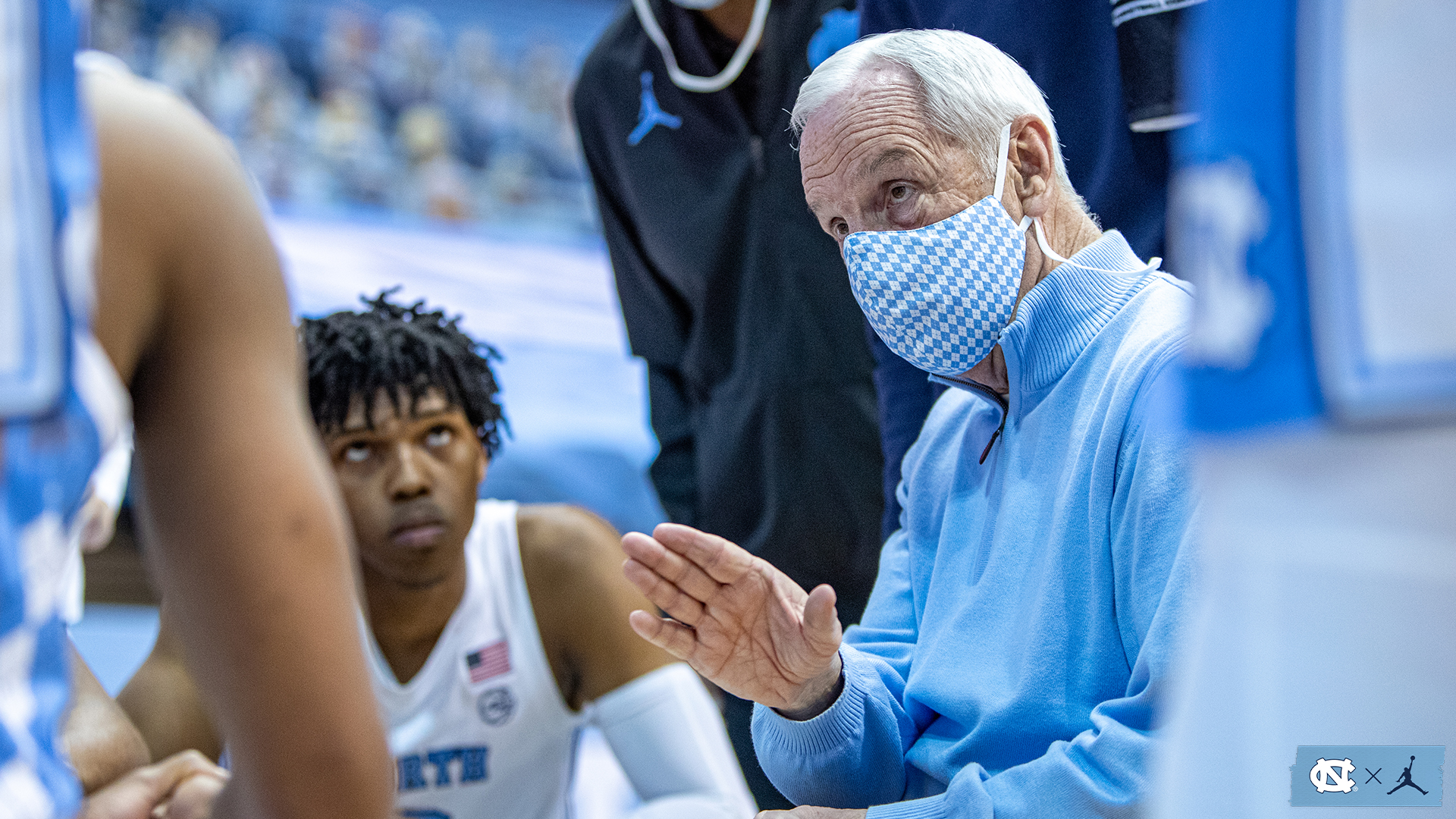 The upshot? Carolina won the rebounding category by 15, offensive rebounding by nine, second-chance points by 11, and points in the paint by 20. Combine that with their transition intensity and speedy defensive presence, and the Huskies couldn't adapt.
"That's their trademark — push up-tempo, force you to play faster than you normally do, and turn you over," Coen noted. "Sixteen [turnovers] isn't an unusually large number; it's not a great number, usually we like to get around 12 or less. I thought some of those were unforced; we kinda fed into the tempo. But you have to give North Carolina credit. That's what they do. They pressure the ball, they trap ball screens, and they rush your decisions."
The Huskies had two main bright spots. One was Coleman Stucke, who logged 14 points and five rebounds after heating up at the start of the second half. The other upside, and the far more prominent one, was Tyson Walker. The reigning CAA Player of the Week, just four days removed from a career-high 36-point annihilation of Towson, turned in his best half as a Husky, pouring in 21 points while missing just one field goal.
"He's made that statement all year long," Coen said of his star. "He's a terrific player. He's got extreme confidence in his own abilities. He's got a vision for the game and a feel for the game that's really hard to find."
Walker began with seven unanswered points to open the Husky scoring and give Northeastern what would prove to be their only lead of the game. The respect Carolina showed him was astounding; every time he blew past his cover on the perimeter, the Tar Heels crashed the paint with all five bodies and dared his teammates to hit open shots. For most of the game, and especially during their four-for-22 first half, they couldn't.
By halftime, Walker had more than doubled the point total of every other player in the Dean Dome. After a quiet second half, he finished with 27 points on eight-for-15 shooting. He is averaging 27 points over the team's last four games.
But his shooting alone wasn't enough to overcome the well-roundedness of a Tar Heel offense where every player — save for those who played one or two minutes of garbage time — scored, and where six players scored four or more field goals.
Northeastern's next scheduled games are February 27 and 28 in Williamsburg, Virginia against the William & Mary Tribe. After that will come the CAA Tournament from March 6 to March 9, which Coen says Wednesday's game was great prep for.
"We had to come up with a gameplan really quickly," he said. "I've found that with our weekend series, with a full week to prepare, you can overly obsess on the opponent. But this, we had to get right to work. I think that's great preparation for the CAA Tournament where we'll have to play back-to-back-to-back. Those scouting reports, you'll have less time than this."
The Huskies are almost assured a first-round bye and are likely to secure a top seed. And though their overall record has some Power-Five-shaped dents in it, the young Huskies will be battle-hardened beyond their years.