Story by Justin Diament and Milton Posner
Photos by Jordan Baron
HARRISONBURG, VA — If you were paying attention, you could see the answers coming an hour in advance.
After each of his team's last three wins, plus a CAA press conference a month ago, Northeastern head coach Bill Coen fielded a question about his march toward the program's all-time wins record of 250, set by Hall of Famer Jim Calhoun from 1972 to 1986.
He offered nearly identical answers each time — rejecting comparisons to Calhoun's vaunted résumé and deferring credit for the wins to his players, assistant coaches, the university, and medical, training, and support staff. It's who he is, and it's why he's so respected around the conference. He's naturally humble and gracious. He doesn't strut. And the last thing he wants, especially after his team wins, is to make himself the story.
"Coaches get way too much credit," he remarked after Sunday night's game. "I haven't scored a basket or grabbed a rebound in a long time. These guys do all the work."
But after a 63–47 win over William & Mary made him the winningest coach in the history of a century-old program, he didn't have any say in that. He was the story.
Or at least he was part of it. The win vaulted the second-seeded Huskies into the semifinals of the CAA Tournament, where they will battle the Drexel Dragons. Milton Posner, Jordan Baron, and Justin Diament will call that game for WRBB, with coverage beginning around 9:20 PM Eastern.
"It meant more to me that we're moving on and playing in the best month of the year — if you're a college basketball fan," Coen said. "It meant more to me that these guys were willing to play and show that type of heart and resilience given what we've been through."
The road to this landmark win was not as easy as the final score suggests. Without key starters Shaquille Walters (out for the tournament) and Jason Strong (day-to-day), the Huskies looked lost offensively in the first half. Without Strong, a key perimeter shooter, and Walters, an important ballhandler, the Huskies spent their first 15 minutes searching for answers, and scored just 25 points by the intermission.
"We hadn't played in three weeks," star point guard Tyson Walker said. "We were all in quarantine and stuff. We didn't have that much time to practice. So coming back was rough . . . We all spoke a lot over quarantine. So we were mentally together; it was all about the physical."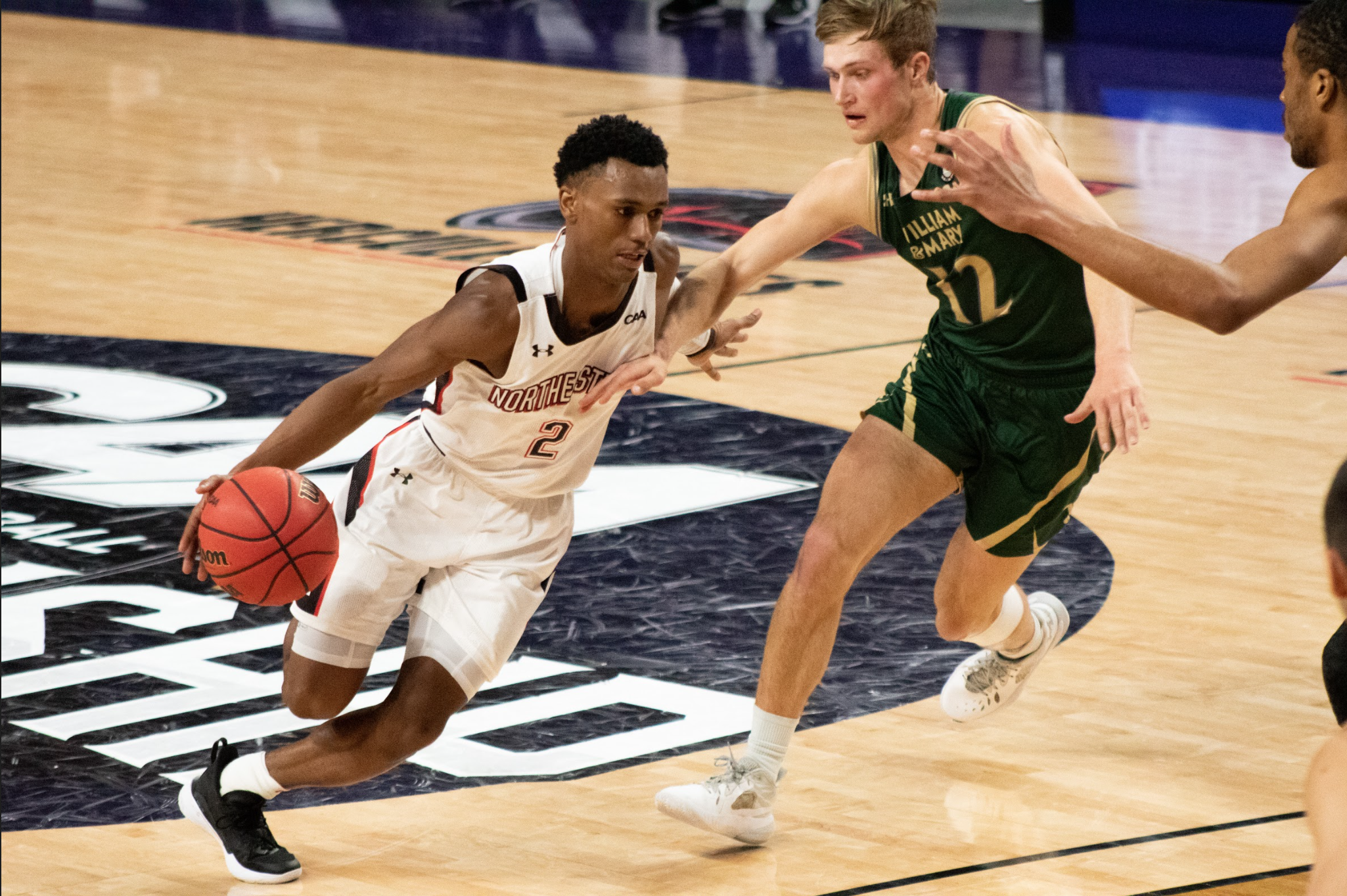 "I think we've played three games in about 40 days," Coen added. "We really didn't get much practice time before we got down here. Guys were getting out of quarantine at different times."
Numerous strange lineup configurations found their way to the hardwood. One was a starting lineup featuring defensive-minded guard Quirin Emanga and back-from-injury big man Chris Doherty. Another featured starting point guard Tyson Walker and reserve guard Vito Cubrilo, who usually only enters the game to spell Walker.
Northeastern often meandered late into the shot clock, lacking direction and settling for contested looks. Strong pressure from the Tribe, who feature two CAA All-Defensive selections, piled on the pain for the disoriented Huskies, who racked up 10 first-half turnovers. Northeastern also went without an assist for nearly 15 minutes.
"The ball was sticking a little bit," Coen explained. "A great metric for us is when you see assisted baskets; that means the ball is moving, it's not sticking, we're not overdribbling, we're cutting better, attacking the paint. In the first half, we didn't do enough of that."
The culmination of these attempts to fill the shoes of Strong and Walters was the debut of freshman forward Connor Braun, who had missed the entire season with an ankle injury. Braun played just four minutes, but his presence in such a pivotal game indicated the Huskies far-reaching search for lineup answers.
But they had a saving grace.
"All year long, our defense kept us in games," Coen said. "That was consistent tonight. We did a really good job on the defensive end and gave ourselves a chance."
They harassed William & Mary's drives, collecting five first-half blocks from five different Huskies. Northeastern held William & Mary to just 38 percent shooting from the floor, which kept the game tight despite a massive turnover advantage for the Tribe. Confoundingly, despite the aggressive nature of the defense from both teams, neither side attempted a free throw in the first half.
One first-half highlight for the Huskies was the return of Doherty, who hadn't played major minutes since January 23. He grabbed seven first-half boards and created key second chances for the Huskies. His contributions on both ends were essential to mitigating the losses of Walters and Strong.
With 5:58 remaining in the first half, the Huskies' offensive woes had them in a 21–12 hole. However, back-to-back threes from Coleman Stucke and Walker served as harbingers of things to come, while another pair of downtown buckets from Emanga and Walker evened the score at 23. William & Mary finished the first half strong and took a three-point lead into the locker room, but the table was set for the turnaround.
Northeastern returned to the floor with a vengeance. Newly minted Sixth Man of the Year Jahmyl Telfort logged seven points in the opening three minutes, including a three-pointer that gave the Huskies a lead they wouldn't relinquish. The Huskies quickly found another hot hand in Stucke, who splashed two deep threes to raise the Northeastern lead to double digits. Midway through the second half, Stucke led all scorers with 13, while adding five boards and two assists.
The Huskies settled into an offensive groove with contributions from numerous players, including buckets from Telfort and two nifty layups from Cubrilo. However, the biggest key to the sustained Husky dominance was Tyson Walker, who came alive after scoring only seven first-half points. He finished with 19 — including eight in a two-minute stretch — and contributed five rebounds and four assists.
While Northeastern's offense received a much-needed second half boost, their already-stout defense reached new heights. It was William & Mary's turn to look lost offensively, as they managed just five second-half field goals and couldn't keep pace with the invigorated Husky attack. Defenders harassed the Tribe's ballhandlers and forced eight turnovers, many of which lead to transition opportunities.
Doherty continued to swallow the Tribe's plentiful missed shots, and finished with an astounding 18 boards in his return. Additionally, both teams rediscovered the free-throw line, combining for 24 free throws in the second half after attempting none in the first. The Huskies outpaced the Tribe in this area as well, connecting on more foul shots despite fewer attempts.
"We talked about him coming into the game," Tribe head coach Dane Fischer said. "We talked about having a body on him every time the ball goes up, if not two . . . Eight offensive rebounds is way too many for anybody to have."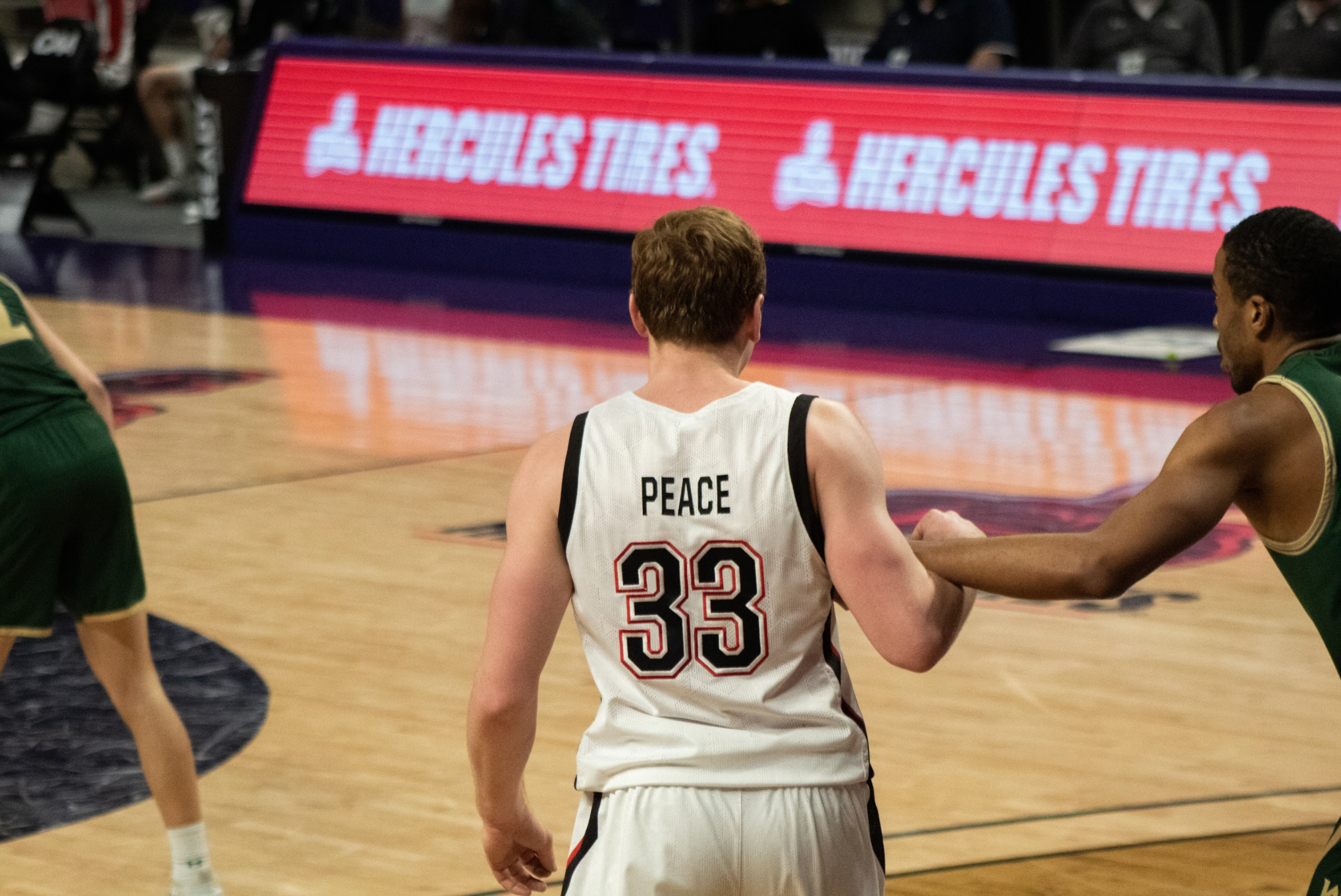 "We lost two games in conference this year, and the only two games we lost we didn't have Chris," Coen noted. "You can see what kind of a difference he makes — controlling the paint, getting on the glass. Having that type of rebounding effort was special."
"He's a dog," Walker said bluntly. "He works hard. He gets all of his stuff on his own."
William & Mary was led by star senior Luke Loewe, who contributed 18 points, seven rebounds, and six assists in the Tribe's lone bright performance. The only other Tribe player in double figures was Quinn Blair, who suffered a shoulder injury early on but pushed through the pain to record 11 points on inefficient four-of-11 shooting.