Story by Mike Puzzanghera and Jack Sinclair
Photos by Sarah Olender
ERIE, PA — With 1:10 left in the second period, Alina Mueller took a penalty with the Huskies up 2–0. Robert Morris's Emily Curlett struck on the power play seconds later to make it a one-goal game. After a long stretch of possession and dominance in the second, Northeastern, for the first time all afternoon, looked to be on their back foot.
As Mueller skated onto the bench, she turned to head coach Dave Flint to complain about the questionable body-checking call that sent her to the sin bin.
"I said, 'Hey, listen, it's done now. If you're upset about it, go score a goal,'" Flint recalled.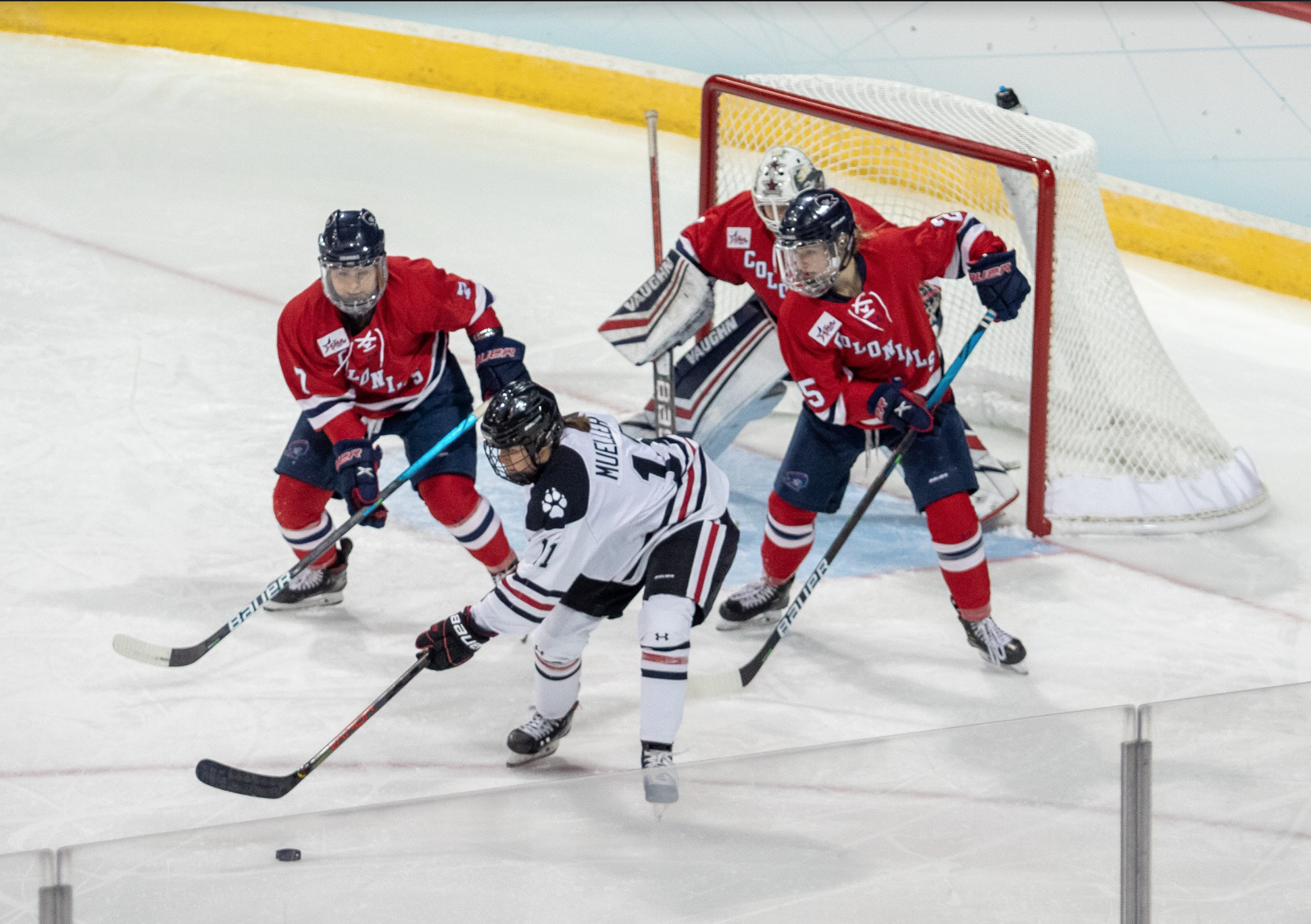 Mueller did just that, slamming home a rebound with 3.5 seconds to go in the period to swing the momentum right back and send the Huskies into the locker room up 3–1.
That momentum carried No. 1 Northeastern all the way Monday afternoon, as they advanced to their first Frozen Four in program history with a controlling 5–1 win over eighth-seeded Robert Morris in the first game of the NCAA Tournament.
"Since I've been a freshman, we've grown so much, we've come so far," defenseman Skylar Fontaine said. "A lot of time and effort has been put in, especially this year with everything being so unpredictable. It's just a great feeling to come out here and everyone playing with the biggest hearts and me as a senior, this is just a great experience, and I'm grateful for it."
Northeastern started strong with quite a few quick chances — namely from Mueller and Katy Knoll — but Colonials netminder Raygan "Ray Gun" Kirk was equal to all of them. In fact, as with UConn in the Hockey East semifinal, it took a penalty kill to get Northeastern going.
Mueller kicked a loose puck clear in front of Aerin Frankel, collected it behind the Northeastern net, and started the breakout. At the blue line, she split Robert Morris's two leading scorers, Lexi Templeman and Micheala Boyle, with a beautiful deke and shot clear through the neutral zone to create a three-on-one chance. She slid the puck to Chloé Aurard, who set up her shot and picked her spot, beating Kirk five-hole for the first goal.
Northeastern hit the ice for the second period with one aim: extend the lead. They held the Colonials deep in their own zone, but they were up to the task. Neither team got established for any considerable zone time, and the puck changed hands constantly.
Robert Morris was more than happy to keep the Husky lead at one, as they used their physicality to slow the high-flying Northeastern offense. The Colonials weren't truly challenging Frankel, taking shots from the blue line and giving the senior netminder loads of time to see the puck. 
The stalemate was finally broken by Northeastern's star defenseman, Fontaine.
"I passed it up to Chloé Aurard, and I saw that there was so much space," Fontaine explained. "So I took it and she gave it right back to me, and I just kind of took off and was on a sort of a breakaway."
Minutes later, Mueller took her penalty, and Curlett scored the Colonials' first-ever NCAA Tournament goal. The senior defenseman hit such a scorching one-timer that Frankel didn't react to the puck until it was already in the back of the net.
"You're not going to get too many power plays at this level and at this type of game," Robert Morris head coach Paul Colontino said. "So you really have to make the best of them. And, you know, I thought our PP unit came out great. And yeah, in particular, Emily Curlett did just an awesome job of doing what she does on the power play — finding loose pucks and hammering them home."
It was a punch in the mouth, and the Huskies never take kindly to those. Mueller, incensed by the penalty, was playing at her best and made the Colonials look like traffic cones. She even beat Kirk twice. The only thing the Swiss Olympian couldn't beat was the post. She rang it twice during the period, and neither shot ended up in the back of the net.
After her discussion with Flint, Mueller finally struck, giving her team a two-goal lead after two periods.
Northeastern got nothing out of their power play early in the third, appearing to have slowed down a bit. But just as that tone looked to seep into the rest of the game, a menacing forecheck from the nation's best fourth line hit Robert Morris with a dagger. Peyton Anderson knocked the puck away from Gillian Thompson, and it found the stick of Katie Cipra. The human highlight reel on skates switched the puck to her backhand and flipped it past Kirk.
If it wasn't a done deal after four goals, Fontaine made it five with her second of the night. She played the puck across to Katy Knoll on the rush and cut to the net like a goal-seeking missile. Knoll sent it right back to her, and Fontaine tipped it in with only one hand on her stick to seal the win.
"It's like a test in school, you know if you prepared for it or not, and they've done a great job preparing for this," Flint said. "There shouldn't be any jitters or anything like that when we come to Thursday."
Northeastern's victory advanced them to their first-ever Frozen Four, setting a new high-water mark for the program. The Huskies will play the winner of the Colgate–Minnesota-Duluth Thursday at 2 PM for a spot in the national title game. WRBB will call the semifinal game, with Jack Sinclair, George Barker, and Mike Puzzanghera on the mic.