Story by Catherine Morrison
Photos by Sadie Parker
BROOKLINE, MA — Northeastern (7–5) continued their winning streak on a chilly Tuesday afternoon against Bryant (2–7), scoring five and shutting out the Bulldogs.
The theme for the Huskies this season has been feast or famine. Northeastern will stack the runs early, then lose the lead in the bottom half with poor defense and a dearth of hits. Thankfully for the Huskies, Tuesday's tilt was nothing of the like.
Wyatt Scotti started for Northeastern and threw a solid three innings, giving up only three hits and one walk. After Scotti was pulled, Northeastern cycled through a new pitcher every inning or so against a lesser opponent.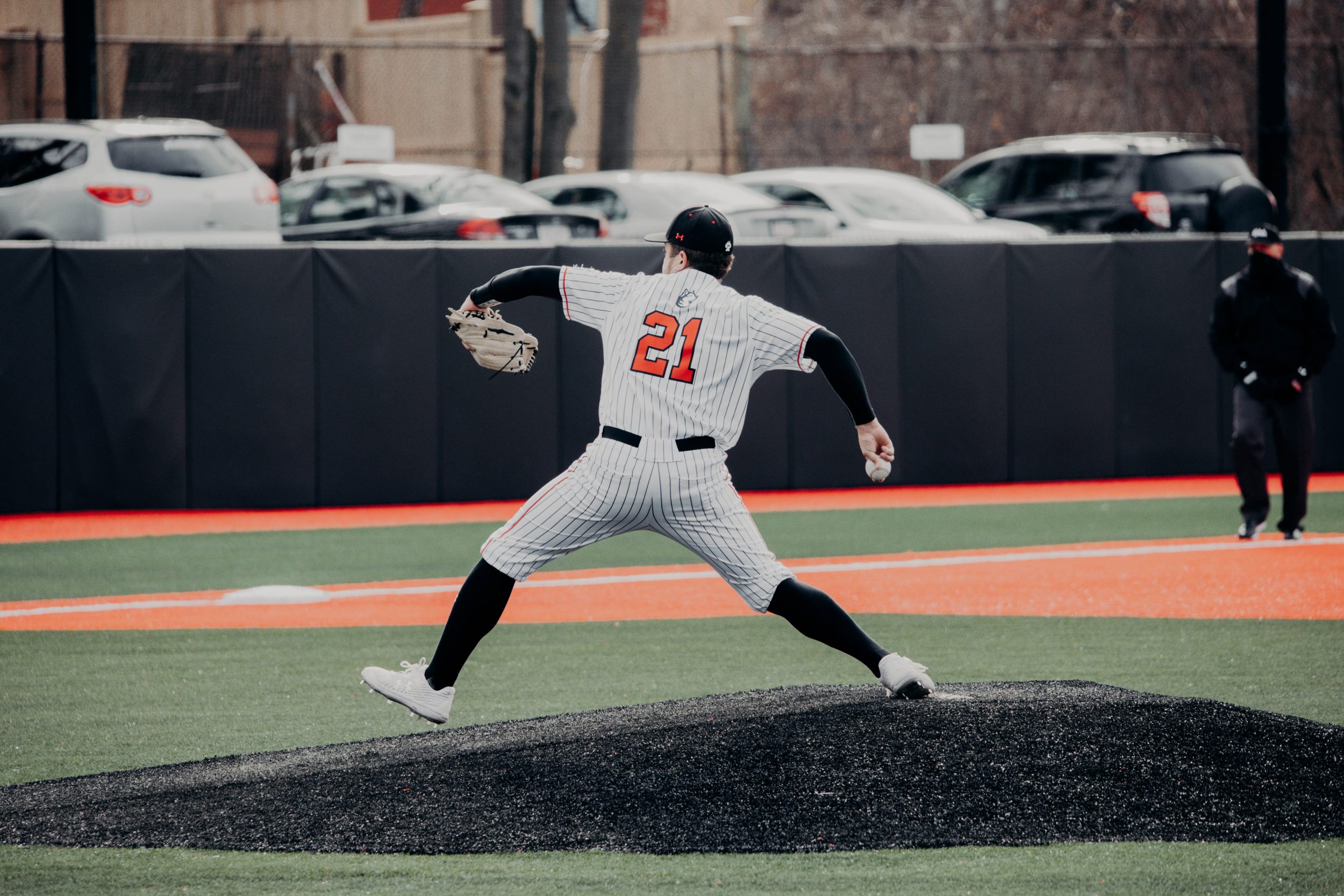 "The strategy was just to get some guys in who we hadn't used in a little bit but they're guys that we rely on," Northeastern head coach Mike Glavine explained. "So you gotta think long term here . . . We gotta think about conference games coming up. Eventually we're gonna have four game weekends so we're gonna have to rely on a lot of pitchers."
One such standout was Eric Yost, who threw the fifth and sixth innings. He only gave up one hit and had three of the Huskies four strikeouts.
Bryant followed Northeastern's pitcher-cycling strategy but proved much less successful. Starting pitcher Luke Garofalo did okay in the first inning, but lost his way in the top of the second. He started off by walking Max Viera. The next batter, Jeff Costello, laid down a bunt and practically flew to first base, beating out the throw to put runners on first and second. 
Garofalo gave up two more hits to put Northeastern in the lead, 2–0, and was only saved when Teddy Beaudet was caught stealing to end the inning. 
Garofalo's replacement, John MacDonald, looked wild in the bottom of the third. He threw hard but had trouble with his control, often throwing in the dirt or missing the catcher entirely to hit the backstop with a loud thunk. He was clearly thrown off his game and hesitated at the mound long enough to draw a pitch clock violation.
MacDonald inherited Scott Holzwasser on first base, who promptly stole second. MacDonald was clearly rattled and walked the next batter he faced, Ben Malgeri. Holzwasser advanced on a wild pitch and scored on the second out, a pop fly to right field. The inning ended when Malgeri was caught stealing. 
MacDonald settled down in the fourth inning with a strikeout, but found himself in trouble in the fifth. Holzwasser singled to right, sending MacDonald to the top of the lineup with one out. Malgeri did not disappoint and got a base hit, sending Holzwasser to second. This was the end of the line for MacDonald, who was replaced by Mike Randazzo.
Holzwasser and Malgeri continued Northeastern's strategy of aggressive baserunning and stole third and second respectively. Ryan Cervone hit a sac fly to score Holzwasser and end the inning at 3–0.
Northeastern scored a couple more sac fly runs in the fifth and seventh innings to continue their streak of small ball.
"Offensively that might have been our best game of the year," Glavine said. "Made some great plays out there, that was just some kind of timely hitting on offense . . . I thought it was a really clean game by us — hit really well, defended really well."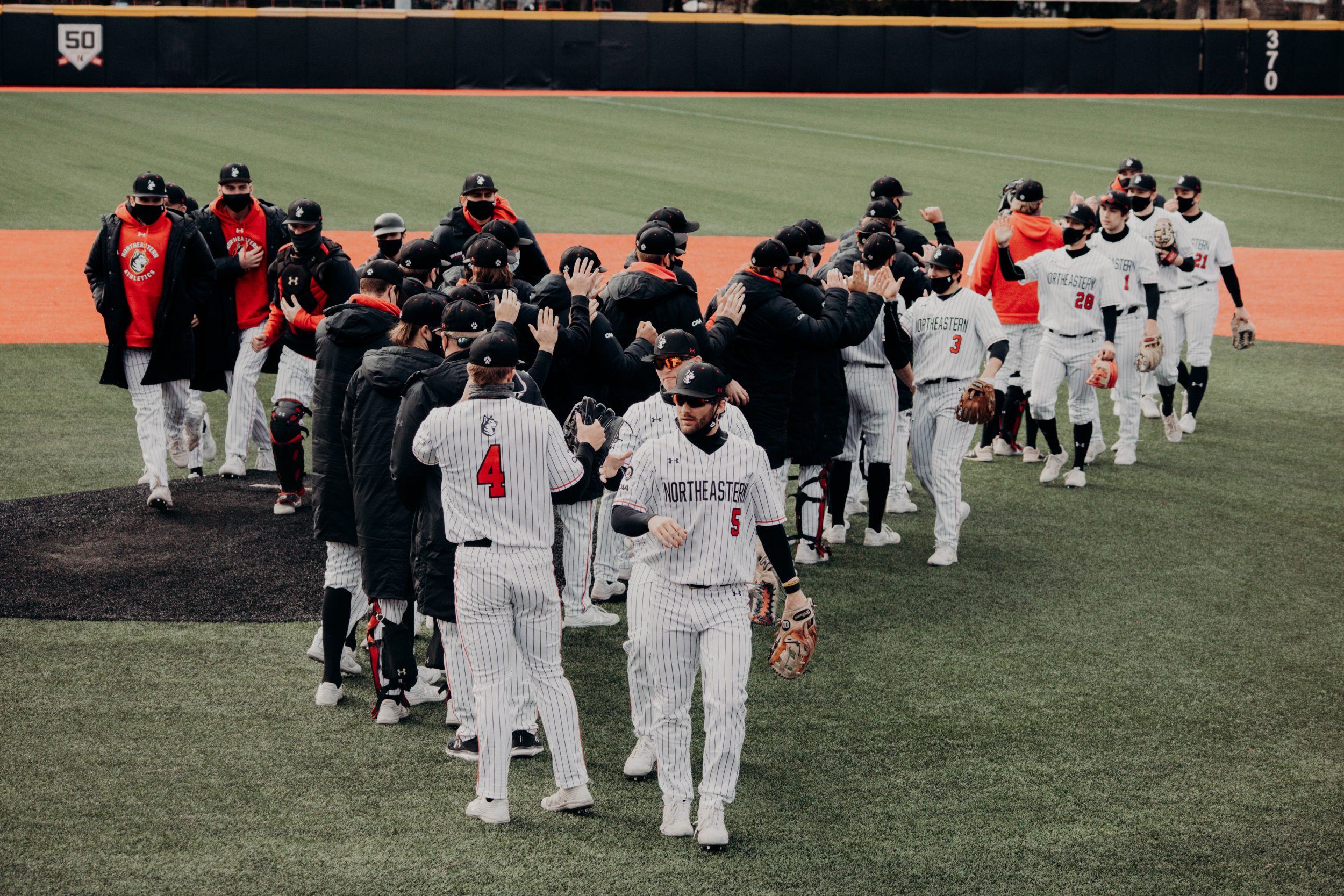 Brian Rodriguez was tagged to close and did not disappoint, getting a quick one-two-three inning with one strikeout and two groundouts. On the last at bat Shane Kelly grounded out to shortstop, with Husky first baseman Ian Fair stretching to make an incredible catch of the shortstop's throw.
Although Fair has struggled offensively this season, Glavine was impressed with his performance Tuesday.
"Ian Fair is an amazing kid," Glavine said. "I don't think he's ever had a bad day, he's always just so positive and so he's such a positive energetic guy around the team so he has that effect, he is a plus plus defender . . . He's just too talented to not hit and he's gonna change our lineup tremendously once he feels more comfortable in the box."
Tuesday's victory increased the Huskies' winning streak to three ahead of a big series this weekend against Villanova.
"The momentum was huge," Glavine noted. "We want to start feeling good about ourselves and getting on a roll. Always want to play well at home and we've done that over the years and that's a priority for us, so just want to build up our confidence and start to feel confident in all things we do."