Story by Mike Puzzanghera and Jack Sinclair
Photos by Sarah Olender
ERIE, PA — There really wasn't a more heartbreaking way for it to end.
Just over three minutes into overtime, Daryl Watts banked a pass from behind the net off Megan Carter's shoulder and into the Northeastern goal, giving Wisconsin their sixth national championship and second in a row, and ending the best season any Northeastern University team has ever had.
"Disappointing, obviously, the way it ended," head coach Dave Flint said. "Also, wish it was maybe a better goal that ended that game, but that's the way it goes, that's the breaks and I'm proud of my team. They battled all year long."
The two teams skated to a scoreless tie through two and a half periods before Wisconsin's Makenna Webster laced in a rebound with nine minutes to play. Northeastern walked up the ice and, 35 seconds later, Chloé Aurard hit a missile past Kennedy Blair to knot things up again.
It was made possible by an excellent keep from Brooke Hobson at the blue line, as she chopped the puck down low to allow the Huskies to continue their attack.
The game between the two best teams in the country certainly lived up to its billing. The teams flew up and down the ice, traded shots back and forth, and got into physical scrums after nearly every whistle. By the end of the night, they did not like each other one bit.
The defensive work from Northeastern's forwards — mainly the third line of Tessa Ward, Mia Brown, and Miceala Sindoris — was noticeable all game, as they forechecked and backchecked well to limit Wisconsin's grade-A chances. Offensively, Alina Mueller was bright, as she always is. The Swiss phenom dangled between players with ease in all three zones and provided the primary assist for Aurard's goal with a neat drop pass to her fellow European linemate.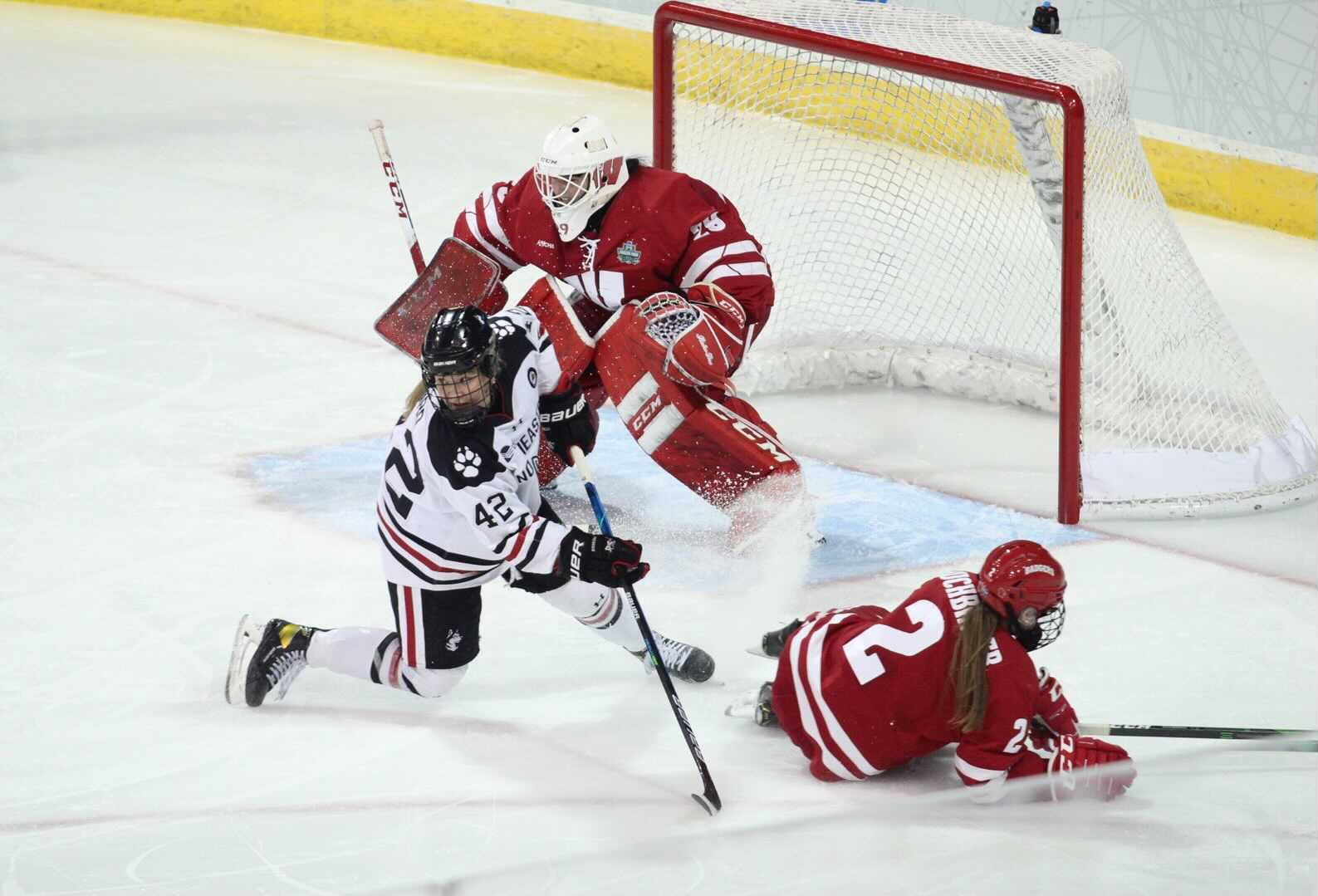 Aerin Frankel stood on her head for the whole game, as she always does. She made a remarkable stop to keep Badger forward Casey O'Brien off the board in the second as O'Brien raced in all alone. She stifled a few Watts snapshots to keep her fellow top-three Patty Kaz finalist out of the back of the net. She directed a Webster attempt off the post and out. It was a remarkable game from the best goalie in the country.
But an unfortunate bounce ended the season.
"She gave us a chance, and that's what we asked of her and she does that every time she steps in the net," Flint said. "She's proven she's the best goalie in the NCAA — I'd say the best player in the NCAA and is a huge, huge reason for our success."
It was only the second loss of the year for the Huskies: they lost a 2–1 game against BC on December 13 and were undefeated the rest of the way. They won Hockey East with ease, blistered past Robert Morris for the program's first NCAA Tournament win, and came from behind to beat Minnesota-Duluth in the Frozen Four to earn their first-ever title game appearance.
Such a bright season of firsts came with a darker side: their first-ever loss in a national championship game.
"There were some skeptics questioning whether we were even good enough to be here and I think we set the record straight," Flint said. "We earned our spot here and in the championship game, and we gave Wisconsin everything they could handle. I'm just proud of my team's effort and what they've done all year long and all the accomplishments that they've had."
With only Veronika Pettey receiving honors on Senior Day, there is an expectation that many of the team's seniors will return for a fifth season. Frankel has already confirmed she will. This Northeastern team has the pieces and has the potential to return to the title game, and they'll hope for a better break when they get there.
WRBB would like to thank those reading for their support all year. The station will be the first one in Matthews next year when puck drops for another fantastic season for Northeastern women's hockey.
Another thank you is in order for the entire Northeastern Athletics staff. They have moved heaven and earth to make sure we can bring you the best possible coverage of everything Husky Sports, even in the midst of a global pandemic.