Story by Khalin Kapoor
Photos by Sadie Parker
HEMPSTEAD, NY — The Northeastern Huskies (14–6) swept the Hofstra Pride (9–9) in a Saturday doubleheader, winning game one 3–2 and game two 13–5.
Northeastern was able to grind out a victory in game one due to stellar pitching from starter Kyle Murphy and clutch hitting from right fielder Jared Dupere. The Huskies took the momentum from that win and carried into their offensive explosion in game two, powered once again by Dupere along with center fielder Ben Malgeri, catcher Matt Olson, and shortstop Spenser Smith.
Game one was a pitchers' duel through and through between Northeastern starter Kyle Murphy and Hofstra starter Jimmy Joyce. Murphy notched a career-high 12 punchouts over six and a third innings of work, scattering five hits and allowing two runs. Murphy set down seven straight hitters by way of the K and has struck out 22 over his last two starts. Joyce matched Murphy stride for stride and was arguably better, spinning seven innings, striking out 13 batters, and allowing two earned runs.
"Joyce was awesome for Hofstra," Northeastern head coach Mike Glavine remarked. "Really really electric . . . and everything was a struggle for us."
Even though they had trouble getting their bats going against Joyce, the Huskies took advantage of some Hofstra miscues throughout the game, scoring one run each on a balk and a passed ball. Taking what the other team gives you is something Northeastern was trying to improve upon coming into this series.
In the sixth inning against Joyce, Dupere launched a homer to right field, increasing Northeastern's lead to 3–1 and effectively icing the game.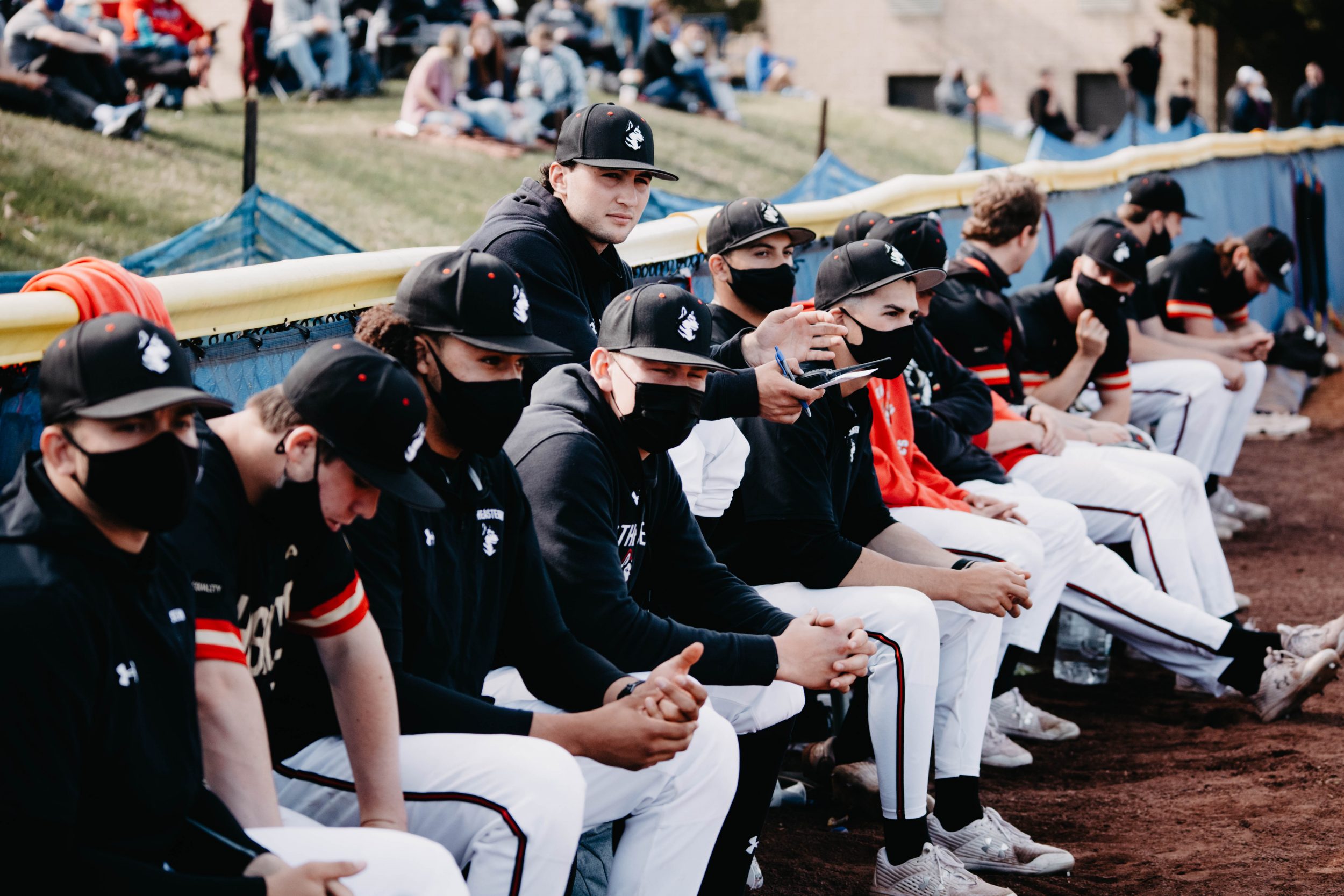 Northeastern fireballer Brandon Dufault shut down Hofstra in the ninth, notching his second save of the season and securing a game one victory. Murphy, reliever Eric Yost, and Dufault combined to tally 13 strikeouts against just one walk and six hits. In a game where offense was at a premium, the bullpen putting zeroes on the board and taking some pressure off of Murphy was incredibly clutch.
"Game one was a grind, it could have gone either way," Glavine said. "The guys battled in what was not an easy game . . . [They] played well under pressure, and we came out on top."
In game two, the Huskies came out firing on all cylinders, plating four runs in the second courtesy of a two-run blast by Olson and another bomb by Dupere. They would never relinquish this lead.
Husky starter Sebastian Keane spun six quality innings to get the win, allowing two runs and striking out eight. Keane benefitted from stellar defense behind him — including some highlight-reel plays by Spenser Smith — and the early four-run cushion that he was tasked with protecting.
"Keane was good . . . though he would tell you it was not his best," Glavine said. "He fought and he battled . . . settled in and gave us six strong innings."
After entering the final three innings of action up 6-2, the Huskies went for the jugular, tacking on seven more runs. Leadoff hitter Ben Malgeri hit his first home run of the season, Jared Dupere continued his domination with an RBI double, Kyle Peterson hit a two-run triple, and Spenser Smith capped off the scoring with a solo homer in the ninth.
"Offensively, the guys really took over," Glavine said. "It was really just a great team win."
Game one was a grind for Northeastern, but getting that first win was huge to relax the team heading into game two. That relaxed approach led to better at-bats, and with the momentum from the previous win the Huskies struck early and played under less pressure. In game one, Northeastern batters struck out 15 times. Compare that to game two, where they struck out only twice. This progression is a testament to how this team can quickly adapt and change its approach.
This weekend against Hofstra marks the first of many conference series for Northeastern. So far they couldn't have asked for a better start, as they've won their first three and will look to chalk up a fourth against Hofstra on Sunday.