Story by Milton Posner
Photos by Sadie Parker
NEWARK, DE — A cursory glance at Saturday afternoon's doubleheader between Northeastern and Delaware reveals a pair of games that make so little sense juxtaposed against one another that watching both was enough to give you vertigo.
In the first, the Huskies, who entered riding an NCAA-best 19-game winning streak, showed exactly why they got that far. In tying a program record with their 20th straight win, they demolished another, scoring more runs in a game (26) than they had in a century of play before it.
In the second, the Blue Hens leveraged a four-run seventh inning to take a 5–3 lead. The Huskies, who had averaged 14 runs across their five previous games, couldn't close the gap. Streak over.
The games were almost impossibly different. But in a certain sense, it made perfect sense. The Huskies displayed their prowess like no Northeastern team ever had. They reached the peak of their powers. And then the balloon burst.
Game One: The Onslaught
Every fan has a different idea of what constitutes a blowout. Mine goes roughly like this — a gap of 1–3 runs is a close game, 4–6 is a solid defeat, 7–9 is a blowout, 10–12 is a demolition, and anything above that is the sort of total annihilation possible only in Category 5 hurricanes or asteroid strikes.
Northeastern won the first game of Saturday's doubleheader by 22 runs. 26–4. I'll give a quick overview, then list my favorite statistical oddities.
Kyle Murphy hurled six innings of two-run ball for Northeastern. Meanwhile, the Huskies pounced on Delaware starter Dom Velazquez, pushing across two runs in the first inning and three in the second. After a scoreless third, a five-run fourth chased an increasingly wild Velazquez from the game after 105 pitches.
Not that it mattered. The Huskies trampled Winston Allen for seven runs in the fifth, hung three on David Keane in the sixth, and notched six in the seventh as multiple Delaware pitchers lost all semblance of control. By the end, Northeastern head coach Mike Glavine, who lamented his team taking its foot off the gas after jumping out to an 8–0 lead on Friday, did it for them.
"At some point you gotta make decisions and hold the runners and not rub it in," he explained. "It gets to a point where we gotta go base to base, definitely did that in the later part of game one."
Okay. Outrageous stat time:
The Huskies scored 26 runs without hitting a home run or a triple.
The Huskies had as many walks (13) as the Blue Hens had baserunners of any kind.
Their number one and number two hitters, Jeff Costello and Scott Holzwasser, notched eight plate appearances apiece. Costello smacked four hits.
Northeastern batted around in the fifth and seventh innings, bringing 12 men to the plate in each and scoring a combined 12 runs. They also sent nine batters to the plate in the fourth.
In the fifth, Spenser Smith doubled twice.
In that seventh inning, the Huskies' six runs came on just two hits. Take out the one that was actually an error on the third baseman, and they had one. They had more RBI hit-by-pitches in the seventh inning than they did genuine hits.
In that same seventh inning, ten Husky batters in a row reached base.
The only person to take the mound for Delaware without allowing a run was Austin Colmery, who, mostly by virtue of entering right as the Huskies stopped trying, pitched two and a third scoreless innings while striking out two. Colmery is an outfielder.
Baseball is fun. And then, when you least expect it, baseball rips your heart out.
Game Two: The Comedown
"I've been on the other side in years past, where we've gotten beaten pretty badly, then come out and won the next game," Glavine said. "The other team's upset, they're frustrated, they come out with a little extra oomph and maybe we let our guard down a little bit."
"If anything, I probably didn't do a good job getting them prepared between games," he added. "Usually we come out swinging and we just didn't."
The Huskies didn't play all that poorly. Glavine even noted that they didn't make outright errors or mistakes and that Delaware needed big hits to win. He mentioned that his normally infallible reliever Eric Yost, who allowed four seventh-inning runs, had good stuff overall, and that he still trusts Yost in big spots.
But that seventh inning was enough to seal the Huskies fate. They came in positioned well enough, with a two-run, fifth-inning jack from Holzwasser putting them up by a run.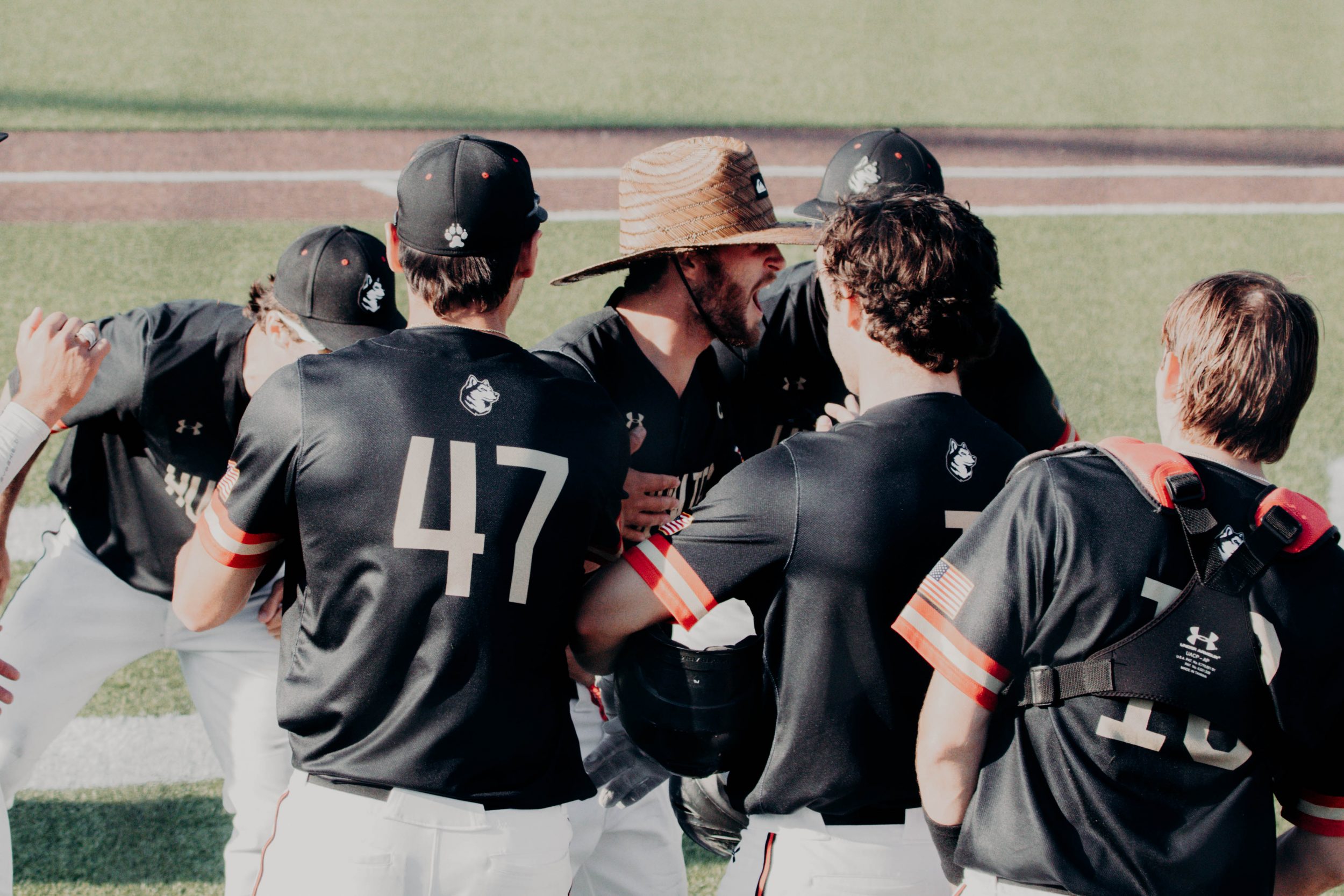 A seventh-inning triple from Smith plated another run. It was the fourth extra-base hit of the day for a player who had hit just five all season.
"He's such an important part of our offense because we can turn the lineup over to the leadoff guys," Glavine said. "And he can really run too. So we need a lot more of that for the rest of the year."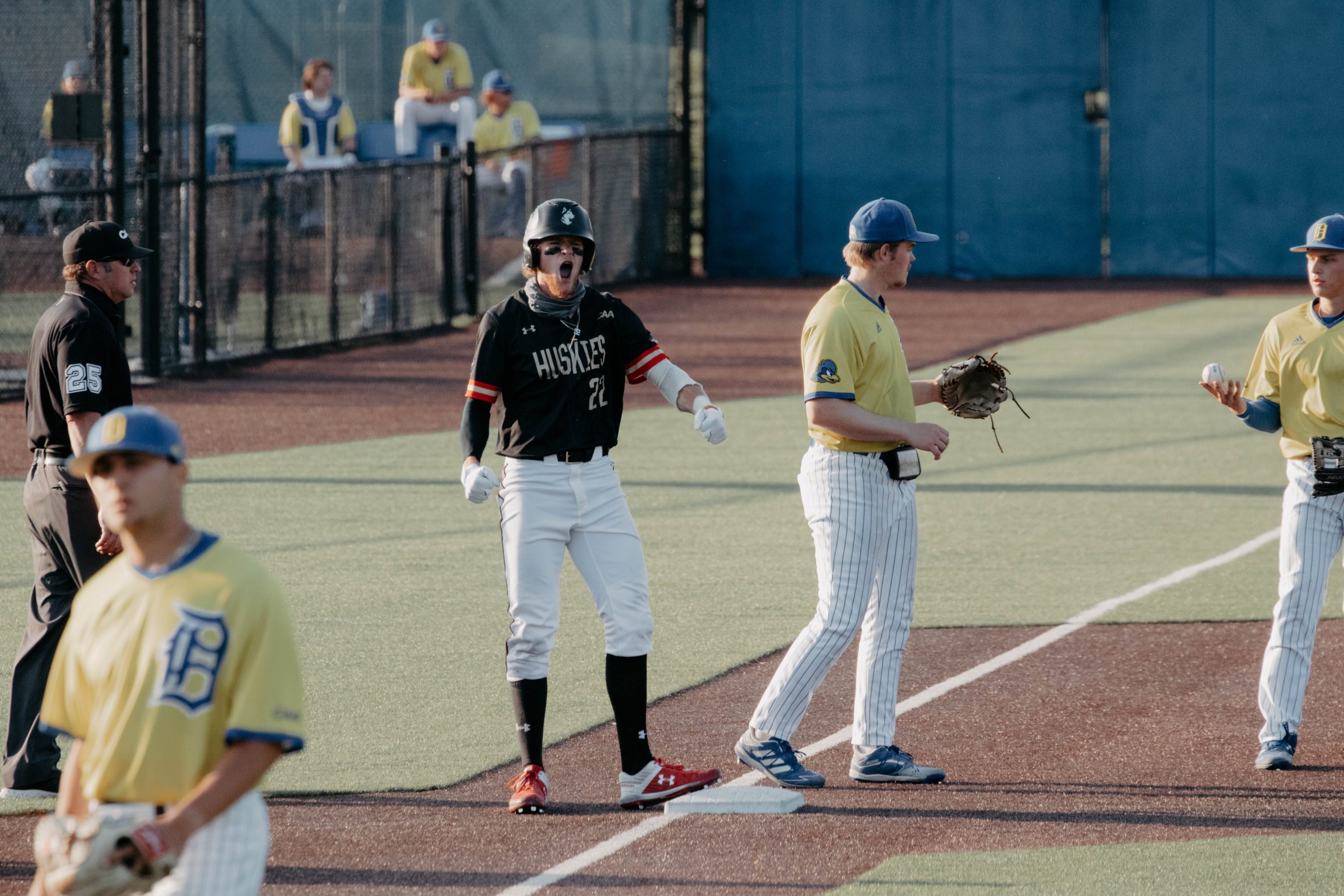 And they did it all in support of Sebastian Keane, who tossed six innings of one-run ball while fanning six.
But the Blue Hens finally came home to roost or some such thing in the bottom half of the seventh. Jordan Hutchins smacked a solo homer, then Vinny Vaccone, Joseph Carpenter, Jack Goan, and Joey Loynd used a triple-walk-double-single combo to put Yost on the ropes and push three more runs across. The lead was 5–3, Delaware hurler Mike Biasiello held the lead, and the Huskies 20-game, program-record-tying win streak was consigned to the ash heap.
Not that they're hanging their heads.
"It was also great preparation for what lies ahead, playing under pressure," Glavine noted. "There's pressure when you have a winning streak. We feel it, we want to keep it going."
"I think it meant a lot to the coaches, to the players, to the staff, to everyone involved with our program," he continued. "We really put ourselves out there in the national sense. A lot of people all over the country are talking about us, and deservedly so. What they just did is really impressive."