Northeastern will play their next CAA Tournament game on Friday, May 28 at 7 PM against the winner of the UNCW–Elon game. Click here to listen as Milton Posner and Jack Sinclair call the action live for WRBB.
Story by Milton Posner and Jack Sinclair
Photos by Sadie Parker
WILMINGTON, NC — It was as good of a first inning as Northeastern head coach Mike Glavine had ever seen.
"I couldn't have drawn it up any better," Glavine said. "We get bunts down, steal bases, get a home run, get two-strike hits, a couple ugly hits — just everything you want from a lineup. We go all the way through, we turn the lineup over. It was a special inning. You saw [all of] our offense in one inning."
When the dust settled, the Huskies came away with six runs in the first inning, making up the bulk of their offensive production as they cruised to a 10–3 win. After an emphatic start to their tenth CAA Tournament appearance, the Huskies will look to build on this win and claim their first title since joining the conference in 2006.
Starter Trey Pooser kicked off the game for the Charleston Cougars, and quickly found himself in a load of trouble. Jeff Costello led off with an infield single. Max Viera followed suit, singling into right to advance Costello to third; Viera then stole third as Jared Dupere struck out. Up stepped Scott Holzwasser, sliding to the cleanup and designated hitter spots after a misstep at the first base bag the weekend prior left him out of the lineup and in a boot for the last regular season game.
Holzwasser was limping but produced nonetheless, knocking a clean single to right that plated Costello and Viera.
"He's a gamer," Glavine said. "You'll see him in there again tomorrow, so he's got a whole night and day to prepare and get his foot where it needs to be. He'll definitely be in the DH spot."
After a Danny Crossen single, Ben Malgeri, the center fielder who has had a quiet season compared to his hard-hitting teammates, stepped up in every sense. Malgeri formally introduced his bat to the baseball by sending it about 400 feet over the left field wall, boosting the Huskies lead to 5–0.
The Cougars' nightmare inning rolled on, as the next three plays saw Ian Fair reach on an error, Teddy Beaudet awarded first base on a foul ball incorrectly ruled a hit-by-pitch, and Spenser Smith reach safely off a bunt back to the pitcher. Costello stroked a fly ball into deep center, which gave Fair plenty of time to tag up and score the sixth run of the inning.
Fair would score again in the bottom of the third, this time on his own accord. Malgeri reached base on an error just before the Husky first baseman stood in and yanked a home run to the opposite field.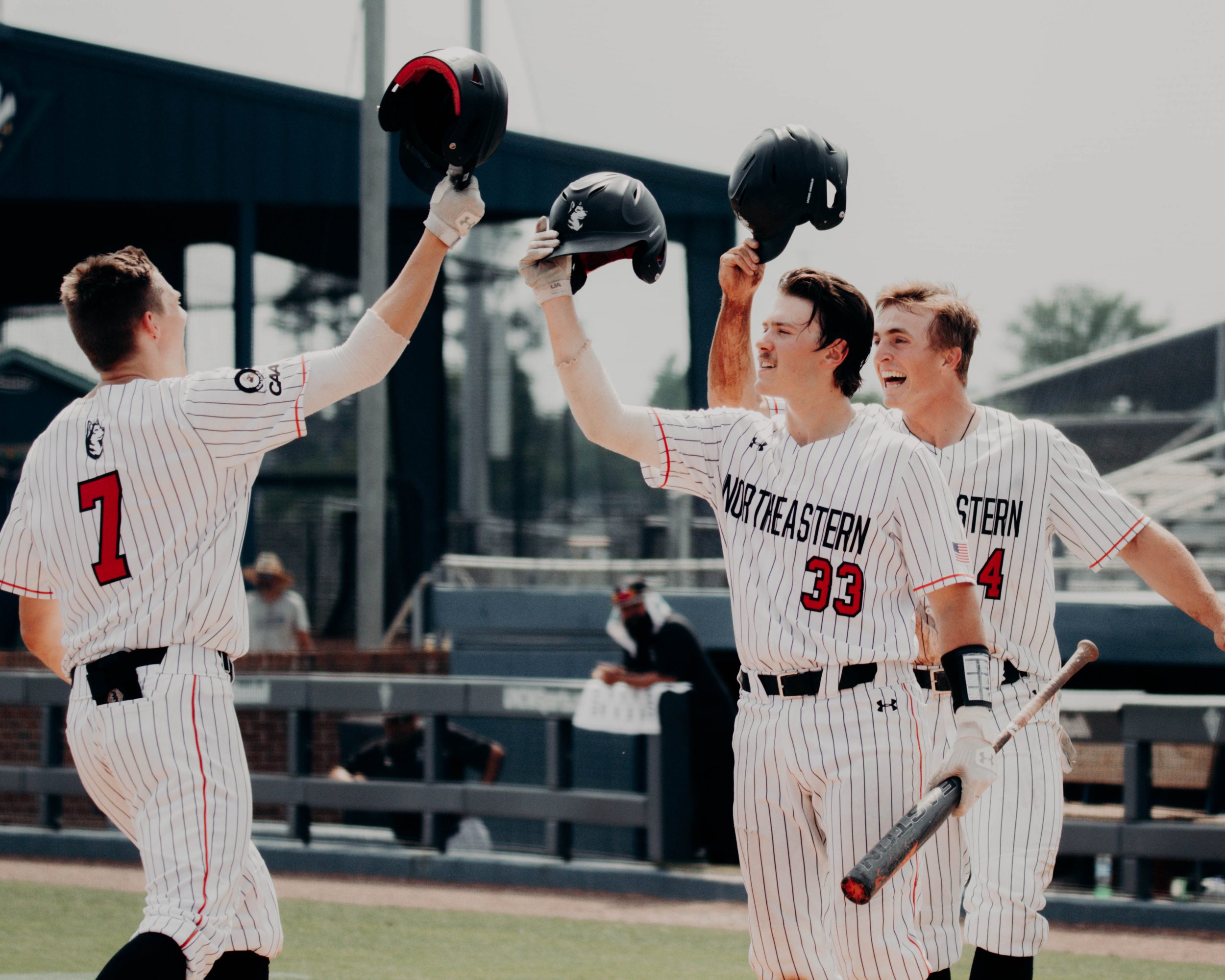 After three innings, the Huskies held a commanding 8–1 lead over the Cougars. Tack on Dupere's CAA-leading 18th home run in the fourth and another RBI single from Holzwasser in the fifth, and the Huskies led 10–1.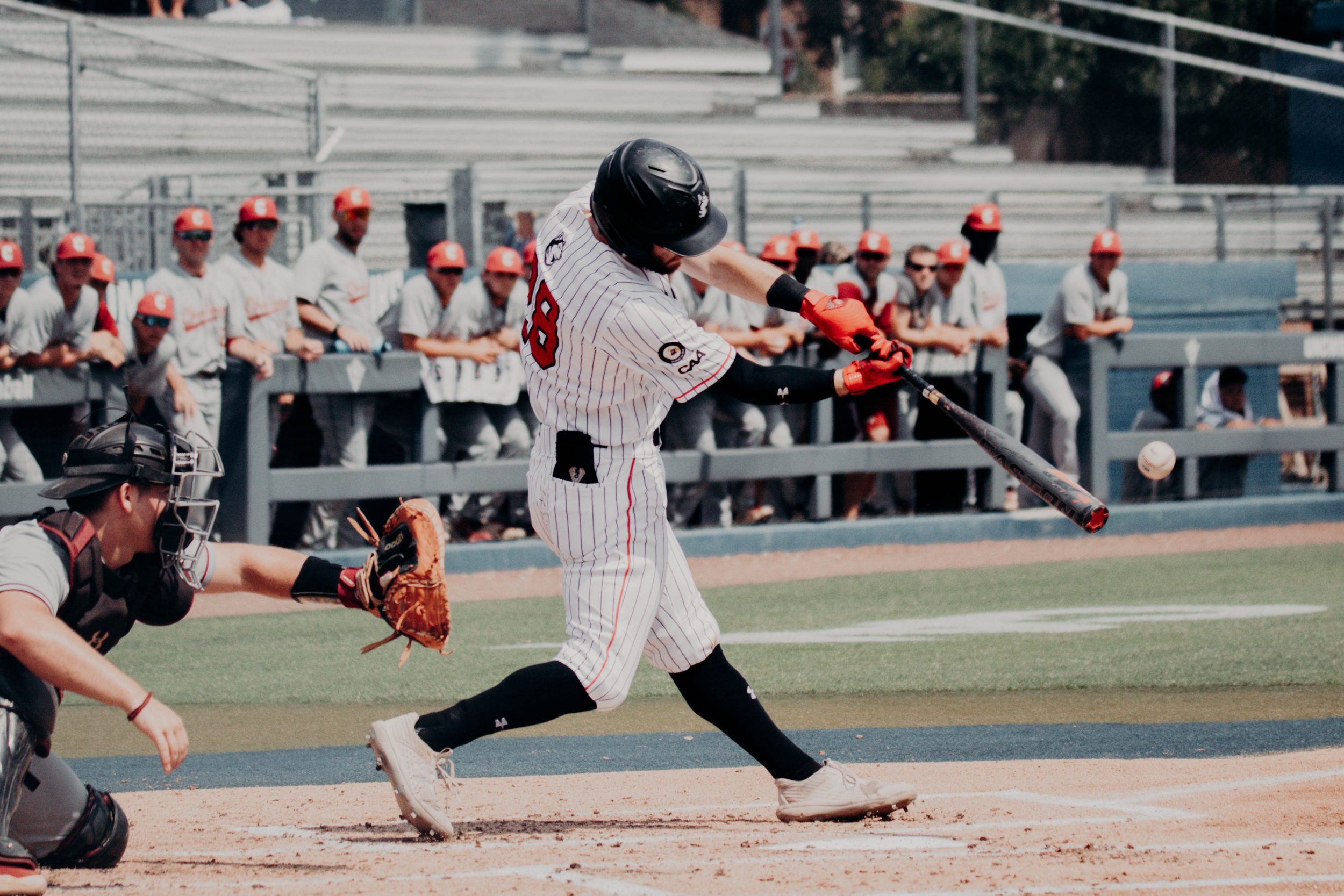 Underlining all of this offense was a gutsy pitching performance from standout freshman, Cam Schlittler. He dominated opponents the season, going 6–0 in conference play with a 0.90 ERA and making hitters look like they were swinging toothpicks. He showed why on Thursday afternoon, as he mowed through an almost impossibly efficient first six innings allowing only a solo home run to Jared Kirven.
"Pretty sure Schlittler liked the hot weather," Glavine said. "The pitchers love it. We've talked at length about taking care of our bodies to be able to play in this heat. We had it in Towson, which was huge. Leading into this game, we practiced for three days in the heat. We've been talking about hydration, rest, and all that stuff."
But disaster struck Schlittler in the seventh inning. Or, more accurately, a Kirven line drive did. On his pitching arm.
For a long moment, the Husky dugout, as well as the fans who made the 800-mile trek from Massachusetts, held their breath.
"Fortunately it was above the elbow; it hit him in the bicep," Glavine explained. "The stitches were on there, I could see it plain as day. He was hurting and it was bruising up already. I just wanted to calm him down; that's a jolt and I bet you it was 100 mph off the bat."
Schlittler tossed a few warmup pitches to regain his control, then retired the next batter to escape the inning. Though he did cede two runs in the eighth, Glavine attributed it more to fatigue than to the line drive.
"It probably wasn't a ton of pain, it was more shock. The pain is probably going to come tonight," he said. "But I wouldn't have put him out there if I didn't feel like it was safe. And of course he wants to stay in; he's a tough kid."
Schlittler probably wasn't going to pitch again in the conference tournament anyway, but Glavine confirmed that they are looking to prepare him for NCAA Tournament play should the Huskies make it. The Cougars, meanwhile, drop into the loser's bracket in the double elimination tournament, and will face William & Mary in a win-or-go-home game Friday morning.