Story by Catherine Morrison
Photos by Sarah Olender
Conference play has officially begun for the women's hockey team, which means it's time for our annual Hockey East Round Up. There are ten teams in Hockey East: Northeastern, Providence, Boston College, UCONN, Boston University, Vermont, Maine, the University of New Hampshire, Holy Cross, and Merrimack.
Providence received the only first place vote that didn't go to Northeastern (but only because head coach Dave Flint can't vote for his own team). Last year everyone played a condensed schedule due to COVID, so they played fewer games and only played other teams in the conference. They ended the year with a 12-8-1 record and played Northeastern in the tournament championship game. It was the first time they reached the championship game since 2012. They were a strong contender last year, spending fourteen consecutive weeks nationally ranked in the top ten. Despite losing the championship game, Providence received an at-large bid and went to the NCAA playoffs for the second time in their history, where they lost to No. 2 seed Wisconsin. Their two best players came back this year, Sara Hjalmarsson, who led the team with seventeen points, and Sandra Abstreiter, who had four shutouts last season and received Female Athlete of the Year at Providence. Providence has a bit of history with Northeastern, as star player Maureen Murphy transferred from the Friars last year and reportedly was not allowed to play Providence as part of her transfer contract. Due to this, there's some bad blood between the Huskies and Friars, and the games should be interesting to watch this year.
Next up is Boston College, who was third in the preseason poll. BC went 14-6-0 and reached the Hockey East Tournament for the twelfth time. They kept three of their five top scorers from last year: Kelly Browne, Hannah Bilka, and Gaby Roy, as well as getting Michaela Boyle as a transfer due to the collapse of the Robert Morris hockey team. BC handed Northeastern their only regular season loss last year, which included a goal by Bilka. The Eagles are currently ranked seventh in the NCAA polls.
UConn was fourth in the preseason polls, with sixty seven points. They had a record of 9-10-1 last year and lost to Northeastern in the semifinals of the Hockey East Tournament. Goaltender Samantha Carpentier-Yelle, who posted a 2.01 goals against average and recorded three shutouts, is returning as a senior and team captain Natalie Snodgrass is returning for a fifth year as a graduate student and will be a huge force on the team. They just broke ground on a new on-campus rink this summer and will be playing there from now on.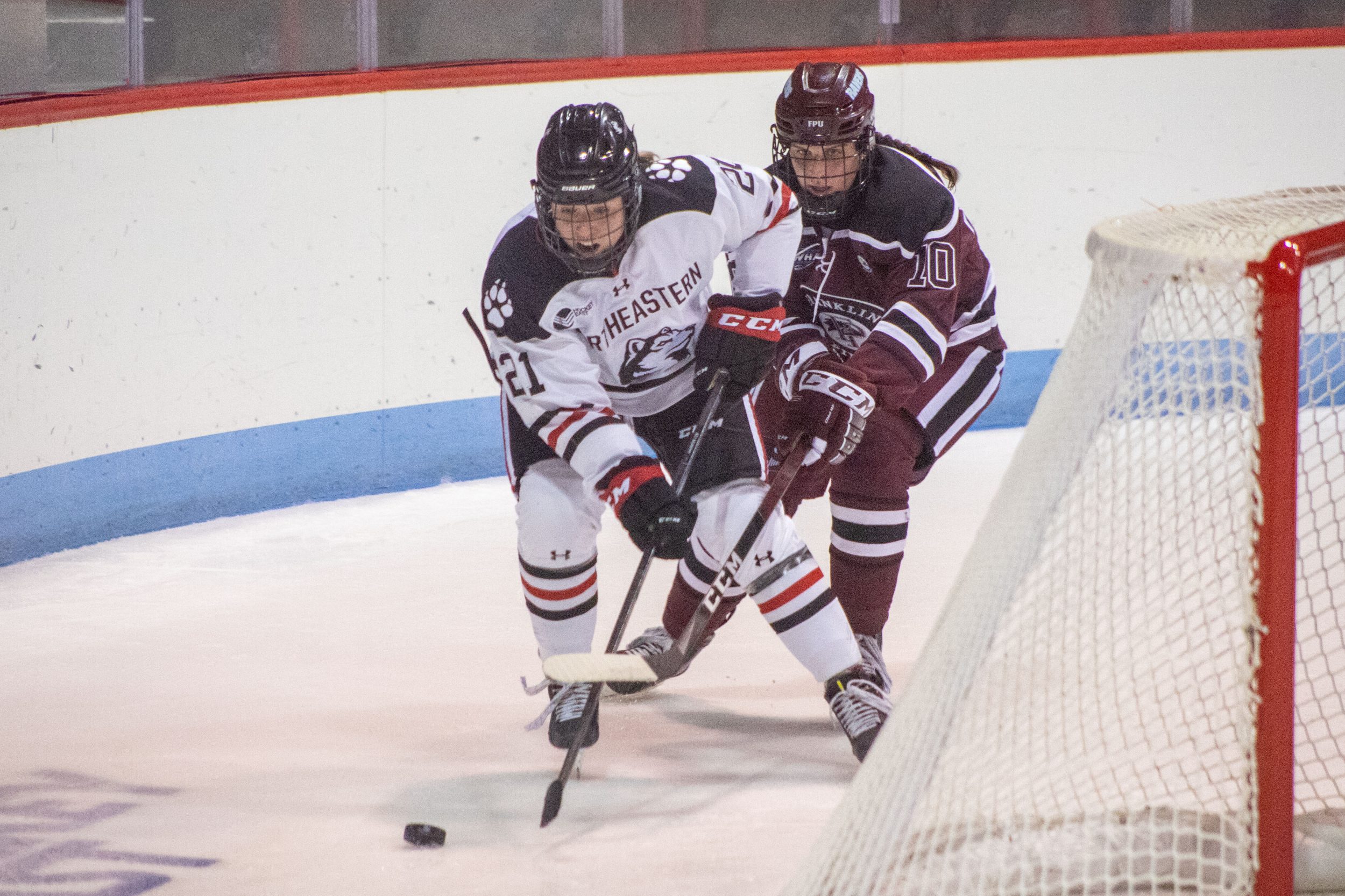 Boston University placed fifth in the preseason polls, despite spending some time in the top ten national rankings last season. Tmhe Terriers elected not to extend scholarships to students who chose to use their extra year of eligibility afforded by the NCAA due to COVID, which puts them at a severe disadvantage in the conference. BU lost a lot of talent, including Jesse Compher who was a Patty Kazmier top ten finalist in 2019 and led in both goals and assists last season. They also lost Corinne Schroeder, who was on the shortlist for National Goaltender of the Year. It looks like BU will be in a little bit of a rebuild of this year.
Vermont placed sixth and had a record of 6-5 last year. This is their highest ranking in four years, presumably due to their ability to keep their three highest scorers from last season. Reigning Hockey East Rookie of the Year Jessie McPherson is also returning and should be a force to contend with now that she has collegiate experience. UVM also sent three players to the World Hockey Championships: Sini Karjalainen, Tynka Pátková, and Natálie Mlýnková. Overall, UVM seems to be on an upwards slope, but they aren't quite contenders yet.
Maine, the University of New Hampshire, Holy Cross, and Merrimack were seventh, eighth, ninth, and tenth respectively, with Merrimack only receiving 19 votes. All teams had a record of under .500 and struggled last season. Maine had a record of 8-9-1, and their best player will be returning: goalkeeper Loryn Porter. Porter is returning as a graduate student and finished last season with 2.22 goals against average and a 0.919 save percentage. UNH had a record of 7-14-1 and, like Maine, their best returning player Ava Boutilier is also a goaltender. Boutilier ranked fourth in shutouts, fifth in saves, and seventh in minutes on the national leaderboards and is a bright spot on an otherwise middling team. Holy Cross had a record of 4-15-1, but you can't really blame them as they are only in their fourth season as a member of Hockey East and are still trying to establish themselves. Lastly, Merrimack only won one game and had fifteen losses. The Warriors are also a relatively new team with only six seasons in Hockey East and are likely to do about the same as last year.
Overall, Hockey East is a pretty decent mix of competitive teams and teams that are still in the building stages, making it an exciting conference. The conference is especially known for its quality goalies, which keeps games interesting even when there's an uneven matchup. However, just like last year, Northeastern shouldn't have any problems blowing through the season.