Story by Rae Deer
Pictures by Sarah Olender
BOSTON – It was a bit of an underwhelming performance by the Northeastern Huskies on Tuesday night as they took on the Huskies of the University of Connecticut at Matthews Arena. Northeastern, who were 0-1 in conference play thus far this season, were looking to tie up the total with their second conference tilt. However, their consistent offensive troubles and defensive mistakes couldn't escape them and they fell to UConn with a score of 5-3. 
For the first ten minutes of the game, the action looked to be in Northeastern's favor. They dominated physically and didn't allow their opponents long stretches in their zone. They kept up well with UConn and were playing a good game on all parts of the ice. Five minutes in, they opened up the scoring, with Ty Jackson going backhand for his first of the season off of a great feed from defenseman Tyler Spott.
Despite scoring the opening goal, they started to struggle, delivering an unimpressive power play with several turnovers, zero shots on goal, and more than one short-handed chance for UConn. It appeared as if the cracks were really beginning to show. The first piece chipped off the Northeastern block at the end of the power play, when Nick Capone of UConn came storming out of the penalty box and couldn't be caught by neither Jayden Struble nor Devon Levi.
Next came the moment when the Connecticut Huskies really got the Ice Bus going and scored two straight goals that had implemented the exact same formula: screening Levi.
Those last ten minutes were absolutely bleak for Northeastern offensively and defensively. Besides letting up the two goals, which were due mostly to bad defending of Levi's crease,  they stopped generating scoring opportunities. And to some, it looked like they stopped shooting all together, falling back into their usual pattern of just skating the puck around the offensive zone. They ended that period trailing 3-1 and it was important that from there, they get their stride back.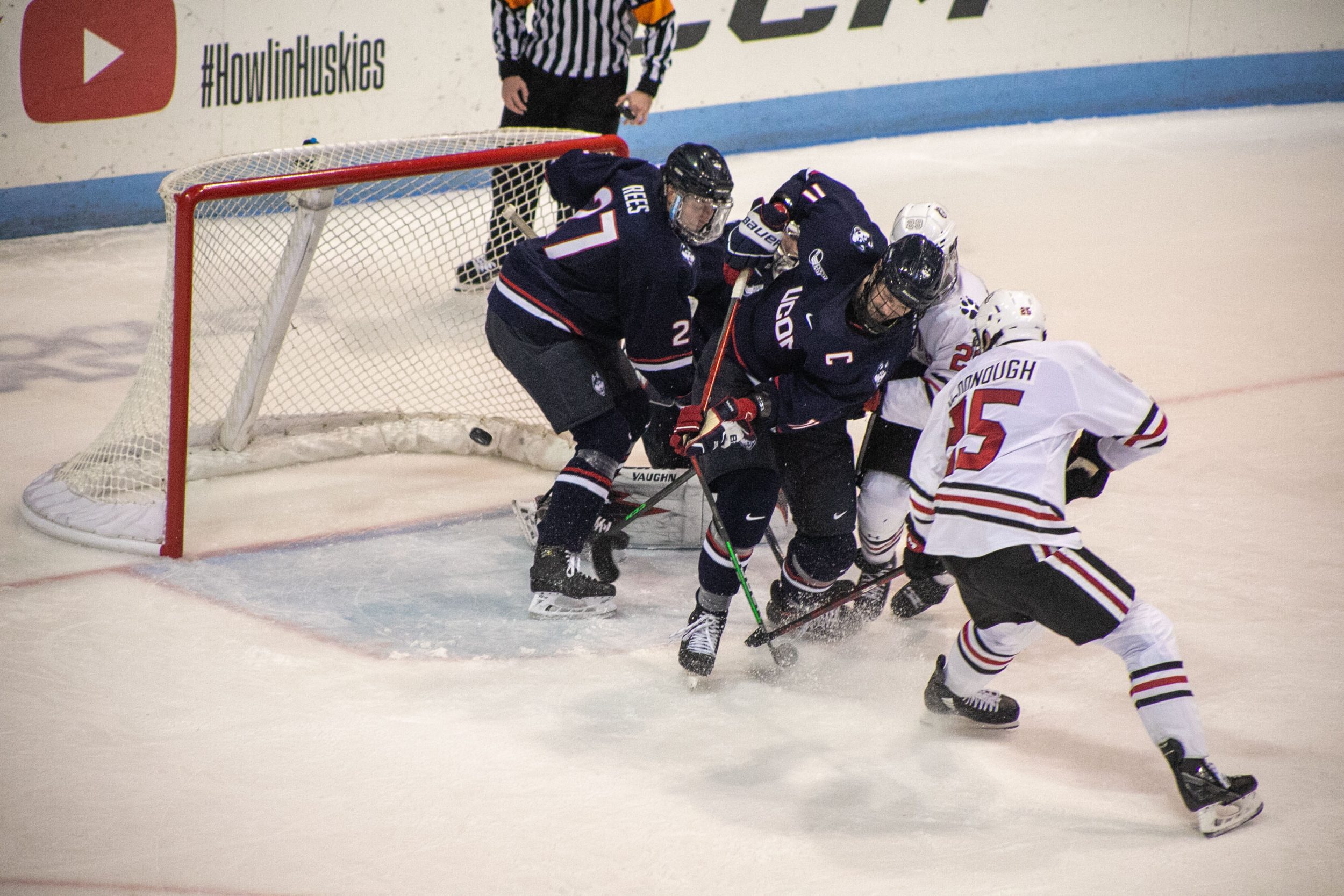 Therefore it was great that the Northeastern Huskies came out much stronger in the second period. Coach Jerry Keefe believed that the second was one of the team's "best periods we played this year." They killed off their first and only penalty of the night nicely, making great defensive decisions and being very cautious not to turnover the puck in bad areas, which is something they had issues with all night on 5v5. The Huskies from Boston looked especially grittier on the offensive, getting more comfortable in UConn goaltender Darion Hanson's crease and taking nearly as many shots on goal in that lone period as the first and third periods combined. However, they found themselves troubled with being able to finish their shots as most of their key opportunities to catch up fell victim to the post.
On the upside, this period gave their power play a better look. After UConn took two penalties a minute apart and gave Northeastern the two-man advantage, a sequence of shots from both Gunnarwolfe Fontaine and Justin Hryckowian produced a loose puck and Aidan McDonough found it. He tallied his sixth goal of the season and NU finally got their first power play goal of the season.
On the downside, UConn had a near immediate response in the form of former NU commit Chase Bradley, who notched his first career goal.
But Northeastern couldn't let Bradley be the only one. After going back on the power play minutes later for what arguably should've been a five minute major on UConn, Northeastern scored again and another Husky earned his first. If anyone was a bright spot in this game, it was Justin Hryckowian, and he walked away with his first career goal as a NU Husky to prove it. He delivered a highlight reel goal, finding the open spot in front of Hanson and taking the feed from McDonough up and over into the back of the net.
Ten seconds later, UConn answered again. Marc Gatcomb, who had been a stellar player for UConn all night, brought the lead back up by two, and there was nothing Northeastern could do. Of these quick responses, UConn head coach Mike Cavanaugh believed they were the "key to the game." He said that teams are "going to have to weather storms" in terms of momentum, and believed his team did well in that category.
In the third period, Northeastern nearly crumbled. They made obvious offsides entries, reverted back to losing more faceoffs, and couldn't keep it together with turnovers. UConn dominated Northeastern's zone and despite not pulling away with another goal, it was very evident that UConn would come out the victor. NU bombed their power play opportunity with only one shot on goal, their few good looks on 5v5 were once again attracted to the post and they simply were unable to get anything going. UConn had axed their momentum and played an aggressive forecheck for the final twenty minutes to close out the game.
Coach Jerry Keefe was not satisfied at all with his team's performance in the loss, describing their effort as "not even close to good enough," and "not desperate enough," and lastly, saying that his team is simply a "participant of Hockey East" right now.
Northeastern will get another chance to finally notch their first conference win, hosting two games against Maine this upcoming weekend.