Story by Peyton Doyle
Photos by Sarah Olender
Game 149 in the all-time series between the Northeastern Huskies (1-2) and the Boston University Terriers (1-2) did not disappoint. The two schools entered tied 74-74 going into this matchup but it was the Huskies who finished on top in this battle of the Back Bay.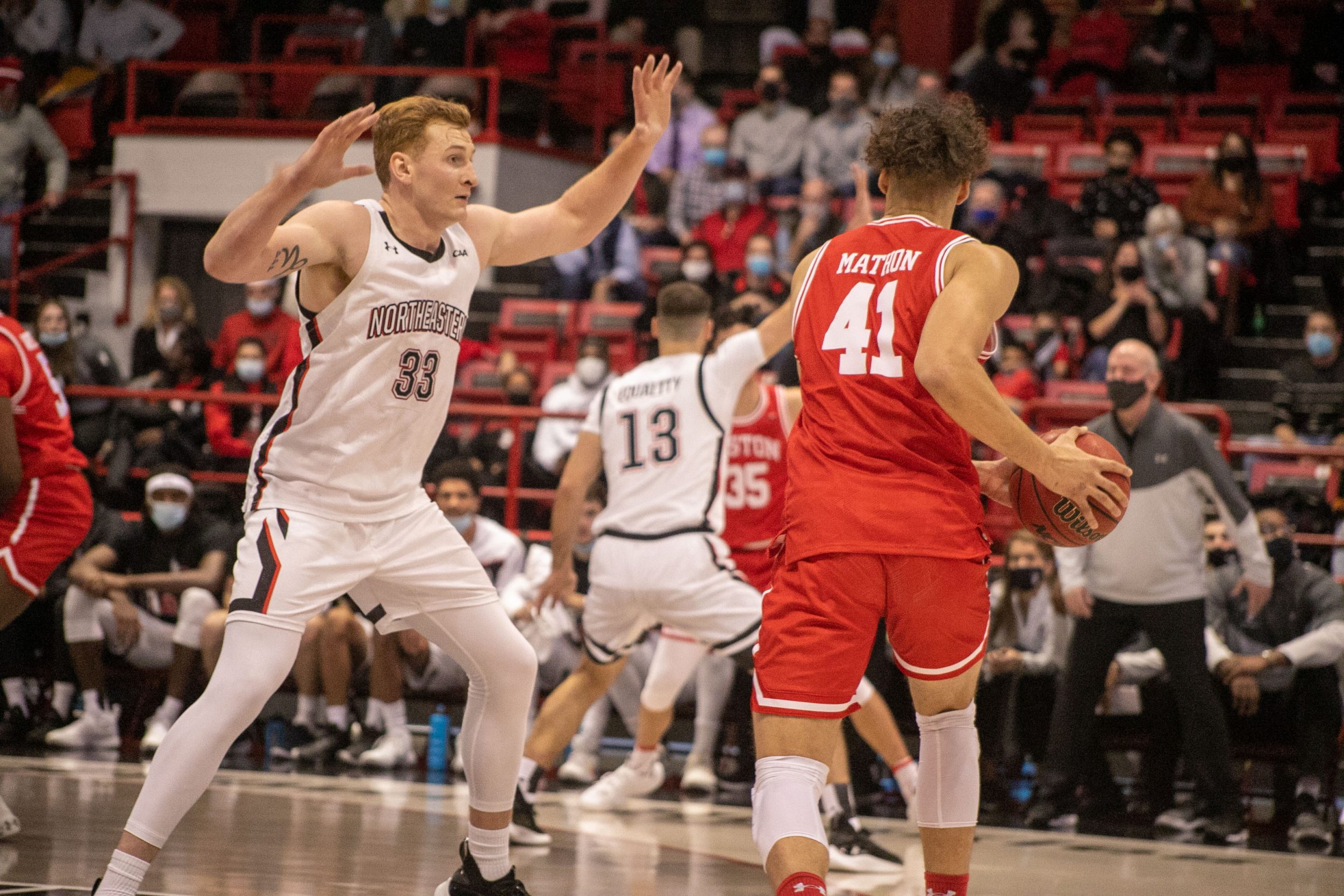 The series record was not the only historic aspect of tonight's game as it was NU's first game back in Matthews Arena since the start of the COVID-19 pandemic and featured a pregame celebration of Huskies head coach Bill Coen, who broke the record for all-time wins by a Northeastern head coach with 251 last season.
"Thank you to everybody who made it a special night for me. A lot of friends and family and ex-players were here today to help us celebrate," Coen said. "Guys from years past came into the locker room with this year's group and it was a really special moment."
The final score of the game speaks to its competitiveness but also highlights the inefficiencies of both teams on the offensive side of the ball. Finishing at 49-48, the matchup was a defensive stalemate throughout with the two teams entering halftime with a score of 25-20 in NU's favor.
The two squads who are well respected for their three-point shooting both were abysmal from beyond the arc in this one. Three triples were made in this entire game. Just three. Each squad took 18 shots from deep with the Huskies, who made two of those three, winning by the slimmest of margins thanks to their extra three compared to the Terriers.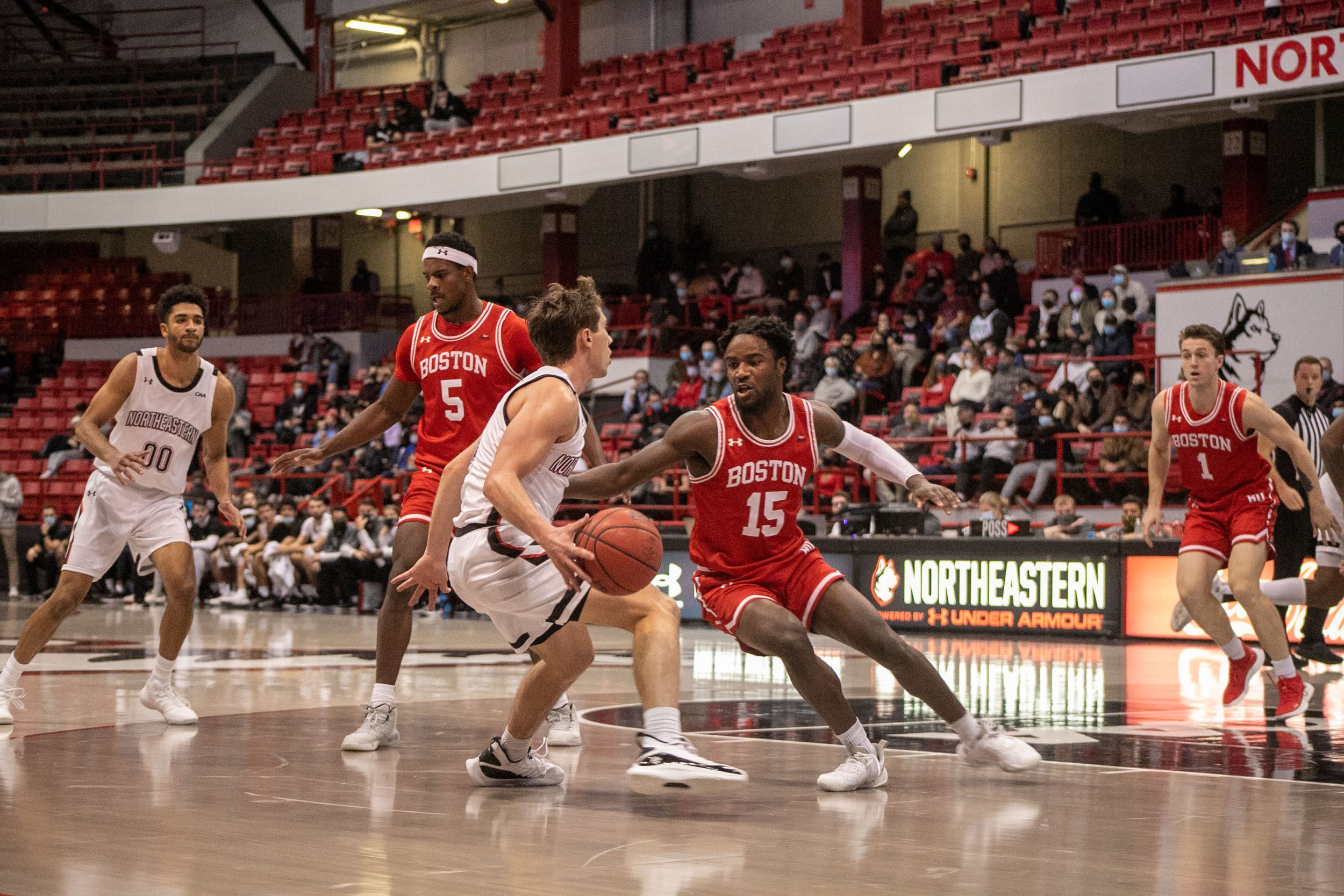 To start off this game, it was clear that defense would dominate as both squads were flying around the court and switching assignments smoother than silk. Northeastern's sophomore forward Coleman Stucke was a prime example of the fire that the team thrived on. Stucke was a surprise start over fellow sophomore Jahmyl Telfort, and is not known for his defensive abilities or his speed. The 6'7 Canadian however showed why he was staring, tipping passes, and making life incredibly difficult for the Terrier guards who thought they could pick on him.
It was Stucke as well who got the scoring started for Northeastern as he used his size and shocking speed to find his way to the rim for easy layups and converted on his first two shots.
Stucke did not start either of NU's first two games and Coen spoke about his decision to start him after the game and what he saw Stucke bring to the squad.
"I just felt like in the first couple of games, Coleman got lost in the rotation and he's going to be a big part of what we do," Coen said. "He plays hard, he plays the right way, so it was an opportunity for him to get out there and get his rhythm."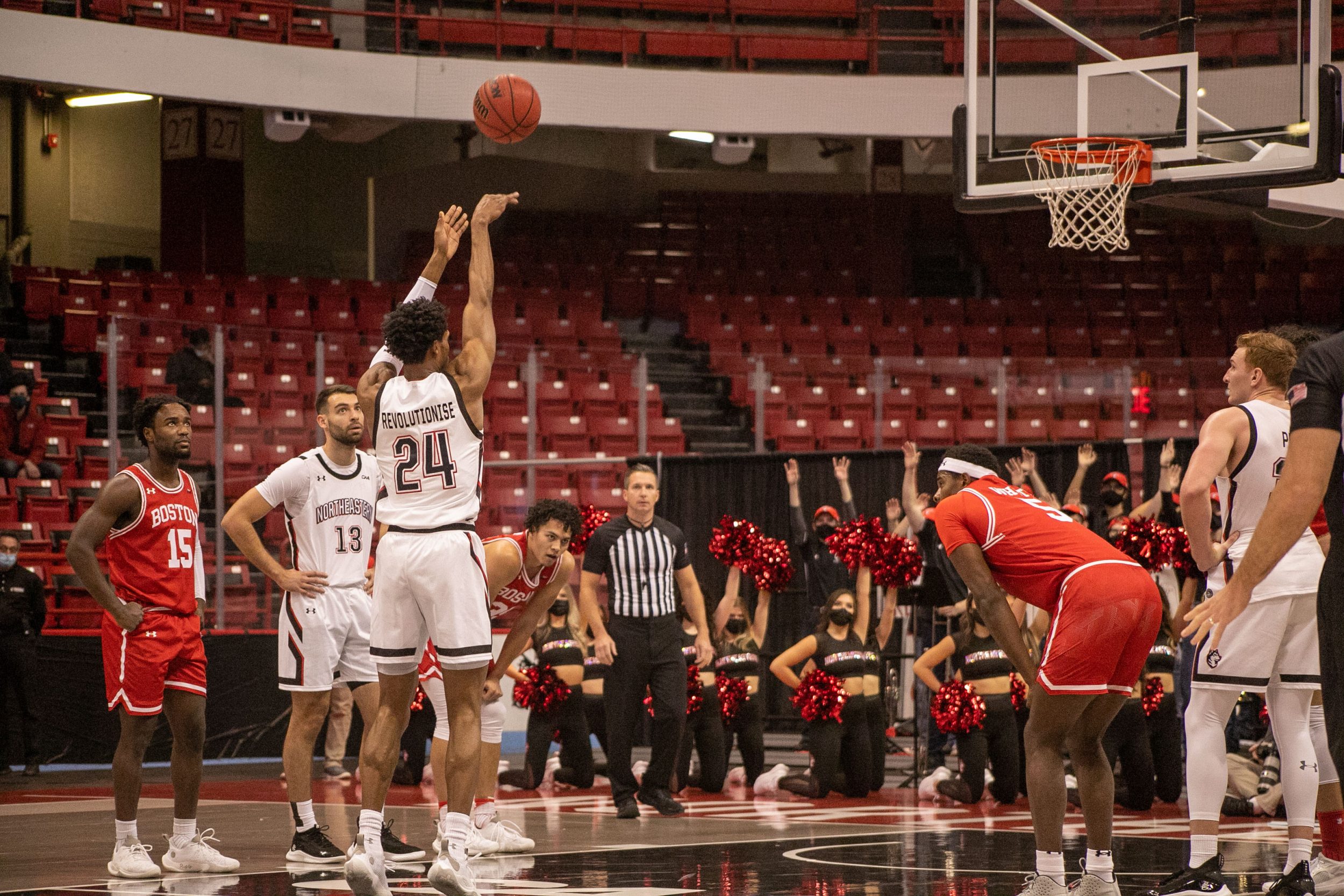 While Stucke did not score another point in the game, it was not necessary as junior center Chris Doherty took command of the paint on both ends of the floor, burying BU's grad student center Sukhmail Mathon. Mathon entered the game averaging a double-double but finished with just six points and three rebounds.
After the game, Doherty talked about the tough competition that Mathon presented.
"I played AAU with him my freshman year, so I knew him a little bit," Doherty said. "He's a really good player, great fundamentals, and a really big kid so it was a battle."
Doherty shined both as a passer and finisher on offense, constantly finding himself with the ball and his hands. The exclamation point on Doherty's night came with just over two minutes left and the Huskies desperately needing to swing the momentum back in their favor. Doherty and redshirt senior guard Shaquille Walters knew just what was needed, connecting on a vicious alley-oop to put Northeastern up eight.
"I thought Chris had an outstanding game today, really gave us a backbone in there," Coen said. "He was a monster on the boards and gave us a great scoring presence on the rim… He set the tone early and the other guys followed suit."
Doherty's former teammate at Notre Dame, Nikola Djogo, also showed his skills as both a passer and a scorer. Djogo constantly mixed up the defense with his drives and kick-outs, and his fakes, looking to the corner but continuing his march to the rim for layups.
One drive was particularly striking for Djogo as he blew past BU's senior guard Walter Whyte and punished the rim.
Whyte brought his own heat on the defensive end for BU, but he and fellow star Javante McCoy struggled to get things going on the offensive end. Whyte finished with a team-high 13 but McCoy, who entered the season as the Patriot League preseason player of the year, registered just 11 points on four of 12 shooting from the field.
In the end, it was that poor shooting that kept the game tight for the two squads, and both will look to bounce back in their next contests.
The Huskies' next games will come in the U.S. Virgin Islands as they travel down to play in the Paradise Jam tournament this weekend. Their first game tips off at 6:45 p.m. on Friday Nov. 19 against Duquesne University.