Story by Peyton Doyle
Photos by Mike Puzzanghera
First-year Northeastern Huskies (2-1) head coach Bridgette Mitchell could not have asked for a much better game from her women's basketball team in their home opener against the University of New Hampshire Wildcats (1-2) Wednesday night.
"We had so many students here, we're so thankful for them. It was an awesome atmosphere, it really was. It's just exciting to be back home with a full crowd. This is our first home game… for the fans to show up like they did, we're really grateful," Mitchell said.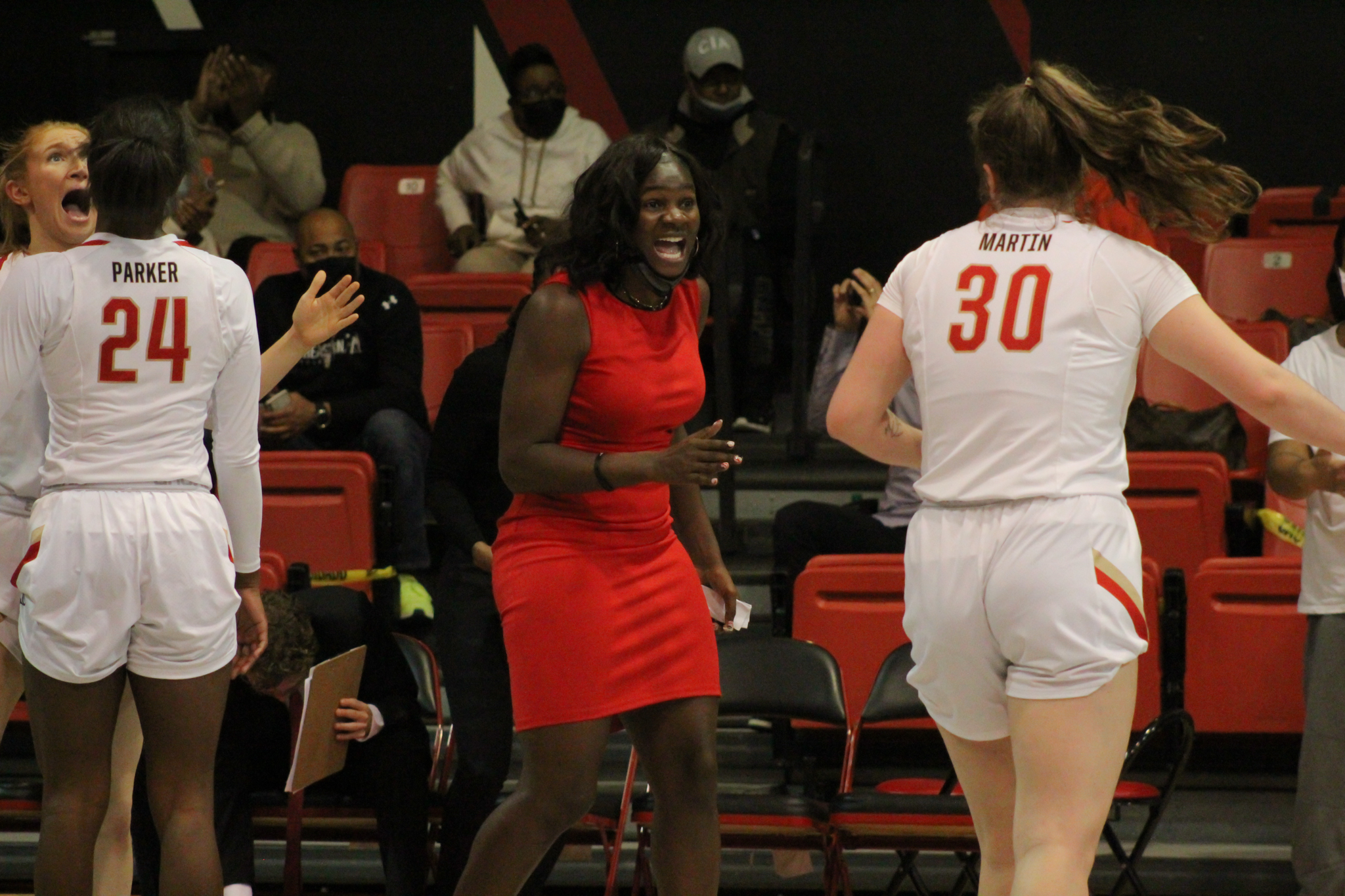 The northern felines were no match for the Huskies' dynamic offense and terribly pesky defense. The leader of the 78-52 dismantling was freshman guard Claudia Soriano, who led her team with 18 points, four steals, and was second only to Katie May with six assists. The spirited Spaniard showed why she was playing professionally in Europe as a teenager, corralling the offense and stinging the defense consistently when she was off the ball.
Her offensive prowess all around was one of the reasons that her team got great looks and converted 64% of their shots. Mitchell spoke about her team's shot selection after the game:
"We talk a lot about getting the best shot for the team. Sometimes it's a good shot for you, but is it the best for the team," said Mitchell. "We've been constantly building on that. If you penetrate, and you draw two, that's not a good shot. It could be a good shot for you because you're a great pull-up jump shooter, but what's the best shot for the team? That's why we were able to move the ball so much, because our team is really buying into that."
Ball movement is in Soriano's DNA. She worked with May, constantly tearing through UNH's zone to find open looks for herself and her teammates. The highlight of Soriano's night were the four triples that she hit, driving the dagger deeper into the heart of the Wildcats with each swish of the net.
Mitchell had high praise for Soriano and her fellow freshman, Gemima Motema, who also showed her drive and defensive ferocity in the game, trying to tip away any pass that even approached her airspace and hounding any opponent who dared challenge her.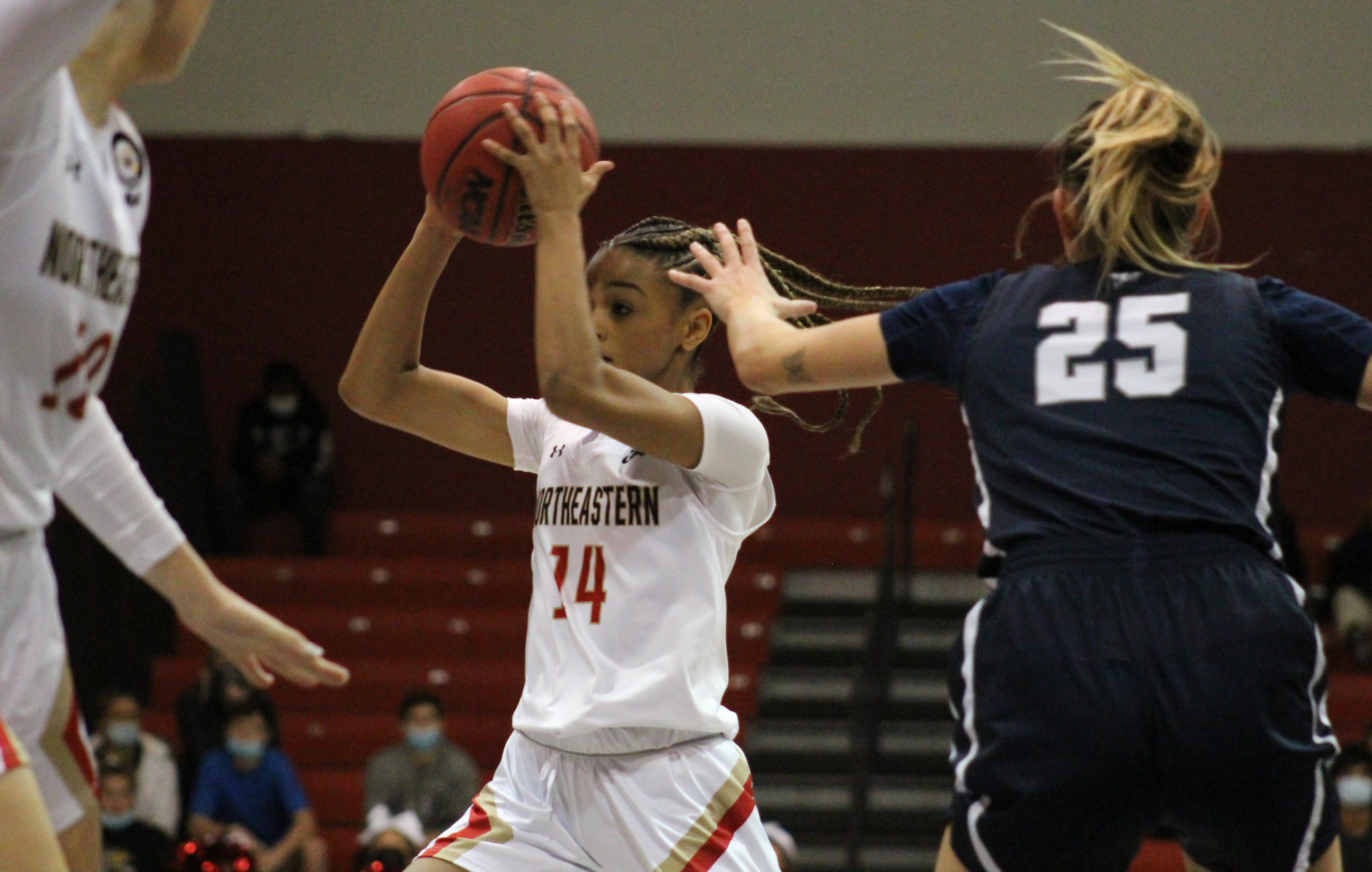 "How about our freshmen?" said Mitchell post game. "Both of them, [Motema] had it at Yale, unfortunately we didn't have the outcome, and Claudia tonight, it was really impressive. She was in control. There's often times where Claudia gets really excited and it shows, and there's other times where she gets really tired and it shows, but tonight she was steady. She was very steady, she was poised, and she did what Claudia does."
Other standouts for NU were Kendall Currence and May, who each provided plenty of drive and effort in every aspect of the game. May finished the night perfect from the field, scoring six points and registering four blocks. Currence grabbed six rebounds to go along with her 15 points, adding to her team's massive rebounding total of 41 for the game.
It was rebounding, however, that caused problems early on for Northeastern, as they bled boards coming off of the glass and gave UNH tons of second, third, and even fourth chance opportunities. Fortunately for the Huskies, the Wildcats shot a dismal 28% in the game, but they did give up 16 offensive rebounds.
That interior work was something that Mitchell knew her team needed to improve upon if they wanted to maintain their lead.
"The first 25 points they had, 20 of them were in the paint, so it was our goal to set out and limit their paint touches. They got them regardless, so kudos to them and their effort tonight," Mitchell said.
Forwards Ivy Gogolin and Bella Stuart were the ones giving the Huskies the worst fits on the interior. Both players used their size and strength to get good looks at the rim against NU that either resulted in an easy bucket or a trip to the foul line.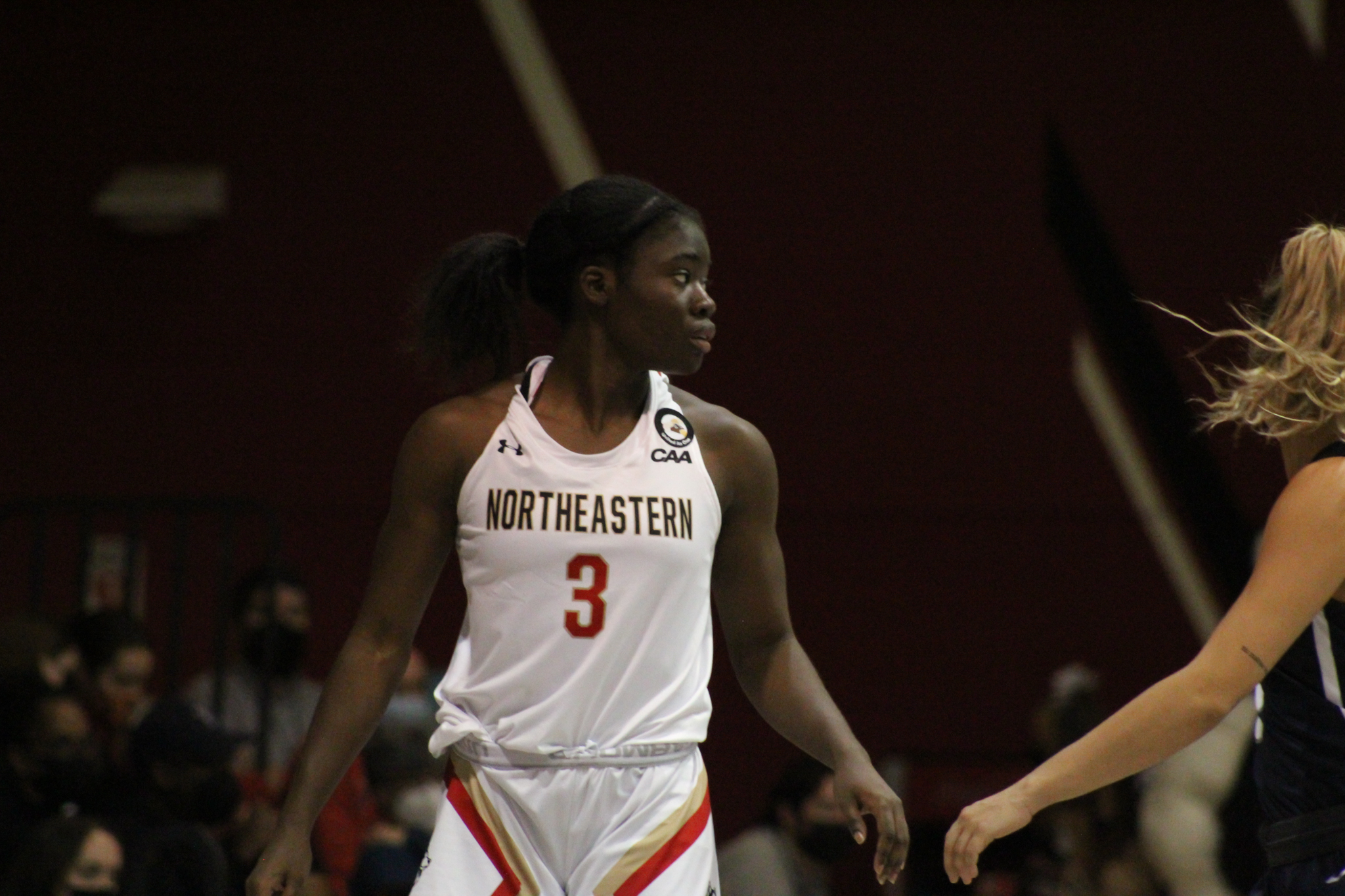 While you never want to give up points in the paint, UNH got the opportunities due to how good NU's perimeter defense was. Entering the game, the star player for the Wildcats was Amanda Torres, but she was held to just four first half points while being guarded by the petrifying three headed perimeter monster that is Currence, Soriano and Donna Ntambue. Torres would have had more breathing room inside a coffin than against the terrifying trio.
Mitchell and her team can only hope that they can keep the momentum going as they look towards their second home game of the season Saturday against UMass Lowell (1-2). The offensive efficiency is probably not sustainable for this team, but if they can keep up the defensive pressure and get players back from injury, they will be one of the most dangerous teams within the CAA.
Especially after tonight, Coach Mitchell knows she's got a strong, dynamic squad on her hands: "We're going to pressure you, we're going to do all that we can for 40 minutes for the full length of the court. That's who we are, that's Northeastern women's basketball."
The Huskies will be back in action Saturday at 2 p.m. against UMass Lowell in Cabot. WRBB will have the call. Mike Puzzanghera and Peyton Doyle will be on the mic.