Story by Rae Deer
Photos by Kayla Shiao
BOSTON – The fated return of the French phenom Chloe Aurard was the greatest thing that could've happened to the Northeastern Women's Hockey team on Friday night. Extending their official win streak to four (unofficial to ten) and earning their eleventh conference win, the Huskies triumphed over the University of New Hampshire with a score of 4-1.
Both teams opened the game on the same level of play, with UNH expertly keeping pace with an agile Northeastern squad. The Wildcats keyed in on Northeastern's lackluster passes, made quick interceptions whenever the Huskies could not connect and forced several good turnovers to change possession consistently in the first.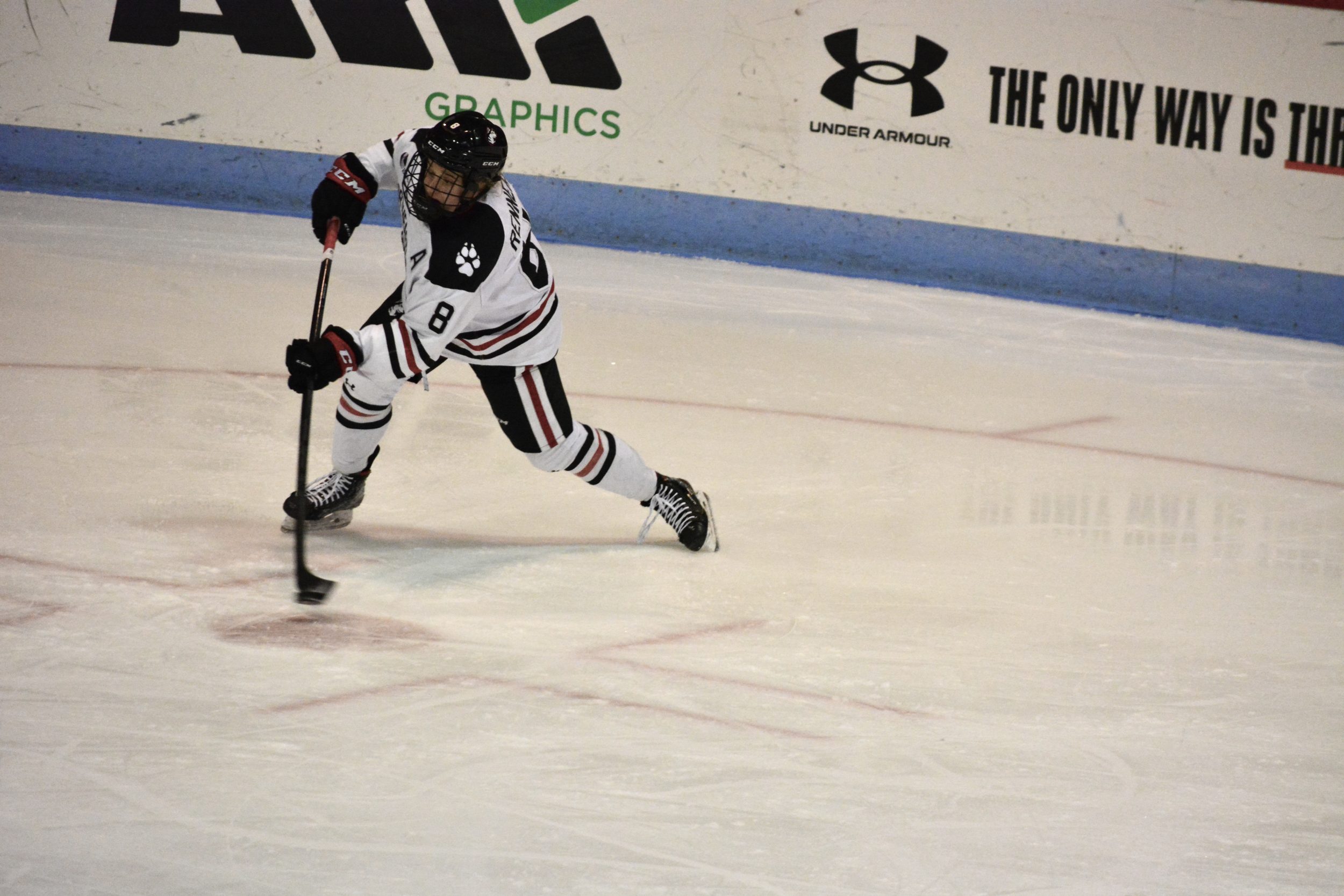 "They [UNH] tried to clog things up through the neutral zone and tried to slow us down a little bit," said Northeastern head coach Dave Flint. "They're good when they create turnovers, they're good in transition. So, the times that they created those turnovers they got some opportunities."
However, they couldn't keep Northeastern from doing what they do best, which was running up that shot tally. NU had a whopping 17 shots in the first period compared to UNH's two. Despite that, they walked away with a lone goal.
Chloe Aurard was away for a bit playing pro hockey with her home's national team, but she made sure to return in style, scoring the first goal of the game off of a clean pass from forward Kate Holmes.
Neither team would score for the rest of the period, but that wasn't the end for Aurard. After Wildcat forward Chavonne Truter took an interference penalty right at the end of the first, Northeastern opened the second on the power play and it only took seconds for Aurard to get her next on the night. A brilliant sequence from Maureen Murphy found Aurard with the open net and she just put it home.
"I was pretty much in the right spots at the right moments," Chloe said about her goals. "It was a really good play by my teammates. Kate [Holmes] had a beautiful pass behind and I was there and just finished it. The second one was a beautiful skate by [Maureen] Murphy."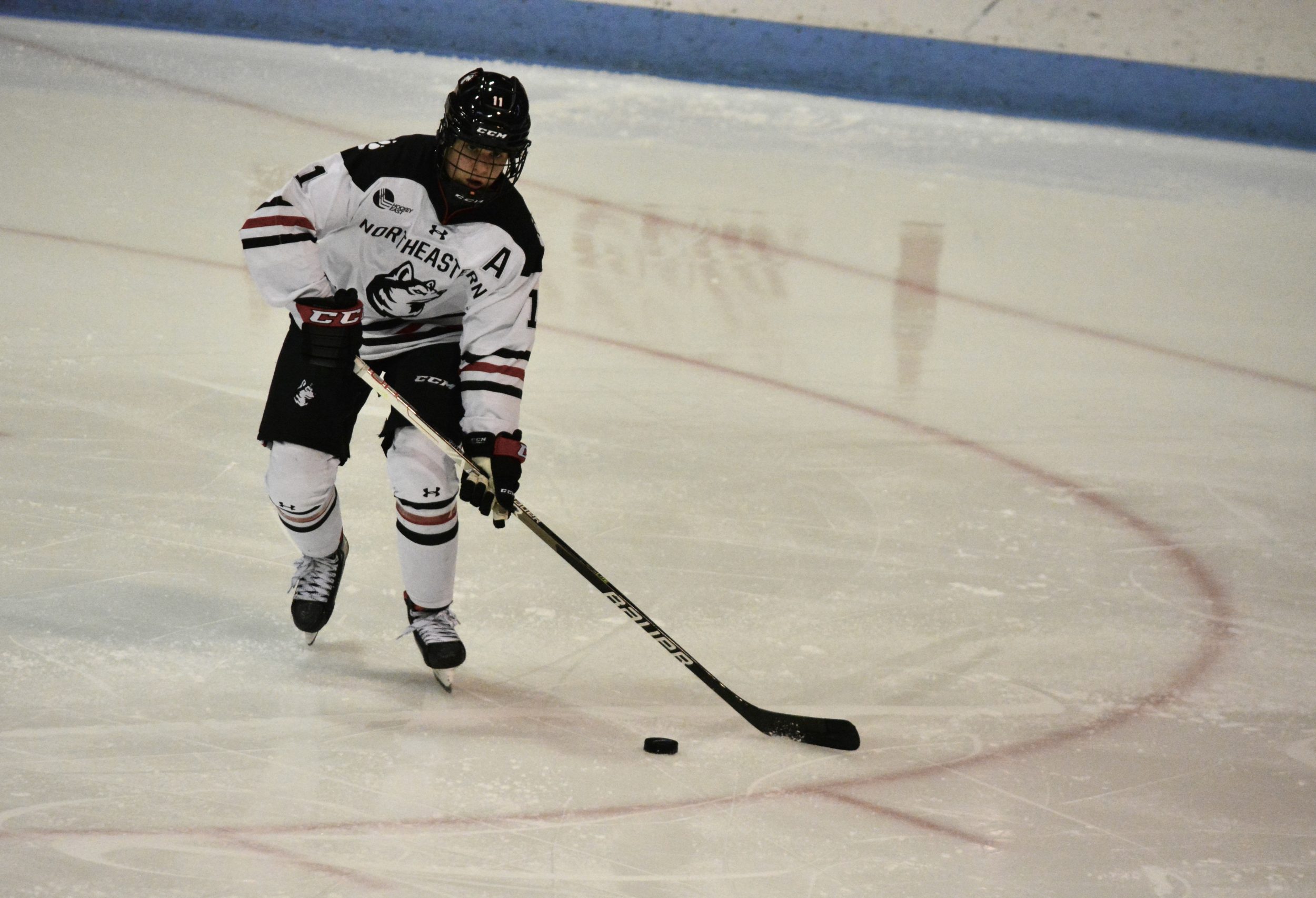 Goals aside, the Huskies looked much stronger this period, and it seemed like they had left behind the fundamentals issues that they had in the first 20. However, the game was not over yet. They had 20 more minutes left and anything could happen.
This included a third Northeastern goal, scored at possibly one of the more interesting angles of the season, by assistant captain Andrea Renner.
"It was a weird angle," Renner said about her goal. "Honestly I saw an opening but it was more of just trying to get the puck on net and create an opportunity for my teammates who were going to the net."
Despite extending their lead further, Northeastern seemed to fall into a rhythm different from the second period. They once again made some bad passing choices and allowed the Wildcats more possession than they should've had. More noticeably, they started to take more penalties.
With such a high-caliber penalty kill like Northeastern's, none of UNH's power plays proved to be much of an issue, including their five on three start to the third. However, as the cracks in the fundamentals showed again, UNH was able to capitalize on a bad defensive play by Northeastern and lessen the lead only slightly. Brianna Brooks took a shot that was saved by goaltender Aerin Frankel, however the rebound came right in front and forward Kira Juodikis put it right past Frankel.
From there, it was up to Northeastern to close it out for good and Murphy did just that. On what was Northeastern's second power play of the period, a beautiful set-up from Alina Mueller found Murphy right where she needed to be to lift the Huskies to 4-1.
Now the final score could be seen as deceiving, as the game was a close matchup right up until the end. Outside of a great defensive performance from the UNH Wildcats, it was clear that Wildcat goaltender Ava Boutilier was playing some of the greatest periods of goaltending one could ever see. Northeastern took 46 shots on goal and only scored four.
To be fair, all of those shots were definitely a part of the game plan. Both the players and Coach Flint knew just how important it was to get shots on, especially in a conference with such stellar goaltending talent.
"The one thing I've been stressing to them [the team] is if we're gonna play perimeter against the goalies in our league, we're not gonna score a lot of goals," Flint shared. "If you wanna score in this league, it's not a secret, you gotta go to the dirty areas in front of the net, you gotta pay the price, you gotta be strong on your stick and you gotta get pucks on net. It makes our league fun because on any given night, anybody could beat anybody. The goalies are very strong."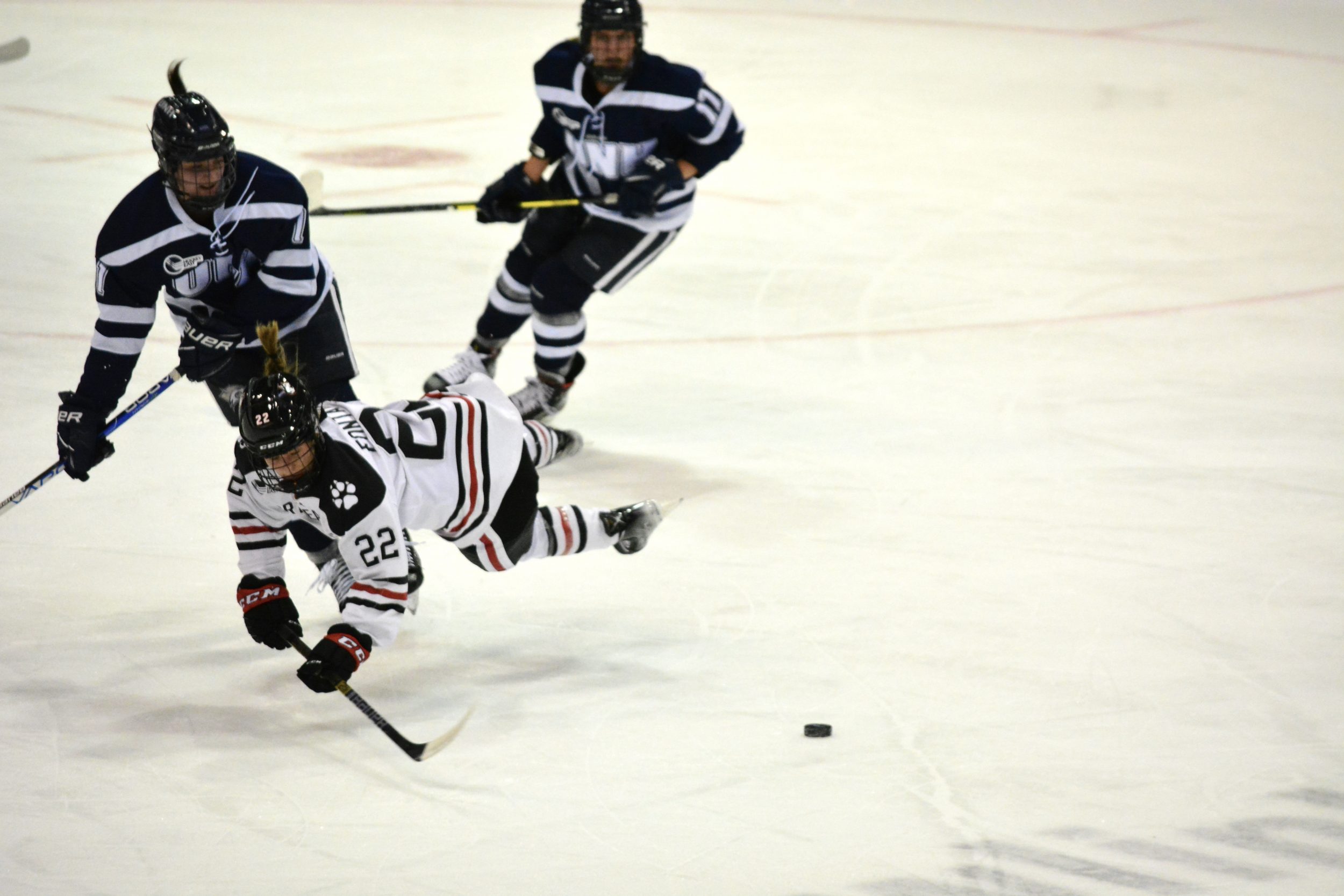 Renner shared a similar sentiment, stressing just how essential it was for them to have taken so many shots, as a key component of their game was to test the goaltender. And Boutilier definitely scored high marks.
The Northeastern Women's Hockey Team has another conference showdown as they play an afternoon game on Nov. 20 at Matthews against the University of Connecticut Huskies. Daisy Roberts and Sam Kirshman have the call on the WRBB Mixlr. Puck drops at 1:30 p.m.