Story by Matty Wasserman
Photos by Sadie Parker
Hockey games that have one team outshooting the opponent 38-16 are usually blowout, lopsided affairs. For most teams, on most nights, getting outshot by 22 is a prime indicator of a thorough beatdown.
But most teams don't have Devon Levi in net.
Levi's 38-save shutout performance Friday night was spectacular. In a game where Northeastern was dominated end-to-end, the depleted Huskies somehow scrapped and clawed their way to a rivalry victory and two points in the Hockey East standings, as Aidan McDonough scored the game's lone goal 55 seconds into overtime. The Huskies offensive attack was inconsistent at best, their neutral zone play hard-fought but at times sloppy. There's no analysis of this game where Northeastern's skaters edged BU for prolonged stretches of play. It's just a goaltender playing with extreme confidence and awareness and stealing a game the Huskies otherwise would've had difficulty competing in.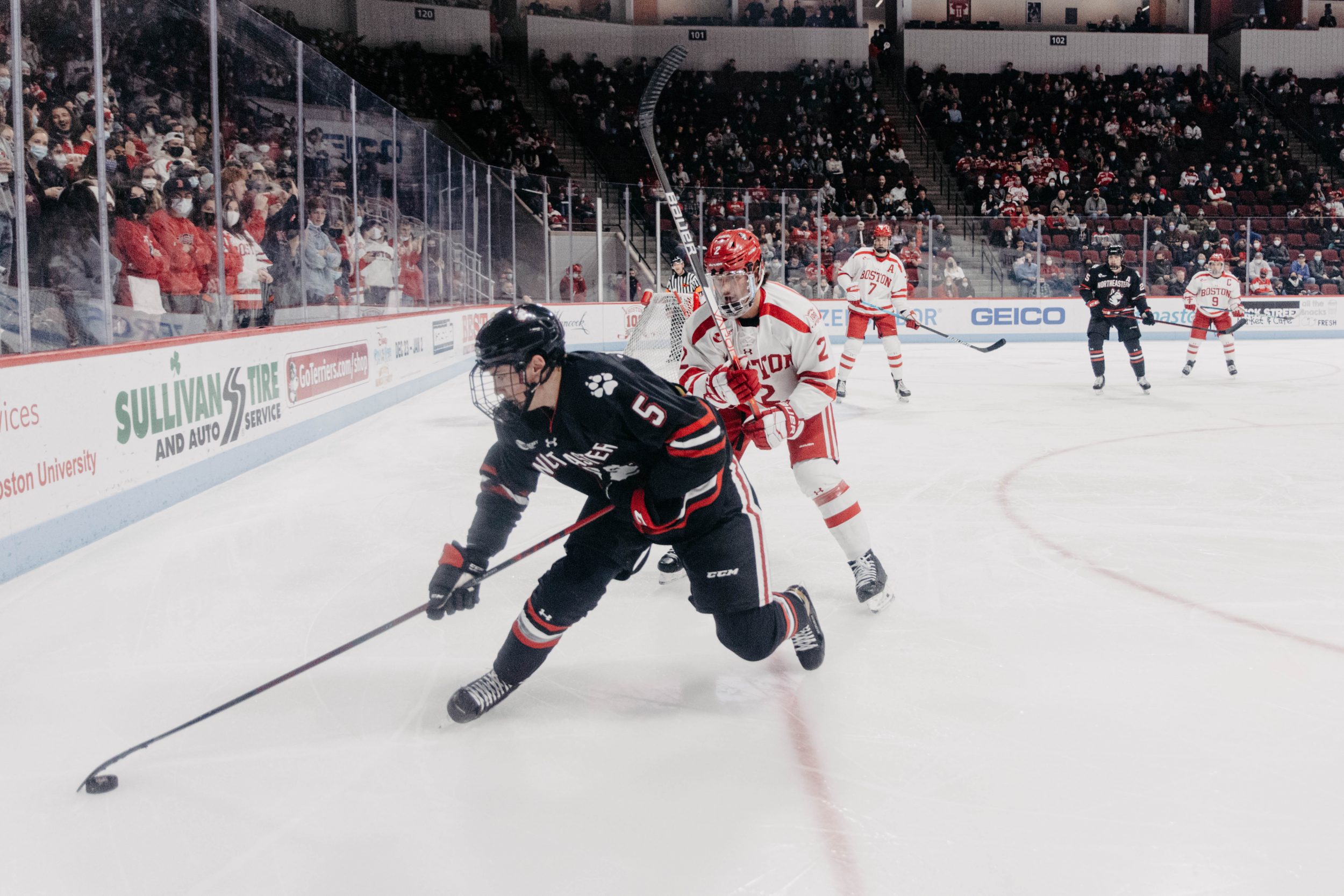 "There were great stretches of the game that we controlled," BU head coach Albie O'Connell said after the loss. "But [Northeastern] didn't break. Part of the reason they didn't break was because of their goalie."
Despite their slow start and 3-4-1 Hockey East record, BU finally got healthy with the additions of top wingers Jay O'Brien and Luke Tuch into the lineup over the past week. When healthy, BU is one of the most physical and talented teams in the league. They were the more explosive team all night and Northeastern relied on Levi to bail them out right from the start. In the first period, it was Levi's ability to navigate traffic in front of the net that stood out. BU obliterated Northeastern in their offensive zone and with puck possession throughout the first period, outshooting them 14-3 and generating quality looks, particularly for defenseman Case McCarthy and Ty Gallagher.
"He's been consistently good all year long, and our guys have a ton of confidence in him," Jerry Keefe said of Levi after the game. "Tonight was a prime example of that. Especially early in the game, he really gave us a chance. He's one heck of a goaltender."
Even after just 20 minutes, it felt Northeastern's hire-wire act relying on Levi to bail them out was unsustainable. But Levi just kept going. In the second period, Levi was faced with a series of 1-on-0 BU breakways and golden chances for the Terriers. But he held steady, rotating at lightning speed and sealing off the net without the Terriers ever shooting. O'Connell took particular exception with the way his team performed on the open ice.
"We had three breakaways tonight. [On those we had] zero shots. Zero….. that's something we need to improve on," O'Connell said.
Northeastern's offense provided little aid throughout the game, but the top defensive pairing of Jordan Harris and Tommy Miller continued to be rock solid for the Huskies. It's easy to gloss over their performance every night because it feels so routine, but they lead Northeastern's dominant penalty kill and were instrumental in setting the tone and physicality for this rivalry game, particularly when it got chippy in the second period.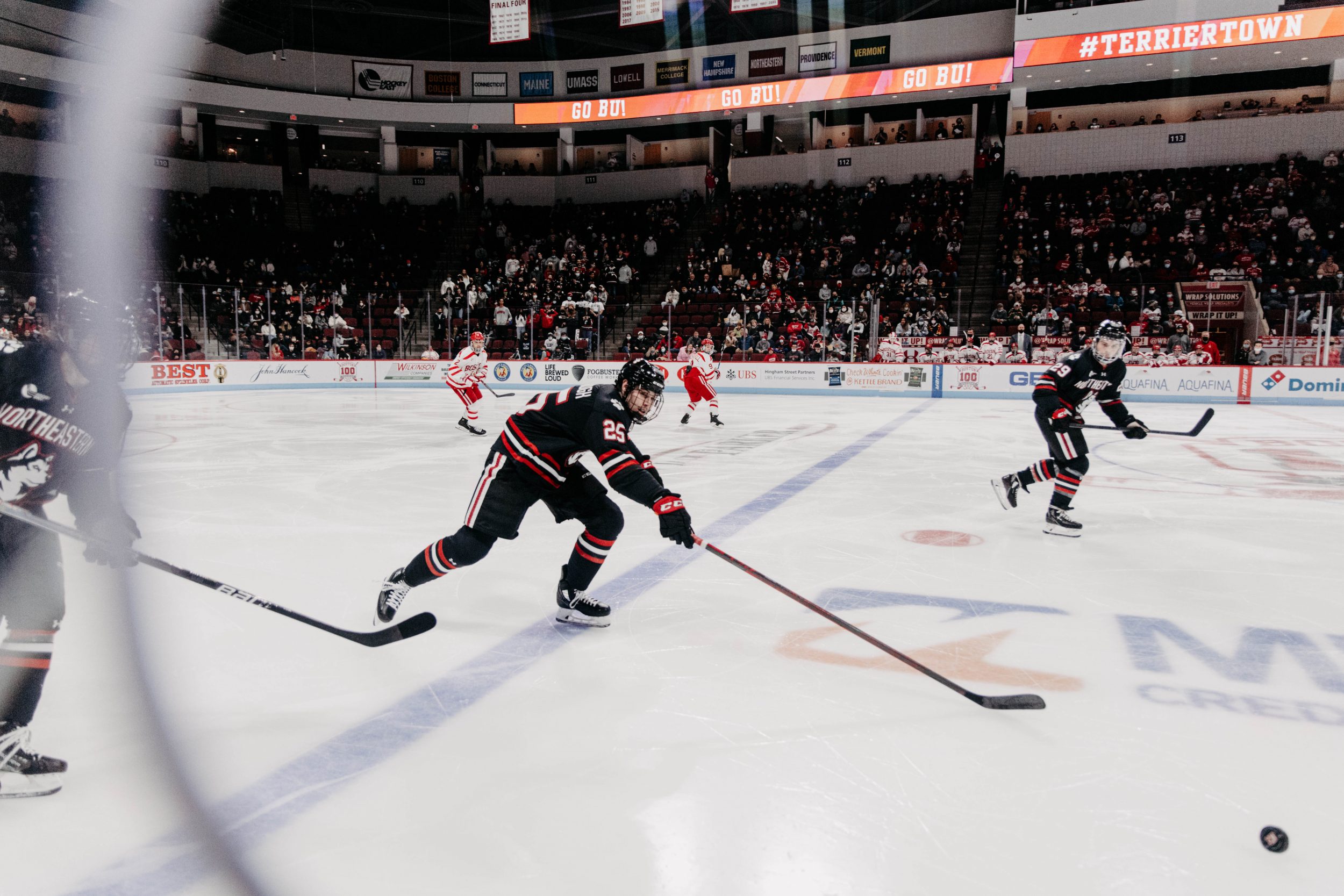 How Northeastern got this game to 3-on-3 overtime was miraculous. A two minute stretch with about 6:00-4:00 to go in regulation was thrilling end-to-end hockey, and both Northeastern and BU had some of their best chances of the night.
Northeastern may have been happy to escape with even a single point, but will certainly take McDonough's ninth goal of the season to end it 1-0 in overtime. It was the Huskies third consecutive overtime game, and extended their point streak to seven games.
Northeastern, despite the victory, is scavenging for any offensive depth with the injuries to key contributors Ty Jackson, Dylan Jackson, Sam Colangelo, and Riley Hughes. Northeastern has largely been able to account for the injuries in the past two weeks, but it really caught up with them tonight. Head coach Jerry Keefe played a smattering of his reserve forwards Mella, Agriogiannis, St. Louis, DeRoche, and Bozzo in hopes that any combination would work. He acknowledged that relying primarily on three lines puts an extra stress on the top players.
"We probably overused some guys tonight," Keefe conceded. "When you're rolling with three lines for a lot of the game, that's going to take away from their offense."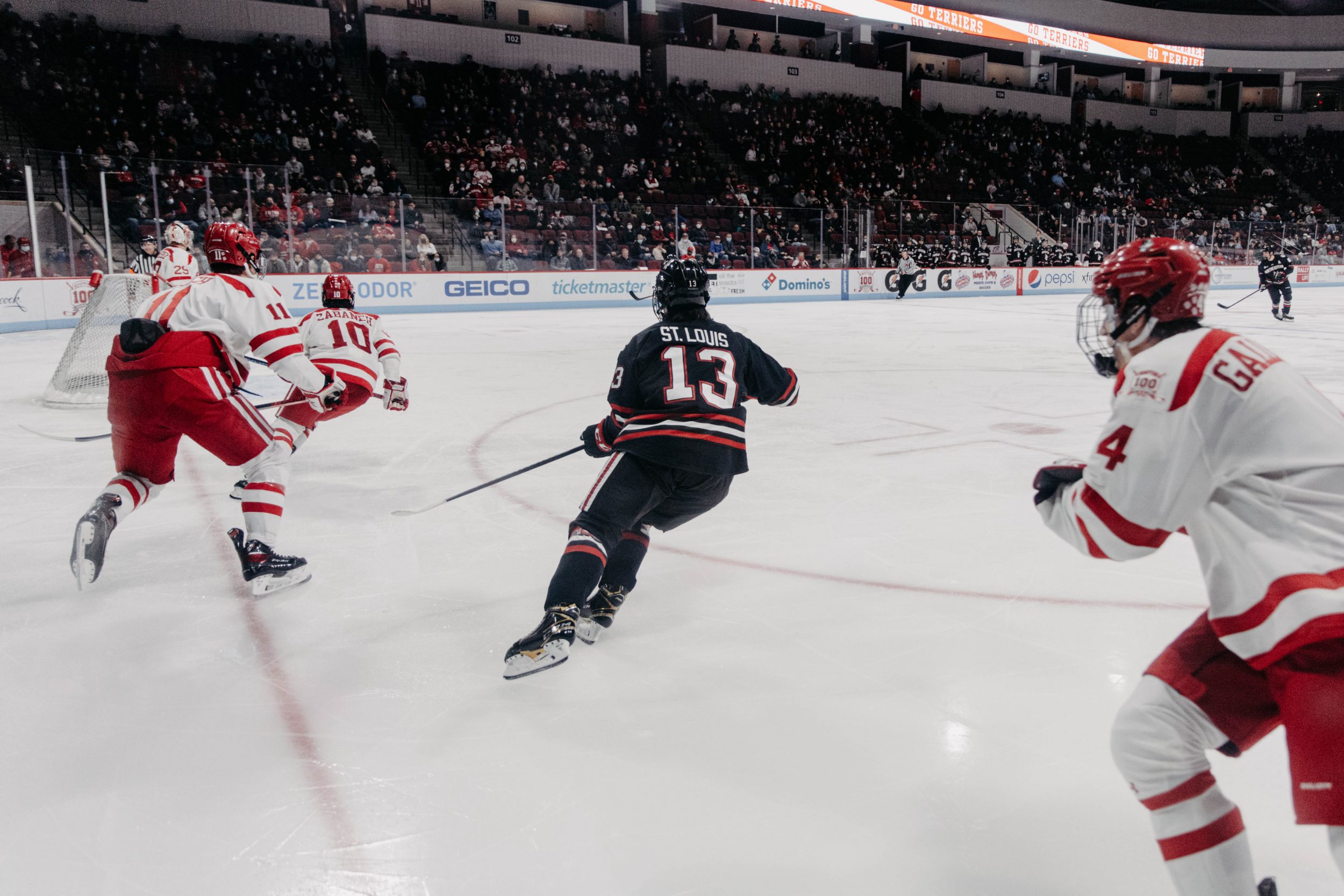 Northeastern and BU will face each other again 24 hours later across town at Matthews Arena for part two of the weekend rivalry series. While the Terriers should be given the upper hand after they controlled much of the play today, Northeastern should not be discounted.
Devon Levi is on their side.
The Huskies will be back at it again against their cross town rival Saturday night at 7 p.m. in Matthews. Mike Puzzanghera and Rae Deer will have the call with coverage starting at 6:45 p.m.