Story by Rae Deer
Photos by Ethan Wayne
BOSTON – After the performance in Agganis Arena on Friday night left the Northeastern men's hockey team less than satisfied, they were granted another chance to show up and show out in front of their home crowd. On Saturday night, they did just that, as they tied the Boston University Terriers 2-2, but unofficially swept the series in what may have been their most thrilling game yet.
Despite the overtime victory on Friday, Northeastern head coach Jerry Keefe shared that the team was not too pleased with how they played. Saturday was a much different story.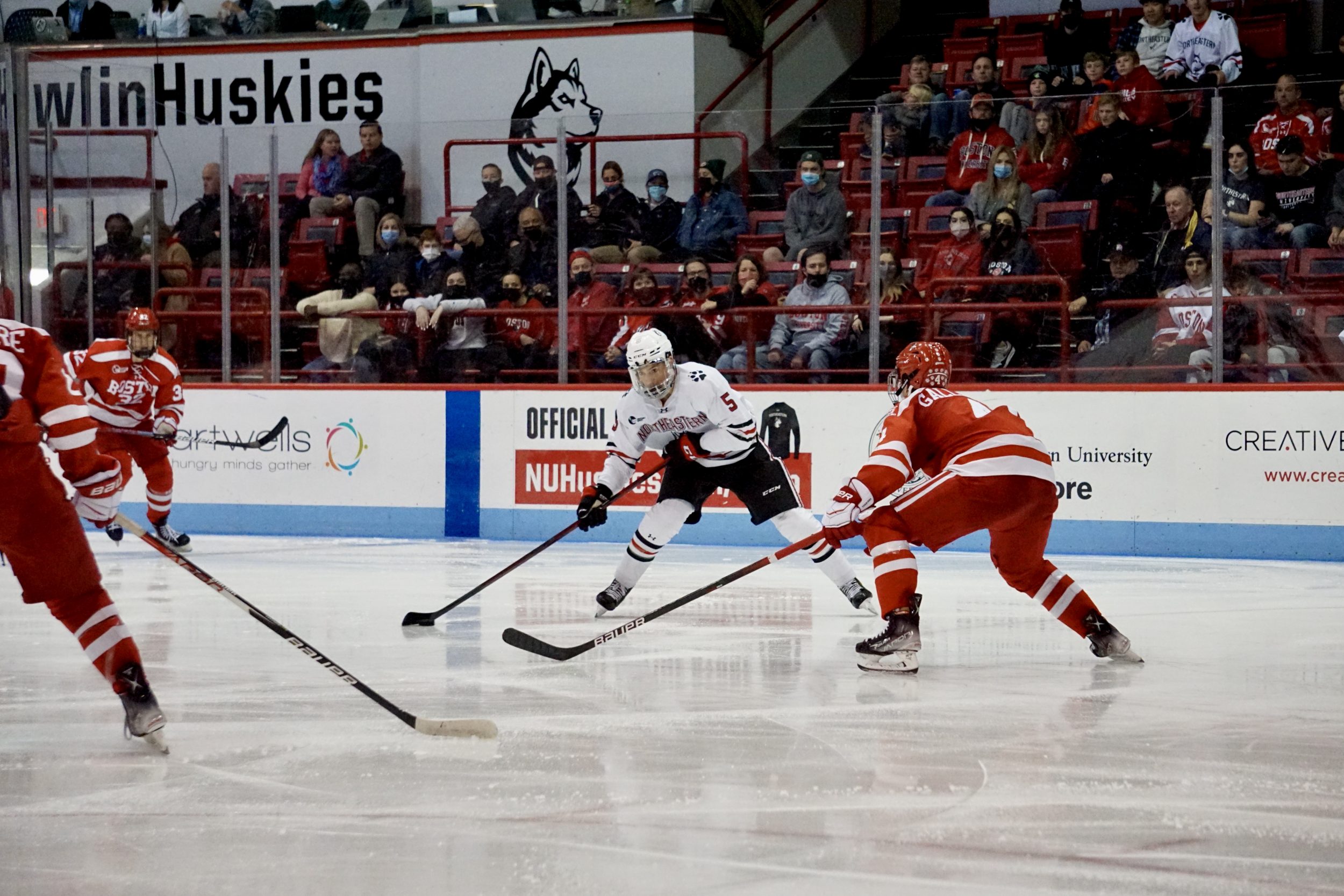 "We wanted that extra point, we found a way to get the extra point," Keefe remarked. "That was big, but really proud of our group. I thought we really responded from last night. After watching the tape, I don't think anyone was really happy about how we played last night. So our group really played well tonight."
Yet Northeastern opened the game similarly to their game prior. Boston University had possession from puck drop and goaltender Devon Levi had to make serious saves in the first few seconds. This time, however, it took the Huskies much less time than before to find and match BU's pace. They skated good shifts of their own, got key time in the Terriers zone, and prevented the period from being dominated by BU.
"BU is a really fast team, so we needed to move our feet more," Keefe said. "It sounds pretty simple, but we had to start getting back to winning some more one-on-one battles. And we needed to manage the puck smarter. I thought we did all three of those tonight."
NU's strongest area of the night was definitely their one-on-one battles, more specifically, their faceoffs. Northeastern's resident faceoff expert Justin Hryckowian won a game-leading 23 total faceoffs, one of which led to the first goal of the night.
After winning a key faceoff in his own defensive zone, Hryckowian made a sharp cross-ice pass to Aidan McDonough, who got shoved from a clear space in the center to his typical shot spot at the faceoff dot. And when he shoots from the dot, he rarely misses.
However, BU wasn't going to let that one go by without a response. Exactly a minute later, while on the first of several matching penalties, first line forward Jay O'Brien came racing down the ice, bounded a spilled rebound past Levi, and reminded the Huskies why he should never be left unguarded.
As the game progressed, it got visibly more and more physical. Both teams battled harder and there were a lot of big hits thrown. The second period was all about being the first team to break the tie, and the Terriers took that title nearly five minutes before the period would end. A penalty for tripping on Ryan St. Louis gave BU their second power play opportunity of the night and an unlucky deflection off of defenseman Jayden Struble gave Terrier forward Dylan Peterson his team-high fifth goal of the season.
In the third, Northeastern knew they needed to pull this one back. After killing off another four-on-four, they proceeded to win their next two faceoffs, force a BU penalty, win that faceoff and then find the back of net on the powerplay. Aidan McDonough struck again, taking the puck straight from Terrier Robert Mastrosimone who hit the puck a bit too soft on the attempted clearance, and got it right past BU netminder Drew Commesso.
"To score goals, you need to be in the right spots at the right time, but you also need a little bit of luck," McDonough shared. "And tonight I obviously had a little bit of luck."
Northeastern held BU off at 2-2 until the end of regulation and several players outside of Levi made essential blocks on dangerous Terrier attempts. Moments like those were candy to Matthews Arena's sold out Doghouse crowd. Their roars at saves from Levi or blocked shots from players like Tommy "The Bunker" Miller and Julian Kislin could probably be heard from a block away. The atmosphere was electric and the players felt their presence and support tenfold.
"It was awesome. I've never played in a game like that before in my life," forward Jack Hughes gushed. "Every shift, every hit, every shot, the crowd was going crazy. You want to win for the crowd as much as you want to win for your teammates."
McDonough added on, "That's the reason you come to Northeastern: to play against the crosstown rival in the jam-packed stadium. Last night was a good crowd. Tonight, I thought our fans were a little louder, I'm a little more biased."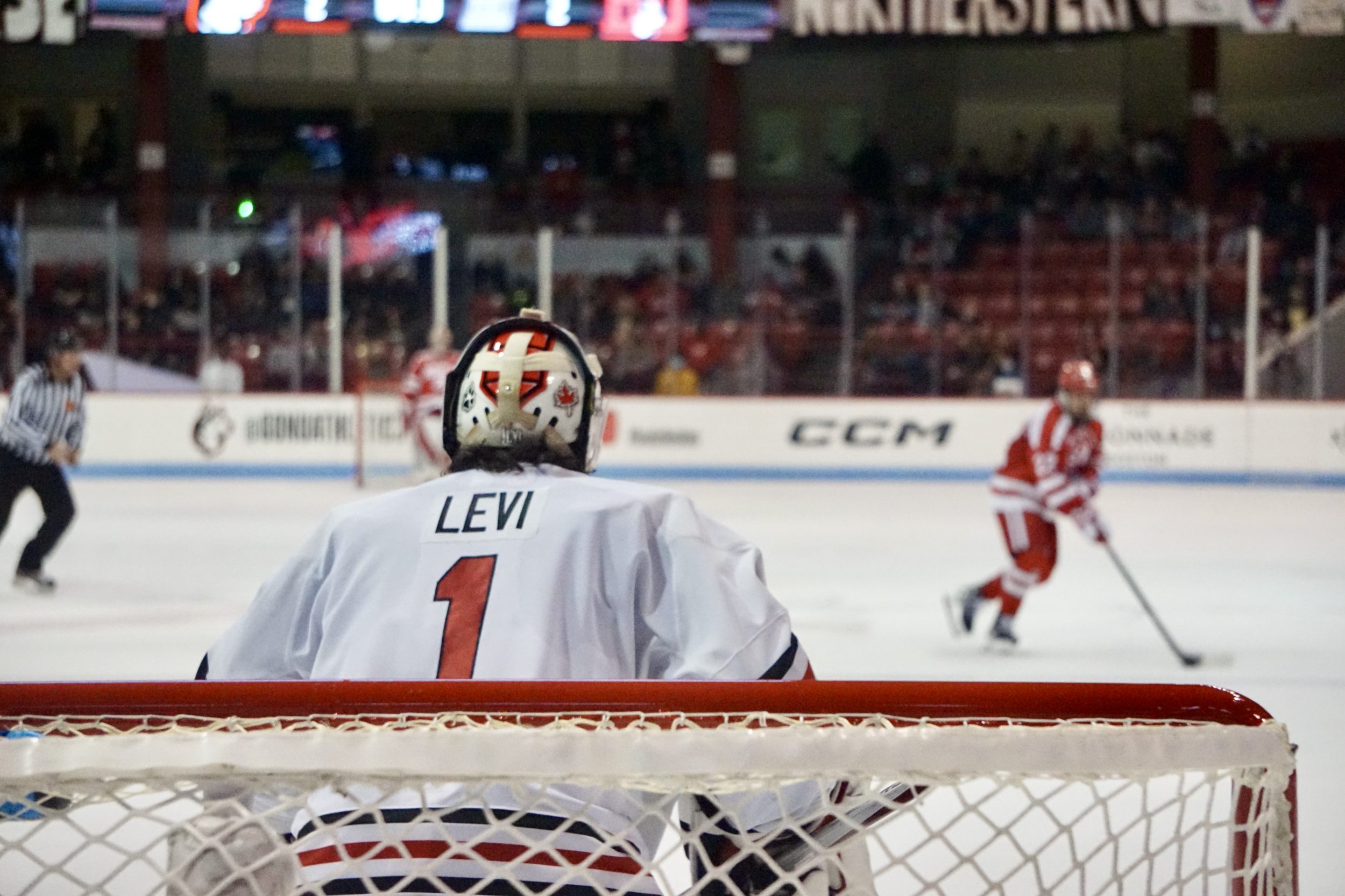 Minutes after the end of regulation, the game was headed to a five minute three-on-three overtime. Both teams had good chances, Northeastern especially, but nothing would surface from the overtime period. That meant it was time for a shootout. Three rounds required, shot-by-shot to follow if needed.
The Huskies began the shootout strong with the first skater, Jeremie Bucheler, scoring nicely on Commesso, who then stopped the next two. Levi was solid to start, stopping two BU shots before O'Brien would tie it up in the third round. The pressure then became unbearable. Both teams took several rounds of shots, as major forwards from both squads were unable to beat the fantastic goalies in net.
In the eighth round, BU sent out Ethan Phillips to hopefully best Levi, and Phillips could not rise to the occasion. For NU, Keefe looked to his last top six forward remaining, second line center Hughes. Unlike the previous attempts in the past seven rounds, Hughes took it slower. His movements were snakelike, as he dragged the puck and slithered towards Commesso. He then faked out Commesso and slipped it straight between his pads and over the line.
According to Hughes, he knew he wanted to go out there and was heavily anticipating when he'd be called up. When Keefe asked him and gave him the go ahead, he immediately knew what to do.
"I had that move in my mind right when we went to a shootout," Hughes shared about the shootout winner. "I was just waiting, hoping my name would get called, and if I was going I was doing that move."
He strode out there with confidence, everything went according to his plan, and he gave Northeastern the extra point.
Next weekend, the Huskies will have a break from conference play, as they have a home and home series against RPI. Emma Sullivan and Khalin Kapoor will have live WRBB coverage for the home game on the 28th, starting just before 3 PM.