Story by Peyton Doyle
Photos by Kayla Shiao
Following two brutal second half collapses in their previous two games against Harvard and Colorado State, the Northeastern University Men's Basketball team (4-4) put their foot down and said no more. The Huskies were matched up with a titan of a scorer in Antoine Davis, but were able to slay the mid-major goliath and the rest of his Detroit Mercy teammates in a 66-56 victory at Matthews Arena Tuesday night.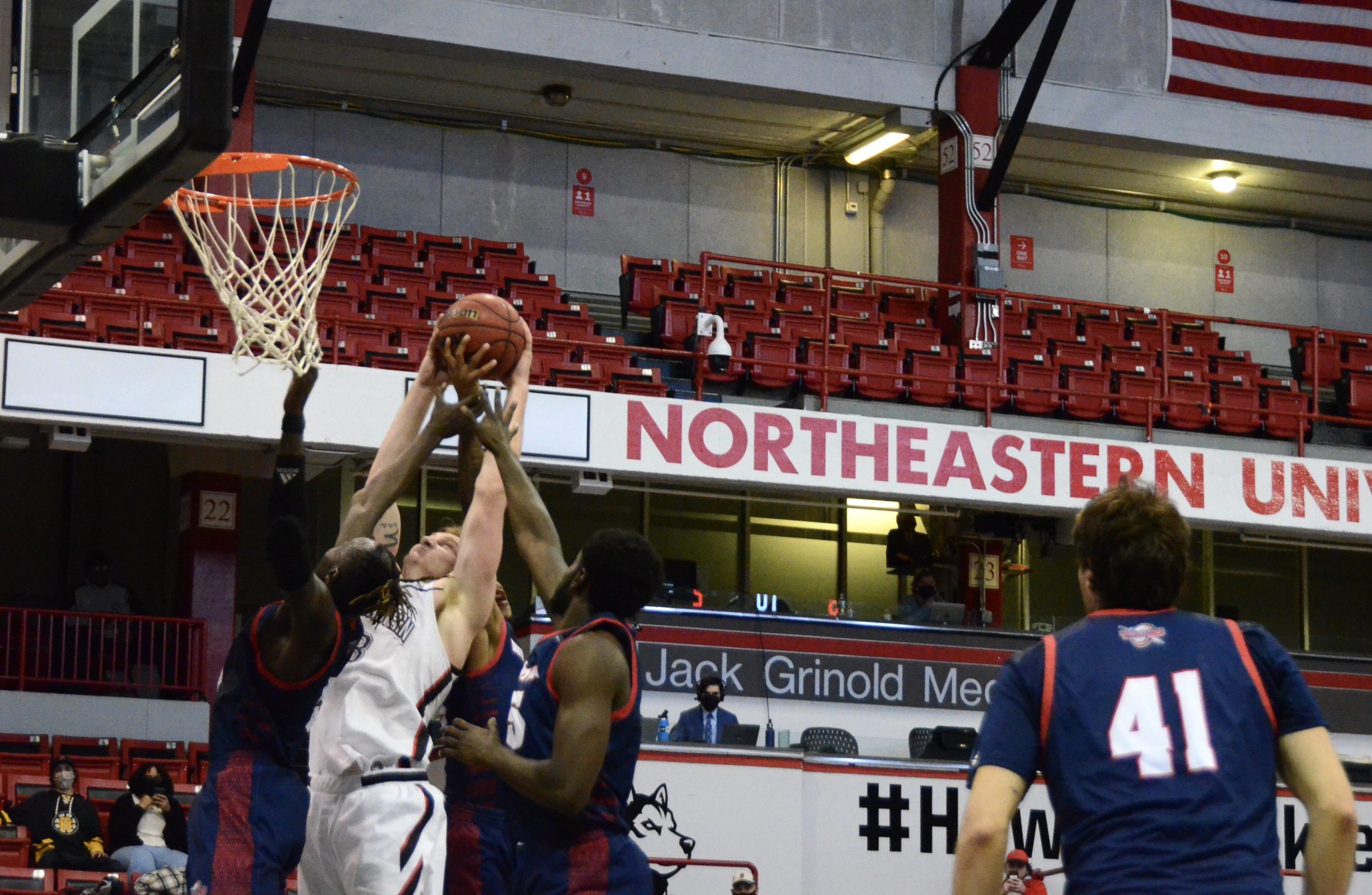 For Northeastern, injuries again clouded the skies over the Huntington campus going into this matchup as they continued to be without Coleman Stucke and Nikola Djogo. The Huskies were also without Shaquille Walters, who was injured against Harvard on Saturday. Without their veteran guard, the Huskies were required to find another solution for their starting backcourt. Head coach Bill Coen's answer was to start the duo of Glen McClintock and Vito Cubrilo, each of whom is an effective ball handler in their own right.
While Hurricane Glen struggled from the field during the contest, he contributed everywhere else in the stat sheet, cobbling together nine rebounds and four assists. As for Cubrilo, the cataclysmic Croatian lit up the Titans to start the game, connecting on four of his seven triples to finish with a career high 12 points.
"I think Glen brings toughness and IQ and direction when he's out there," Coen said. "I thought he did a great job and Vito did a terrific job of knocking down shots in the first half when he had available shots. Both those guys are capable and without Shaq available I thought that was our best option."
Without Walters, the challenge became how Northeastern could defend Davis and the rest of the high powered Detroit offense. Thankfully for the Huskies, injury fortune swung back their way a bit as transfer guard Tyreek Scott-Grayson was finally able to make his season debut for the Huskies.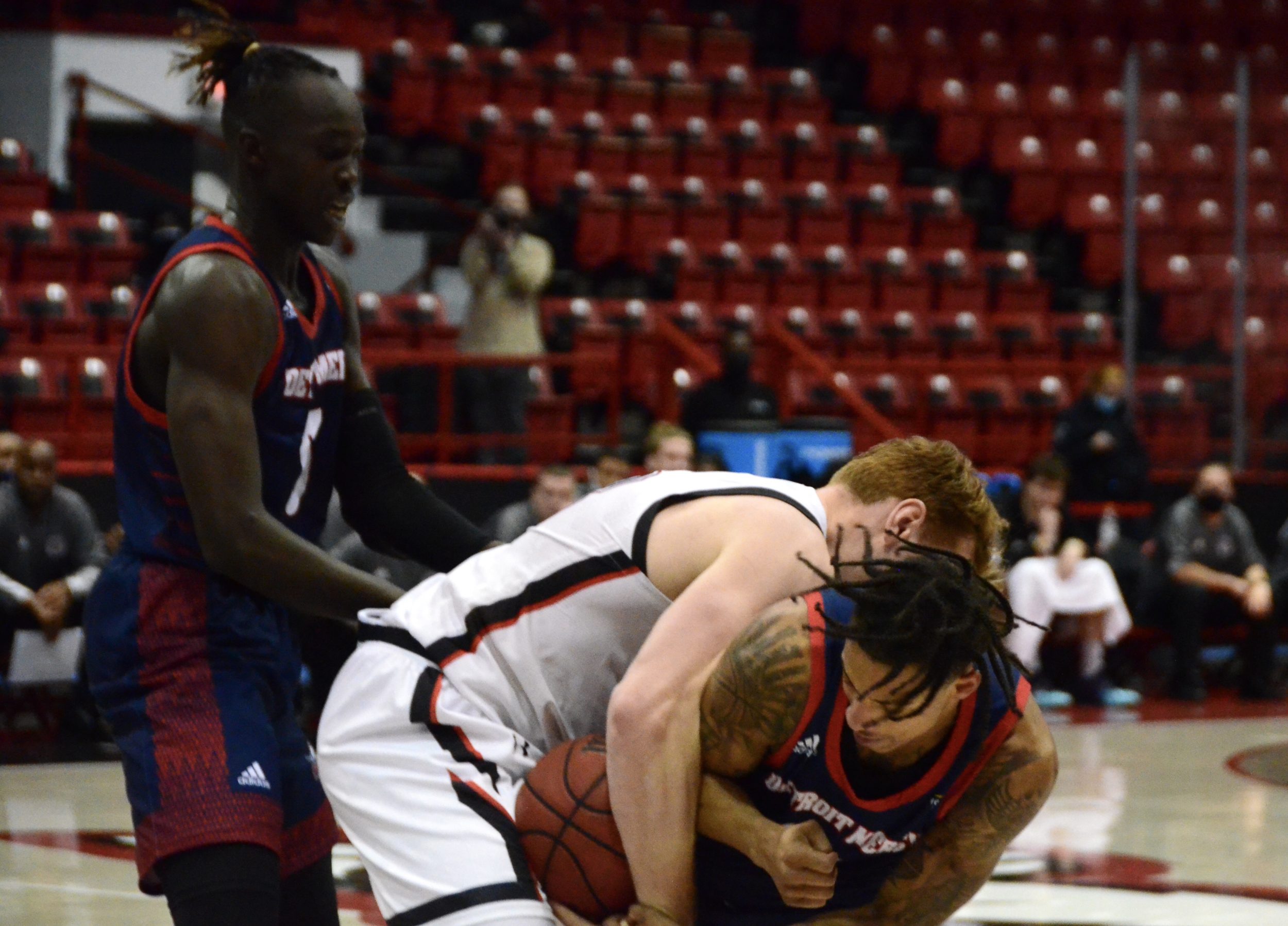 Stout defense from Scott-Grayson and Jahmyl Telfort, combined with very little mercy from the rim, left Davis with 10 points going into halftime but shooting just 4-13 from the floor.
"I thought [Jahmyl] and Tyreek did a tremendous job on one of the leading scorers in the country; you can see how talented he is," Coen said.
Davis, who entered the game averaging 24 points per game, is no stranger to early deficits. Although his team entered the game without a win, they had outscored their opponents in the second half over the course of their last four games. Davis himself scored 28 second half points in their loss to Hofstra.
As the second half went on, it appeared as though the Huskies would give up another lead as Davis led the Titans to within one point of Northeastern despite trailing by as much as 16 in the first half. Davis hit three second half triples to finish with 23 points on the night, but in the end, that was not enough to lead his team to victory. His teammates shot just 36% from the field, giving him little help to penetrate the Northeastern fortifications.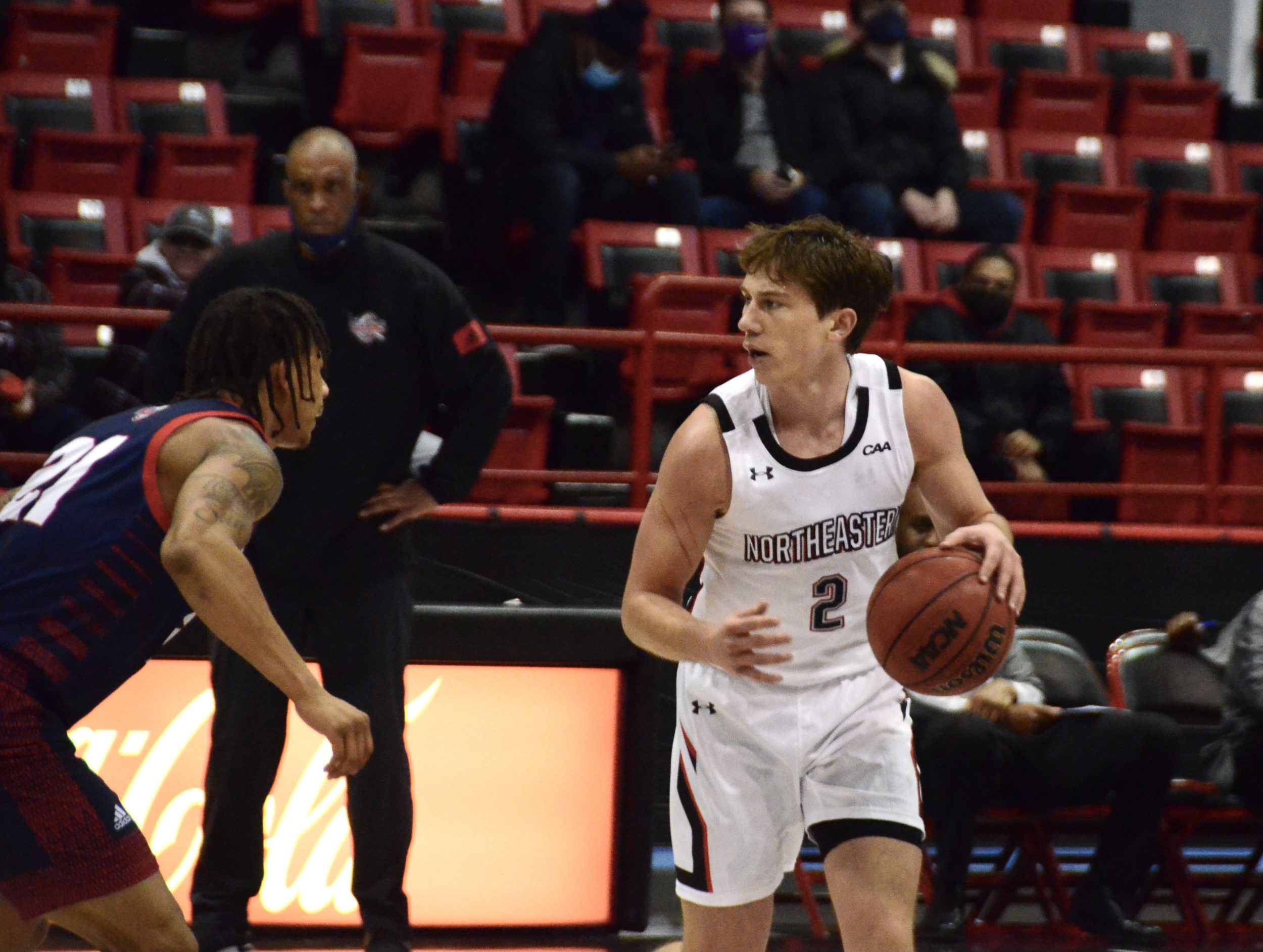 The Huskies also had plenty of contributors besides Cubrilo who helped keep their lead. Jason Strong used the free throw line expertly to reach 14 points on the night, finishing with a double double. Strong started off the season slow but has recorded double digits points in each of the past two games since returning to the starting lineup.
"It feels good [to be back in the starting lineup] and it's nice to help out my team out there and get more involved, keep the flow going, and just do what I can," Strong said. "It feels good to bounce back, especially after last game."
Another key player for Northeaster was the red haired goliath Chris Doherty, who continued his terrifying campaign against opposing big men. Doherty set a new career high in points with 17, smashing away two blocks and gathering 15 rebounds including nine on the offensive glass.
The Huskies look to carry this momentum into their Friday night rematch against Colgate, who defeated Northeastern 65-58 in the season opener.
"We're a different team than we were opening night. We'll look to build on what we accomplished this evening and what we can learn from it," Coen said. "[Colgate] presents a lot of challenges, they're a great perimeter shooting team, they have good size at the center position, and they're very experienced. They're an NCAA tournament team with essentially everybody back. We'll need to do a better job defensively against them, particularly against Nellie Cummings; he hurt us in the opening matchup and had 25 points. We'll do a much better job on him and offensively share the ball like we did tonight and get some more quality looks."
The Huskies will take on Colgate this Friday at 7 p.m. in Matthews Arena. Justin Diament and Sam Kirshman will have the call with coverage starting on Mixlr at 6:45 p.m.