Story by Jordan Walsh
Photos by Kayla Shiao
Three days after Aerin Frankel was named Hockey East Goaltender of the Month for the second consecutive month, Northeastern head coach Dave Flint opted for a different starter in net as the Huskies (16-2-1) took on the Cornell University Big Red (4-7-1) in the second game of a back-to-back set.
Gwyneth Philips got the nod for Northeastern in Sunday afternoon's contest at Matthews Arena and did not disappoint, making 29 saves on 30 shots as the Huskies prevailed with a score of 3-1.
Two of the Huskies' goals were scored by graduate student Maddie Mills, who spent three seasons with Cornell before transferring to Northeastern. Mills led the Big Red in scoring during her sophomore and junior seasons in Ithaca.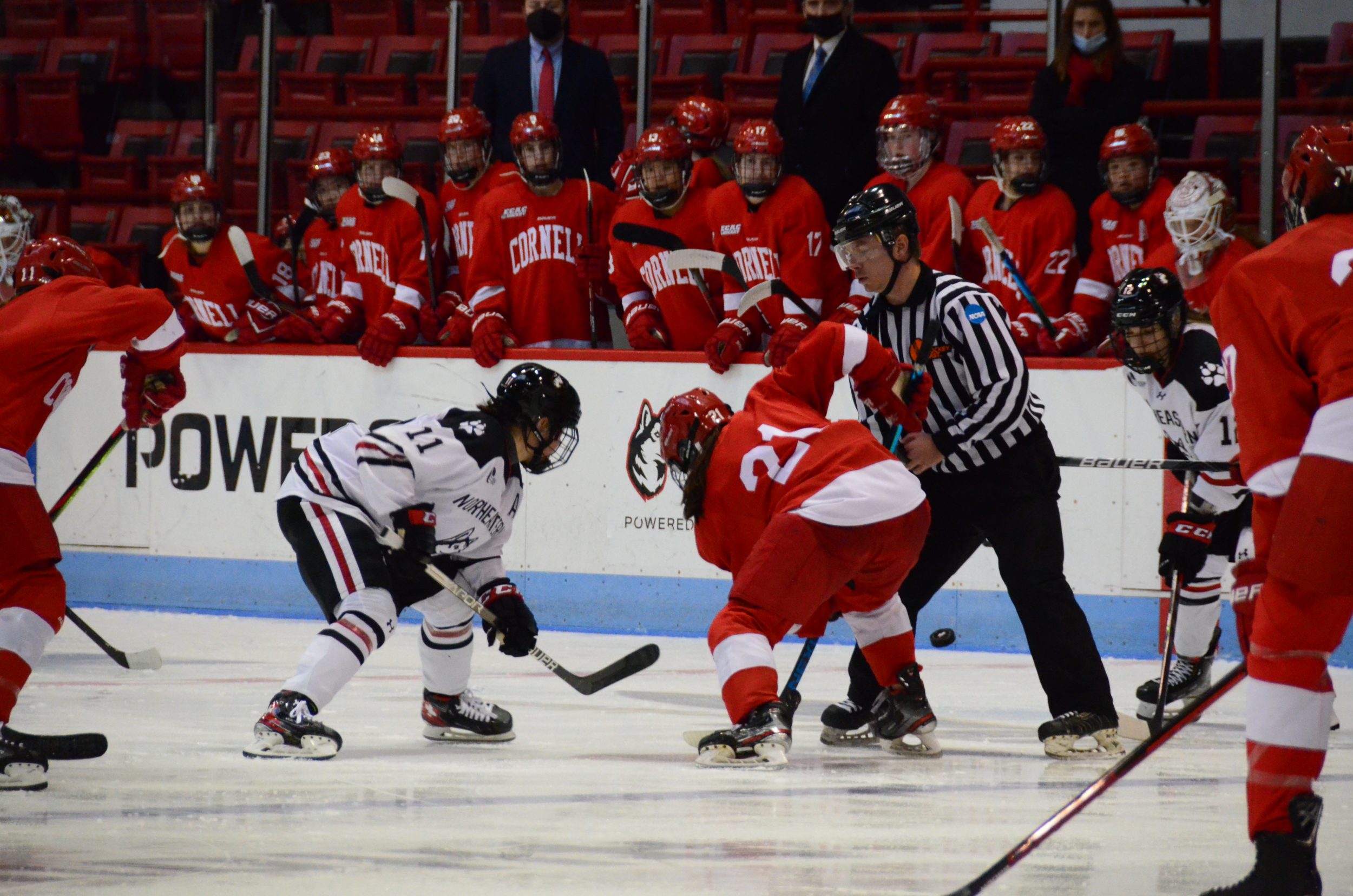 While this performance against her former team could be considered a revenge game, Mills said it was all love.
"It was very emotional. It's hard to put it into words. I love that team, I have nothing but respect for that group of girls, and especially those coaches," Mills said postgame.
Mills' first goal came on the power play, as she rifled a shot past Cornell goaltender Lindsay Browning off a feed from senior Alina Mueller less than four minutes into the game. Browning was back in net for the Big Red after serving a suspension for slashing on Saturday.
Five-on-five action would be at a minimum for much of the game, as 13 penalties were called in total. Later in the first period, Northeastern's Katy Knoll and Cornell's Ashley Messier were both called for coincidental slashing minors. Mueller was able to find Knoll just after her penalty expired, and the junior winger made a brilliant move to the backhand to increase the Huskies' lead to two.
Late in the second frame, Mills notched her second goal, as linemate Maureen Murphy found her right in front of Browning, who Mills got around to make it a 3-0 game.
Mills showed patience with her move, just as Knoll had on the prior goal, although Mills confessed that she "wasn't really thinking" on the play.
"It's something that you just practice in practice, and hope that you get the opportunity," Mills said. "Having that extra second, it wasn't like I was thinking, 'oh, I need patience here.' It's just habit, I would say."
The Huskies headed into the second intermission with a 3-0 lead, but Cornell would not go quietly in their final 20 minutes of game time in 2021. While the Huskies were able to keep their opponent away from the net early in the game, forcing them to take shots from outside, the Big Red drove and attacked in the third period. Less than six minutes in, this resulted in a goal from junior Gillis Frechette on the power play, which put her into a tie with linemate Lily Delianedis for the team lead in goals (five).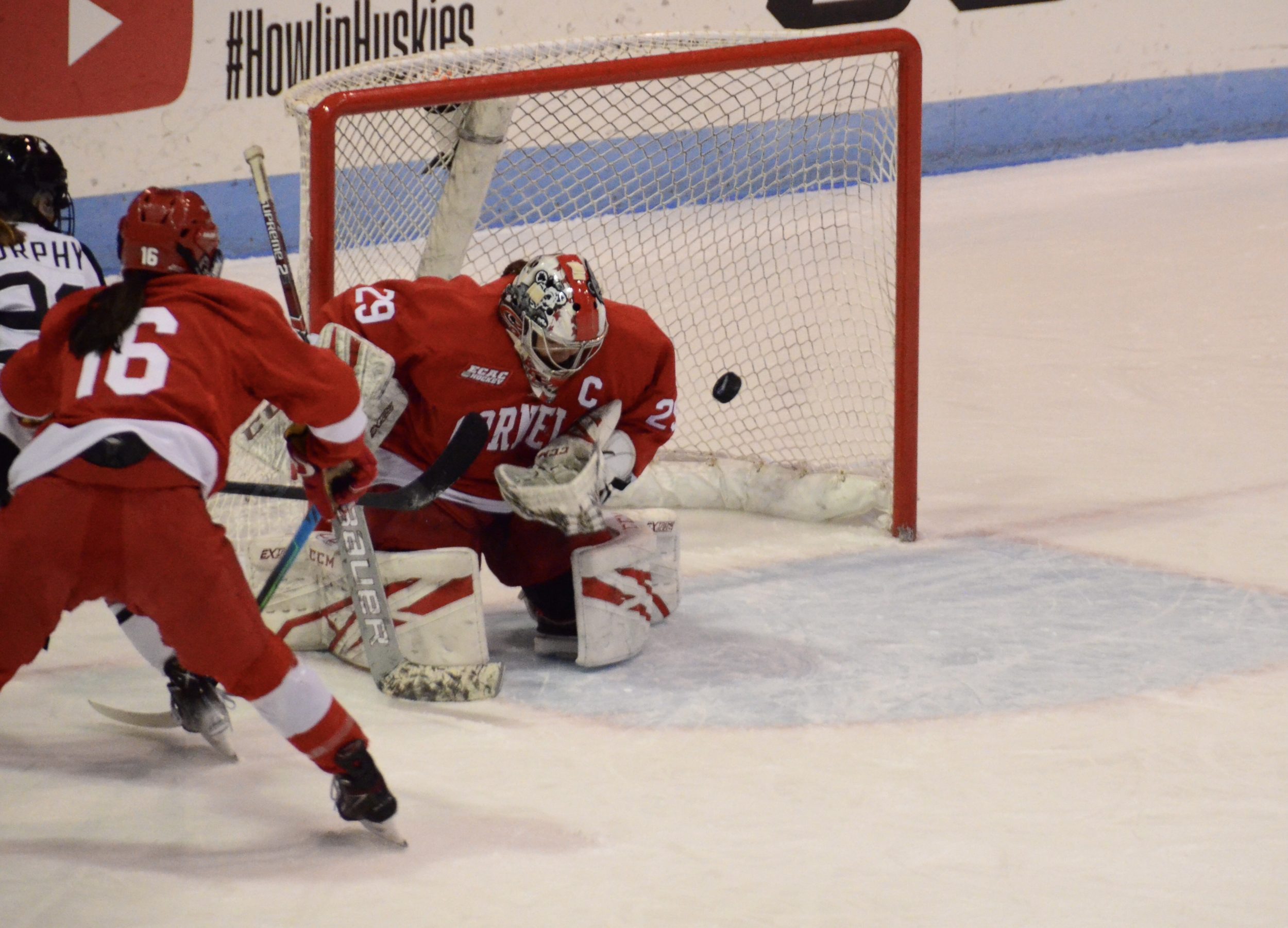 With six minutes left in regulation, it appeared as if the Big Red had cut the deficit to one, when freshman Rory Guilday's shot from the left point found its way into the net. However, after a review, the officials determined that Philips was interfered with on the play, bailing out the Huskies.
Cornell would pull Browning and attempt to continue their push after the reversed goal, but the Huskies closed out the Big Red in the last game of the calendar year for both teams.
Going into the month-long break, Northeastern's unbeaten streak now stands at 15 games, the only blemish being a shootout win against Providence College on Nov. 6 that officially counts as a tie.
Flint praised his team's resilience near the end of the third.
"We gutted it out there at the end," Flint said. "They were pressing us pretty good and trying to get a second or third goal there, and I thought we did a good job of just really competing in our own end, blocking shots and doing little things to get the win."
Of the 13 penalties called in the contest, seven went against Northeastern. The sheer volume of calls certainly tired the Huskies, but the team went six-for-seven on the penalty kill.
"I felt we got a little tired in the third, from just killing so many penalties, but prior to that, [Cornell wasn't] even getting set up," Flint said. "Our penalty kill forecheck, they were doing a great job, and [Cornell wasn't] even getting any opportunities. And then in the third period, I think [Cornell] got set up a few times, we got running around a little tired, but overall I liked the way we played."
Also powering the Huskies was Philips, who as aforementioned only let in one goal on 30 shots. The Huskies prefer to pepper the opposition with pucks on net and limit their opportunities on the other end, but after dominating Cornell in shots on Saturday (46 to 20), the Northeastern advantage was much more modest in this game (34 to 30). The Huskies relied on Philips to make stops, which she did throughout all 60 minutes. Both Mills and Flint noted that although Philips is the backup to Frankel for the Huskies, she would be a starter on any other team. Flint went so far as to say that he has "two of the best goalies in the NCAA."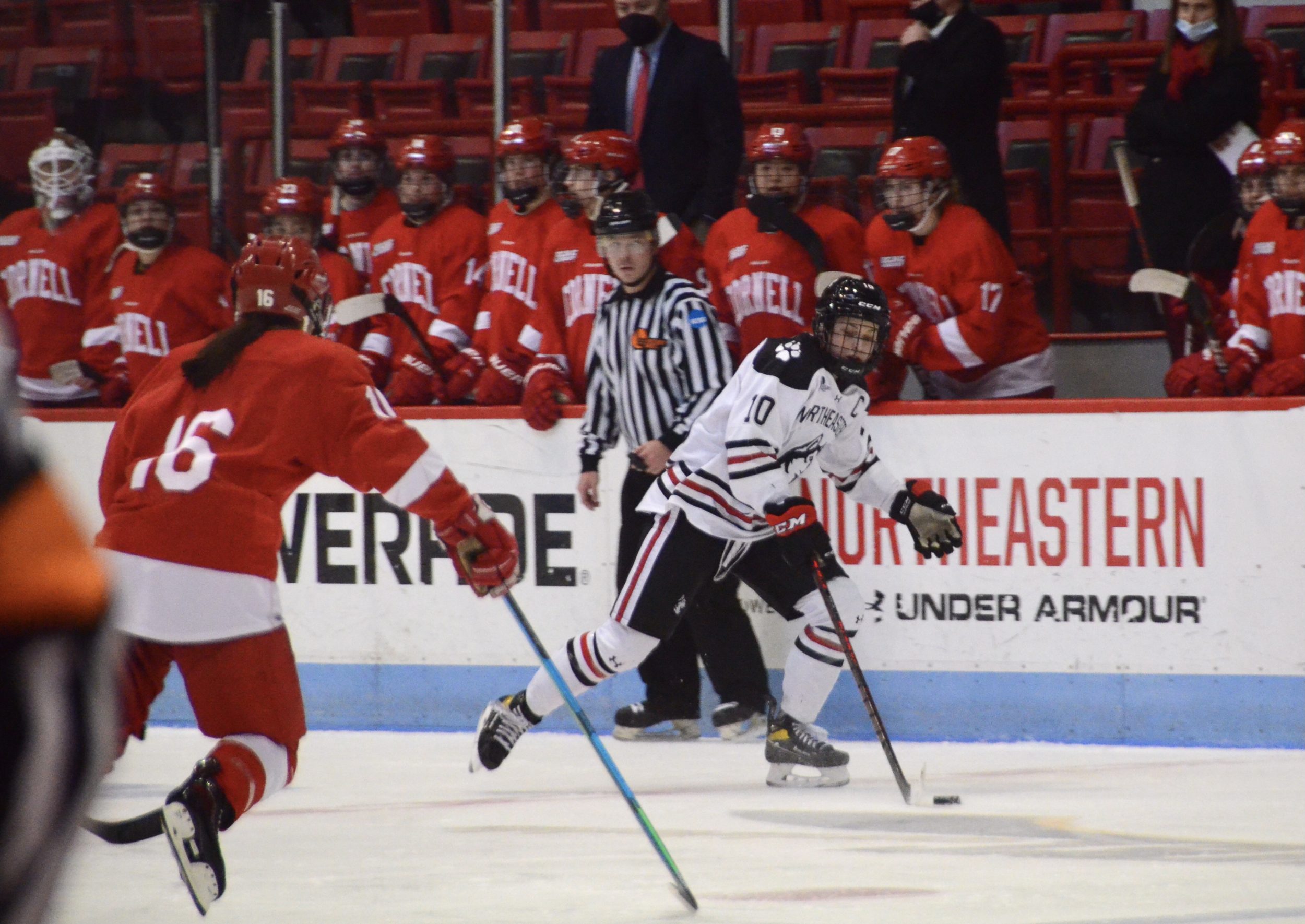 When asked why he gave Frankel a rest day with a month-long break coming up, Flint reasoned, "It's a long season. My goal as a coach is to make sure that Aerin is healthy and fresh come playoff time and not beat up. Some coaches will overuse goalies, and they don't get their best performance in the second half of the year."
Flint was also proud of the way his team played against two strong teams from the Eastern College Athletic Conference, the Big Red and Princeton University last weekend.
"Cornell's record, despite them only having four wins, they're a lot better than that," Flint said. "I think early on with a young team that hadn't played in over a year, they're trying to find their way, and what they showed me this weekend, they're gonna be pretty good come down the stretch. I wouldn't want to play them second semester."
The Huskies will not take to the ice again until Jan. 7, when they will face Merrimack College in an afternoon tilt at Matthews.