Story by Adam Doucette
Photos by Kayla Shiao
It's been a bit of an up and down season for the Huskies. They have relinquished first half leads and mounted a shocking comeback of their own. Tuesday's 82-76 victory against the UMass Minutemen was an up and down game in itself and certainly not lacking for excitement.
Right off the opening tip, it looked like it was going to be the Noah Fernandes show. The shifty 5'11" guard knocked down shots on the first three possessions for the Minutemen, willing his team to an 11-2 lead out of the gate. Four minutes into the game, he had already tallied 11 points.
Midway through the first half, Jahmyl Telfort went down with a sprained ankle and gingerly limped back to the locker room. Telfort appeared to be done for the night, but fortunately he was able to return to the bench and even play a few minutes in the second half.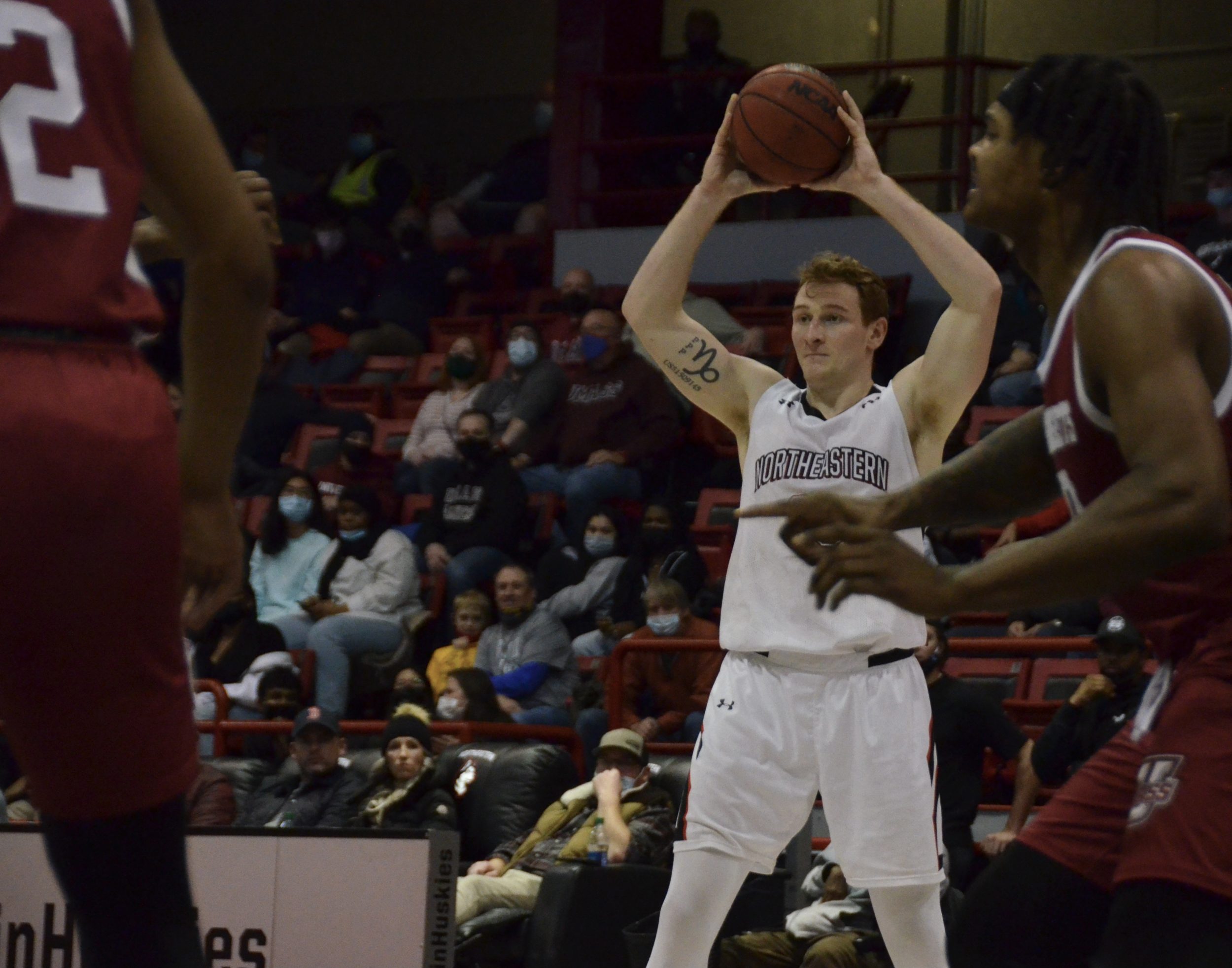 "He's a tremendous competitor," said head coach Bill Coen, "he wanted to give it a go… his willingness to go back out there and compete says a lot about him as a competitor. He knew he was a little banged up, but he wanted to help the team and be there for his teammates and he did."
After Telfort went down, it seemed like the Minutemen might run away with the game. However, Shaquille Walters had other ideas, leading the team with 11 points in the first half including three three-pointers.
"For the most part I thought we played attack basketball on the offensive end and we have to do more of that," said Coen. "Guys who are a little more aggressive tried to penetrate the paint, get into the lane, ID some mismatches, and go after the ball on the offensive end."
The Minutemen mounted a furious run early in the second half, scoring nine straight points. The Huskies held Fernandes to six points in the second frame, but struggled to contain guard Rich Kelly who led the team with 25 points, 19 of which came in the second half.
The presence of Nikola Djogo, who returned from injury to provide 30 strong minutes held the Huskies steady. He finished the game with 15 points, eight rebounds, and five assists.
"He's got such a calming influence on everyone on the team, including the coaching staff," said Coen. "He's a tremendous competitor; he wants to be very good. He was playing tremendous basketball and then got hurt. Now he's worked his way back. He still wasn't 100%, but his effort tonight and his line tonight was extremely impactful. He visited here out of high school officially and we're just happy to get him the second time around."
Graduate transfer Tyreek Scott-Grayson also continued his improvement in his comeback from injury.
"He's an extra ball handler and he can play multiple positions defensively, so that helps us," said Coen. "We can play him on the ball, we can play him off the ball. As he gets his legs back under him, you're going to see nights like tonight even grow in his production and how he can impact the game."
With 2:30 remaining in the game, Scott-Grayson drove the lane and threw down a monster dunk to give the Huskies an eight point lead that they never relinquished.
"I try to bring energy. I try to make people feed off of my energy. Coach called a play and I just executed it," Scott-Grayson said.
The game ended on a Scott-Grayson rebound and outlet pass to Walters for a buzzer beating layup to seal the win.
The Huskies are back in action Sunday at 1 p.m. against Davidson at Matthews Arena. Justin Diament, Peyton Doyle, and Mike Puzzanghera will be on the call.