Huskies In a Downward Spiral, Drop to 0-5 in CAA Play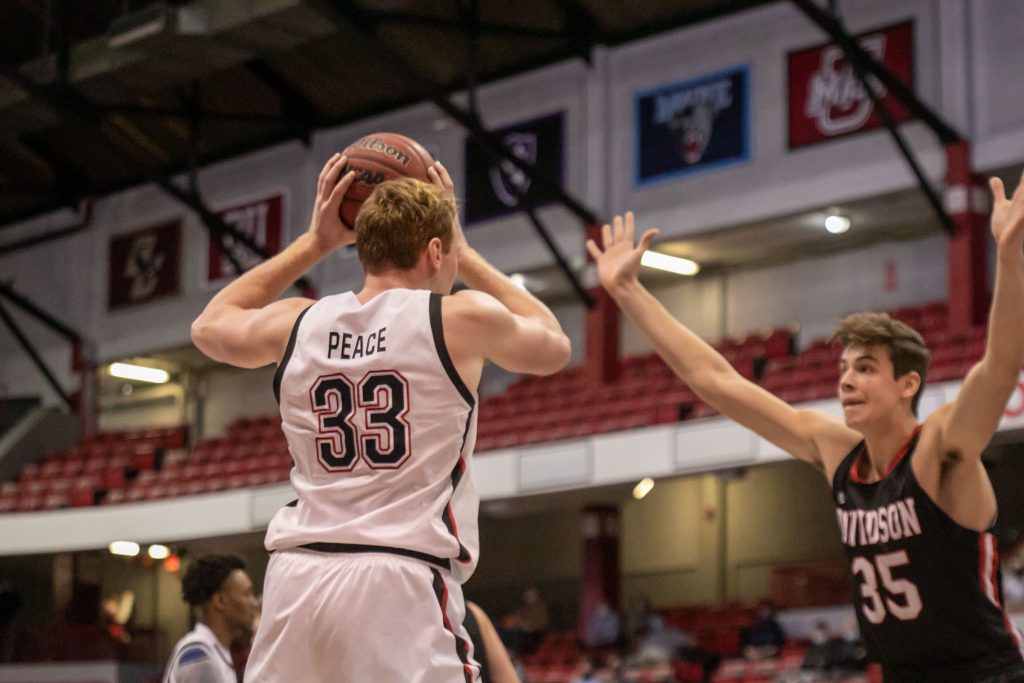 A season that began with great expectations for the Northeastern men's basketball team has become nothing short of a nightmare. The Huskies, already sitting last in the conference at 0-4 in CAA play, returned to their home floor for their first conference game at Matthews Arena since 2020 and gave onlookers little reason to anticipate a return to winning ways in the near future, losing 76-68 to Drexel.
As with many of Northeastern's games, the first half was a grindy, low-scoring affair. Northeastern shot just 32% from the field in the first half, including an anemic two of 12 from three. The Huskies lone bright spot on the offensive end of the floor was Nikola Djogo, who accounted for both of Northeastern's threes and led the team with nine points in the first half. Guard Shaquille Walters returned to action for Northeastern for the first time in nearly a month, but failed to hit a field goal in the first half in his 10 minutes of action, adding just one point from the line.
The Dragons and Huskies went back and forth on scoring bursts, but Drexel ultimately produced an equally weak offensive half, shooting 33% from the field, including just four points from CAA preseason player of the year Camren Wynter. Neither team could maintain momentum for long and settled for contested looks. Drexel's top contributor in the first frame was Coletrane Washington, who matched Djogo's two threes and finished the half with eight points. Ultimately, the Dragons entered the locker room with a slim one point lead, up 24-23.
The second half was a far different story. Both teams had sparkling shooting lines, with Northeastern shooting 57% and Drexel a scintillating 71% in the half. In the first few minutes of the half, the two teams traded scoring runs, just like they did in the first frame, but with a much faster pace. Jahmyl Telfort came alive for Northeastern, scoring eight points in the opening seven minutes of the half and using his large frame to his advantage, working against the smaller guards of Drexel. However, his scoring surge was equally matched by Wynter for the Dragons, who also scored eight points in the same span. It appeared the star guards who had dueled in last year's CAA tournament semifinals would once again take center stage in this Boston versus Philadelphia battle.
Unfortunately for the Huskies, trouble was brewing. Telfort picked up his second foul during his scoring burst, and shortly after, he picked up a third. To make sure Telfort would still be available in the closing minutes, he sat out for a few minutes. However, Wynter showed no signs of stopping as he continued to show why he is among the CAA's elite. Huskies head coach Bill Coen quickly returned Telfort to the game in hopes of stemming the bleeding, but disaster struck when Telfort quickly picked up yet another foul. With Telfort just one foul away from ejection, Northeastern had to turn to others for their scoring fix.
The only Husky who truly answered that call was Djogo, who added 10 second half points and kept Northeastern in it with some big threes when they looked to be on the ropes. Chris Doherty scored six second-half points, but appeared to be smothered by Drexel's big men at times. The Dragons' Amari Williams picked up four second-half blocks and altered many more shots around the rim from Doherty and the Huskies' drivers.
Northeastern stayed in it until the last few minutes, but Drexel finally began to pull away, opening up a 66-54 lead with just two minutes to go thanks to layups from Williams and Wynter. Northeastern finally switched up their defense, putting on the full court press out of desperation. Miraculously, they quickly picked up multiple steals, and thanks to a three pointer by guard Glen McClintock, cut the lead all the way down to four with over a minute remaining. With the Dragons on the verge of blowing the game, Wynter rescued them once again, going eight for eight from the free throw line on Northeastern's intentional fouls, snuffing out the comeback attempt. Wynter finished with a season-high 26 points and shot seven of 10 in the second half, adding nine assists and three rebounds in the game for good measure.
To add injury to insult for the Huskies, Doherty injured his ankle during the last minute scramble. Any time Doherty misses will just add to the doom and gloom for Northeastern, who are now well into the basement of the CAA and are now without two of their four incoming transfers for the remainder of the season with the news that Tyreek Scott-Grayson's injury is season-ending.
Northeastern will have to pick up pieces quickly, with another tough CAA matchup against Delaware just two days away. Peyton Doyle will have written coverage of that tilt on Monday.