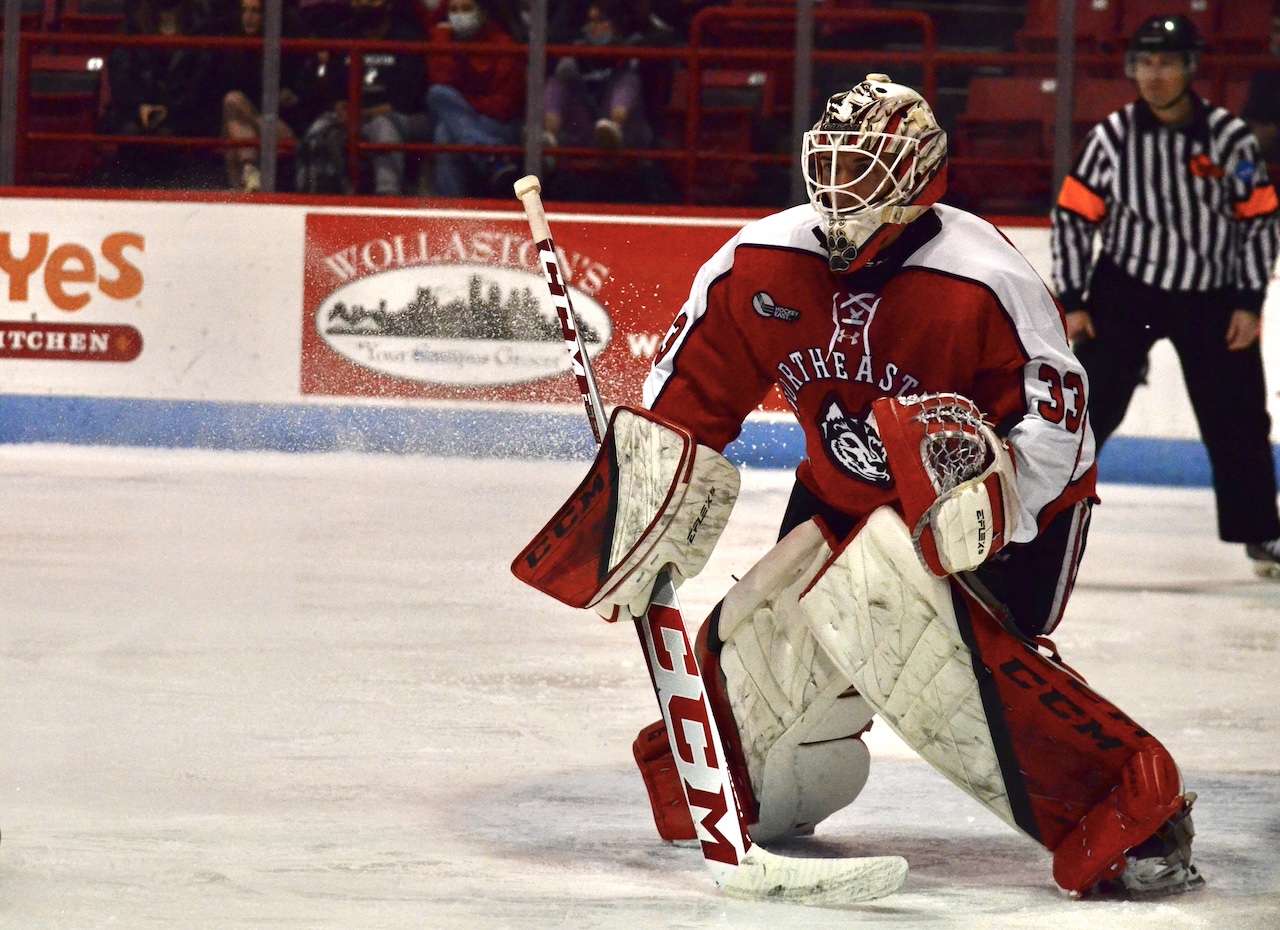 Story by Matty Wasserman
Photos by Kayla Shiao
BOSTON — It has been 55 days since the familiar sounds of the Pep Band, the DogHouse, and the Northeastern fanbase echoed through Matthews Arena. But despite the return of the Northeastern faithful on Friday night, the final result remained the same for Northeastern. The 15th-ranked Huskies fell to 14th-ranked UMass Lowell in a physical, hard-fought affair.
The loss is the Huskies third straight, and drops them to 8-6-1 in conference play and fourth in the Hockey East standings.
"We were excited to play back in front of the fans tonight, and to go out and only find a way to get one goal is disappointing," Northeastern head coach Jerry Keefe said after the loss.
Both teams were missing integral pieces for Friday's contest. The Huskies were without goaltender Devon Levi, who will miss the next four weeks playing for Team Canada in the Olympics, and physical defenseman Jayden Struble, who was out with an injury. Likewise, the River Hawks were down their top goalscorer and power forward Andre Lee.
While both teams were shorthanded, it was a physical, intense, and hotly played game from the beginning. Much like their first meeting at the Tsongas Center Nov. 12, the two teams scrapped hard for every puck and zone entry, and played a fast-paced game with hits, deflections, and blocks all across the ice.
"They are a good shot blocking team, and they make it hard to get to the netfront," Keefe said. "Lowell doesn't make it easy on you. They are a patient team, they are smart, [and] they'll put the puck out in the neutral zone when they're in trouble."
Northeastern fell behind early on, and was forced to play catchup for much of the game. The River Hawks scored their first goal 10:47 into action, on a crafty re-adjustment in front of the net by Lowell's extra skater Stefan Owens. Huskies goaltender TJ Semptimphelter was shielded nicely on the play by River Hawks forward Owen Cole, blocking his vision on the shot and leading to the score.
The freshman netminder Semptimphelter was impressive in his first collegiate start on Friday, allowing just two goals and making 30 saves. After debuting for 20 minutes at the end of a blowout last week against UMass, Friday was his first true test in a Northeastern uniform. His athleticism, judgment, and composure in the crease was on full display against a difficult opponent and bodes well for Northeastern's outlook during Levi's absence.
"I liked TJ's game a lot. I thought he battled in there. He gave us a chance to win," Keefe said. "For him to go in and play well in his first start, it gave our guys a lot of confidence."
Semptimphelter's steady play and a stout Husky penalty kill kept Northeastern within striking distance for the first 30 minutes of play, but the River Hawks took control of the game with 8:49 to go in the second period with their second score. The usually sure-handed Jordan Harris made an errant pass in the defensive zone and Lowell winger Matt Crasa swept it up for the easy backhanded score past a diving Semptimphelter.
"Falling behind by two goals against Lowell, that's a tough thing to do," Keefe said.
Northeastern answered the bell just 49 seconds later, as Matt DeMelis tipped in a puck off Jeremie Buchler's rocket from just inside the right point.
DeMelis' score brought Matthews Arena back to life, and put the Huskies right back in the game. But Northeastern only mustered three more shots on goal in the rest of the second period and struggled to maintain consistent puck possession in the offensive zone for the remainder of the contest.
UMass Lowell is one of the most potent five-on-five teams in the country. The River Hawks only allow 1.04 even-strength goals per game, by far the best mark in Hockey East. The Huskies simply did not draw enough penalties on Friday, with their only power play of the night coming just 1:12 into action.
Ultimately, Northeastern did not generate enough easy scoring chances or put enough pressure on River Hawks senior goaltender Owen Savory to make difficult saves and navigate traffic in front of his crease.
Huskies leading goal scorer Aidan McDonough didn't even register a single shot on Friday. It's McDonough's first three-game stretch this season without a goal scored, coinciding with Northeastern's three-game losing streak.
"We gotta find a way. We gotta find a way to get grittier, to get inside more, to flat-out just be hungrier," Keefe said. "In a 2-1 game, someone has got to make a play."
Northeastern put pressure on Savory and threatened to score after pulling Semptimphelter with just under two minutes to play, but fell short after missed shots and turnovers in the offensive zone.
Northeastern has a week to regroup before hosting a bottom-feeder Vermont squad at Matthews Feb. 4. They'll look to regain some momentum in advance of the Beanpot semifinals Feb. 7.
WRBB's next broadcast is the Women's Beanpot semifinals Feb. 1 at Matthews Arena. Catherine Morrison, Rae Deer, and Matty Wasserman will be on the call with coverage starting at 7 p.m. for the 7:30 p.m. puck drop.