Story by Alexis Spring
Photos by Kayla Shiao
BOSTON — The second Husky vs. Husky game of the weekend weighed a bit heavier as today's game in Matthews Arena honored the twelve seniors who have donned the Northeastern jersey. Full of emotions it was tough to initially depict which way the game was going to go, especially coming off a tie game last night against UConn. Delivering on such a big game, head coach Dave Flint described the event as "something out of a storybook." After watching today's late afternoon game, this could not be more true. In a surprising shut-out, Northeastern swept UConn 5-0 at home.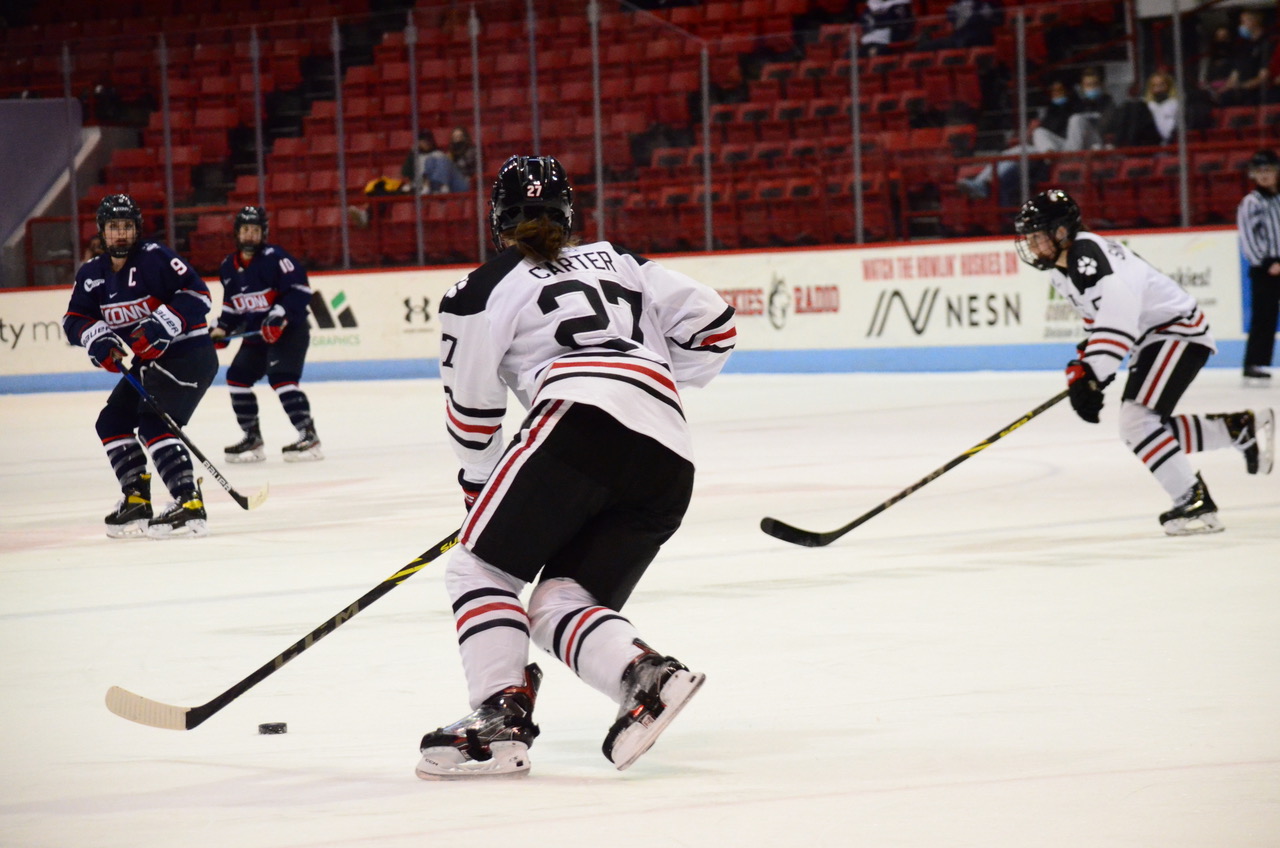 In the first period alone, Northeastern dominated offensively and was up 3-0 by the end of the period.
The first goal came from forward Katie Cipra, assisted by linemate Peyton Anderson and defender Lauren MacInnis, with 15:09 remaining in the period.
Then it was senior center Tessa Ward who crashed the net and put a backhand shot through the five-hole to give Northeastern the 2-0 lead. Ward was assisted by fellow senior forward Maddie Mills and defender Skylar Fontaine on the play with 10:28 left.
Closing out the period for Northeastern with 6:37 remaining was forward Katy Knoll who took advantage of an out-of-position goaltender to tap the puck home. Forward Maureen Murphy and MacInnis had the assists on the goal to put Northeastern up 3-0.
Cipra had the first goal for Northeastern in back-to-back games. Important to note, both Cipra and Ward are graduating players which drove the determination and fate of the game.
In this period, there was a ton of fast play and pressure from both sides as centers Danielle Fox and Natalie Snodgrass from UConn came ready to play. Not too long before the end of the first, senior Samantha Carpentier-Yelle, goaltender for UConn was pulled due to injury and replaced by Megan Warrener who is a freshman. Shots on goal by the end of the period for Northeastern was 12 and UConn was 11.
Once things started getting ramped up and the teams entered the second period, the defense for UConn started to play more aggressively with UConn showing that winning the faceoff is an important factor in a game. Most of the faceoffs from UConn were from center Fox, while on the Northeastern side it was Knoll. This period saw plenty of back and forth offensively as well as some penalties for either team.
Northeastern had its first two-minute penalty with defender Megan Carter heading to the box for interference with 12:36 remaining in the period leading then to a power play for UConn. Uconn was unable to score on the ensuing advantage thanks to a Northeastern penalty kill which hovers around 90% when it comes down to effectiveness this season.
The Achilles heel for the Northeastern Huskies seemed to be staying out of the penalty box. Ward was penalized with 9:52 remaining, receiving two minutes for body checking. Seemingly a more aggressive defensive period, Fox from UConn was penalized for two minutes for cross checking after blatantly catching Ward across the face after a faceoff with 4:13 remaining in the period. This led to a fourth goal by Northeastern, this time by forward Mia Brown who was assisted by Carter and MacInnis.
At the end of the second, there was a two-minute penalty thrown on UConn, left defender Ainsley Svetek for tripping.
From the penalty perspective alone and spoken by Flint, "the penalties this game was better and they have been making adjustments." Northeastern had the 4-0 lead heading into the final period.
Starting the third period off on a power play, Northeastern was unable to score. However, defender Brooke Hobson and Fontaine ensured that nobody from UConn was coming close to scoring a goal.
From the looks of things, the Northeastern seniors wanted this game to be their night. Senior forward Miceala Sindoris made sure of that as she clinched the fifth goal of the afternoon with assists from defender Lily Yovetich and Knoll. The shot was perfect and was viewed as nothing shy of an assassin shot.
Northeastern now at 5-0 which is how the game would end. The total shots on goal for the game being Northeastern at 35 and UConn at 31.
It truly was the seniors' game as the star players from Northeastern Cipra , MacInnis and goaltender Aerin Frankel are all graduating players.
Flint said, they are "irreplaceable, so many good players and just looking back on what they have accomplished in the past four or five years, it has been remarkable. We are lucky to have them for the time that we did and the ride isn't over yet – let's make a great ending!"
Northeastern will take the ice again on Saturday, Feb. 26 for the first round of the Hockey East tournament at Matthews Arena.
Seniors honored at today's game:
Defenders: Brooke Hobson who is the Captain, Skylar Fontaine, Gillian Foote and Lauren MacInnis
Forwards: Maddie Mills, Tessa Ward, Andrea Renner, Miceala Sindoris and Katie Cipra
Goaltender: Aerin Frankel
As the game ended, two banners were up in Matthews Arena that said "House Frankel" which was evident as Northeastern's goaltender made sure no shots were allowed.