Story by Matty Wasserman
Photos by Sarah Olender
BOSTON — What a difference three weeks can make.
The last time Boston College came to Matthews Arena Feb. 18, the Huskies were bombarded, falling 4-1 to the Eagles in commanding fashion. It was a new low for Northeastern, who'd lost five of their last eight games and were bereft of any offensive firepower or scoring punch.
But since that hollow defeat three weeks ago, Northeastern has won six of seven games. The offense has roared to life and found its identity, the defense rediscovered the tenacity and grit that made it so potent in the first semester, and, of course, Devon Levi returned from the Olympics and has dominated to unthinkable levels in net.
On Saturday, Northeastern yet again proved why its late-season surge and regular season league title was no fluke. The Huskies matched the physicality, speed, and explosiveness of Boston College all night, scoring three goals in the second period en route to a 3-2 victory in the Hockey East quarterfinals. With the victory, the Huskies will head to TD Garden next Friday for a Hockey East semifinal matchup against UConn.
"Pretty excited about this group winning this hockey game. BC's a really good team," said Northeastern head coach Jerry Keefe. "To get that win and now get a chance to go to [TD] Garden, I'm just really happy for our guys."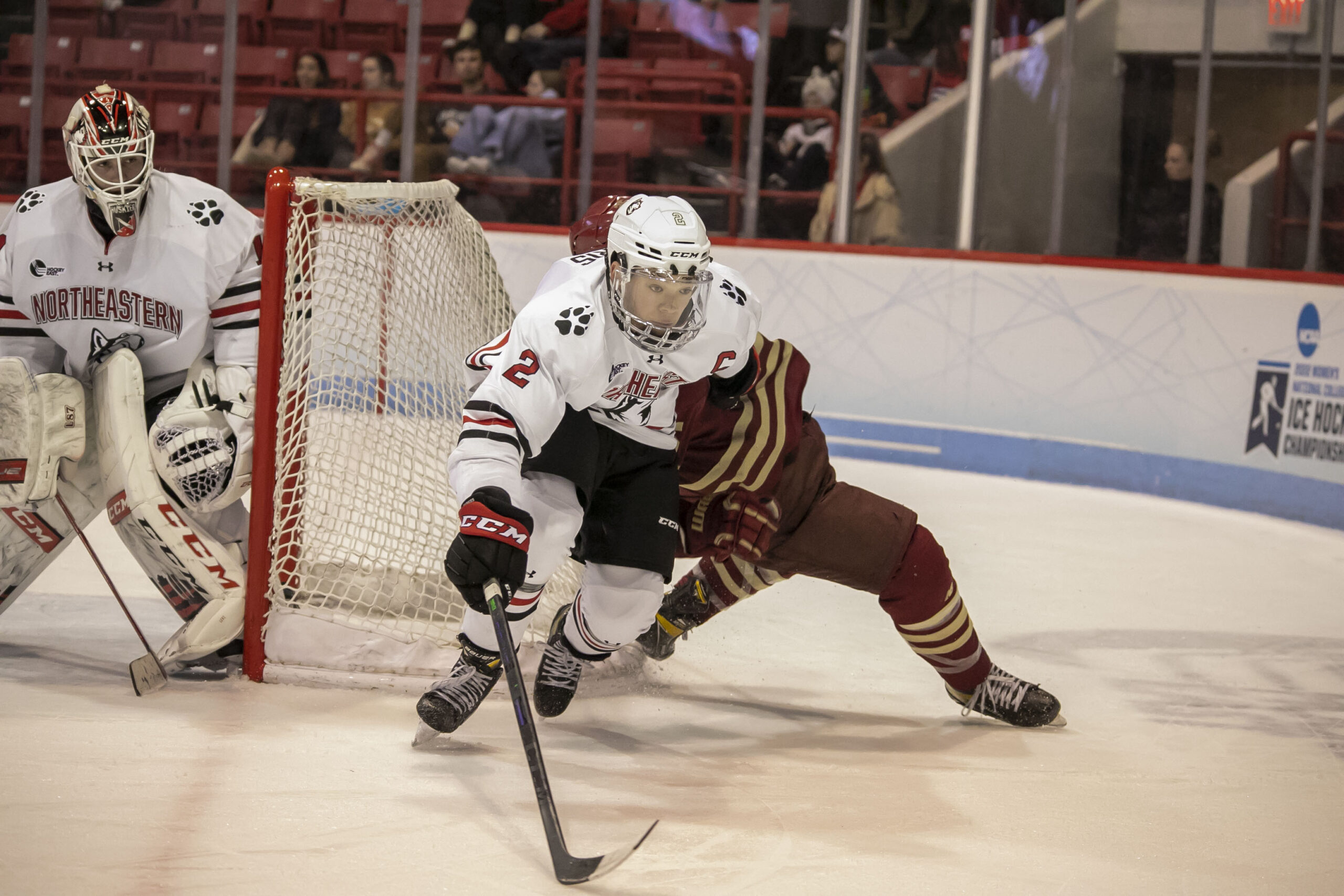 Each of the three periods in Saturday's contest told their own story. Both teams excelled with physical, end-to-end play in the first period and effectively defended at the blue lines. The shot total was 12-11 in favor of the Eagles through the first 20 minutes, though BC goaltender Eric Dop gave up plenty of juicy rebounds that Northeastern couldn't take advantage of. It was the fifth meeting between the two teams this season, and the familiarity likely was a factor in the style of play early on.
"I thought the first period was pretty even, I thought both teams were kind of feeling each other out a bit," Keefe said.
The first period had shades of Northeastern's performance from last Saturday's low-scoring affair at Merrimack, where the Huskies struggled to gain consistent zone time at five-on-five and the game was deadlocked until the last nine seconds of play.
But Northeastern flipped the script entirely in the second period in this matchup, soaring for 16 shots and three goals on a beleaguered Eagles defense that was sent searching for answers.
Just 2:32 into the second period, forward Gunnarwolfe Fontaine broke the ice for the Huskies with a nice forehand finish on a beautiful cross-ice feed from forward Jakov Novak. Defender Jayden Struble tallied a well-deserved secondary assist for his efforts, batting the puck out of the neutral zone and using his physicality and tenacity to set up the rush.
Struble was outstanding in all three zones on Saturday, and was on the ice for each of Northeastern's three scores in the second period. Both he and defensive partner Jeremie Bucheler were crucial to the Huskies' second period outburst, imposing their physicality on potent Eagles forwards such as Jack McBain and Marc McLoughlin while also igniting rushes and fearlessly knifing through the neutral zone with the puck.
"The second period especially, I thought [Struble and Bucheler] had a really good period. I thought they got better as the game went on," Keefe said. "When they're playing at the top of their game, they are a really, really good pairing."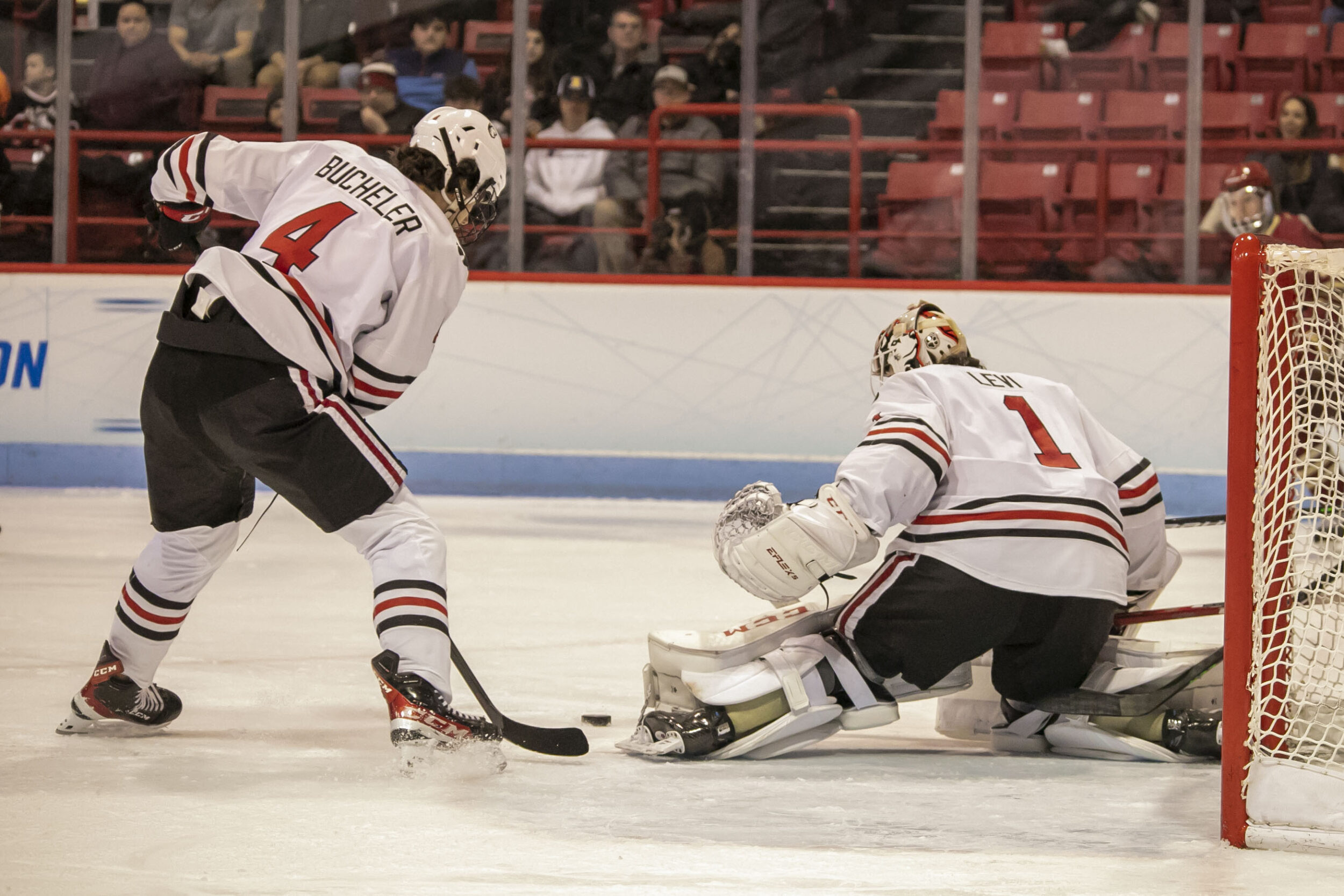 Seven minutes after Fonatine put the Huskies on the board, newly-minted Hockey East all-rookie selection Justin Hryckowian made a nice deke in tight and beat Dop with his backhand to put Northeastern up 2-0.
It was Hyrckowian's first game in almost a month after being sidelined with an injury, and the Huskies' standout freshman said it felt good to finally get back onto the ice.
"It was amazing to get back out there with the guys. They've done a great job over this playoff push when I was out," Hyrckowian said. "It was tough watching, but to see the guys win the regular season [title] it was a great feeling, and it was great to finally be able to contribute today."
It cannot be overstated how crucial Hyrockowian's return is to Northeastern's lineup. While he'd centered Aidan McDonough on the top line for much of the season, tonight he shared the second unit with Fontaine and Novak. Despite missing the past eight games, his 21 points are fourth best on the team, and his absurd 63.3% face-off win percentage is one of the best marks in the nation.
"He's huge," Keefe said of Hyrckowian's impact. "Not only does he score, he defends really well for us. He plays in every situation, he's our go-to guy on the faceoffs, he's got tremendous details, and he's a winner. Getting him back was a big lift for the whole group." 
Just as the second period was winding down, Sam Colangelo's office in the right circle reopened for business with a deadly snipe to the right of Dop. The score came with 0:48 to play in the period and gave Northeastern a commanding three goal lead.
"[Colangelo's] got an elite shot, he's got an NHL shot. And he's pretty hot right now too, so when he's coming down the right side, you feel pretty good, you feel like there's a good chance he's gonna be able to put it in the back of the net," Keefe said.
For Boston College, the Huskies' third goal of the period was a backbreaker.
"The third goal by Northeastern with under a minute left in the second, that was a really hard one for us to give up," Boston College head coach Jerry York said after the loss.
To the Eagles credit, they came back firing in the third period. An interference penalty whistled against Bucheler with 13:09 left in the third period cracked open the door for BC, and standout defender Drew Helleson delivered a power play goal off a McBain rebound inside.
Though Keefe was happy with the Huskies performance through the first 45 minutes of play, he felt the Huskies tightened up playing with a late lead.
"It's something we're going to have to learn from, we spoke a little bit about it after the game," Keefe said. "You want to be in those situations where you're up one, two goals going into the third period, that's a great situation to be in. But you gotta learn how to close games out."
After Eagles defender Marshall Warren sniped in a goal from the high slot with just 3:48 to play, the game took on a whole new life. In what had once seemed like an unobtainable three-goal comeback for BC suddenly was within striking distance for the Eagles.
"Our team, we really battled back. Three-nothing down, I thought it was a terrific third period for us," York said.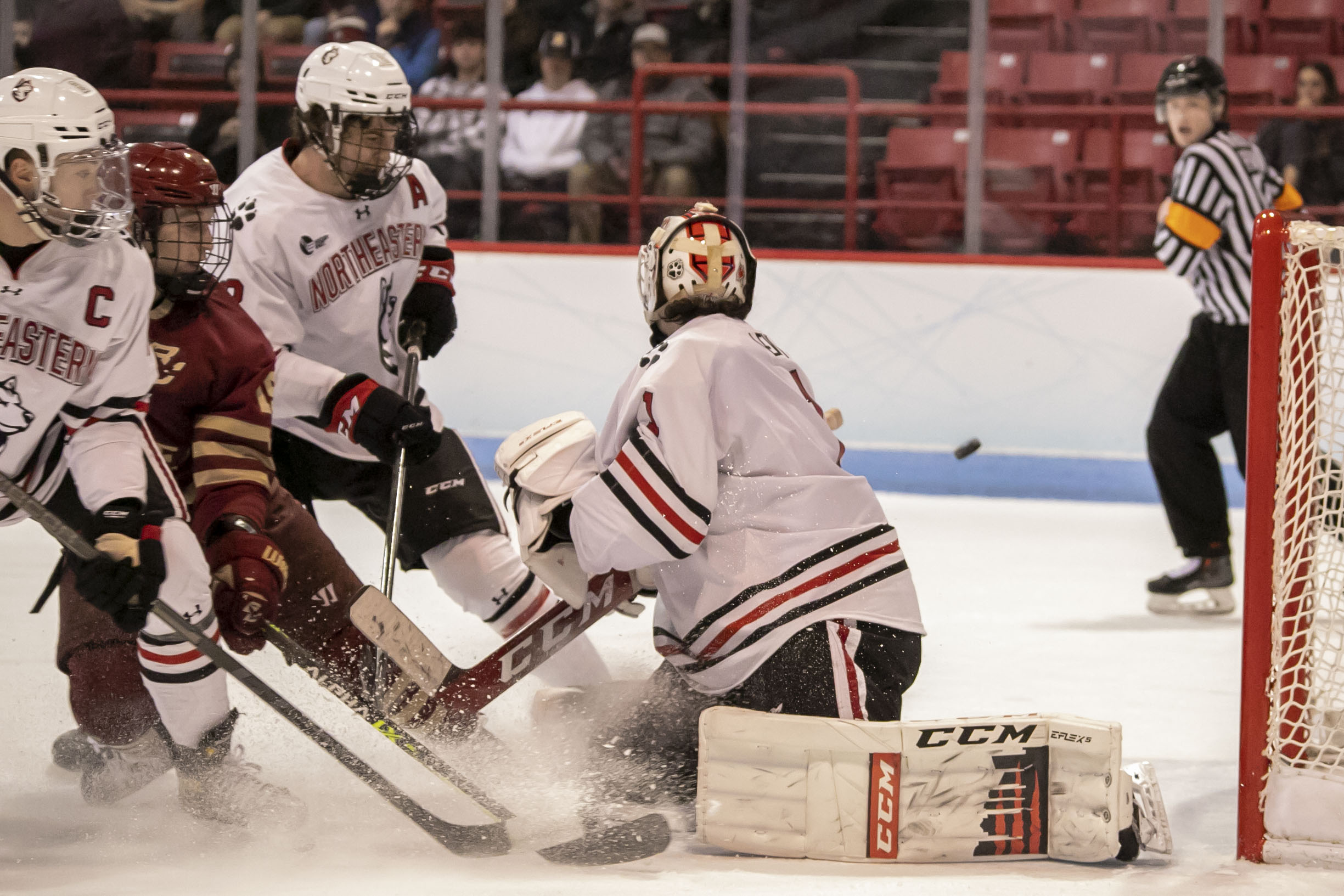 After York pulled Dop with two minutes left, the game descended into absolute chaos in front of Levi's net. The Eagles six-on-five attack was extremely effective three weeks ago at Conte Forum against Levi's backup TJ Semptimphelter, and much like in that game, the Eagles clogged the middle of the zone on Saturday and were seemingly right on the doorstep of tying the game in the closing minutes.
Northeastern got bodies in front of seemingly every BC shooting lane, with Jordan Harris, Tommy Miller, and Jack Hughes amongst the many Northeastern skaters who sacrificed their bodies to block and deflect shots in the final minutes of play.
"At the end of the game, guys sold out for each other. And I was proud of that," Keefe said.
Levi was busy throughout Saturday's game, tallying a whopping 46 saves and raising his season save percentage to .954 — now leading the nation. But he was tested most in those final minutes, and just like the skaters in front of him, he rose to the challenge. 
"It's pretty easy when you have guys putting their bodies on the line, working as hard as they can in the d-zone to help me out," Levi said. "They got two good bounces and they scored two, but for them to get a third they really would've had to get lucky and work for it."
Northeastern staved off the late Boston College attack and held on for the crucial 3-2 victory. With the regulation victory, the Huskies hold steady at No. 14 in Pairwise and likely need one more victory next Friday to seal up their NCAA tournament bid.
WRBB will have complete coverage on Friday of the Men's Hockey East Semifinal matchup against UConn live from TD Garden. Mike Puzzanghera, Khalin Kapoor, and Matty Wasserman have the call. Puck drop is scheduled for 4 p.m.