One of the most overused clichés in modern English is arguably "it is hard to put into words." It is also, however, the most apt description for trying to capture what the seniors from the Northeastern women's hockey team have accomplished during their time with the program.
Over the last half a decade, the amount of history these women have made on and off the ice has been nothing short of magical.
During the 2016-17 season, the Huskies finished their year with a record of 22-12-3, and had a season-ending 2-1 overtime loss to Boston College in the Hockey East Title game. Following that loss, the Huskies went 131-34-13 over a five year span. They captured five straight Bertagna Trophies as the top team in Hockey East. They made two Frozen Four appearances, including the national title game in 2021. In 2020, they won Northeastern's first Beanpot trophy in seven years.
That doesn't even begin to cover the individual awards the graduating seniors have amassed under their belts.
For the 12 women who are departing the program, their legacy and impact to growing the program will forever be left upon Northeastern hockey.
No. 2, Lauren MacInnis – Defense
A stalwart on the blue line, Lauren MacInnis was on the roster for five full seasons with the Huskies, starting in 2017. The St. Louis native really came into her own in the Husky lineup starting in the 2019-20 season when she was a junior. MacInnis played 32 games and ended the year with four goals and six assists. That same year she played hero twice, the first in the Battle of the Burgh semifinal where her penalty shot secured the Huskies berth in the title game.
The more well known highlight of MacInnis' from that year, however, was her double overtime game-winner to give Northeastern their first Beanpot title since 2013.
In the COVID-19 shortened 2020-21 season, MacInnis played in all 25 contests where she recorded four assists and finished the year plus-22. She was also named a Hockey East All-Academic recipient at the end of season.
In her final season with the Huskies this year, MacInnis scored just once back in October against BC. She added nine assists throughout the season, including two on Senior Night in Matthews Arena. She also had a career high 31 blocked shots in 34 games.
No. 3, Gillian Foote – Defense
Gillian Foote came into the Northeastern program back in 2018 and immediately began to make an impact in the lineup. As a freshman she skated in all 35 contests the Huskies played. In her first game she recorded two assists and added another in the following game. Her efforts earned her Hockey East Rookie of the Week Oct. 8, 2018.
Her sophomore season in 2019-20 was similar to her freshman effort where she played in 34 games. Her first and only collegiate goal came against Union in October 2019. She would add an assist in that game, and had another three over the course of the season to finish with five points on the season.
Over the course of her junior and senior seasons, Foote was not put into the lineup as often as she was in prior years. She dressed in only four games during the 2020-21 season and 12 in 2021-22. She was credited with an assist in her final game for the Huskies, the regular-season-ending game against UConn.
No. 5, Micaela Sindoris – Forward
The hometown kid, Charlestown's Micaela Sindoris has been a steady presence in the Huskies' lineup since she made her debut in 2018. In her rookie season she skated in all 38 games and recorded one goal and three assists. Her first collegiate goal was the eventual game winner in the Feb. 8, 2019 victory against Merrimack.
The following year she once again played in all 38 contests for the Huskies, recording two goals and six assists. Sindoris' first career multi-point game was a two assist performance against UConn in January 2020.
Her junior year in 2020-21 was shorter than her previous two due to COVID-19, however Sindoris maintained her production level by adding three goals and six assists to her career total. One of her three goals included a score during the Hockey East title game against Providence.
Sindoris' senior season in 2021-22 was her most productive during her time at Northeastern, especially in the back half of the year. All but one of her nine points came during the second half of the Huskies' season. In Northeastern's first round matchup in the Hockey East tournament, she opened the scoring just 50 seconds in and added another goal and assist on the Huskies' way to rout Merrimack 8-0.
No. 7, Brooke Tucker – Defense
Brooke Tucker played in 28 games as a freshman during the 2018-19 season, blocking five shots over the stretch. Her sophomore year she played in 11 games for Northeastern, securing her first collegiate point with an assist during the Huskies' 4-0 win over Vermont in January 2020. She was named to the Hockey East All-Academic Team for 2019-20 after the season concluded.
During the COVID-19 shortened season, Tucker played in just one game but registered a plus-one rating during the 6-0 defeat of Merrimack.
Tucker did not dress during her senior season and was sidelined for much of the year due to an ACL injury she suffered in December 2021, according to her social media.
No. 9, Emma Jurusik – Forward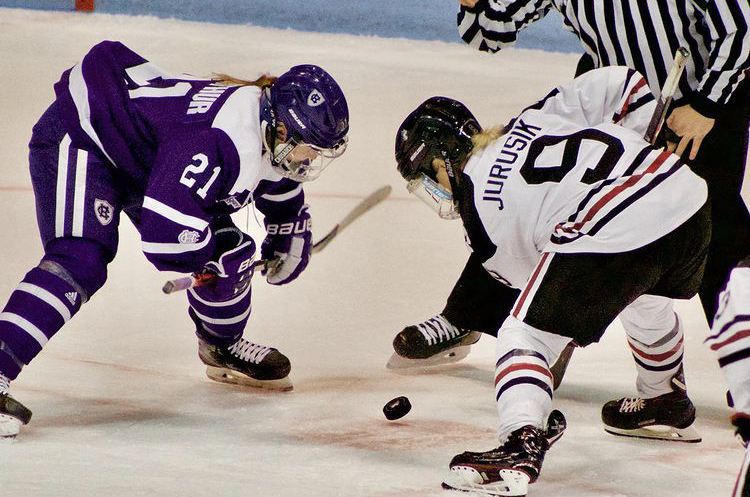 Emma Jurusik played in 47 games during her time at Northeastern, including 26 her rookie year in the 2018-19 season. Her first collegiate point came off a goal against Merrimack in January of her junior year.
She added a point the next month against New Hampshire with her first collegiate assist. After her sophomore season, she was named an All-Academic in Hockey East.
During her senior campaign she dressed for 15 games for the Huskies, including Senior Day versus UConn. The majority of the year she found herself in the extra skater slot, however she helped drive the play every time she stepped on the ice.
No. 13, Katie Cipra – Forward
Katie Cipra made her collegiate debut Oct. 6, 2017, and has found herself in key roles for the Huskies ever since. In her freshman season she dressed in just nine games, before jumping up to 38 contests during her sophomore year. Cipra scored her first career goal against Vermont during a 4-1 Northeastern win Oct. 30, 2018. She finished the 2018-19 season with two goals and two assists.
Her junior year she once again dressed in38 games for the Huskies, registering another three goals and five points over that stretch, including a goal in the Hockey East title win over UConn. She scored again in the title game the following year, bringing her senior year goal total up to seven in 25 games.
Cipra opted to return to Northeastern for her graduate year this past season, where she played in 30 games for the Huskies. During those games she scored five goals and two assists. Her last collegiate goal was scored on Senior Day against UConn, where she backhanded a rebound into the net for what would stand as the game winner.
Number 17, Maddie Mills – Forward
Maddie Mills only had one season in the Husky uniform, but it was nothing short of crucial for the Huskies. After transferring from Cornell for her graduate year, the forward slid right into the top-six for Northeastern this past season and wound up finishing the year fifth on the team in points.
Mills' senior year at Cornell was canceled due to the Ivy League schools opting to not partake in athletics during the pandemic. Before COVID-19 however, Mills helped the Big Red to the ECAC regular season title both in 2018 and 2020. She was named Ivy League Rookie of the Year in 2018 as well and helped Cornell make the Frozen Four in 2019, defeating Northeastern in the quarterfinals that year.
She joined the Huskies lineup and soon got back to her scoring ways, notching her first goal in a Northeastern uniform during the second game of the season against Holy Cross.
Mills finished the season with 16 goals and 33 points, including two assists against Wisconsin during the NCAA quarterfinal in March.

No. 22, Skylar Fontaine – Defense
From the get-go, Skylar Fontaine has been a force for the Huskies. In her freshman season in 2017-18, Fontaine skated in 39 games for Northeastern, scoring her first collegiate goal in her second career game. She finished her first year with five goals and nine assists, including three goals on the power play. She followed that up with an even more impressive second year, scoring 36 points while holding down the blue line for Northeastern. Her assist helped the Huskies secure the Hockey East title for the second year in a row on the Kassidy Anderson overtime winner in 2019.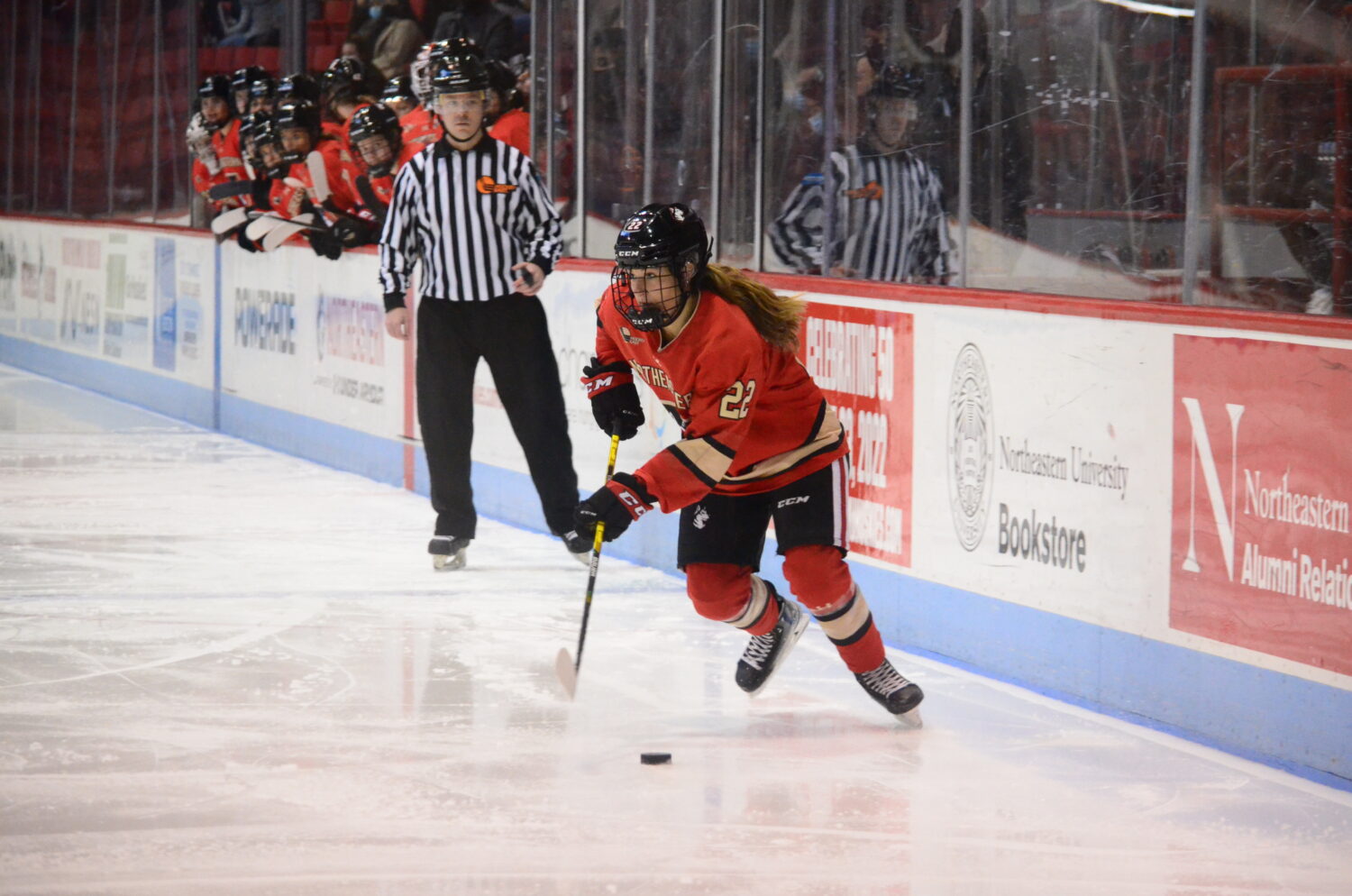 During her junior year in the 2019-20 season she again scored at an impressive clip, netting 17 goals and 42 points —which was ranked second among defenders in the NCAA. Fontaine had points in 10 straight games that season, stretching from Nov. 11 to Dec. 30, 2019. At the conclusion of that year she was given the Hockey East Best Defenseman Award, the first Northeastern player to ever win the award.
During the COVID-19 shortened 2020-21 season, Fontaine still put up 30 points in 38 games, the highest mark for a defender and tied for third in the NCAA overall. For her efforts she was named a top-10 finalist for the Patty Kazmaier Award. The most critical goal of her senior season was in the NCAA semifinal, in which she scored the overtime winner over Minnesota-Duluth to send Northeastern to the national title game for the first time in program history.
She returned to Northeastern this year for her graduate season, again putting up staggering numbers. She had 41 assists on the year, the most from any women's player in the nation. Her 48 points was good for 15th overall in the NCAA, and second on the Huskies. Fontaine was again named a top-10 finalist for the Patty Kazmaier, and named Hockey East Best Defenseman, this time sharing it with Vermont's Maude Poulin-Labelle. Her final points were two assists scored to help Northeastern win their fifth straight Bertagna Trophy over UConn March 5.
No. 42, Tessa Ward – Forward
Galesburg, MI native Tessa Ward has spent five years in the Husky uniform. Her freshman season she played in 19 games, and was able to score her first collegiate goal against Syracuse in October of that year. The following season she skated in 36 games where she scored three goals and five points including the first shorthanded goal of her NCAA career against UConn.
In her junior season Ward played in 35 games and finished with six goals and seven assists. She again scored six goals in her senior season, which stands as her career high. Ward added two assists in 25 games for 2020-21, including a goal and an assist in the team's win over Providence in the Hockey East Final.
Ward opted to return to Northeastern for a fifth year where she played in all 38 games. She finished her career with a two goal, 10 assist season, the last goal coming on Senior Day at Matthews Arena.
No. 8, Assistant Captain, Andrea Renner – Forward
The longest tenured member of the Northeastern squad and one of its key leaders is none other than Andrea Renner. In her rookie season, Renner played in 30 games where she scored five, including her first collegiate goal against Merrimack. Her sophomore year she played in all 39 games and upped her production to 11 points. She scored six goals in the time span, including the only Husky goal against Colgate in the NCAA tournament.
Her junior year she again played over 30 games, this time finishing with 11 goals and 1o assists, her most productive season offensively. She was tied for second on the team with four game winning goals that season, including a redirection in the Huskies game against UConn Jan. 19, 2019.
For the 2019-20 season Renner was forced to take a redshirt year. She was diagnosed with a fracture in her lumbar spine and severe damage to her hip. She underwent surgery to help correct the issues in her hip in December 2019, leaving her hockey future uncertain. "I had no clue when or if I could skate again," Renner wrote in a 2021 special editorial for Northeastern's Red and Black Magazine.
However, Renner was able to make her return into the Huskies lineup for her senior season Dec. 11, 2020. She scored the first goal for Northeastern both in that game, and for the 2020-21 season to tie the score at one against BC. She finished the year with two goals and 12 assists in 25 games, and was named an assistant captain.
Renner came back for a sixth season in 2021-22, and played in all 38 games for the Huskies. She scored four goals over the course of the year, including her final collegiate goal in Northeastern's trouncing of Merrimack in the Hockey East tournament quarterfinal.
No. 33, Assistant Captain, Aerin Frankel – Goaltender
Listing every accomplishment of Aerin Frankel would take far too long. Two-time National Goaltender of the Year (and the only player to ever win it), Patty Kazmaier recipient in 2021, Hockey East Goaltender of the Year four years in a row. Bertagna award winner in 2020, three time Hockey East tournament MVP. USCHO player of the year for 2020-21. All-time leader for wins in Northeastern program history with 103. No big deal.
Frankel debuted for Northeastern in 2017-18 where she started 19 games and made 20 appearances. She finished her season with a record of 10-8-2 and a .933 save percentage. The following season she started 29 games and posted an impressive record of 21-4-3. Her SV% stayed similar that season, dropping slightly to .932. Both seasons her goals against average were below two, with a 1.97 in her rookie year followed by 1.81 as a sophomore.
In her junior year in 2019-20, Frankel continued to impress with a record of 27-4-2 in 33 games. Her GAA dropped to 1.07, while her SV% climbed to .958 over the contests.
For her senior season in 2020-21, Frankel posted similar numbers with a .956 SV% and a 1.04 GAA in just 13 games. Her record was an outstanding 10-2-1, with one of the two defeats coming in the national title game against Wisconsin. Following the conclusion of the 2020-21 season, Frankel was named the 24th winner of the Patty Kazmaier Memorial Award. She had previously been named a top-10 finalist in 2019-20, and would receive top-10 honors in 2021-22 as well.
For her final season at Northeastern this year, Frankel backstopped the Huskies with a record of 25-4-2 over 31 starts. She matched her GAA from her junior year with a 1.07, and maintained a .956 SV%. In her last game in a Husky uniform, Frankel was in net for 98 minutes against UMD, before Northeastern eventually fell in double overtime. In one of her many highlight reel moments, Frankel made a sprawling save across the crease to keep the score tied in single overtime.
Frankel ends her Northeastern career with an overall record of 103–22–10. She is one of only nine goaltenders in Division I history to hit triple digits in wins, and is the only goaltender in Northeastern history to hit the feat. Her career .947 SV% is an incredible mark, and goes along with 39 career shutouts.
No. 10, Captain, Brooke Hobson – Defense
Brooke Hobson has been making an impact in the Huskies lineup since she got her first start in 2017. As a rookie she played in all 39 games for Northeastern, where she scored one goal and notched 15 points. Her first collegiate point was an assist in just the second game of the season against Clarkson. She notched her first career goal against Syracuse in October 2017.
In her sophomore season in 2018-19, she led the team in blocked shots with 50 in 38 games. Hobson finished the season with six goals and 22 assists for her efforts, including 11 power-play points (leading all defenders on the team) and an overtime winner against Vermont. Her junior year followed a similar path with six goals and nine assists in 30 games. She led all blue-liners on the Huskies with four power-play goals during the season.
In May 2020, Hobson was named captain of the Huskies squad after serving as an assistant as a junior. For the 2020-21 season, she played in 23 games and scored 17 points.
Hobson elected to return for her fifth and final year of eligibility, retaining the captaincy for the season. She played in all 38 games for Northeastern, with six goals and 17 assists, which was sixth on the team in scoring. In the second period of the Huskies comeback win against BU in January, it was Hobson who scored the second goal for Northeastern to jump start the offense, turning the game in the Huskies favor.
Following the double overtime loss to UMD in the Frozen Four, the now former captain had nothing but praise for the group of women who donned the Husky uniform this season.
"I was fortunate to be here for five years, and I've watched our team develop greatly," she said. "Obviously we've been performing well on the ice but a lot of people don't know how great the culture is behind the doors. I'm really proud that I'm a part of this group and everybody knows that I'm proud of each person on this team. I'm grateful that I've got to spend one to five years with them and grow relationships with them."
Hobson was also asked about what she expects to see from the future of the Northeastern program.
"This group, Northeastern hockey, it's gonna be on the map forever here," Hobson said. "There is a really really strong group of girls coming back, and we know that they can perform on the ice. But what really leads Northeastern hockey is the culture. That's not the fifth-years and seniors that led that, it's everyone throughout the lineup. People have shoes to fill but I know they're gonna do an amazing job next year and they should be making another run here."
Hobson finished off her remarks with one final vote of confidence for her former teammates.
"This program is in good hands. We have a lot of people leaving, but I have nothing but faith for Northeastern hockey in the future."