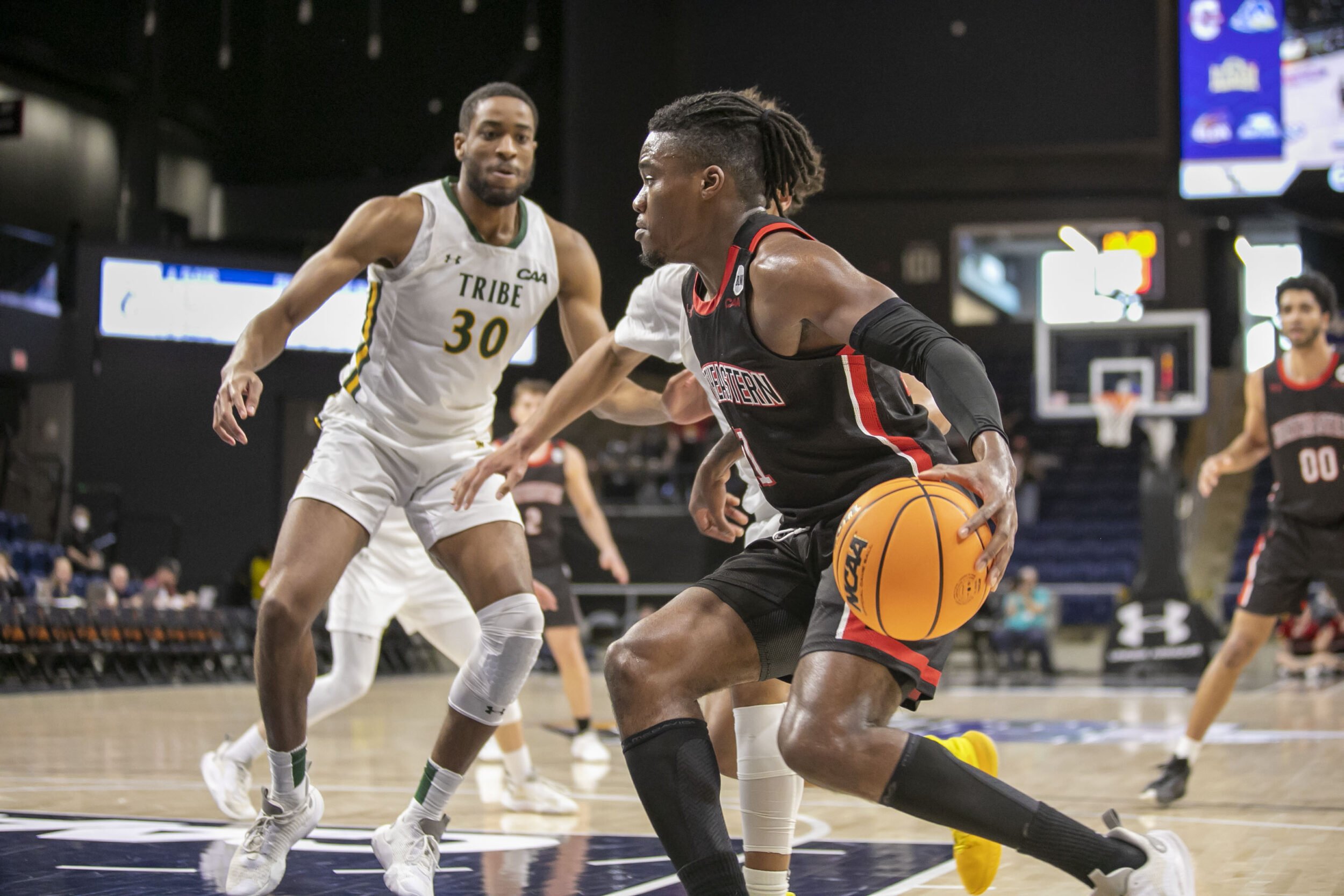 Over the weekend, the Northeastern men's basketball team gave the first glimpse of their revamped roster. The Huskies took a trip to Canada for a three-game exhibition gauntlet against the Concordia Stingers on Friday, the reigning Canadian collegiate national champion Carleton Ravens on Saturday, and the Ottawa Gee-Gees on Sunday.
Northeastern emerged victorious in all three contests, winning 80-58 against Concordia, 104-91 against Carleton, and 96-67 against Ottawa. They did it with a mix of old stalwarts and fresh faces. Here are the top eight takeaways from this men's basketball season sneak peek:
1. The kids are (more than) alright
On this preseason trip, it was all about getting some experience for the freshmen. In sharp contrast to last year's team, which featured only one freshman, guard To Randriasalama, this year's Huskies feature six, many of whom come to Huntington Avenue with strong prospect pedigree. All six newcomers played at least one fantastic game. Here's their best individual performances:
G Chase Cormier: 10/2/4 vs. Ottawa
F Jared Turner: 9/2/2 vs. Ottawa
G Masai Troutman: 7/5/2 vs. Ottawa
G Harold Woods: 19/1/3 vs. Carleton
G Rashad King: 13/4/4 vs. Carleton
C Collin Metcalf: 12/4/0 vs. Ottawa
This season is clearly going to be a bit of a rebuilding year. After last year's team, which was focused on experienced players and one-year transfers, failed to really hit their stride, head coach Bill Coen hit the reset button by targeting freshmen for all six open roster spots and forgoing the transfer portal altogether. This young team will undoubtedly show its lack of experience from time to time, but this limited sample of play suggests the Huskies have a young core to be excited about. Look for Northeastern to start one, possibly even two, freshmen from the first game of the season, and to give significant minutes to almost all of them immediately.
Cormier, who started all three games, looks likely to be a primary ball handler. King put up the most balanced statline of any freshman with his 13/4/4 line in Northeastern's toughest game of the three, including 2-3 from beyond the arc. He could factor in early as a key bench scorer. And while Troutman didn't put up statlines as big as his classmates, his talent is obvious. As for Woods, Turner, and Metcalf, their weekends will be touched on later. The bottom line: the kids will play, and play a lot.
2. Agility agenda
Of Northeastern's many shortcomings last season, among the biggest was their crippling weakness against small and quick teams. The Huskies' lineups that featured tall guards and as many as three forwards were gashed repeatedly by teams like Drexel, Hofstra, and Elon. This issue was clearly a focus for Coen, as he went after small (but not undersized) shooting guards all throughout the latter half of recruiting season.
Coen's efforts paid off: Northeastern's incoming freshman class includes four nimble guards in Cormier, Troutman, Woods, and King. All flashed athleticism this weekend, with Cormier and Troutman in particular looking the part of their prospect pedigree. It was Woods, however, who put up the best defensive game of the four, tallying a staggering six steals against Carleton. The importance of matching up properly with conference foes will likely lead to even more minutes for the freshman class during conference play.
3. A diamond in the Woods?
Out of all the freshman stars, it was the relatively unheralded Harold Woods who made the biggest impression this weekend. After posting only four points in the opening game against Concordia, he exploded off the bench in the Carleton game, scoring 19 in only 20 minutes, adding three assists, and grabbing the aforementioned six steals. Woods did it with efficiency beyond his years, shooting 8-13, including 3-4 from three.
This incredible performance against the reigning Canadian national champs earned him a spot in the starting lineup against Ottawa and Woods did not disappoint. In 23 minutes, he posted 15 points, four rebounds, three assists, and two steals, including 2-4 from three. While expectations should be tempered for Woods to start from day one—there's not too much space in the starting lineup at guard next to Cormier and Telfort—he is definitely a candidate to become a star as the season goes on.
4. Playmakers aplenty
Northeastern's other major issue last season was lack of a true point guard. Tyson Walker's departure left a glaring hole in the playmaking department that was never filled. Many who follow Northeastern pined for a star point guard from the transfer portal, but their poor season made landing a prized transfer unlikely. Instead, Coen's class of freshmen guards will look to fill that role.
The obvious candidate for lead distributor is Cormier, who was recruited as a combo guard. He delivered on this with an assist against Carleton and four assists in the final game against Ottawa (assists were not tallied against Concordia). More importantly, the whole freshman class contributed robust assist numbers that lend credence to an effective playmaking-by-committee approach.
Against Carleton, Woods dished out three assists and King four. Guard Joe Pridgen, who finally got to play as a Husky after sitting out last year as a transfer from UNCW, added three as well. Against Ottawa, many faces chipped in as well: four assists for Cormier, three for Woods and King, and two for Pridgen and Turner. It would be an astonishing turnaround if this team can find consistent playmaking from up and down the lineup when last year's roster didn't have a single player crack an average of two and a half assists per game.
5. Triples for Turner
The last crucial problem for the Huskies last season was shooting—particularly the three ball. Only the now-departed guard Nikola Djogo shot consistently well from beyond the arc, and even he was on fairly low volume. This year's Huskies are looking much better in that department, as Cormier, King, and Woods all posted at least one game with multiple threes made and a 50% or better clip from beyond the arc. But the real star in this department was Jared Turner.
The first year, who figures to play the role of wing for the Huskies, didn't take shots at the volume that Woods, King, and Cormier did in their best performances. But when Turner did shoot, he made it count. He started with a single three against Concordia, then followed that up with a 3-4 line from beyond the arc against Carleton and a perfect 3-3 against Ottawa. Northeastern hasn't had a true sharpshooter in a while. If Turner can be that guy, this team's offense will be scary.
6. Star or support for Telfort?
Guard Jahmyl Telfort entered last season with lofty expectations. After a CAA sixth man of the year campaign in 2020-21 and dropping 30 points in Northeastern's final game of the season, many expected that he would step into Walker's lead guard role. Ultimately, the shoes proved a bit too big for Telfort, who struggled to score efficiently and never really panned out as a primary ball handler, ceding that role to now-graduated guard Shaquille Walters due to turnover trouble. With all his competitors at guard being freshmen, the rising junior seems likely to have a secure starting spot for the opening game. The question is, however, will he retain it?
Things started out well for Telfort this weekend. He led Northeastern with 10 points against Concordia, then followed that up with 16 points on 50% shooting, including and 2-4 from beyond the arc, against Carleton. But in the third game, Coen swapped Telfort to the bench in favor of the surging Woods. Telfort didn't perform well in the scoring column—he shot 2-7 (0-4 from three) and totaled four points for the afternoon. However, he added a team-high seven rebounds and four assists.
Could a supporting role be a better fit for Telfort? He has all the tools to be a strong off-the-ball bench piece. His 6' 7" frame has always made him an asset on defense and on the boards, and perhaps taking the scoring load off his back could yield more room for playmaking. If Woods, King, Troutman, or another guard shows signs of stardom, don't put it past Coen to go all-in on youth sooner rather than later and give them a shot next to Cormier in the starting lineup.
7. Joltin' Joe finally gets his shot
Last season, the Huskies faithful received some backbreaking news at the start of the season. Joe Pridgen was not granted a transfer waiver by the NCAA and would have to sit out the season. His absence was keenly felt by Northeastern as his 2020-21 statline at UNCW of 12/5/2 would have ranked him second on the Huskies last year in points, rebounds, and assists.
Well, Pridgen finally gets his shot to make an impact on the Huskies this year and he is making the most of it. His Huskies career began with nine points against Concordia, then 10 points, three rebounds, and three assists against Carelton after moving into the starting lineup. He continued his all-around contributions with a 12/5/2 line against Ottawa. Northeastern needs veterans to contribute in all areas and provide consistent production next to the youngsters and Pridgen is perfect for that. Look for him to start from day one and for the foreseeable future.
8. Battle of the bigs
One smaller, but easy-to-identify position of need for Northeastern last season was a backup center. The drop in production when star big man Chris Doherty (who seemingly played fewer minutes this weekend to give experience to the freshmen) was immense. Games when Doherty got in early foul trouble became unwinnable and he was forced to play herculean minute totals to get Northeastern their few conference wins. While this can be somewhat mitigated by putting better scoring options on the court around Doherty, the man in the middle needs a reliable backup.
In this area, Coen is giving 6' 9" Collin Metcalf a chance to pass junior incumbent backup center Alexander Nwagha on the depth chart. Metcalf contributed eight points and five rebounds against Concordia, three boards against Carleton, and 12 points and four rebounds on 5-6 shooting against Ottawa. While these have been low volume, low pressure situations where the team has turned its offensive focus to the backcourt, Metcalf's contributions really stand out compared to the three, two, and two point performances by Nwagha, who played similar minute counts to Metcalf. If he can score just a bit at high efficiency and defend the paint, the Huskies will not hesitate to feature Metcalf in the middle for 10 minutes a night.
Fans will have to wait another three months to see Northeastern in action for real, but their weekend trip north of the border provided a ton of answers, a few new questions, and a whole lot of hope. Stay tuned and follow WRBB Sports for the full men's basketball schedule preview and more preseason coverage of Huskies basketball.