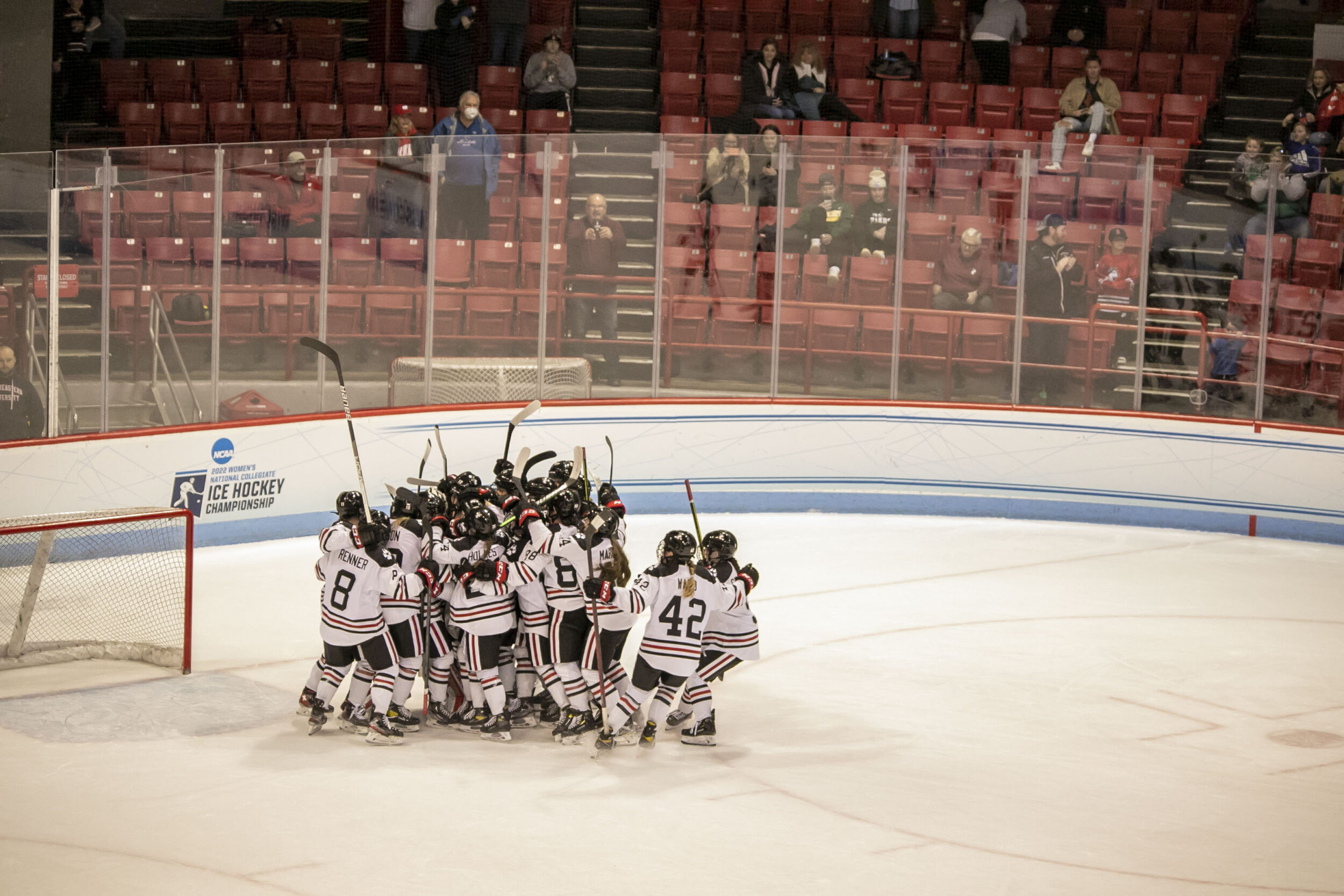 Following the best five-year stretch in team history, 12 of Northeastern's seniors departed the program this past spring. Dave Flint and his staff have retooled the roster with an accomplished eight-player freshman class, and the Huskies will look for many of the newcomers to contribute right from the start.
Though the Huskies' top forward line of Chloé Aurard, Alina Müller, and Maureen Murphy should stay intact this season, six fresh faces will need to fill in the depth behind them, and replace the production of the six forwards who graduated. Likewise, the Huskies' defense, which lost three of its top four players from last year's roster, will count on the two incoming freshmen to make an immediate impact. Northeastern's 2022 class is ranked fourth in the nation, behind Wisconsin, Cornell, and Colgate. Here's a look into each of the eight freshmen joining the pack this coming season.
Jules Constantinople, Defender, Williston Northampton School
Jules Constantinople comes off of a record-breaking season for the Williston girls hockey program. She helped her team to the New England Preparatory School Athletic Council, or NEPSAC, Elite 8 Chuck Vernon Championship — the first tournament win in program history.
"It is honestly a surreal feeling," Constantinople said. "Words can't describe how much it meant to me and my teammates to end the way we did on our high school career."
The team had the best regular-season record in program history this year, despite facing numerous injuries.
"Two of my really good friends tore their ACL," Constantinople said. "We had people playing D that never played D. … We came very close to it every year I've been at Williston, and to make it to the finals … was an unbelievable feeling."
Constantinople was placed on the All-NEPSAC large school first team at the conclusion of the season, her second year in a row. She was named to the team for the first time after the 2019-20 season, and honors were not awarded for 2020-21.
The left-shot defender repeated her freshman year to have a full four years at Williston. She said it gave her an extra year to develop academically and play hockey.
"My godfather got me into hockey. When I was in fifth grade, he turned to me and was like, 'In high school, you're going to boarding school,' and I really wasn't for it. And then once I got to high school, … I was like, 'No, I need to do this.'
Alex Tancrell-Fontaine, the sister of former Husky defender Skylar Fontaine, was behind the bench as assistant coach.
"She kind of always said I skated like Skylar and I played like Skylar a little bit," Constantinople said. "Having her be an outlet for me to ask questions and to get coaching advice from her, who has also played with Coach Carp, was amazing."
Constantinople said Northeastern associate head coach Nick Carpenito also played a role in her decision to join the Huskies.
"My first call that I had with Coach Carp, it really felt like I was wanted, and from talking with Berm[an] and Coach Flint, they also made me feel wanted. Northeastern also just has a great program academically … and the hockey is incredible."
Lily Shannon, Forward, The Governor's Academy
Lily Shannon, an 18-year-old from Andover, Massachusetts, wrapped up her high school hockey career March 5 in the NEPSAC Patsy Odden Large School Tournament semifinals. She was a co-captain the past two seasons, leading the varsity team this past season to a 14-8-2 record.
In her four years at Governor's, a preparatory school in Newbury, Massachusetts, she reached 147 points, tallying 85 goals and 62 assists. Shannon hit the 100-point marker Dec. 10, 2021 with a hat trick against Kents Hill School. When she wasn't playing hockey, Shannon was on the field, competing in soccer and lacrosse.
"The main reason I went to The Governor's Academy was because of the hockey coach, Coach [Claudia] Barcomb," Shannon said in an email to WRBB Sports. "I went to Andover High School for a year before going to The Governor's Academy, and I knew I needed to increase my competition level on the ice and in the classroom as well."
Claudia Asano Barcomb, athletic director and girls varsity hockey coach at Governor's, arrived in 2017, a year before Shannon came. Asano Barcomb said she reached out to Shannon and her family after hearing about her skill and leadership at Andover the year prior.
"Our team wasn't incredible when she was a ninth grader, and then we went to the New England championships, … partly due to her leadership and her willingness to just do it all and put everything on the line," Asano Barcomb said. "She's tough. … She can put the puck in the net. She is a natural born goalscorer. … I would love to have millions of Lily."
Shannon was named to the All-NEPSAC large school first team and the ISL All-League team at the end of this season. She was also named MVP at Governor's for the 2018-19 and 2021-22 seasons.
Since seeing her older brother play hockey at seven years old and starting to skate, Shannon said she had a lifelong goal to become a Division 1 hockey player. She made her verbal commitment to Northeastern in 2020, and now, she is just two months out from the Huskies' home opener.
"Northeastern is known for being an amazing school academically while performing at the top level athletically," Shannon said. "It is located close to home as well. … I am looking forward to meeting new people, but also playing hockey, becoming a close family with the team, [and] competing against other colleges around the country."
Holly Abela, Forward, Brampton Jr. Canadettes
Holly Abela, Northeastern's sole incoming international player, comes from Brampton, Ontario. She most recently played two seasons in the Provincial Women's Hockey League, or PWHL, the highest level of junior women's hockey in Ontario. The league produced current Husky defender Megan Carter, who played for the Stoney Creek Junior Sabres, and recent-graduate defender Gillian Foote, who played for the Bluewater Hawks. Abela was a co-captain of the Brampton Jr. Canadettes this past season, where she had five goals and 16 assists for 21 points in 28 games played.
The latest glimpse of Abela's skill came from the IIHF Under-18 World Championship in June. The right-shot forward had one assist in the tournament, helping to bring home a gold medal for Team Canada.
"Playing for Team Canada at the Under-18 World Championships … has always been a dream of mine since I was little, to be able to represent my country on the world stage," Abela said in an email to WRBB Sports. "Winning a gold medal alongside some of the best people and players from all over Canada was an absolutely surreal feeling."
Abela, a 2020 verbal commit, said academics were a strong draw for Northeastern, along with the team's winning foundation.
"[Northeastern has] a wide variety of programs to choose from, and their co-op program really stood out to me," Abela said. "I also love the culture and environment that has been created by their women's hockey team and coaching staff. Being far away from home will definitely be an adjustment for me, but I am so excited to get down to campus, and I am sure Northeastern will feel like home in no time. … I cannot wait to meet all the girls, and I am so excited for an awesome first year."
Abela has a strong presence on the ice thanks to her forechecking abilities and the way she applies pressure on her opponents, particularly in the defensive zone. As a young hockey player from Canada, it's no surprise a role model for her is one of the best women's hockey athletes in the game right now.
"I always looked up to Marie-Phillip Poulin growing up," Abela said. "She is a phenomenal skater, shooter, and puck handler, and I try my best to model some of her on ice habits in my game. … I got to meet and chat with her, and she is one of the most humble, personable, and kind people I have ever met. I try my best to demonstrate these attributes every day."
Alyssa Antonakis, Forward, Belle Tire U19
Alyssa Antonakis is from the State of Hockey — her hometown is Elko New Market, Minnesota — but she spent the first half of her life growing up in California.
"We had a tennis court when I lived in California, and so I'd always rollerblade a lot," Antonakis said. "[Skating] kind of came naturally from doing all the rollerblading."
While in Minnesota, Antonakis met current Husky forward Peyton Cullaton. The pair played together at Lakeville North High School during the 2018-19 season, Antonakis' freshman year. She said her decision to commit to Northeastern in 2019 was influenced in part by her relationship with Cullaton.
"Our families are really close, and … we've played together a lot," Antonakis said. "She's just a really good person. … I just heard about her experience there, and I wasn't really sure where I wanted to go yet, but [I] look[ed] into it from what I heard from her."
After her freshman year, Antonakis spent two years at Gentry Academy, a small school in Vadnais Heights, Minnesota. During her junior year, Antonakis still attended Gentry, but opted to play with the Dallas Stars Elite U19 team instead, as the school's change in league led to less total games. She helped Dallas to the national quarterfinals that year.
"Our gym class was in the morning, and it was just on the ice," Antonakis said. "So I did that training, and then I would go fly out for weekends in Dallas."
This past season, Antonakis was in Detroit with the Belle Tire U19 team. She tallied 26 goals and 30 assists for 56 points in 66 games. She played with her sister, Sydney, who will be transferring to Sacred Heart for the 2022-23 season. She also has an older brother, Ryan, a sophomore defender for University of New England.
"It's cool that we're all going out east to play," Antonakis said. "We're all in different conferences, … but it's cool to just be close to each other even though we're far away from home."
Lily Brazis, Forward, Cushing Academy
Lily Brazis finished her hockey career at Cushing Academy, a school in Ashburnham, Massachusetts, with 103 points. Brazis was a co-captain for the past two seasons, and helped lead the Penguins to a 17-6-3 record this year.
On Feb. 18 — Cushing's Senior Game — Lily Brazis reached 100 career points. The night ended in a 6-1 win over Dexter Southfield School, and was filled with added emotion for Brazis.
"I was so excited and happy for myself but was brought over with sadness too … because in the stands was my Godmother, and a month and a half [before] that game I lost my Godfather," Brazis said in an email to WRBB Sports. "I immediately felt him with me at once to celebrate this accomplishment with me, my Auntie, and my family."
Brazis also made the All-NEPSAC small school first team this past season. She received an honorable mention after helping her team to a NEPSAC Small School Dorothy Howard Championship during the 2019-2020 season.
In 2021, Brazis was invited to the USA Hockey Girls 16/17 Player Development Camp. At the time, she was playing on the Boston Junior Eagles. This past season, she helped the Junior Eagles to the quarterfinals in the national tournament with one goal in four games.
This past April, Brazis was a part of the tournament-winning TeamONE, which won all five games in the CCM U19 Chi-Town Shuffle. She played with Allie Lalonde, a 2023-24 Husky commit currently at Shattuck St. Mary's.
Brazis committed to Northeastern in 2019. When she starts in the fall, Brazis will be less than an hour from home in Saugus, Massachusetts, and she'll fulfill a lifelong dream to play for the Huskies.
"Northeastern has been my dream school since I was in third grade," Brazis said. "The men's ice hockey team would come to my elementary school and give us autographs, take pictures, and read to the class. Being the only girl hockey player in my class, it felt like a dream listening to their stories, hoping one day that it would be me. I grew up going to the Beanpot and always loved the Doghouse when I was a little girl."
Mia Langlois, Forward, Cushing Academy
Mia Langlois comes to Northeastern following an extremely impressive high school career alongside Brazis at Cushing. She reached 100 points in just 79 games, the first player to do so at the school in over 10 years. The two-time captain averaged more than a point per game, ending her high school career with 115 points.
"Cushing helped me be the person I am today by learning how to form relationships, be a leader, and all in all, helped me grow and mature at a school [with] a tight-knit community that was always supporting one another," Langlois said in an email to WRBB Sports.
Langlois was honored on the All-NEPSAC small school first team this past season. She was also named offensive player of the year for the 2019-20 and 2021-22 seasons. Langlois was invited to the USA Hockey Girls 15 development camp in 2019 and, like Brazis, the Girls 16/17 camp in 2021.
Langlois grew up in Windham, New Hampshire, less than an hour from Boston. She committed to Northeastern back in 2018, before she'd even entered high school, but she said she felt right at home from her very first experiences with Flint and his program.
"Growing up I always had a dream of playing college hockey in Boston," Langlois said. "I felt right at home when I was walking around touring campus. Our coaching staff was welcoming toward me and my family at the very beginning of my recruiting process all the way to this day. … I think we have a great group of girls coming in, and I am super excited to start working with the upperclassmen to begin this season with a special team."
At Northeastern, Langlois will be accompanied by a familiar teammate in Lily Brazis, and two incoming men's hockey freshmen who she's developed a close bond with.
"Being able to come in with Lily Brazis who has been my teammate for almost seven years now makes this transition a little easier [for] me," Langlois said. "Also coming in with my two friends, Jackson Dorrington and Cam Lund, is very exciting because we four can represent Cushing together and continue to support each other."
Kristina Allard, Defender, St. Paul's School
Allard comes to Northeastern from St, Paul's School in Concord, New Hampshire, where she was a captain the past two seasons. This past year, she took home the Sanford R. Sistare Girls Ice Hockey Award and the Loomis Medal, awarded to the girl who had the greatest contribution to the athletic program. As a sophomore, helped her team to the 2020 NEPSAC Patsy Odden Large School Championship.
"The feeling of being able to put up a banner for the school was a monumental moment for me at St. Paul's," Allard said in an email to WRBB Sports.
Allard spent her freshman year at Sanborn Regional High School before St. Paul's School girls hockey coach Heather Farrell suggested repeating her freshman year to transfer to St. Paul's School.
"St. Paul's School is one of the best schools in the world, and I wanted to push myself out of my comfort zone and discover new perspectives and ideas," Allard said. "Sanborn did not even offer a hockey team in my time there, so I knew I needed to branch out. … I loved my time at Sanborn. … I wouldn't be where I am today without that school."
Beyond hockey, Allard played soccer and ran track and field at St. Paul's. This past year she was the All-NEPSAC 200-meter honoree, and she broke four school records.
"[A] memory that sticks with me to this day is the last track meet I ever ran at St. Paul's. It was a bittersweet day, but our 4×400 relay team was gunning [to break] the record the entirety of the year, and at our very last meet we were able to. … To be able to celebrate our success with the entire school was indescribable."
Her times on the track translate to the rink: her speed on ice made her a top New England recruit. She committed to Northeastern back in 2018.
"I felt my decision was a no-brainer," Allard said. "I fell in love with the campus and all the opportunities the school had to offer. Year after year Northeastern hockey has proven that they are one of the top programs in the country, and I wanted to be a part of that winning culture."
Avery Anderson, Forward, Belle Tire U19
Avery Anderson joins the Huskies with a familiar last name: she is the sister of senior forward Peyton Anderson.
"I actually got in [to hockey] because of my sister," Anderson said. "I was a big dance girl before that, and she was always the sporty one of the family. She just started hockey, and they were always playing hockey in the cul-de-sac. … I finally was like, 'Alright, I'll try it out,' and I just ended up falling in love. That's the only sport I've played since."
The two sisters played on Team Colorado U19 together from 2017-19, when Avery was just 14 years old.
"I'm so excited," Andseron said. "One of the reasons I chose Northeastern was to play with my sister again. And we always skate together in Colorado. Like we do everything together, so I'm excited to finally put it back into play this year."
Anderson attributes Team Colorado and its coaching to much of her early development.
"One of my most memorable coaches would be Chad Macleod. He kind of got me ready and where I am today because he's such a stern coach, but he's very inspirational. He was my coach for Team Colorado when I was 14 years old, and he put me on the 19-year team. … It was kind of scary, but he believed in me, which was amazing."
After Peyton left for Northeastern in 2019, Avery spent two seasons with Dallas Stars Elite U19, from 2019-21. While with Dallas, she lived in Colorado but flew out for tournament games throughout the season.
"I wanted to stay in Colorado, but I just thought I'd get more development somewhere else. … I think girls hockey in general is just like, everybody's welcoming, and you can get along as long as you have the right attitude. … I've had fun and good experiences."
Though Anderson was originally a 2021-22 commit, she decided to spend an extra year developing due to the pandemic. She spent this past season in Michigan with Belle Tire U19, where she played with Antonakis. The pair previously played in Dallas together.
"We were always basically on the same line," Anderson said. "Our coaches would mix us up because they thought we look the same. … It was fun to play with her, and I'm excited to play on another team with her. We're very close. We're going to be roommates next year."
Anderson ended this past season with 17 goals and 14 assists for 31 points in 59 games.