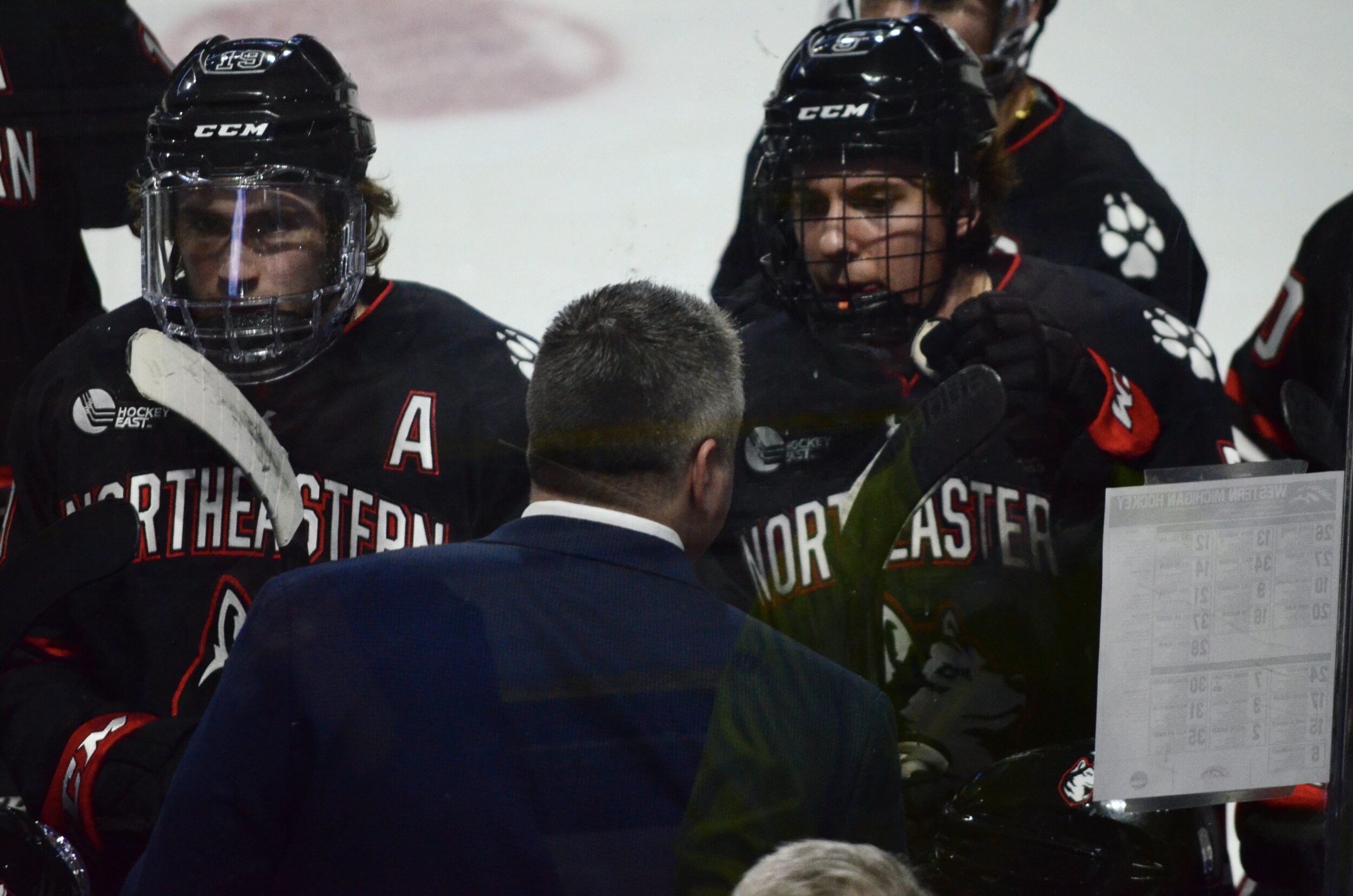 Northeastern's NCAA tournament defeat to Western Michigan concluded the Huskies' 2021-22 season, but Jerry Keefe and the Huskies have stayed plenty busy in the days since, with key transfer pickups, departures, and NHL decisions shaping Northeastern's future roster. Below is WRBB's live tracker of the Huskies' key roster movement and decisions, along with analysis of each move. Make sure to check back here, as we'll continue to post live updates as moves are announced.
July 20: Joe Fleming expected to sign entry-level contract with Golden Knights
By Kayla Shiao
Per Mark Divver, former 2023 defense commit Joe Fleming is expected to sign an entry-level contract with the Vegas Golden Knights. He comes off of a week at development camp where he impressed the Vegas staff.
Fleming was with the Cedar Rapids RoughRiders in the USHL this past season, totalling 202 penalty minutes in 60 games. The 6'2" right-shot defender comes from Wellesley, Massachusetts, having formerly played for the Boston Junior Eagles. Fleming, undrafted, said he received multiple offers for development camps.
"I've heard it's a great organization," Fleming said about the Knights during development camp media availability. "Everyone's great here, and I like the warm weather so I came out here."
Fleming's signing news comes after the Golden Knights traded 24-year-old right-shot defender Dylan Coghlan to the Hurricanes.
"We lost a right D this week, so … whether it's a call up situation or right out of camp competing against other guys, but it'll certainly be one of the guys who are right there," said Golden Knights new head coach Bruce Cassidy during development camp.
July 18: Jason Guerriero named new Husky assistant coach 
A graduate from Northeastern in 2005, former Husky Jason Guerriero has been named the new assistant coach for the men's hockey team, the university announced Monday.
Guerreiro played four seasons for the Huskies starting in 2001. He played in 106 games where he put up a total of 40 goals and 72 assists for 112 points. He was named captain for his senior season in 2004-05 where he led the team in scoring with 17 goals and 48 points and his squad ultimately finished sixth in the regular season standings.
Before joining the Huskies as a member of the coaching staff, Guerriero spent two years at Holy Cross as an assistant coach. He joined the Brown coaching staff in 2015, where he was promoted to associate head coach in 2019 after four seasons as an assistant. While with Brown and Holy Cross, he focused on the forward groups and special teams, according to the news release from Northeastern Athletics.
Between his time as a Northeastern athlete and the start of his coaching career, Guerriero played six seasons of professional hockey including two seasons in the American Hockey League with the Milwaukee Admirals.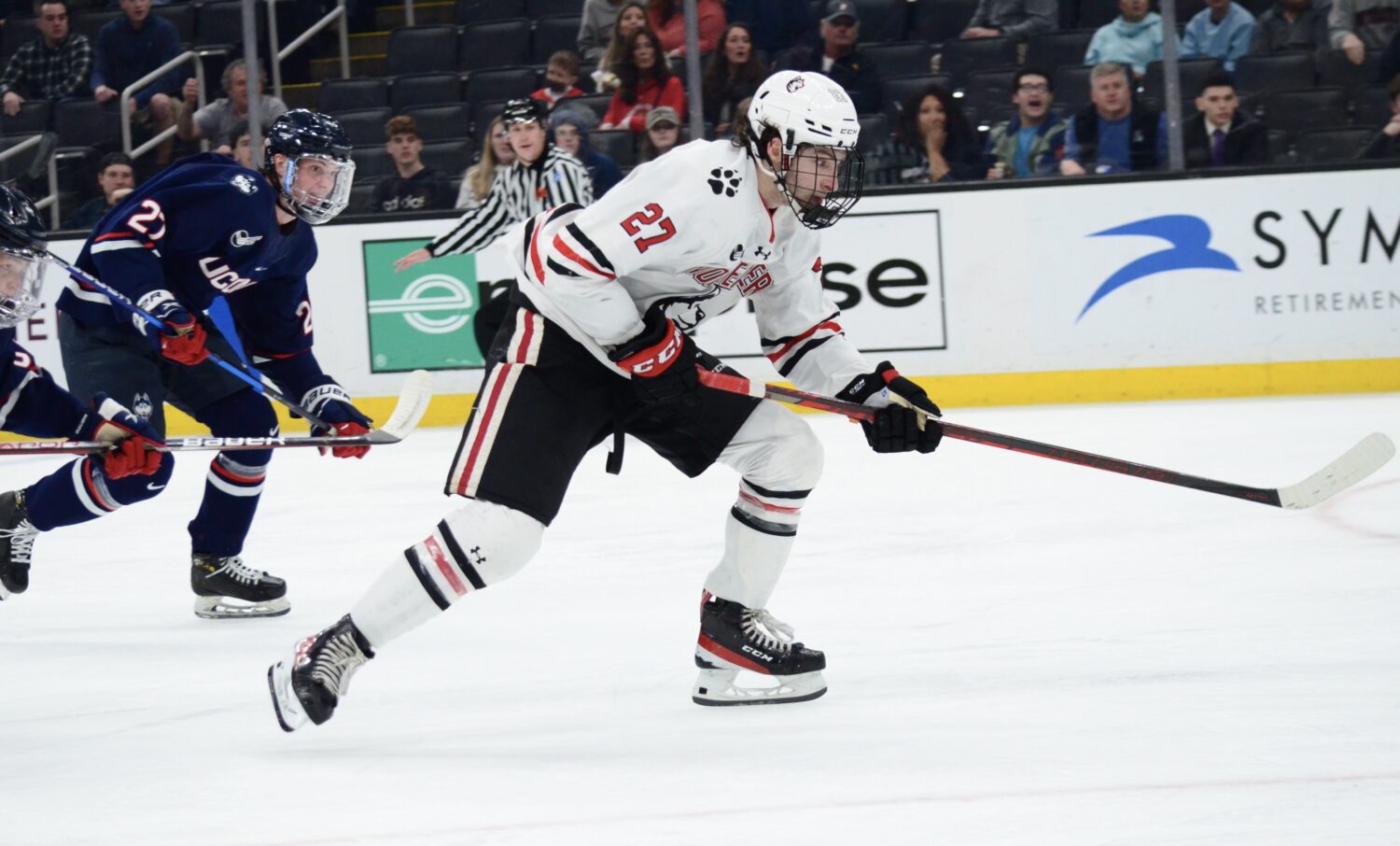 June 21: Jack Hughes, Cameron Lund invited to USA Hockey's National Junior Evaluation Camp
Huskies sophomore center Jack Hughes and incoming freshman forward Cameron Lund are set to attend the National Junior Evaluation Camp, USA Hockey announced on Tuesday.
Sixty players, including 35 forwards, 20 defenders, and five goaltenders, are headed to Plymouth, Michigan from July 24 to Aug. 3. The players will be evaluated in order to construct the rosters for the 2022 Junior World Championship, which was postponed to Aug. 9 due to COVID-19, and the 2023 championship, which is scheduled to begin just five months later, Dec. 26.
Hughes had seven goals and nine assists in 38 games for the Huskies this year. He previously played for the U.S. National Team Development Program before starting at Northeastern and was a member of the 2021 U18 World Championship team. Hughes is expected to be drafted in the 2022 NHL Entry Draft in July at the Bell Centre in Montreal. Following that, he has said his plans are to return to Northeastern for at least another two seasons.
Lund, who most recently played for the Green Bay Gamblers in the USHL, will join the Huskies for the 2022-23 season. In 62 games, he tallied 25 goals and 25 assists with 49 penalty minutes. Like Hughes, he is another 2022 draft hopeful.
Hockey East had many other invitees for Evaluation Camp. Forwards Brett Berard, now a junior, and sophomore Riley Duran, both from Providence will join their head coach Nate Leaman who is set to coach his second straight world juniors. Sophomore defenders Aidan Hreschuk (BC), Ty Gallagher (BU), Ryan Ufko, and Scott Morrow (both Amherst) will also be in attendance. Hockey East committed forwards Cutter Gauthier (BC 2022), Kenny Conners (Amherst 2022), defender Lane Hutson, (BU 2023), and goaltenders Tyler Muszelik, (UNH 2023), and Dylan Silverstein (BC 2023) were invited to participate as well.
June 8: Agriogianis to play junior year at Mercyhurst
By Kayla Shiao
Sophomore center Steven Agriogianis is transferring to Mercyhurst to play his junior year of eligibility, Mercyhurst athletic communications confirmed.
The New Jersey born forward had zero points in 20 games played this season. His freshman year, he put up two goals and four assists in 11 games, the bulk of which coming from a five-point debut weekend.
"On the ice I like to say I play a 200-foot game, where I'm reliable in the defensive zone and I can bring some offensive power as well," Agriogianis said before joining the Huskies. "Whenever I get the puck, I'm looking to find teammates."
Mercyhurst, a part of Atlantic Hockey, went 16-19-4 overall, and made it to the conference semifinals as the seventh seed out of 10. The Lakers had seven seniors and two graduate students this past season, which will cost them a sizable chunk of their roster for next year. With a healthy season, Agriogianis should be able to see more ice time.
A matchup for Mercyhurst next season will be against Agriogianis' former teammate, Julian Kislin, who announced his transfer last month to Sacred Heart, another school in the AHA.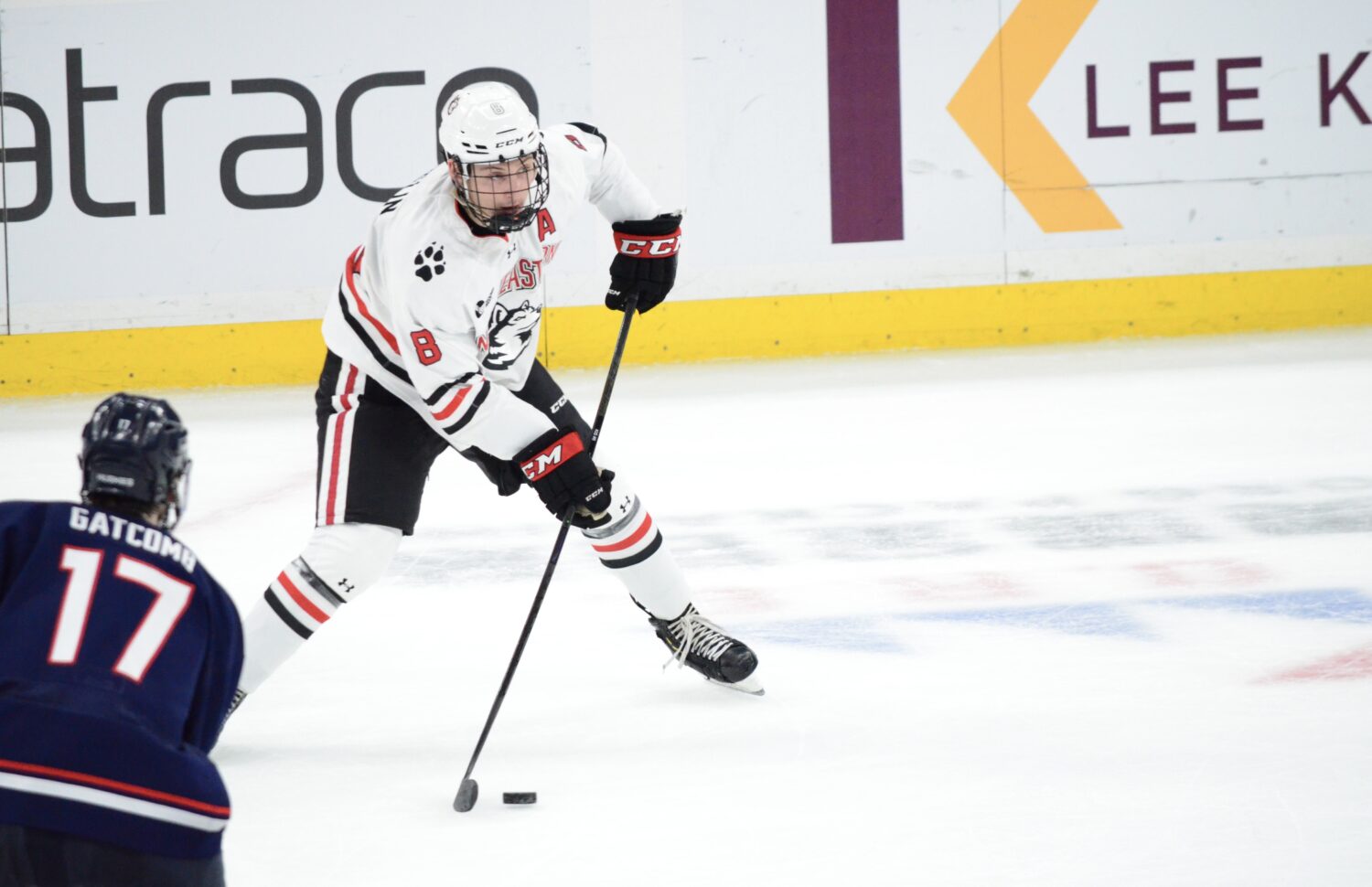 May 15: Kislin's fifth year to be spent at Sacred Heart
By Kayla Shiao
Defender Julian Kislin will play his graduate year of eligibility at Sacred Heart, according to his social media.
Kislin has been a staple on the Huskies' blue line over his four years, posting 105 blocks and providing a consistent, stabilizing defensive presence throughout his tenure. His first career goal came late this past season against UMass Lowell, in his 94th collegiate game. The alternate captain was also a key part of the team's leadership this year.
"Julian Kislin won a lot of hockey games here, big games," said head coach Jerry Keefe after the Huskies' NCAA tournament loss to Western Michigan. "He was banged up, and he fought through a lot of injuries to play. I can't say enough about Kis."
Kislin joins junior forward Neil Shea at Sacred Heart, who played for the Huskies from 2019-21. Shea found success at SHU this year, tallying 11 goals and 20 assists this season to lead the team in scoring and being awarded Most Valuable Player. He was named a 2022-23 alternate captain May 5.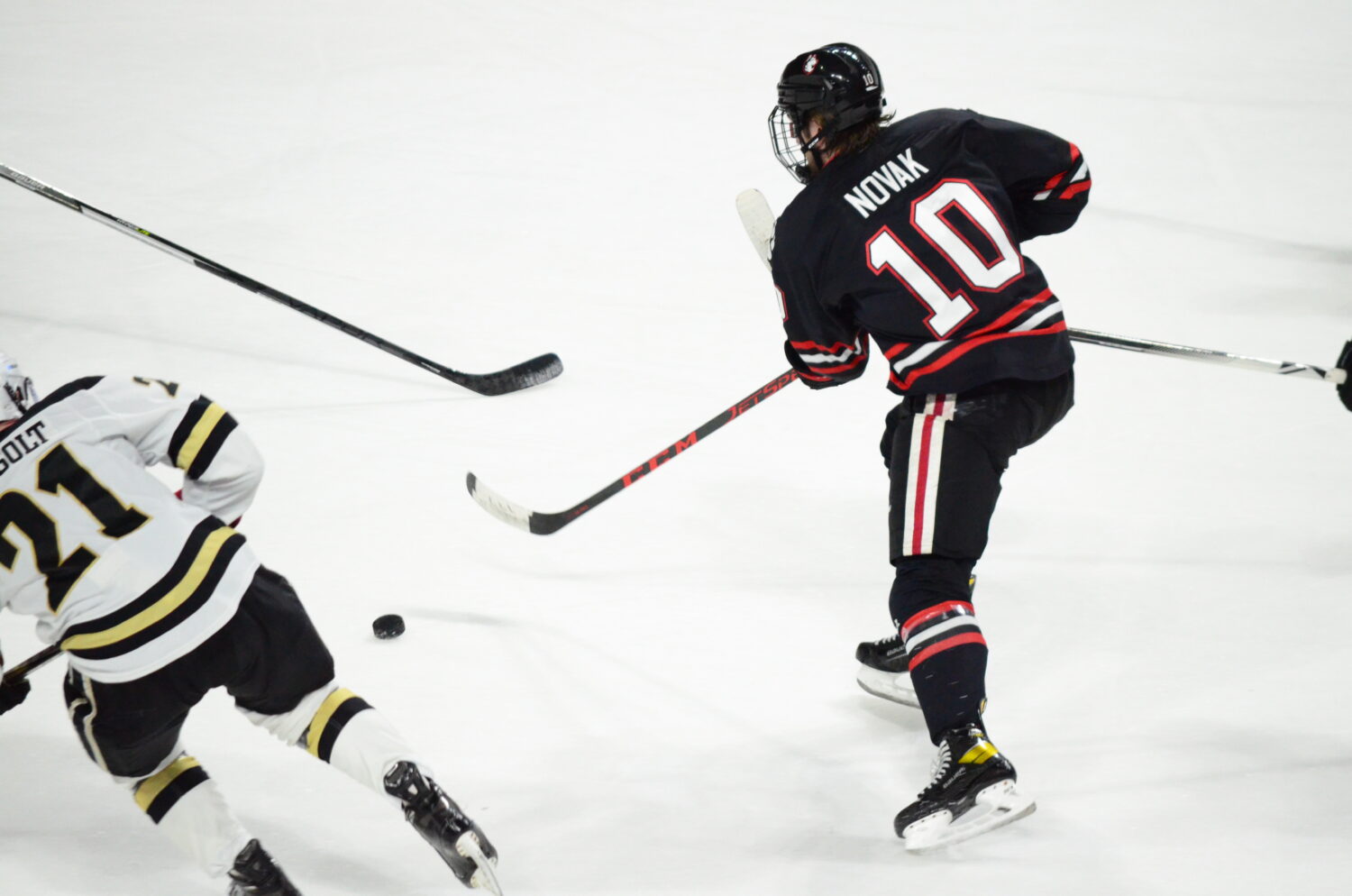 April 28: Novak to return for fifth year
In a somewhat surprising turn of events, senior forward Jakov Novak has opted to return to Northeastern for his graduate year of eligibility. A seventh round pick by the Ottawa Senators in the 2018 NHL draft, Novak transferred to Northeastern for the 2021-22 season after three years with the Bentley Falcons. The news of Novak's decision to return to the Huskies was confirmed by the team's Twitter account Thursday.
During his first year with the Huskies, Novak put up eight goals and nine assists for 17 points in 39 games. Most notably for the senior was when he had back-to-back two goal games during Northeastern's weekend series against New Hampshire in November. For his four goal weekend he was named Hockey East Player of the Week Nov. 8.
Novak sported the "A" on his jersey as an assistant captain for much of the season, despite being with the program for less than a year. His return bolsters the Huskies' leadership group, which will lose key members such as former captain Jordan Harris, and fellow assistant captains Julian Kislin, who is in the transfer portal, and Tommy Miller, who signed a professional deal with the Toronto Marlies.
"Novy … he really took Jack Hughes under his wing this year," said head coach Jerry Keefe after the Huskies' last game of the season. "He cared. He cared a lot. … It's not too often when you have a leadership group that are wearing letters, and then you add No. 10 and No. 12 during the season to wear an 'A.' It just shows how much they brought to the program as new guys."
In addition to Novak's leadership, he will add to the Huskies' top-nine with his scoring and playmaking abilities. With Novak's return, it will be interesting to see where Keefe opts to put him in the lineup with the new faces set to join the Huskies' forward group for 2022-23.
April 6: Steven Agriogianis enters the transfer portal
By Kayla Shiao
Forward Steven Agriogianis entered the transfer portal, per Northeastern Hockey Blog. He had no points in 20 games this season, and was often the extra skater when he was on the line sheet. Throughout his time at Northeastern, Agriogianis struggled with injury and staying on the ice.
In his freshman year, he went 2-4-6 in 11 games. During his collegiate debut, Agriogianis had two goals and an assist, and in that weekend sweep against Merrimack, he tallied five total points. Before Northeastern, Agriogianis was in the BCHL for a season with the Nanaimo Clippers, after five years in the USHL. In his 2019-20 season, he had 17 goals and 21 assists in 51 games.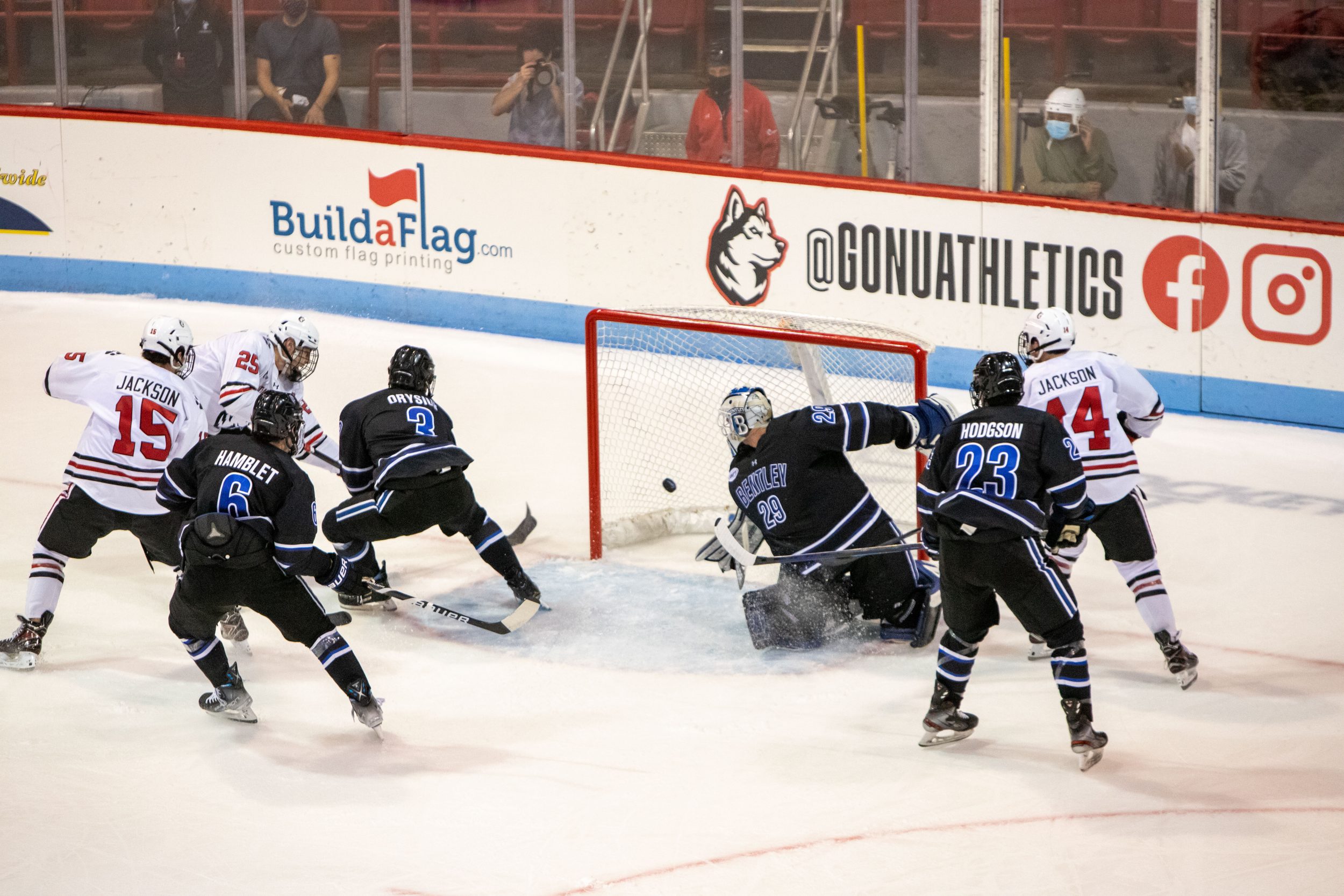 April 5: The Jackson twins join Semptimphelter in the desert
By Kayla Shiao
Dylan and Ty Jackson look to begin again with the Arizona State Sun Devils come hockey season's return in the fall. Both Dylan and Ty struggled with injuries this season, and never seemed to develop in college hockey after their demonstrated success in the USHL.
ASU has two forwards out in the transfer portal — sophomore Michael Mancinelli and senior Jordan Sandhu, who both have played center. Mancinelli had a .450 faceoff success rate over 307 faceoffs, compared to Ty Jackson's .457 over 350 faceoffs. Arizona, an independent program, thrived offensively this past season, but seemed to struggle on defense and goaltending.
Beyond Semptimphelter, Dylan and Ty will find familiar faces in junior defender Jacob Semik and sophomore forward Matthew Kopperud, who they played a season each — 2018-19 and 2019-20 respectively — with on the Dubuque Fighting Saints.
April 4: Devon Levi spurns Sabres, will return to Northeastern
Northeastern's superstar goaltender Devon Levi is returning to the Huskies for the 2022-23 season, as first reported by Northeastern Hockey Blog and confirmed by others.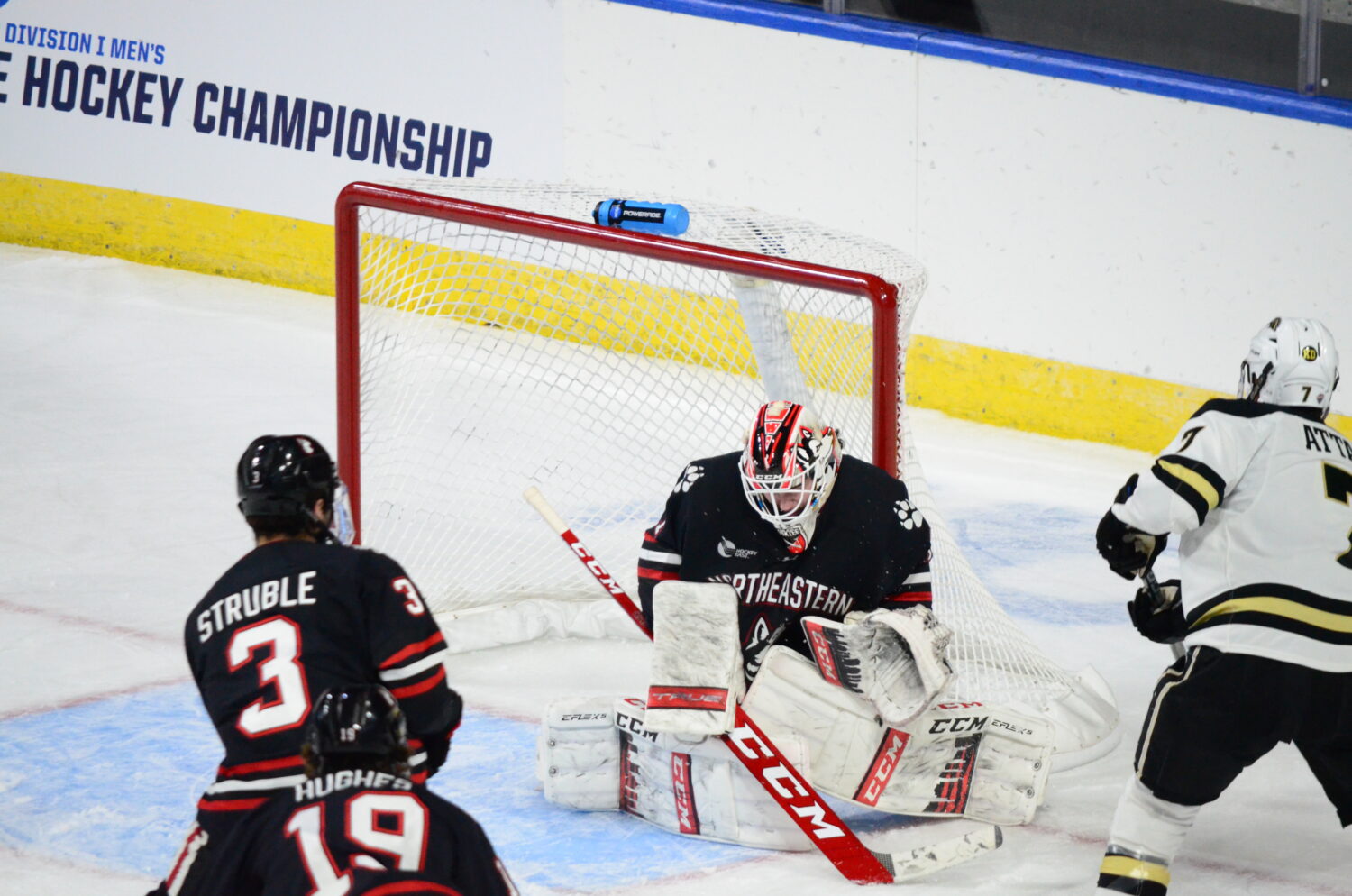 Levi's return to Northeastern seemed inevitable since his understudy in net, TJ Semptimphelter, entered the transfer portal last week — clearing the path for Levi's return. Despite the Buffalo Sabres, who own Levi's exclusive rights, potentially wanting Levi to depart from Northeastern now, Monday's news solidifies that the best goaltender in college hockey will be suiting up for the Huskies for another season.
There are few adjectives left to describe Levi's brilliant debut season for Northeastern this past year. His .952 save percentage was tied for the second best mark in NCAA history, and he did it while averaging nearly 30 saves per game. His efforts earned him Hockey East Rookie of the Year and Goaltender of the Year, and was crowned with the Mike Richter Award for the NCAA's best goaltender.
Levi's decision makes sense on a number of levels: He's just 20 years old, and no matter his dominance this season, still has room to grow and mature at the NCAA level. At his age and development stage, it's unlikely he'd be an NHL mainstay from the get-go, and returning to Northeastern grants him another year to develop, compete for a championship, and enjoy college life for one more year.
As Levi's ascended through the ranks in his ametur career, he's chosen patience at every level, biding his time and not being overly aggressive in his progression, be it staying an unexpected third season at the Midget AAA level in 2018, or choosing to play in the lower-regarded CCHL at the Junior A level. This decision further enforces that line of decision-making, and will further prepare Levi for his NHL-hopeful future.
The pressure on Levi next season to replicate his phenomenal results again will be excruciatingly high. Hobey Baker, NCAA record books — you name it, it's on the table for Levi. But he never once seemed fazed by the sky-high expectations placed upon him, even as he continued to raise the bar for himself with one jaw-dropping performance after the next.
Levi's return completely redefines the ceiling — and expectations — for the Huskies next season. Anything is possible with Levi working wonders in net, and the onus will now be on the players and staff around him to rise to his level next season.
April 4: Harrison Chesney commits to Northeastern
By Kayla Shiao
Northeastern landed goaltender Harrison Chesney, who is expected to join the Huskies in the fall. Chesney comes from two seasons on the Junior Islanders in the USPHL. He ended the regular season with a .926 save percentage, averaging 33 saves per game.
"Coach [Jerry] Keefe, Coach [Mike] Levine, and Coach [Mike] McLaughlin made me feel like a top recruit on my official visit, and someone they were very excited to have to be a part of such a great program," Chesney said in a USPHL press release. "That is what made my commitment decision so easy. I am so excited to play for this staff in the fall of 2022."
While Evan Fear has not been reported to be in the transfer portal, he fell off the line chart towards the middle of March, and appears to not be making a return for his senior season, with three goaltenders anticipated on the 2022-23 roster: Devon Levi, Grant Riley, and Chesney.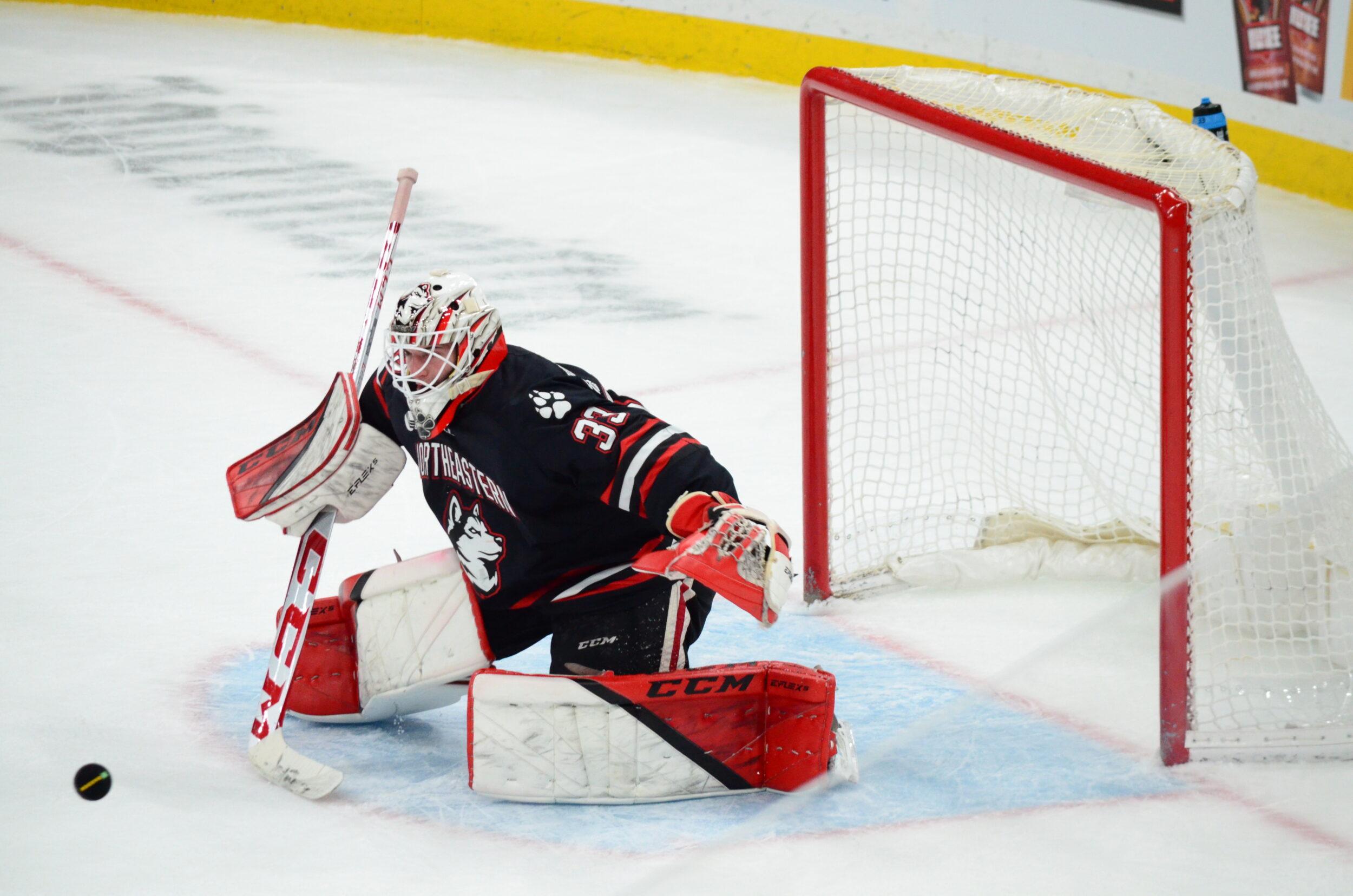 April 2: Semptimphelter commits to ASU
By Kayla Shiao
Goaltender TJ Semptimphelter publicized his commitment to Arizona State on Saturday. After a year at Northeastern, he leaves the seemingly forever winter of hockey season in Boston to play out west. Semptimphelter played in eight games this season, starting in seven. He tallied 211 saves, with a .934 save percentage and 2.05 goals against average over the season.
He joins fellow goaltenders Ben Kraws, a junior in 2021-22, and Gibson Homer, who will be entering as a freshman from the USHL Chicago Steel. Sophomore Cole Brady, who played in 13 ASU games, is out in the transfer portal. Kraws was Arizona's first-string goal
ie, putting up a .908 save percentage and a 2.97 GAA. Homer put up the most minutes of the Steel's three goalies, playing in 30 games this season so far with a .890 save percentage and a 3.24 GAA.
Despite lacking the collegiate game minutes Kraws has, Semptimphelter played well under pressure in the Beanpot, winning the Eberly Award. With his demonstrated numbers, he makes a strong contender for ASU's starter next season.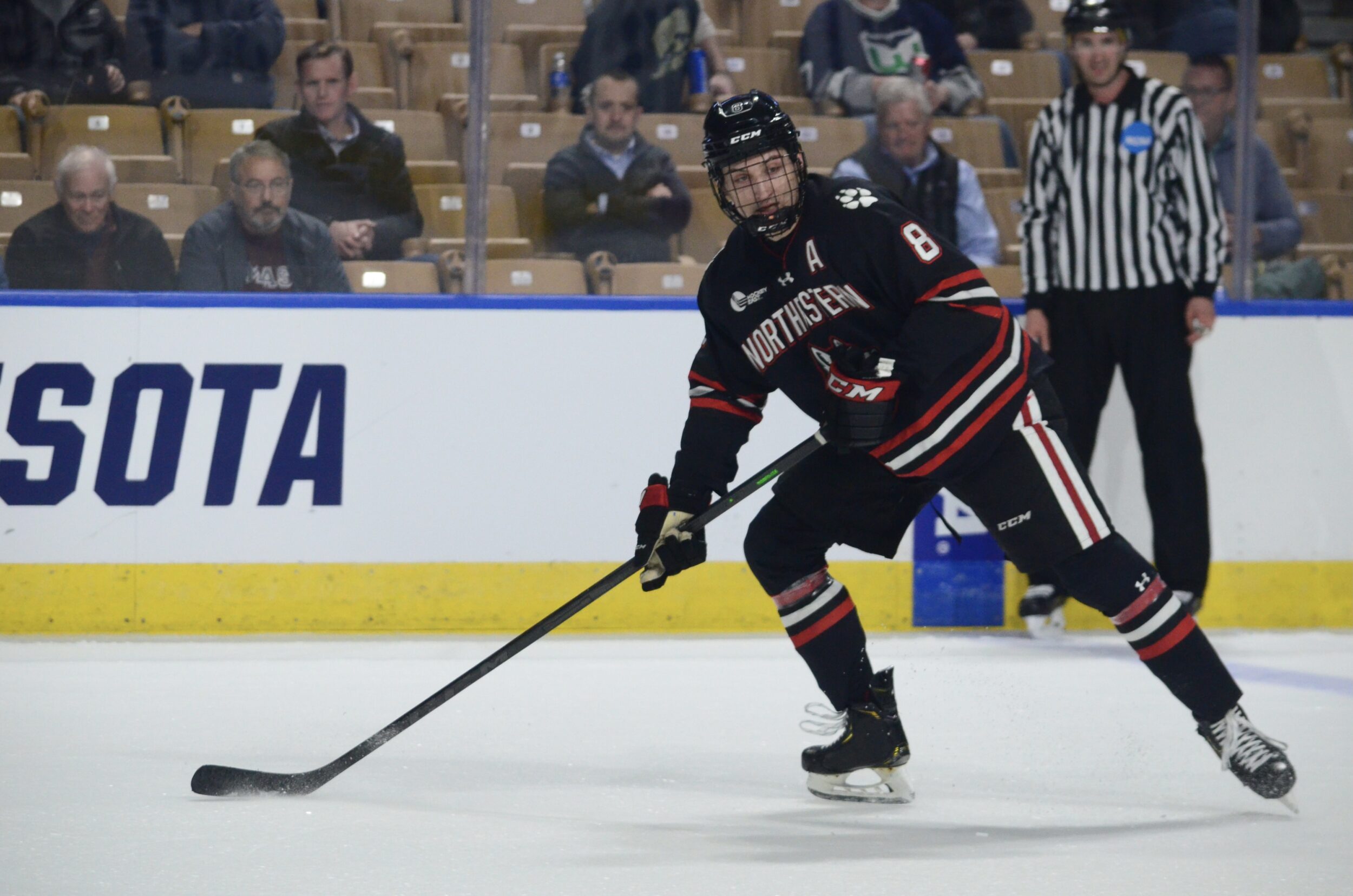 March 31: Kislin ventures into the portal
By Kayla Shiao
Northeastern defender Julian Kislin entered the transfer portal, per Mark Divver of New England Hockey Journal. He had 39 blocks this year, and charted his first goal of his collegiate career, ending the year with a 2-4-6 record. In his career as a Husky, Kislin recorded 105 blocks and 21 points in 110 games.
Beyond his defensive reliability, Kislin transferring would leave behind a hole in Northeastern's senior leadership as an alternate captain this season.
"Kis, ever since I came my freshman year, he's led on and off the ice," said Sam Colangelo March 4 after the Huskies' Senior Night win against Merrimack. "He's been a really big player for us."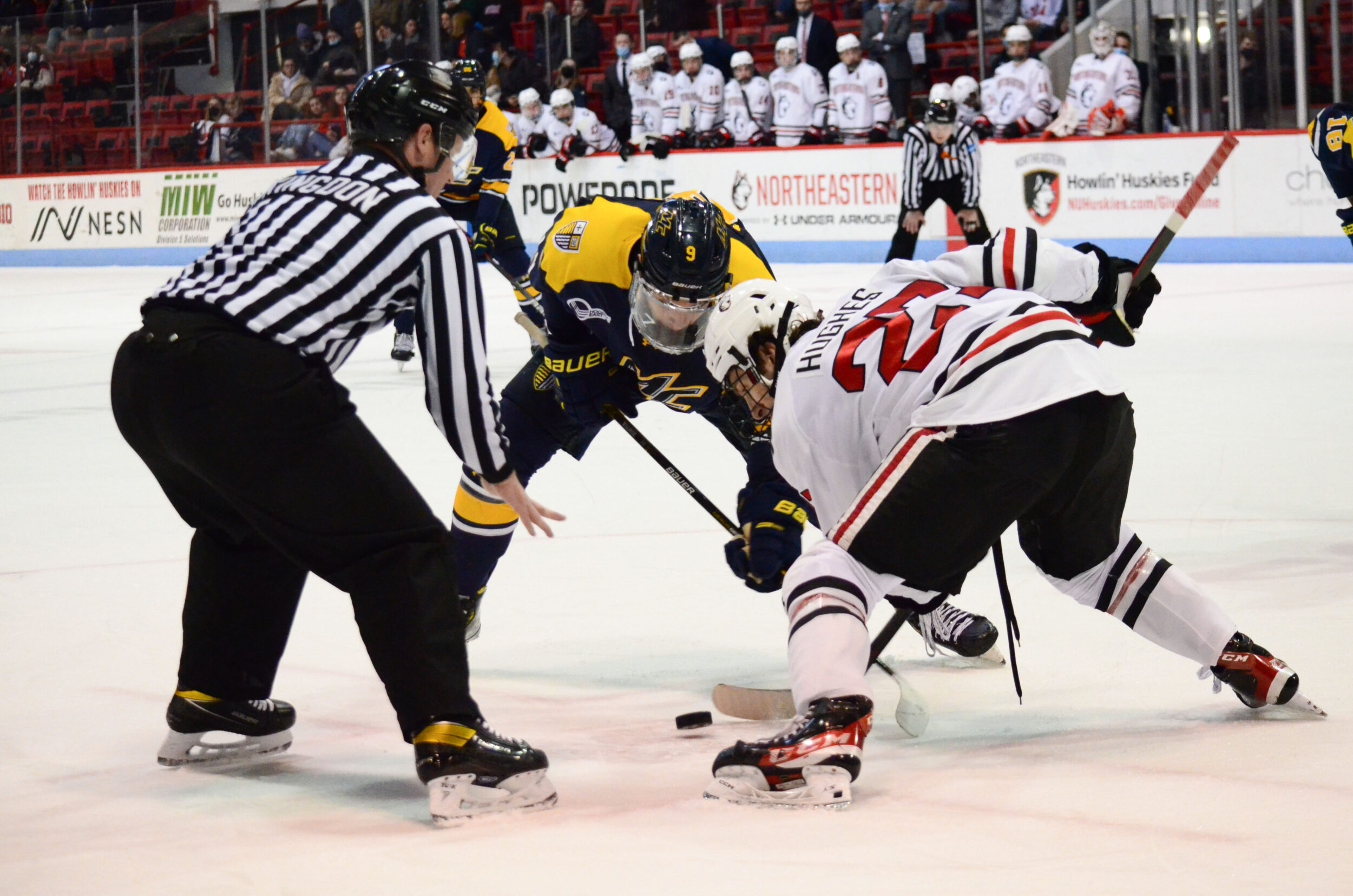 March 30: Liam Walsh joins the Huskies
By Kayla Shiao
Merrimack's Liam Walsh announced his transfer to Northeastern for the 2022-23 season on Wednesday morning. Walsh, a 6'1" junior forward, had 10 goals and 17 assists in 34 games this past season, helping the Warriors go 19-15-1. He was also an alternate captain on the team and a top-five goal scorer.
Throughout the season, Walsh rotated centering the top three lines, often playing with junior Filip Forsmark (11-16-27) on the wing. Walsh won .452% of faceoffs throughout the season. Despite the Warriors' closing out the regular season with a weekend of losses to Northeastern, Walsh won faceoffs 25-15 against the Huskies. Walsh had four power-play goals this season, tied for third on the Warriors, contributing to the team's seventh nationally power-play percentage.
He was named Hockey East Player of the Month in January, where the Warriors went 6-2. He had four goals from nine shots throughout the month, and picked up six assists. His season high in goals (2) came in January during a weekend sweep of UMass Lowell, where UML and Merrimack were ranked No. 1 and tied-No. 7 in Hockey East, respectively.
With recent news that Ty and Dylan Jackson have entered the transfer portal, Walsh seems like a solid replacement for Ty Jackson (6-14-20), who won .457% of faceoffs this season. Dylan Jackson was out most of the year with injury, and never had a chance to truly develop at Northeastern.
Before Merrimack, Walsh played for the Cedar Rapids RoughRiders in the USHL with Aidan McDonough. Walsh went 25-19-44 in 62 games in 2018-19, a year he captained as his last season in the juniors. Seeing experienced transfers in Jakov Novak and Tommy Miller this past season mesh easily with the team and even take on a leadership role, there's little doubt that Walsh can't do the same, especially with an established connection to the Northeastern program.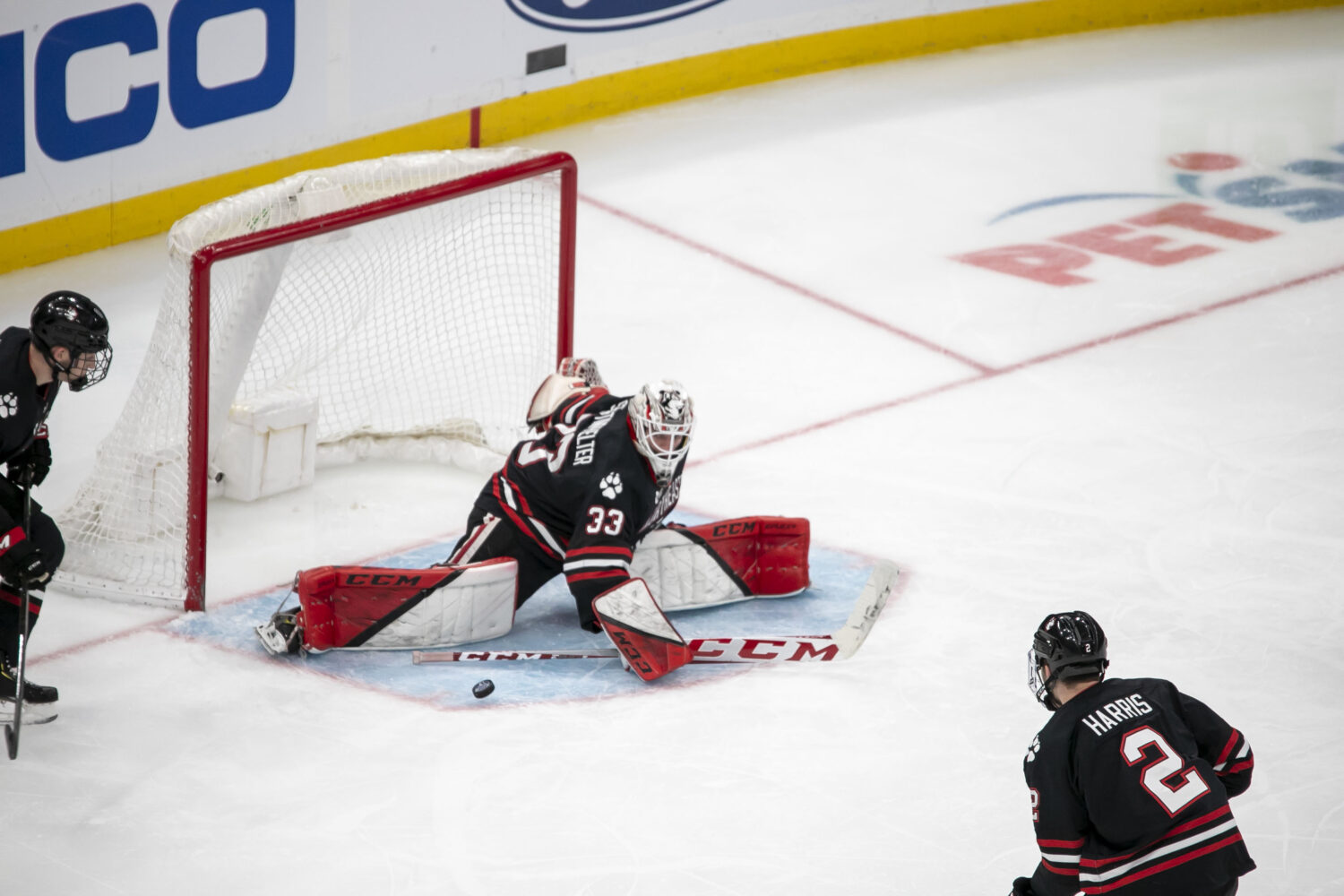 March 28: TJ Semptimphelter enters the transfer portal
Goaltender TJ Semptimphelter has entered the transfer portal, according to Brad Elliott Schlossman of the Grand Forks Herald. Semptimphelter started seven games for the Huskies in 2022 while Devon Levi was in Beijing, posting a sparkling .934 save percentage and 2.05 goals against average in the thick of league play.
Semptimphelter's lone season at Northeastern will be remembered most for his brilliance in the Beanpot, saving 69 of 71 shots over the two games and leading the Huskies right to the brink of the Beanpot crown, falling in a devastating 1-0 defeat to Boston University Feb. 14.
Semptimphelter's 41-save performance against Boston College in the Beanpot semifinals was just his third ever NCAA start, and the Beanpot finals was just his fifth. The Huskies were 4-3 in Semptimphelter's seven starts, including one of Northeastern's biggest wins of the season at UMass Lowell Feb. 13.
Semptimphelter's resume was impressive before arriving at Northeastern, compiling a 2.05 GAA, .933 save percentage, and four shutouts in 30 games for the Boston Junior Bruins in 2020-21. Between his elite play at the junior level and his remarkable fill-in job for Levi at the college level, Semptimphelter seems destined to be next in the line of heralded Northeastern netminders.
Semptimphelter proved he can be a consistent, big-game NCAA goaltender even in his brief time at Northeastern. He will have plenty of suitors on the transfer market, given both high upside and proven results at this level — albeit in a small sample size.
The decision will undoubtedly stir up speculation of Levi's return to Northeastern next season, but his decision is yet to be made.
Though it was only a three week stretch of play, Semptimphelter was a major factor in keeping Northeastern's season afloat with his superhuman performances and steadying presence from the start — which isn't a given with a freshman goaltender in his first college action. The Huskies may never have qualified for the NCAA tournament without his play during Levi's absence.
No matter where Semptimphelter winds up and the success he enjoys in his career, the memories and legend of that stretch will forever connect him back to the Huskies.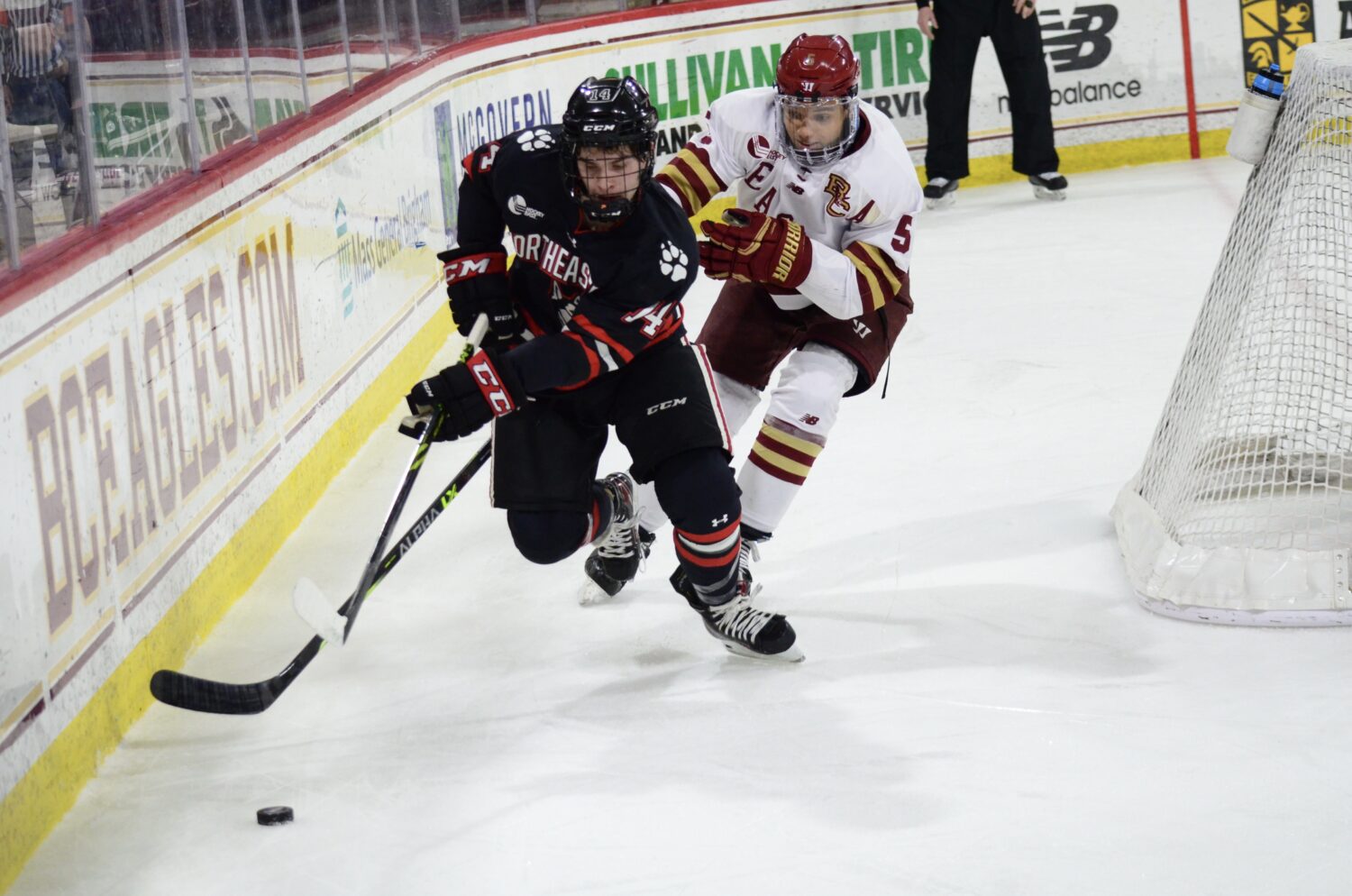 March 28: Ty and Dylan Jackson enter the transfer portal
By Kayla Shiao
Northeastern forwards Ty and Dylan Jackson have entered the transfer portal, according to Brad Elliott Schlossman of the Grand Forks Herald. The brothers both battled injuries and struggled to stay on the ice this season.
Ty Jackson went 6-14-20 in 28 games this past year, and 7-5-12 in 21 games in 2020-21. When he is on the ice, Ty Jackson is a strong skater and a valuable center, with a .457% faceoff success rate this past season.
Dylan Jackson missed the majority of the 2021-22 season with injury, and last played Nov. 6, 2021. In the eight games he played before the injury, he recorded three assists and didn't score. In his rookie year, the 2020-21 season, Dylan went 5-9-14 in 21 games and was named Hockey East Rookie of the Month in January 2021.
Before Northeastern, Ty and Dylan played two seasons — 2018-20 — for the Dubuque Fighting Saints in the USHL. In 2019-20, Dylan had 55 points (21 goals, 34 assists), in 48 games, a top-10 scorer in the USHL. He was also named to the All-USHL Second Team that year. Ty went 17-41-58 in 48 games, leading the league in assists, in the 2019-20 season and was named to the All-USHL Third Team.
"They've been high producers offensively at every level they've played at whether it be at the minor midget level, whether it be at the junior level in the OJHL in the Toronto league or in the USHL," said then-head coach Jim Madigan in June 2020, before the twins' rookie season. "Both Ty and Dylan come in with high expectations. … They play off each other extremely well as you would think by having played together for many years. They think the game extremely well."
March 28: Grant Riley commits to Northeastern
By Kayla Shiao
Goaltender Grant Riley, a former Boston College commit, is set to join the Huskies in the fall. This past season, the 6'4" 19-year-old played 40 games with the Chilliwack Chiefs in the BCHL, putting up a .903 save percentage overall and a regular season 2.47 goals against average.
"He has worked extremely hard this year to get his game back to where it needed to be both on and off the ice," said Chiefs head coach and general manager Brian Maloney in a news release. "We couldn't have asked for a better person and teammate this season."
Riley most likely fits into the Huskies' squad behind Devon Levi, assuming he is staying with Northeastern for the 2022-23 season.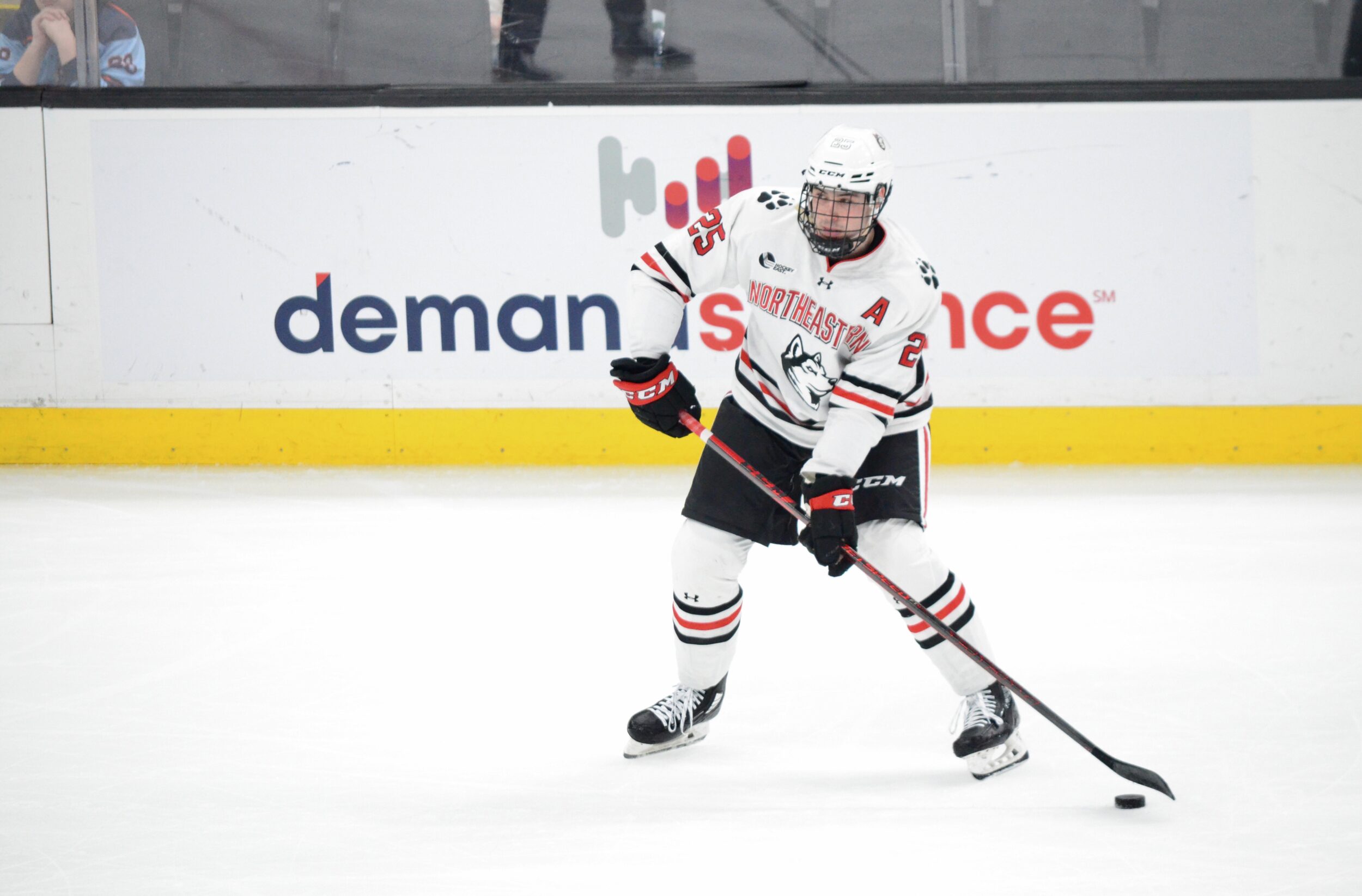 March 27: Aidan McDonough Will Return For Senior Season
Aidan McDonough has informed the Vancouver Canucks he plans to return to Northeastern for his senior season, per The Athletic's Rick Dhaliwal. McDonough's decision comes despite an active pursuit from Vancouver to get the 22-year-old to ink a professional contract and forgo his senior season at Northeastern.
There's no way to understate the importance of this news for Northeastern. McDonough's 25 goals this past season was the second-highest mark in the country. He delivered in Northeastern's biggest moments, scoring against Merrimack with 10 seconds remaining to clinch the Hockey East regular season title, and in the closing minutes of regulation against Western Michigan to tie the game. He produced despite injury-depleted lineups in the first semester, and regardless of whether Justin Hryckowian, Ty Jackson, or Jack Hughes centered him.
Despite the lofty individual statistics and personal success, McDonough clearly felt a responsibility to return and lead the Huskies next season, and all signs point to him being named Northeastern's next captain. He will enter the season with immense expectations, and perhaps some preseason Hobey Baker buzz.
The word "culture" has been repeated ad nauseam by Jerry Keefe and Northeastern players all season long, but this decision is what culture actually looks like. Both Jordan Harris last season, and now McDonough this season, were pushed hard by their NHL teams to sign professional contracts and leave Northeastern early — yet both chose to return for their senior seasons and lead instead. McDonough looked up to older players like Harris and Julian Kislin for their work ethic and leadership, and there's no question that factored into the decision as well. But that's what a strong culture looks like in action, and it's an enormous lift for Northeastern both on and off the ice to have McDonough back next season.