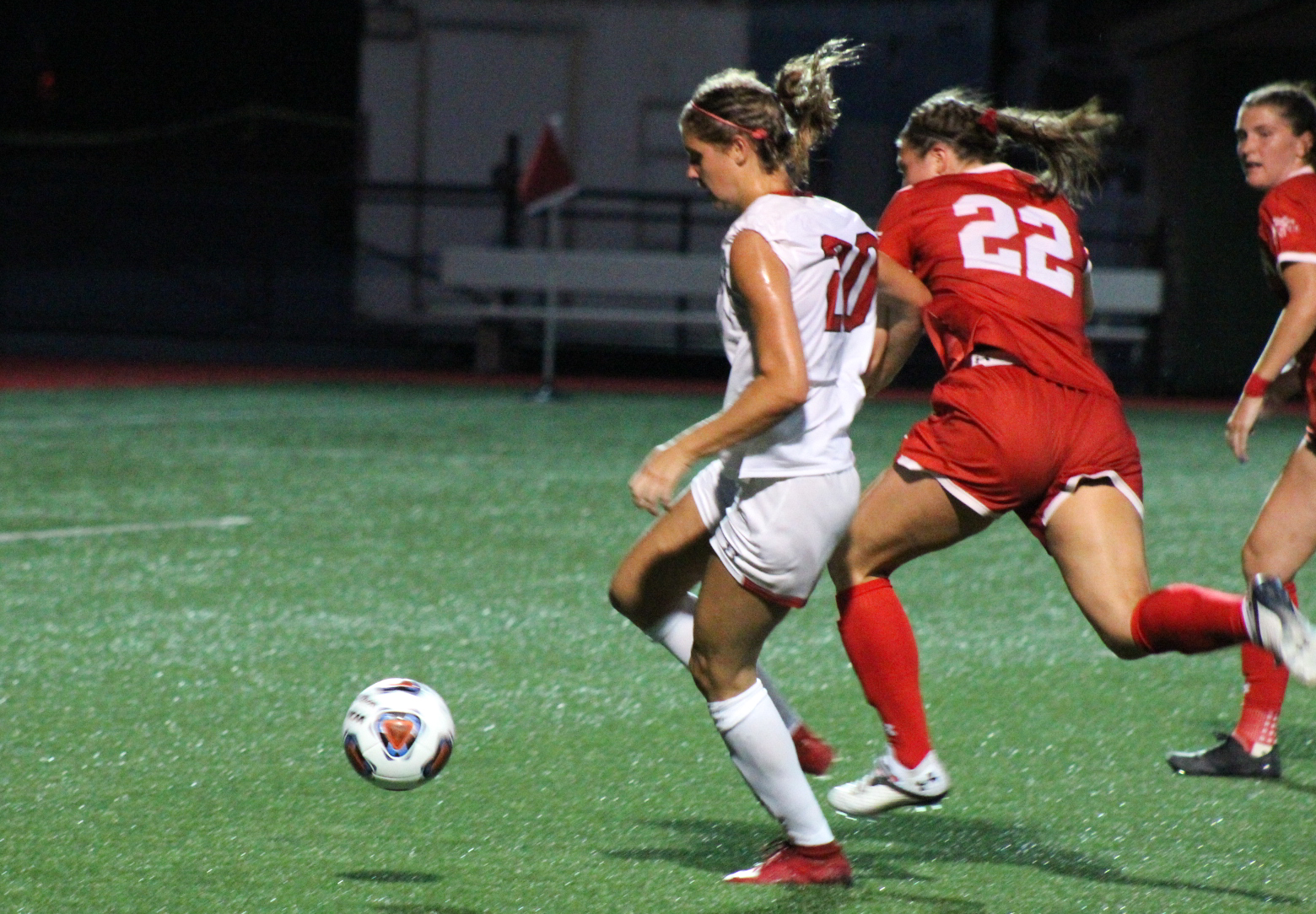 The CAA is shaping up to be a league of great parity this season. Several top schools are losing their conference domineers, newcomers are looking to immediately make noise, others are wanting to just keep their heads above water and young squads aim to develop their talent and exceed limited expectations.
Here is a prediction of how the CAA standings will unfold considering what players remain, who is coming in, and the performance of the teams last season.
1. Monmouth
While the Hawks are entering their first season in the CAA, they face similar roster turnover challenges as their new opponents. After dominating the MAAC for the last decade with six conference championships, Monmouth will be without their two All-MAAC first team selections from last year, midfielder Jill Conklin and MAAC Defender of the Year Sarina Jones. The Hawks however still have a bounty of talent left behind by former head coach Krissy Turner, who is now the head coach at UPenn, including a stellar sophomore class and two All-CAA preseason team selections, grad forward Lauren Karabin and grad defender Jessi Rossman. Those two selections, the sophomore class, and All-MAAC second team selection, junior defender Lauren Bruno, and MAAC All-Tournament team selection, junior keeper Rebecca Winslow, should be enough for new head coach Kylee Flynn to make an immediate impact and make a run for the conference title.
2. Towson
The Tigers have been slowly building up their program over the past few seasons, going from the worst team in the conference in 2019 to a middle of the pack squad last year. This season presents a great opportunity to rise to the top of the CAA. As mainstays like UNCW, Hoftsra, and Northeastern lose some veteran firepower, Towson is returning all but two of its starters from last season. The returnees include the conference's second leading scorer from last year, and CAA Preseason Player of the Yearjunior forward Nia Christopher, junior forward Jasmine Hamid, who finished sixth in the CAA in assists last year, and redshirt junior midfielder Phoebe Canoles, a 2022 All-CAA preseason team selection. While only bringing in six freshmen for her sixth season, head coach Katherine Vettori is adding junior midfielder Rebecca Groseibl as a transfer from Boston College.
3. UNCW
After back-to-back years with the best regular season record in the conference but falling short come tournament time, the Seahawks look primed to overcome the losses of some of their top talent and take the final step towards their first NCAA tournament appearance since 2015. UNCW lost reigning Defensive Player of the Year Sophie Trepohl, who left the program, All-CAA third team selection Halle Johnson, who transferred to Maryland, and All-CAA first team selection Audrey Harding, who graduated. The squad does have some impressive returnees however, including All-CAA second team selections fifth year defender Talia Parrous and junior midfielder Makaya Parham as well as All-CAA third teamer, sophomore forward Kayla Burroughs. Reigning CAA Coach of the Year Chris Neal is also bringing in an impressive class of new players for this fifth season including freshman forward Issy Bryant who played professionally for Ipswich Town's first team prior to attending UNCW.
4. Northeastern
The Huskies will look to again hang around the top of the conference this season with a fearsome defense and improved offense. Despite the losses of senior defenders Julianne Ross, Kayla McCauley, Megan Adams, and forward Mikenna McManus, Northeastern should be able to reinforce the remains of what made them a defensive powerhouse last season. Defender Jane Kaull is returning to the squad for her senior season after starting all 29 of the Huskies' matches over the last two years, contributing to 13 shutouts. The team is also returning sophomore Kat Marchesseault who shined in the backline,as well as juniors Faith Rosenblatt and Allie Vazquez who each earned themselves All-Rookie Team nods while defending for the Huskies. Senior Angie Friel will return for her third season as the starting goalkeeper, and the offense is likely to improve with the growth of its young core and the steady hand of senior midfielder and All-CAA preseason team member Alexis Legowski.
5. Hofstra
The Pride — like the Huskies, Seahawks, and Hawks — have some roster questions to consider as they stare at the holes left behind by veteran leaders of the team and some freshman who departed the program following promising rookie seasons. This year, Hofstra will be without three All-CAA first team selections and two second teamers from last year, including the conference's reigning Rookie of the Year Georgia Brown, who is no longer with the program. The Pride have dealt with roster turnover before and have performed swimmingly, with head coach Simon Riddiough claiming six CAA championships and four Coach of the Year awards over his first 16 seasons. The Pride are also returning star senior defender Anja Suttner and bringing in talented transfers like sophomore forwards Matilda Lijefors from Kentucky, and Anna Hurley from Oklahoma State.
6. William & Mary
This year, the Tribe will look to right their offense and get some goal scoring support for reigning CAA Goalkeeper of the Year, senior Zoe Doughty. While the team did not have a ton of offensive firepower last year, head coach Julie Shackford brought in some impressive new talent for her third season at the helm. The standout of the newcomers is 6'0 forward grad transfer Cricket Basa, who spent her last three years at Vermont and earned All-Region third team from United Soccer Coaches last year. Shackford, a former NSCAA Division I National Coach of the Year, is also retaining the majority of her starting 11 last year to form around Basa. While the Tribe historically haven't been a top team in the CAA, the shape of the squad this year combined with the open field across the conference gives them a solid opportunity to move their way up the table.
7. Stony Brook
The Seawolves are one of the three new programs joining the CAA for this season, bringing with them an impressive 14-6-2 record in America East under head coach Tobias Bischof over the past three seasons. Last season,they were more middle of the table at 4-4-1 in the conference following the losses of key players from the prior two squads like former America East Goalkeeper of the Year Sofia Manner. This year, Bischof will look to see what he has in the younger players from his squad as he looks to compete in a conference of similar stature to the one he just left.
8. Charleston
While the Cougars have won just four conference games over the past three seasons, the squad does have some bright spots to look forward to heading into this season. Unlike some other coaches around the conference, head coach Christian Michner was able to retain his squad's All-Rookie selections from last year. Midfielder Jenna Snead and forward Delaney Dawes should provide a solid base for Michner to work with as he aims to keep his team away from a third consecutive last place finish in the conference.
9. Drexel
The Dragons are one of the few programs across the country to have had the same head coach for more than two decades. Entering his 26th season, Ray Goon has led Drexel ever since their varsity program was reinstituted in 1996. While he has never won the CAA tournament, his team is always a consistent competitor and looks to be the same this time around. While the goalkeeping situation is less than ideal, with sophomore Alexi Dooley competing with sophomore D-2 transfer Noemi Christ for the vacant starting spot, the offense is sure to have some kick in it this season. The majority of last year's midfield and attack remain, including All-CAA third team selections senior Annalena O'Reilly and junior Delaney Lappin. While there are no stellar additions to the squad, the holdovers should be enough to keep the Dragons from the bottom of the CAA.
10. Elon
Like many other CAA programs, the Phoenix face significant roster turnover headed into the season. Elon's biggest losses are senior defender and 2021 All-CAA first team selection Kayla Hodges, who transfered to VCU, and senior midfielder and 2021 All-CAA third team selection Makenzie DePriest-Kessler, who is no longer with the program. Elon has shown the ability to overcome talent change while head coach Neil Payne has been in charge. Payne is entering his fifth season with the team with a conference record of 13-14-3 and one CAA championship to his name.
11. Delaware
The Blue Hens have fallen on hard times since they finished second in the conference in 2019, winning three total games in the shortened 2021 spring season and five in the following fall season. The pitch this season does not look any greener for Delaware this year, as they're losing both of their All-CAA second and third team selections from last season to graduation, keeper Lauren Krinksy and midfielder Olivia Schuck. If head coach Mike Barroqueiro wants to avoid a bottom of the table finish in his sixth season, he is going to have to get something special out of his eight freshmen.
12. Hampton
It's safe to say that the Pirates have not been world beaters since the program's first season in 2015. Over the past six years, they have won seven total games, and zero in the Big South conference over the past three years. While this year's squad is looking to get off on the right foot in their new conference, that does not look likely as head coach Momoh Kanneh is desperately lacking veteran players for his third season. There are three juniors on the team this year and no seniors; while this will give the younger players plenty of opportunity to show what they have this season, it doesn't bode well for their chances of competing in the CAA.