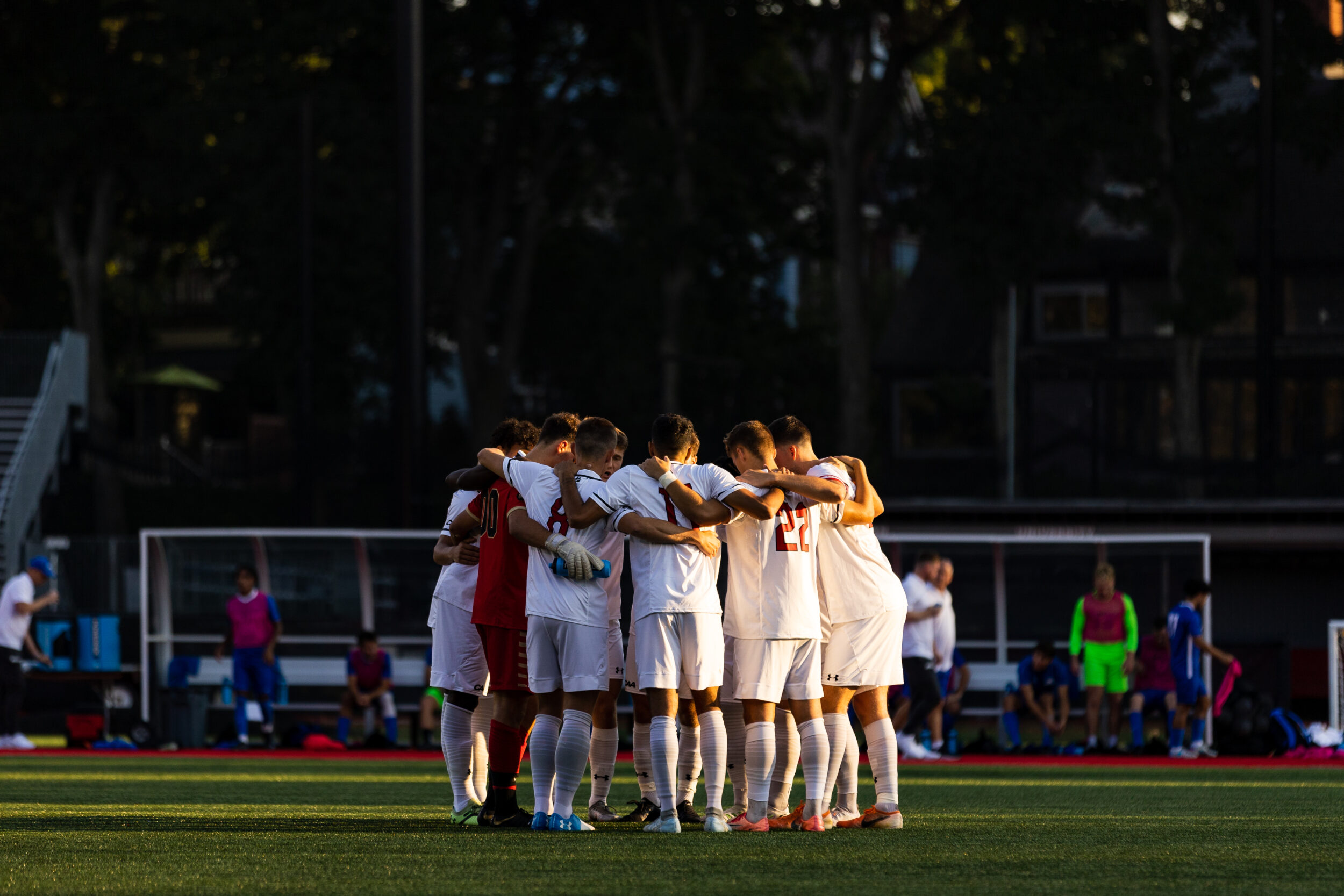 Most of Northeastern's core nucleus of players from its successful 11-6-2 campaign last year — the program's first winning season in a decade — remains intact for the upcoming 2022 season. But while the team will look to build off its massive leap forward from a year ago, the head coach patrolling the sidelines at Parson Field will be different this season. 
Following head coach Chris Gbandi's departure to UConn, Northeastern Athletic Director Jim Madigan tapped New Hampshire associate head coach and recruiting coordinator Rich Weinrebe to be the next leader of the men's soccer program. Over his seven years as an assistant at UNH, Weinrebe helped the Wildcats to a 77-13-20 record and five-straight NCAA tournament appearances.
Weinrebe already appears to have gotten off on the right foot with this squad, showing his recruiting talents by bringing in several transfers with the ability to start from day one.
Some of the bigger transfers include graduate defender Ole Kjørholt from Central Arkansas, and sophomore midfielders Davide Romeo and Tobias Wangerud from Florida Atlantic and San Francisco, respectively
A few of those transfers will need to immediately fill some rather important holes left behind by graduating players and transfers out.
The key losses off last year's squad are forward Benjamin Klingen, midfielder Søren Ilsøe, and defenders Nick Attanasio, Evensky Berleus, and Kolade Salaudeen. Last year, Klingen earned All-CAA second team honors with his six goals and seven assists, and Ilsøe earned a spot on the CAA All-Rookie team with his three game winning goals. The three defenders played more than 2600 minutes combined last year for the Huskies — and Salaudeen started in all 19 of their matches.
Thankfully for the Huskies, many of last year's stars, particularly in the midfield and forward ranks, have returned this year. That includes All-CAA first team junior midfielder Federico Tellez, two All-CAA third team selections — redshirt junior keeper Colby Hegarty and redshirt senior forward Timothy Ennin — as well as two members of the CAA All-Rookie team, sophomore midfielder Andres Torrealba and sophomore forward Sebastian Restrepo.
The Huskies are also returning graduate forward Ryan Massoud, who tied for the team lead in goals last year with six while playing mostly off the bench.
In total, Northeastern is bringing back 10 of the 15 players that started at least five games for them last season. The rest of the spots should be filled in well by players like Kjørholt, Wangerud, and Romeo as well as freshmen like forward Fraser Brown and defender Matty Gardner.
Despite the coaching transition, the Huskies should be able to build on what they had going last year and be in position for a top of the table finish at the end of the year. The rest of the CAA still has some threats but nothing that Northeastern shouldn't be able to handle if the 2021 season was any indication of their proper talents. The true contender with the squad is Hofstra, who enter the season at No. 17 in the United Soccer Coaches preseason poll and are the reigning CAA champions. They too are returning the majority of their core from last season and take on Northeastern in a pivotal conference matchup Sept. 17.
Elon, Drexel, and William & Mary will also be stiff competition for Northeastern, but should be sitting in a tier below the top two come season's end.
In terms of other key challenges in their schedule, the Huskies will have to face off with the UNH Wildcats during the heart of their conference slate Oct. 11. UNH comes into this season ranked No. 9 in the national poll and will be a hardy test for Weinrebe and his squad as they begin to gear up for the home stretch of CAA play.
If Northeastern's newcomers can show they're up to the task and the team can come together early under their new head coach, the Huskies should have a chance to challenge Hofstra and take home a CAA Championship for the first time since 2012.