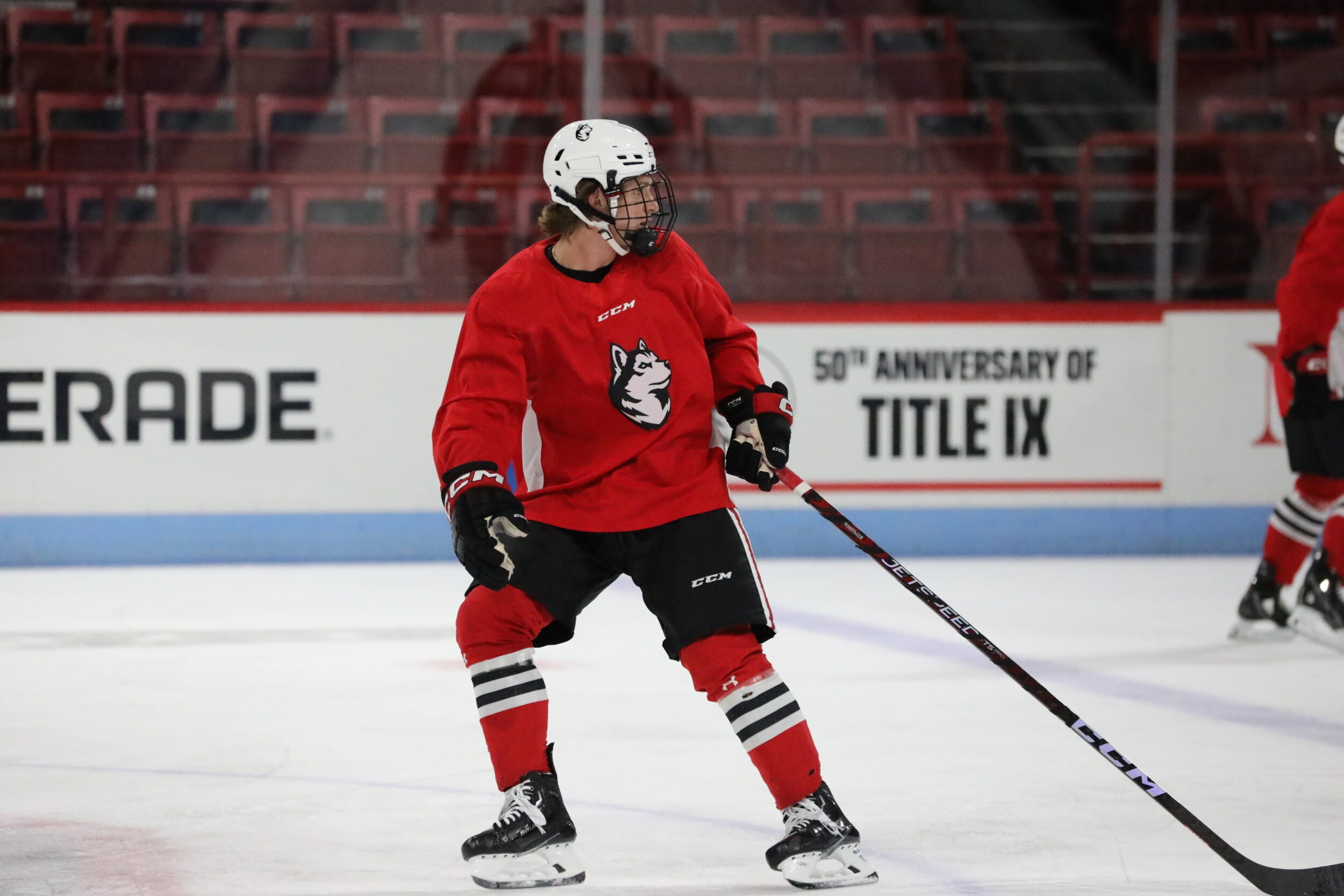 When Jack Williams committed to Northeastern in 2017, Zach-Aston Reese had just finished his senior season tied for the NCAA lead in scoring. At first glance, that's the only real connection between the two.
But if a coach compares an incoming freshman, particularly an undrafted one like Williams, to one of the team's former greats, it's attention-grabbing. So when NU head coach Jerry Keefe describes Jack Williams' development as very similar to what he saw from Aston-Reese, Huskies fans know they've got a good one in their ranks.
"His details on the ice are off the charts for a young kid," Keefe said. "I think he's really impressed the older players with how he does things and just the way he does everything right. He finishes drills, he competes, and he's got a really good skill set."
Williams, who spent four seasons in the USHL with the Muskegon Lumberjacks, entered in 2018 as a scorer who, by his own admission, just wanted to play "offense, offense, offense." By the time he left, after serving as captain this past year, Williams was a complete 200-foot forward.
"I thought I was going to score a million goals," Williams said. "But they taught me and [Muskegon head coach Mike Hamilton] taught me how to play defense and that there was another side of the game. I think that's a big part of my game now."
Like Williams, Aston-Reese grew his game over multiple years in juniors and became a well-rounded player by the time he arrived at Northeastern. Keefe said he still shows his team clips of Aston-Reese, now one of the top defensive forwards in the NHL playing for the Pittsburgh Penguins, focusing on his details on the penalty kill.
While Aston-Reese scored 63 points in his final year for Northeastern, he has made a name for himself as a physical defensive forward and penalty-killer in the NHL and even received Selke Trophy votes in 2019-20.
"Zach Aston-Reese is very similar to Jack Williams in the sense that he played three years in the USHL, and we recruited him as a big scorer when he was 15 years old," Keefe said. "He was a great scorer, but he also developed into that 200-foot guy."
In Muskegon, Williams went from a bottom-six forward to the first-line center who played in all situations. Williams improved in all aspects of his game: he became a strong penalty-killer, transformed into a 200-foot forward, and while a big focus was on improving defensively, the production kept increasing. He scored 59 points in 58 games during his final year with Muskegon, and added 11 points in nine playoff games as the Lumberjacks made a run to the Eastern Conference Final. He totalled 116 regular season points in his USHL career, all with Muskegon.
"When we recruited Jack Williams as a 15-year-old kid, you could see he was an elite scorer," Keefe said. "To play at this level and to play at the next level, you've got to be a complete player and that's something that Jack really did a great job of, is developing his 200-foot game in junior hockey. Now you could say he's going to end up being one of the best 200-foot guys that we have."
Williams committed to Northeastern in 2017 after what ended up being his final season at Berwick Academy, a private school in southern Maine. He then spent two years playing for Selects Academy at South Kent School, where he amassed 136 points in 87 games for the U15 and U16 teams, before jumping to the USHL.
His scoring prowess was evident. While scoring is important, both he and Keefe agreed that having a strong defensive game is key to successfully making the jump to college hockey.
"I think it makes you play a little smarter and — not reserved, but a little safer in a way," Williams said. "You're not taking these big risks that are going to make you look stupid."
Over the years, Williams developed a strong relationship with Muskegon head coach Mike Hamilton — a man he said is "like a dad to me." Hamilton's tutelage helped Williams discover a complete game. But he also described Muskegon as a "second home": he stayed with the same billet family, the Bos family, for most of his tenure in the USHL, developing a close bond with them. Williams still texts his billet mom, Laura, almost every day.
"Literally everything about that place was perfect for hockey and developing a game for the next level," Williams said. "It was a great place for me to develop."
In fact, Hamilton and his staff did such a great job getting Williams ready for college that when Keefe ran into Hamilton at the USHL Fall Classic in Pittsburgh, he had a simple message for him: "You should feel good about yourself, because you did a heck of a job getting him ready for college."
With his hometown of Biddeford, Maine — now nearly 1,000 miles closer than it was in Muskegon — Williams is happy to be back in New England and looking forward to having his family at games more often. He committed to Northeastern over five years before his first day on campus, a unique path for this current age of college hockey. With new NCAA recruiting rules put in place in 2019, new prospects won't be able to receive offers until August 1 before their junior year of high school. Williams was not subject to that rule, meaning he had a long path ahead of him before arriving on campus.
But finally, after five years and some change, Williams put on the Northeastern jersey and joined his new teammates on the ice for the first time.
"It was a little surreal," Williams said. "It's been a really long time coming, but it was worth the wait."
With a plethora of talented forwards on the Northeastern roster, Williams understands his role as a newcomer. If he plays that 200-foot game he has received so much praise for, consistent playing time will come his way. But he knows that he's a part of something bigger.
"I want to get in the lineup as much as possible, and I want to do anything to help this team win," Williams said. "This team's got some big goals, and anything that I can do to contribute to that and help the team out is huge."