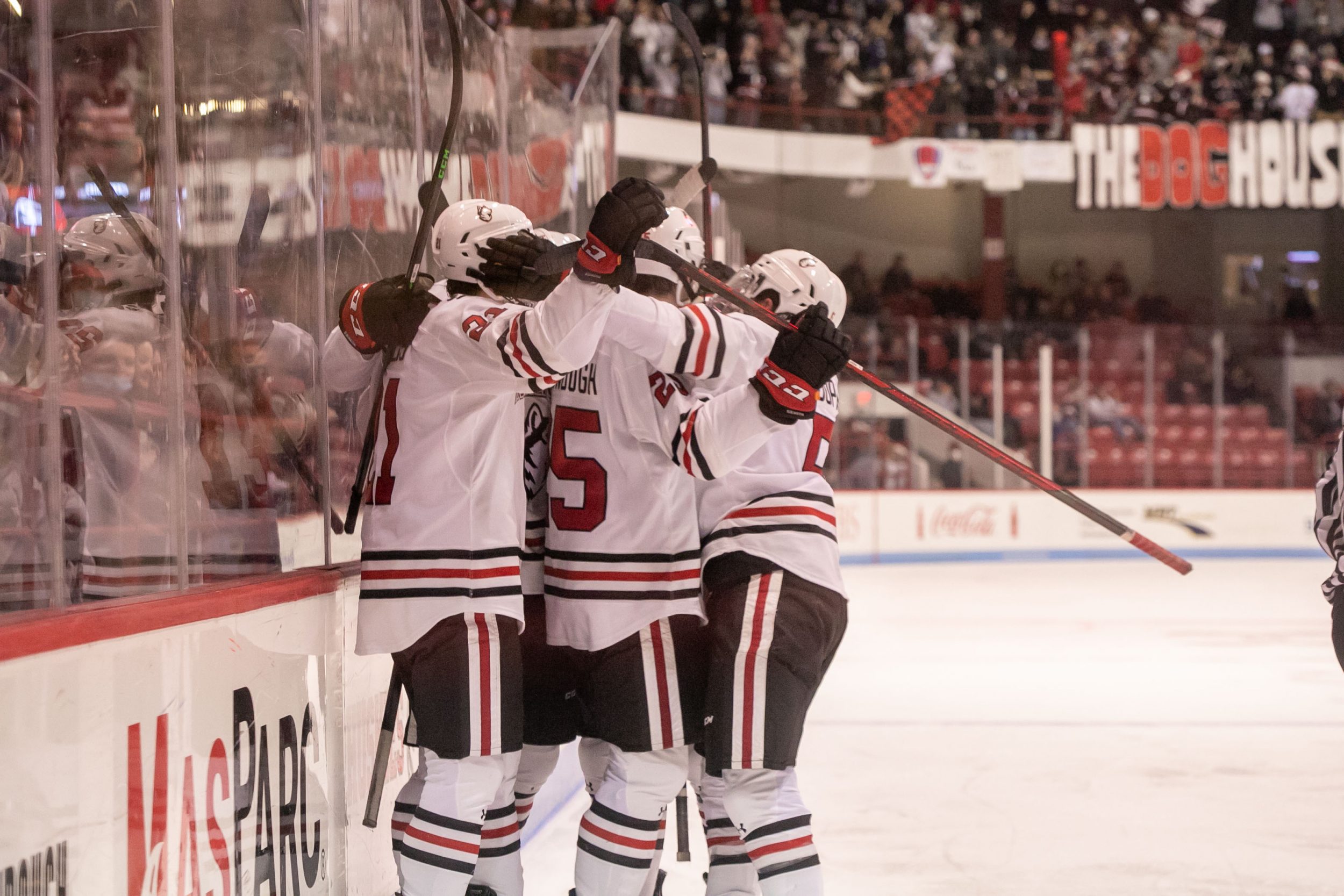 It was move-in day at Northeastern, and Liam Walsh needed some help.
"I didn't know where to go park or get moved in, and I didn't know where to go to get my Husky card," Walsh said. "Dunzo was coming around the same time, so my parents and I just waited until he came and he helped us get everything settled."
"Dunzo" is Northeastern's senior captain Aidan McDonough, who is also Walsh's former junior hockey teammate and close friend. Walsh was among the Huskies' biggest additions this offseason, transferring to Northeastern for his senior season after playing at Hockey East rival Merrimack for the past three years.
Since arriving earlier this summer, Walsh has peppered McDonough with questions on everything from campus directions to on-ice adjustments. McDonough has been sure to answer every last one of them — returning the favor from four years ago, when Walsh did just the same for him.
The two first met in 2018, while playing for the USHL's Cedar Rapids RoughRiders. When McDonough first arrived in Cedar Rapids, Walsh was a three-year veteran and the team's captain. Then, it was Walsh helping to acclimate McDonough to a brand-new environment.
"[Liam] was one of the best captains I've ever had," McDonough said. "I was obviously new at Cedar Rapids, so I had tons of questions. He was always there to help me out, and he showed me the lay of the land. Anything anyone ever needed, he was pretty much there for us."
As the two now prepare for their final season of college hockey, a lot has changed. McDonough has blossomed into one of college hockey's premier talents during his time at Northeastern, scoring a Hockey East-leading 25 goals last season to lead Hockey East. The Vancouver Canucks, who selected McDonough in the 7th round of the 2019 NHL draft, encouraged McDonough to forego his senior season and sign a professional contract with the team this past offseason. He instead opted to return for one final year at Northeastern, and was subsequently named team captain. Meanwhile, Walsh was a breakout star for Merrimack a season ago, racking up 27 points and earning Hockey East Player of the Month honors in January.
Now, everything has come full circle for Walsh and McDonough. Just like in Cedar Rapids, their lockers are positioned side-by-side in the Matthews Arena dressing room. They've stayed in constant communication over their three years apart, texting nearly every day. And now, the longtime friends get to share the ice once more.
"It's definitely a roles reversed type of thing, but it's just been really nice to have him here and get to play with him again," Walsh said.
The early days
Walsh was 16 years old when he arrived in Cedar Rapids back in 2015, and he played in just 13 games in his first USHL season after battling through nagging injuries. Mark Carlson, the RoughRiders head coach and team president since 1999, said the expectations for Walsh were high from the moment Cedar Rapids signed him.
"Each team in our league has two tenders for 15- and 16-year-olds, and we signed him to one. So that tells you how highly we thought of him coming in," Carlson said.
Walsh improved incrementally each of his first three seasons, but the 2018-19 season — the year he also played alongside McDonough — is when he took off. After notching a combined 15 goals in his first three seasons with the RoughRiders, he scored 25 goals in his final year, which was the team's second-best mark.
"It was great watching him grow up here for four years, every year he got better as a leader, better as a player," Carlson said. "He almost became like an assistant coach of the program in his final season, he was just so schooled in what we were doing and how we wanted to play and how we wanted to act."
Despite Walsh providing a steady hand, McDonough's transition to Cedar Rapids wasn't easy at first. After playing nearly his entire prep career close to home in Massachusetts, moving halfway across the country as a teenager was a big adjustment.
"I think the first few weeks and months were difficult. I was out of the lineup for a bit. So it definitely wasn't easy, living away from home was a bit difficult at the beginning," McDonough said. "But once I started to get comfortable, it was great. It really was a huge year for me."
Both McDonough and Walsh recall McDonough's first goal as a RoughRider, which Walsh assisted on. As the two tell it now, the opposing defender slipped on the ice, leading to a 2-on-1 breakaway where Walsh fed McDonough a backdoor tap for an easy score. It the first of 25 goals, including the postseason, that McDonough scored during his lone season in Iowa.
Carlson only coached McDonough for one season, but remembers him as one of the hardest workers he's ever coached.
"It was the ultimate year of development, in my opinion," Carlson said. "He'd just work his tail off, I mean, it was every single day. Just a relentless work ethic. Towards the end of the year he was one of the best players on our team…I've really never been more proud."
McDonough also remembers Carlson fondly, calling him "one of the best teachers I've ever had." But he said it was the close-knit team, and especially Walsh's dedication and energy as the leader, that helped him get through that season most.
"He has the personality where if you know him, he's goofy, he likes to chirp, easy to get chirped, but then when it came to game time and workouts, he was serious," McDonough said. "And that's what we needed. That's what I needed."
Apart, but not far
Though they went their separate ways after the 2019 USHL season ended, McDonough and Walsh were never too far apart. Northeastern and Merrimack are separated by only a 35 minute drive, and square off twice each season in conference play.
In the six meetings between Northeastern and Merrimack since McDonough and Walsh arrived, the Huskies have gone 5-0-1. McDonough has notched five goals in those six games, including one of the most memorable goals of his career at the tail end of last season — a snipe with nine seconds remaining to clinch a Hockey East regular season title.
"The biggest thing I remember about playing Northeastern is playing him all the time," Walsh said, nodding at McDonough with a smirk. "We never had much luck against Northeastern. I think that last one [the final game of the 2022 regular season] was probably the best game we ever played against them, but still they took it."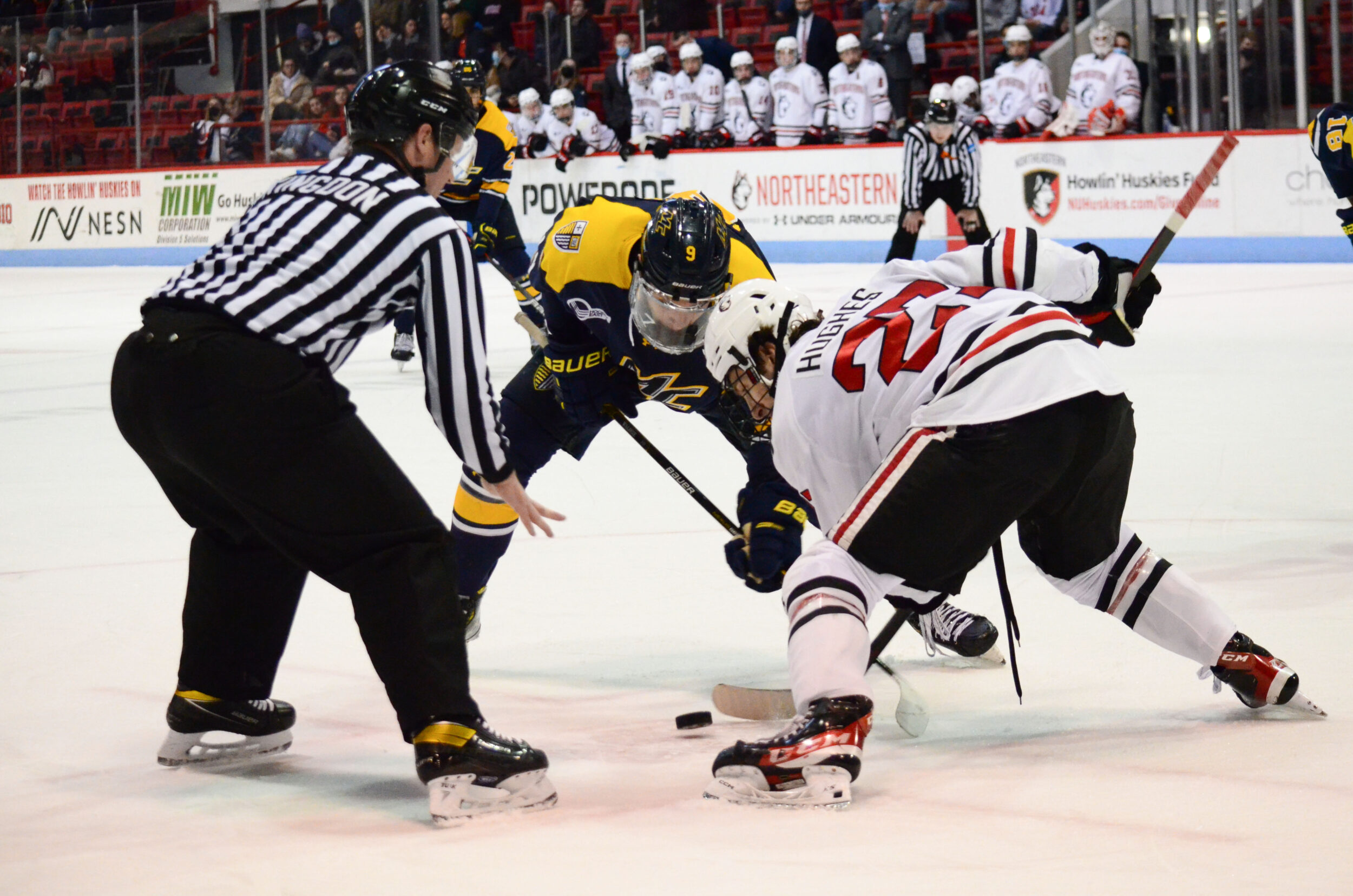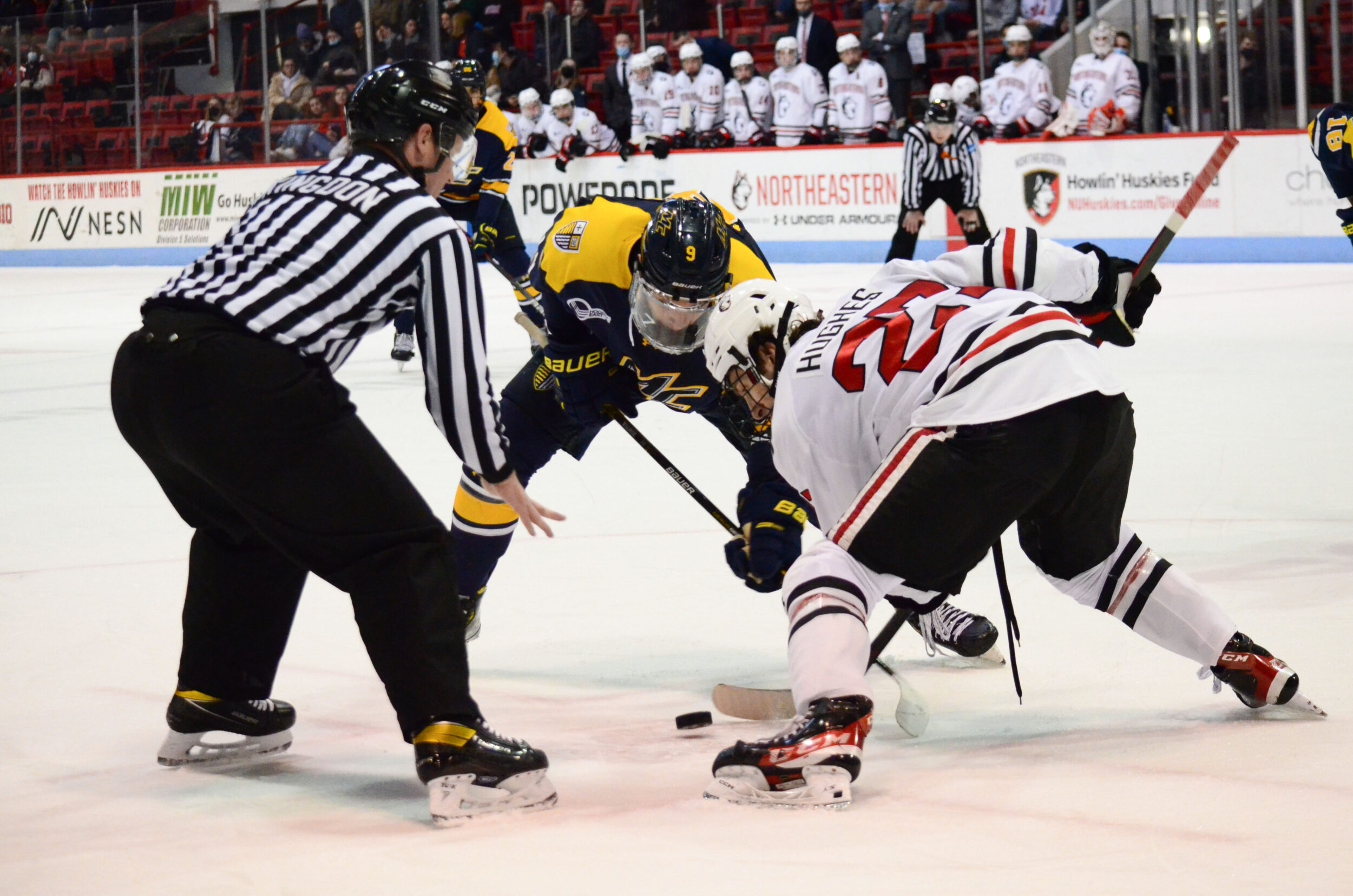 Still, Walsh speaks extremely fondly of his three seasons at Merrimack. The team struggled his first two years, but was much better last season, just barely missing out on an NCAA Tournament berth. 
But success at Merrimack looks a lot different than at Northeastern. The Huskies have qualified for the NCAA tournament in three of the last four seasons; the Warriors have had just three winning seasons since 1989. Walsh graduated from Merrimack in just three years, opening the pathway to play a graduate transfer season elsewhere. 
"Last year we had a much better year and we accomplished a lot. That was my goal coming in, to leave the program in a better place than I found it, and last year I was in that zone, where I felt the program was in a better spot," Walsh said. "So I had a chance to move on, look for a different opportunity, and I was ready to take it."
McDonough was fresh off the Huskies' devastating overtime loss to Western Michigan in the NCAA tournament when he learned of Walsh's intentions to transfer. Despite the two talking nearly every day, McDonough said he never pressured Walsh to join the Huskies the until he came to the decision to transfer himself. Then, the full recruiting pitch was on.
"Once he told me he was gonna be entering the portal, then I was like, 'Ok, well I think this would be a great fit for you. On the ice, off the ice, in the locker room. I think it would be huge, and we got a really good team next year,'" McDonough said.
For Walsh, the decision didn't take long to make. He officially announced his transfer to Northeastern on March 30, less than three weeks after his season ended.
"Once I was able to talk to Dunzo, that was a big attraction here, to have someone that would come in and show me the new ropes of the program," Walsh said. "But having the ability to compete for a national championship is just something really special that I think we can do here."
One last ride, together
Like Walsh, part of what drew McDonough back to Northeastern for his senior season was the ability to compete for a championship, something that the Huskies legitimately can aspire towards this season. Northeastern is the preseason Hockey East favorite, and enters the season ranked No. 8 nationally.
But what also drew McDonough back was the chance to be the leader of the team, and take over the reins from last year's senior leadership core of Jordan Harris and Julian Kislin. As the team's captain, McDonough said there's a lot he'll take from last season's leadership group at Northeastern. But he'll also work hard to emulate Walsh's captaincy four years ago.
"His ability to connect with everyone on the team is something I've always thought of and taken away from [Liam]," McDonough said. "If you went around the room and asked everyone who their closest friends are, he'd be in the top three of everyone … and I want the guys to have that feeling with me, where they feel like they can go to me with anything, but then again when it comes to practice, and game and workouts, I'm ready to go."
On the ice, McDonough is one of the best pure shooters in the country. But he's worked all offseason to improve his skill set beyond just shooting the puck, working to put himself in better positions to capitalize.
"Moving my feet, working on my skating, and being more dominant below the dots, those are things I've wanted to work on," McDonough said. "And if I do that better, it'll allow myself to get into their areas to then use my shot."
Walsh, on the other hand, will fill a different role than he did last season at Merrimack, where his line was counted on for heavy offensive production. He'll start off this season as the third-line center, playing alongside wingers Jakov Novak and Riley Hughes as a gritty, physical depth line. Northeastern head coach Jerry Keefe has been impressed by Walsh since the start of summer practice.
"Leadership, heaviness, he wins a lot of puck battles and can play with pace," Keefe said of Walsh. "He's a 200-foot player. He's got a good skill set. He can score — he had 27 points at Merrimack last year. That's a lot of points in Hockey East, and he can also bring an element of being trusted in all situations."
After filling all sorts of roles throughout his junior hockey career, Walsh is excited to show he can thrive in this new one at the college level.
"I'm hoping my two-way game gets highlighted a little more," Walsh said. "Last year I was looked at for production more than the 200-foot game. So playing with guys like [Novak and Riley Hughes] that'll be highlighted this year, that I'm a pretty good defender as well. Hopefully the heavy game down low, being able to lug pucks behind the net, below the dots, wear the other team down."
As the season gets underway this weekend against LIU, McDonough and Walsh will be tasked with leading a team with high expectations and much promise. And their old coach will be among the many from back-when who will be eagerly watching it all unfold.
"I'll always be checking in on the former players, but you can bet this year, I'll have a close eye on Huntington Avenue and Matthews Arena," Carlson said. "It's going to be fun."