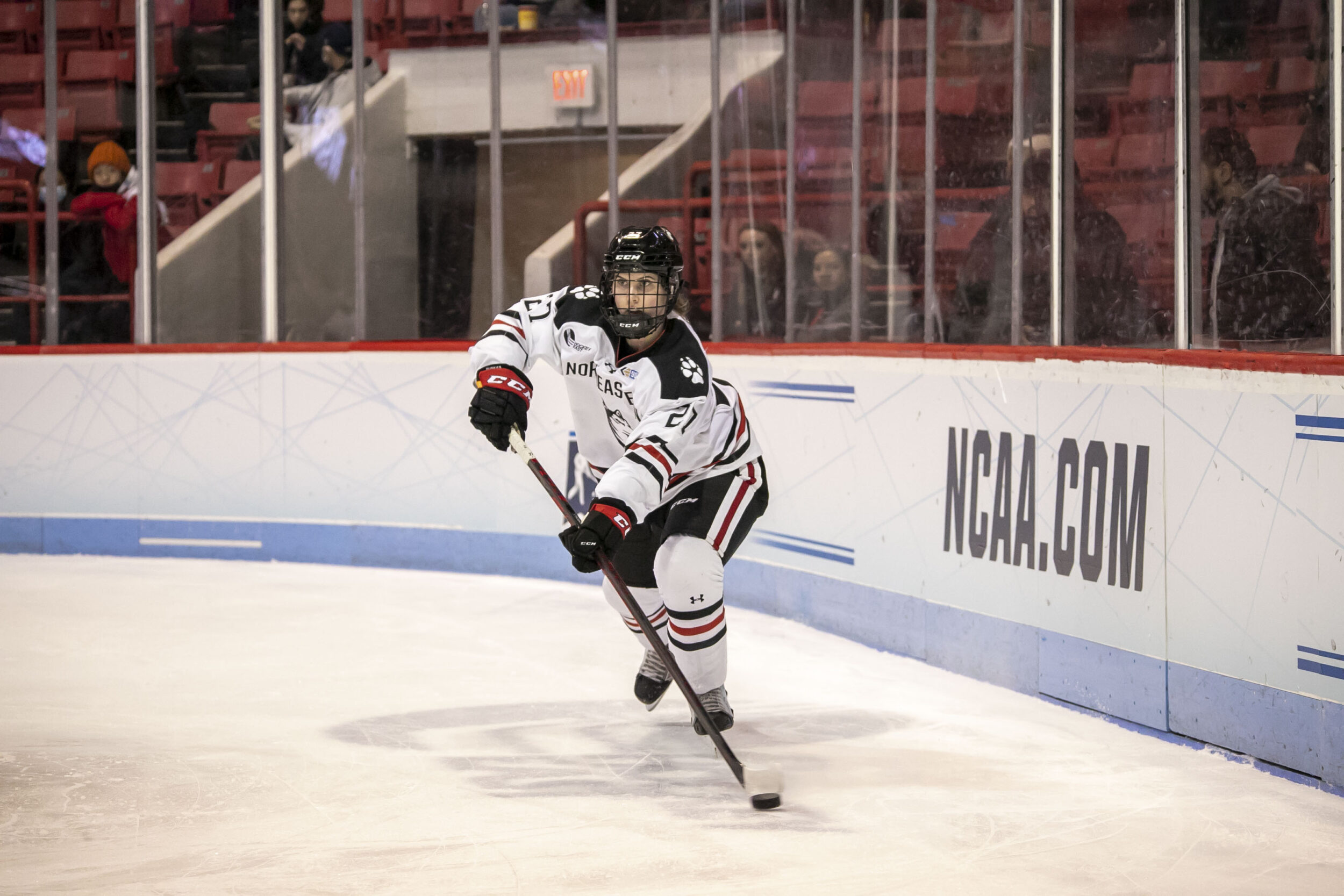 Megan Carter's summer involved, as one might expect, quite a bit of hockey.
From playing with Canada's National Development Team to coaching a youth team at tournaments, Carter saw all levels of the game. Now, as she approaches her senior season at Northeastern, she's taking that experience and applying it to her new role as not only an assistant captain, but the new No. 1 left defender on a team contending for a national title.
"It's been really awesome being able to learn from those upperclassmen my last three years," Carter said. "Now it's time to step up and fill those shoes, which is definitely going to be challenging. But I like the challenge, and I'm ready for it."
In a revamped D corps that graduated five players from last season, it's now Carter's time to shine. While she was an All-Hockey East Honorable Mention last year, she was on the second pairing with graduate students Skylar Fontaine and Brooke Hobson above her. Carter wasn't the one out there in the biggest moments — but she was always the next up. Now, she has the chance to be the one on the ice when it matters most.
"She's been waiting for this role for a long time," said Northeastern assistant coach Lindsay Berman. "She's just always ready. She's ready no matter what the circumstances are. She keeps herself prepared, and she's always fully engaged. … I need to up my game when I talk to her."
Carter played on the first pairing for Canada's National Development Team in their three-game series against the United States (and her Northeastern teammate Maureen Murphy) this summer. Though Canada won just one of those games, Carter said the experience was incredibly valuable.
"It's a dream come true any time I get to wear the Maple Leaf," Carter said. "It's amazing to see what my potential is as a player when you're playing against and with the top players in the country."
She left Canada camp with plenty of new drills to run at Northeastern practices, and she brought those up to Berman, who was immediately receptive.
"She knows that I eat it up," Berman said. "She was like, 'I have some D drills,' and I was like 'Yes! Let's see them!'"
That's just part of how Carter sees her role as a member of the leadership group. She mentioned how in the past three years, she was one of the young members of the D corps. Now she's a leader, with players coming to her to ask questions rather than vice versa.
Her ability to work with them is partially due to how much her confidence has grown since she arrived at Northeastern. Both Carter and Berman noted how much Carter's confidence has grown over the past three years — when she came in, Berman said she was already very mature and a smart player, and now that extra poise and composure is allowing her to not only strengthen her abilities on the ice, but as a leader and a teammate as well.
To Berman and the rest of the Northeastern coaching staff, her work with the younger defenders is invaluable. Berman said they "almost have another coach on [their] hands" with Carter on the ice.
"She'll take a younger defenseman to the side in between drills, or maybe in between reps in a drill and I'll see her explaining something," Berman said. "Or I'm on my way over to talk to a D and she's already on it. And so I'll say, 'Carter, is that what you guys talked about?' She's like, 'yeah, I got it.'"
It's not like Carter is new to coaching, either. This summer, she coached with Pro Hockey Development Group, a team of 11- and 12-year-old girls based out of Toronto. Carter traveled with the team to coach at tournaments in Montreal, Charleston, Toronto, and Edmonton, and she said the experience was not only a ton of fun, but also eye-opening for her.
"It's really rewarding to see the respect that they have for college players and seeing that that's a goal that they have in the future, and kind of setting the expectation of what that looks like and what kind of habits they can start developing at that young age to get to this level," Carter said.
And just like with her time with the national team, there are lessons Carter is taking back with her from time coaching. Most paramount of those is communication — which will pay dividends on the ice and in the locker room.
It becomes even more important with a relatively new D corps. The Huskies graduated five defenders from last year, including three lineup mainstays. Northeastern added two new freshmen defenders, as well as grad transfer Maude Poulin-Labelle — who Carter had the chance to play with at Canadian National Team Selection Camp in Calgary.
At all levels of team interactions — with coaches, captains, all defenders, and with a specific partner — Carter wants the Huskies to communicate effectively. She added that they're planning to have "D Corps Dinners" to make sure the whole position group is on the same wavelength on and off the ice, as well as having some fun outside of the rink.
"I think that'll just give us that extra edge if we can be on the same page this year," Carter said.
As a biology major on the pre-med track and athlete at Northeastern, Carter has quite a bit to balance — and adding a role as part of the captain group adds more to the plate. But she has shown time and time again that she can do it all. Carter won the NCAA's Elite 90 Award — given to the participating student-athlete with the highest GPA — at each of the last two NCAA Tournaments. She was even on co-op at Brigham and Women's Hospital in Boston while the Huskies competed in the second half of the 2020-21 season. It involved both 8 a.m. shifts and evening practices — not an easy task.
Carter and her roommate Katy Knoll have similar approaches to the balance of student-athlete life. The two of them take both sides very seriously, which is why they keep them separated.
"When we get to the rink, it's like we block out everything else and just focus on hockey," Carter said. "Then when we leave the rink, we can block out hockey and we're focusing on studying."
It's a balance of life that the coaching staff at Northeastern is aware of — after all, every player is both a student and an athlete. But the way Carter handles her workload, particularly on a team with serious aspirations, is consistently admirable.
"She'll be a doctor one day very soon, and it won't be a surprise because she's very intelligent but she really works at it," Berman said. "I don't know how she does it, but she's really special in that way."