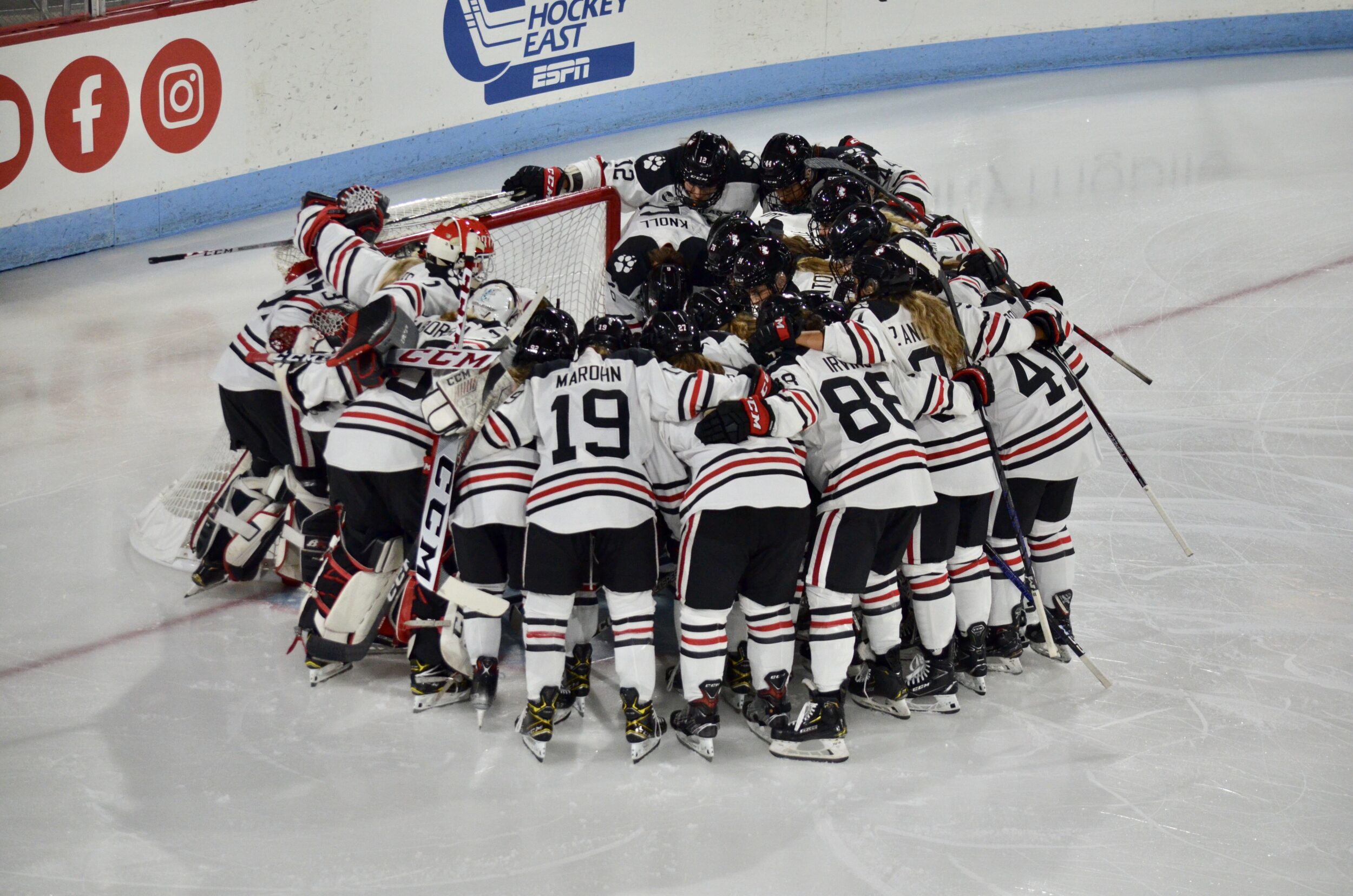 By Kayla Shiao and Emma Sullivan
While Hockey East conference play doesn't begin until Oct. 6, the majority of the league's 10 teams have either already started their season or will start this weekend. Before they start in-division play, here's a look at what each team is bringing to the ice this season.
Northeastern
The reigning Hockey East champions are once against the team to beat. Dave Flint's squad ranked first in the preseason coaches poll for 2022-23, even with the loss of 12 members of their squad from last season.
Graduate student forwards Alina Müller, Maureen Murphy, and Chloé Aurard will reunite on the dynamic first line this season. Combined the three players had 137 points last year — including 30 goals from Murphy (leading the NCAA). Aurard had the second most goals on the team with 20, along with 22 assists. Müller, who missed 16 games due to an injury and the Olympics, was fourth on the team in scoring, putting up a 1.86 point per game average.
Megan Carter is set to take over the leadership on the blueline after the departure of Brooke Hobson in the spring. She will be joined by graduate student Maude Poulin-Labelle, who spent the last four seasons with Vermont. Poulin-Labelle was Co-Defender of the Year for Hockey East last season, an honor she shared with another key loss for the Huskies — Skylar Fontaine.
The biggest turnover is the change in net, as Aerin Frankel will no longer hold court in the crease. It's senior netminder Gwyneth Phillips who is set to take over as the season gets underway. Phillips, who played in 13 games last season including six starts, put up a .967 save percentage and a 0.75 goals against average.
The other key addition is sophomore forward Taze Thompson. Thompson played 33 games for Harvard as a freshman last season. She led Crimson freshmen with seven goals and 13 assists. Her efforts landed her on the ECAC All-Rookie team in 2021-22.
While the power play statistics of 32% efficiency will most likely not be replicated, especially with the loss of top unit mainstay's Fontaine and forward Maddie Mills, this Northeastern team knows other ways to get the puck in the back of the net. With the majority of their top six returning, and solid defensive units to cover the backend, this team will continue to perform to the highest degrees. They may not be able to repeat their dominance from the last five years, however they will definitely still be at the top of the standings come February.
Vermont
The Catamounts are starting the year ranked second in the preseason league poll, receiving one first place vote. They're also nationally ranked No. 14 nationally as of Sept. 26.
The offense is led by graduate student Theresa Schafzahl, their new captain. The Austrian-born forward scored 46 points in 29 games last season, including 25 goals. The only other top five finisher in scoring from last season is junior forward Natalie Mylnkova who put up 17 points in 22 games. Senior forward Lily Humphrey and graduate student forward Corinne McCool also provide scoring on the backend with 15 points each last season.
In net is junior standout Jessie McPhereson. Last year in 22 games she had a .919 save percentage and a 1.97 goals against average. This was in part thanks to UVM's ability to stifle their opponents offense. The team only allowed an average of 22.8 shots on goal per game as compared to the 30.4 shots against they generated. A big help to this is the return of graduate defender Sini Karjalainen, who played in only two games after Jan. 2. She previously held the point and assist record for the Catamounts before Poulin-Labelle broke them last year.
Once again, look for UVM to be a strong defensive team. It will be interesting to see how they adjust to the loss of Poulin-Labelle and Antonia Matzka on the blueline. However, with McPherson in net and no other huge losses defensively, they should be able to control their opponents' offensive attacks for another season.
Boston College
BC finished fourth in the league a season ago, before losing to Maine in the Hockey East quarterfinals. Their 19-14-1 overall record wasn't indicative of the talent the Eagles had, and with many players returning, the team is primed to take a leap this season.
The Eagles have three captains and two assistants. Forward Kelly Browne, BC's first three-time captain, led the Eagles with 34 points in 31 games last season. Defender Cayla Barnes joins Browne as a repeat captain after guiding the Eagles in the 2020-21 season. She missed last year for her second Olympics, helping Team USA to a silver medal with six points in seven games.
Hockey East First Team selection Hannah Bilka closes out the three captains after a junior season with 16 goals and 17 assists. She recently made her U.S. senior national team debut at the Women's World Championship, slotting onto the top line with Hilary Knight and Hannah Brandt. She helped the team to silver with five goals and seven assists in seven games, good for third in points on Team USA.
BC also brings back Hockey East Rookie of the Year Abby Newhook, who was third in points for the Eagles with 16 goals and 13 assists. Fellow forwards Caroline Goffredo and Gaby Roy had great sophomore seasons with 22 and 20 points respectively in 34 games, and should be expected to produce more this year.
Joining Barnes on the blue line are Alexis Guay and Keri Cloughtery. Guay led the Eagles with 53 blocked shots last season and was fourth in points at 23. Cloughtery was right behind Guay with 52 blocks. With much of their defense coming back, and the return of Barnes, BC looks to be stable on the back end.
For her graduate year, Abigail Levy is back in net, after a .932 save percentage and a NCAA-leading 1143 total saves last season — 160 more than any other goalie.
Behind her are two netminders who have no NCAA experience. Janelle Kelleher is a graduate transfer from Rhode Island, where she captained the ACHA club team. Freshman Grace Campbell, who like Levy is a Shattuck St. Mary's alumna, was initially a 2021-22 commit. She elected to delay her start at BC, not wanting to play behind upperclassmen taking their COVID-19 year for more than a year. Last season, she played in the USPHL, and was the first girl to do so.
With leaders offensively, on the blue line, and in net, the Eagles should be one of the league's better teams this season.
Providence
Last season the Friars were a middle of the road team. They finished the year with a 16-14-6 record, including a .500 record in conference play. They scored as many goals as they gave up with 67, but they were able to generate more shots per game than they gave up.
Four of their top five scorers are returning this season, including top goalscorer Caroline Peterson. The graduate student scored 11 goals last year including three on the power play.
In net it's Sandra Abstreiter also back for her fifth year. The goaltender made 28 starts last season where she had a .945 save percentage, a 1.73 goals against average, and three shutouts.
Four freshmen are added to their roster, including Canadian standout Reichen Kirchmair. Kirchmair has already scored her first collegiate goal, an overtime winner against St. Lawrence Sept. 23.
Graduate student forward Ida Press transferred from Maine after putting up eight points in 25 games last season. The other transfer is junior forward Rachel Weiss from Penn State, who had 14 points in 33 games last year.
Middle of the pack is a solid spot for Providence. They could make noise, especially if Abstreiter has another strong season, and with scoring up front they have the potential for a large step forward.
Connecticut
UConn comes off a 24-9-4 season, finishing third in Hockey East and making it to the championship game for the third time in the past five years.
The Huskies lose their top six scorers from last year's squad. The returning skaters account for less than a third of the goals scored last season. They had the most professional signings out of Hockey East this past year with five, among them Taylor and Morgan Wabick, and Natalie Snodgrass. Viki Harkness, who was third in scoring last season, opted to play at the University of Ottawa instead of returning. Junior forward Jada Habisch is the highest scorer returning with 17 points, and she can be expected to help lead the Huskies offensively.
The Huskies have an exclusively Canadian-born freshman class. Their incoming freshman class is ranked No. 32 by Neutral Zone, only above Merrimack in Hockey East. Despite that, they have some high-scoring players coming in. Defender Meghane Duchesne-Chalitoux had 39 points in 29 games last season, and will look to have an immediate impact on the blue line. Forwards Christina Walker and Kyla Josifovic both had leadership roles for the Burlington Barracudas and had 20 and 29 points respectively.
The Huskies' sole transfer is graduate student forward Carlie Magier, the former Holy Cross captain. She had six goals and six assists in 33 games last season, tied second in scoring.
The biggest story for the Huskies will be who ends up between the pipes. Sophomore Megan Warrener is coming back from a Hockey East and USCHO All-Rookie season, putting up a 1.28 goals against average and .944 save percentage, both ranking first in the UConn single season record books. She made 15 starts and tallied five shutouts.
Sophomore Tia Chan comes back to Storrs after a year off playing for Team China in the Olympics. She made the 2020-21 Hockey East All-Rookie team with a 1.49 goals against average and a .947 save percentage.
Boston University
Last season did not go smoothly for the Terriers. While their conference record of 11-9-5 looks somewhat promising, they were only able to win one other game last year in eight out of conference matches. After a COVID-19 outbreak in January, the team was unable to get back on track.
BU suffered significant losses this offseason from underclassmen. Two of their top three scorers, forwards Courtney Correia and Mackenna Parker, will not return this season. Correia, who led the team with 13 goals and 22 points in 29 games, transferred to Penn State. Parker leaves college hockey, not committing to another school.
The good news for BU is that their other top scorers from last season are all returning. Forward Julia Nearis is set to play her senior year after scoring 20 points last season. Junior forwards Lacey Martin and Catherine Foulem who finished fourth and fifth in scoring respectively will also return. However, only two other players scored 10 or more points last season.
Turnover in net was high this summer with the loss of graduate student Kate Stuart to University of British Columbia. Fellow netminder Nicole McGuigan graduated in the spring and while she entered the transfer portal, has not been added to another roster. Stuart, who played in 18 of 29 games, posted a .921 save percentage and a 2.31 goals against average. The Terriers however gained two solid options in net while retaining sophomore Callie Shanahan.
Graduate transfer Andrea Brändli is moving from the reigning national champion Ohio State Buckeyes. Brändli won 57 games over her four years in Columbus and played in the 2022 Olympics for Team Switzerland. Her collegiate save percentage sits at .927 with a 1.86 GAA. Shanahan played in just 13 games last season where she had a team best .925 save percentage..
Not to be forgotten is incoming freshman Allie Cueller. The Illinois native played in 55 games her senior year at the North American Hockey Academy. She had 40 wins and a .946 save percentage, leading her team to the championships in the Junior Women's Hockey League.
A big question remains on whether they can get their power play clicking — they scored just eight goals on 90 attempts in 2021-22. Led by their captain, senior forward Nadia Mattivi and assistant captains Martin and junior defender Madison Cardaci, if they're able to get those special teams clicking again, BU should improve.
Maine
After a 15-19-1 season, Maine has an entirely new staff behind the bench: head coach Richard Reichenbach and his wife, assistant coach Sara Reichenbach, resigned at the end of July. The other two other assistant coaches, Trey Flesch and Hannah Serruya, are both not returning.
Molly Engstrom was named head coach after four seasons as an assistant coach at St. Cloud, mainly focusing on the D core. Maine announced Sept. 22 that Kirsti Hussey and Gen Richardson joined her staff as assistant coaches. Hussey comes off two seasons as head coach at Northfield Mount Hermon. Prior to NMH, Hussey served as assistant coach at Brown. Richardson has spent the last six years coaching high school level hockey around Boston. Joining them is volunteer assistant coach Maddie Giordano, who played her fifth year at Maine this past season.
The Black Bears picked up two graduate transfers in forward Grace Heiting and defender Emma Lange. Heiting was a co-captain at Union, leading the team in goals with eight. Lange comes in from Holy Cross where she was second in blocks at 45. Maine also gained senior defender Grace Parker from BU, who had 20 blocked shots in 31 games.
The biggest loss for the squad is defender Taylor Leech. The former captain had 16 points in her senior season and 50 blocked shots. Sophomore Courtney Collarula and junior Elise Morphy should continue as the top pair this season, possibly coming into their own as more defensive defenders.
Returning, however, is Maine's top scorer, senior forward Ida Kouppala. She led the team with 10 goals and 14 assists, playing in all 35 games last season. Having Kouppala back means the world for a team losing everyone else in their top five scorers, including forward Celine Tendenby, who transferred to Merrimack.
Maine has eight freshmen joining the program. Three forwards have international experience: Anna Caumo plays on Team Italy, and twins Luisa and Lilli Welcke play for Team Germany. The newcomers are already making an impact: in the Black Bear's exhibition game win over New Brunswick Sept. 17, freshmen scored all three goals — one from Ava Stevenson and two from Lilli Welcke.
New Hampshire
The Wildcats finished eighth in Hockey East last season, and ended the year losing to Merrimack in the opening round of the tournament.
The team's biggest loss is captain Maddie Truax, last season's Hockey East leader in blocks with 79. She signed a one-year contract with the Buffalo Beauts in the offseason. Defender Emily Rickwood was tied seventh in the league with 60 blocks, and is back for her graduate year. The Wildcats can expect her to fill some of the hole Truax leaves.
UNH has five incoming freshmen along with two graduate transfers. Freshman forward Kelly Harty comes from The Governor's Academy with 26 goals and 24 assists for a 2.0 points per game average. Alyson Hush, who played on a OWHL U22 team last season, had 61 points in 29 games, good for second in the league in points. Joining the goaltending is Ava Hills, who had a .944 save percentage and eight shutouts in her 30-game season last year.
From the portal, the Wildcats got forward Emily Pinto from Mercyhurst, who had a career 58 points in 123 games, and center Gabby Jones from Merrimack, who won 47.5% of faceoffs last season.
While UNH's top scorers only had 20 points on the season, nearly everyone had at least one point, with the exception of two goaltenders. The newcomers should help the team stand out more offensively in the conference.
Merrimack
Despite finishing ninth last season with an 8-25-1 record, Merrimack made it to their first ever quarterfinal game after defeating UNH in the opening round.
Merrimack was the only Hockey East school to have a defender lead the team in scoring last year, and luckily for them, Teghan Inglis is back after 18 points in her junior season. She also led the team with 69 blocks.
From the portal, the Warriors are gaining Celine Tedenby from Maine, who had 17 points in 26 games. They're losing former captain Gabby Jones, who is transferring to UNH, and defender Kennedy MacAlpine, who's transferring to Queens University. The Warriors are also losing centers Courtney Maud and Dominika Laskova, who signed with the Buffalo Beauts and Toronto Six, respectively. Among those who graduated is defender Julia MacLean, who was second on the team and tied-fourth in Hockey East with 64 blocks.
Merrimack has eight freshmen joining the squad: four forwards, three defenders, and one goaltender. Most notably are two forwards, coincidentally both named Sophie. Sophie McKinley had 31 points in 26 games last season with Rink Hockey Academy Kelowna. Sophie Melsness is coming to North Andover from Minnesota with 23 points in 27 games last season.
Emma Gorski, who started 33 of 34 games last season, is back for her senior year. She posted a .893 save percentage, the lowest in Hockey East. Freshman Calli Hogarth has a chance of usurping Gorski in net, with a .965 save percentage across 12 games in the OWHL.
Holy Cross
This season marks the fifth year the Crusaders will play in Hockey East. Over their first four, they've finished in the bottom two every year, and have only managed to scrape together 11 division wins in 99 contests.
Of their five top scorers, four are returning for this season. Forward Darci Johal, who led the team with 11 goals and 15 points last season, will return for her senior year in Worcester. Junior forwards Bryn Saarela and Millie Sirum will also return. Both finished tied for second on the team with 12 points each. Junior forward Lilly Feeney, who had the most assists on the Crusaders with 10, rounds out the top five. Forward Carlie Magier, who had six goals and six assists, graduated this past spring and transferred to UConn for her fifth year.
Holy Cross' last starting goaltender, Jada Brenon, has moved on to play her graduate season at Mercyhurst. Brenon in 27 starts had a .907 save percentage and a goals against average of 3.39. Her counterpart, junior Madison Beck, started the other six games of the season. Beck averaged 3.21 goals against per game last season and had a save percentage of .911.
Coming in to compete for the starting job this fall are freshmen Brooke Loranger and Abigail Hornung. Loranger, a native of Ontario, most recently played for the Ridley College girl's ice hockey team. Hornung, who hails from Ashland, Mass, won the USA Hockey nationals with the MidFairfield Stars in 2022.
Other freshmen joining the group are forwards Charlotte Sonntag, Alexis Perry, Alexia Moreau and Lane Lewis. Defenders Casey Borgiel and Taylor Cantelon round out the class of eight.
The Crusaders are receiving one transfer student this year in sophomore Madison Michals. Michals played three games for BU last season before moving to Worcester for 2022-23.
Last season in 33 games the team was able to score just 46 goals, a number they will surely try to increase upon once the season starts. If they're able to keep the shot clock down lower than an average of 36.3 per game for the opposition, they could make some noise in the standings.