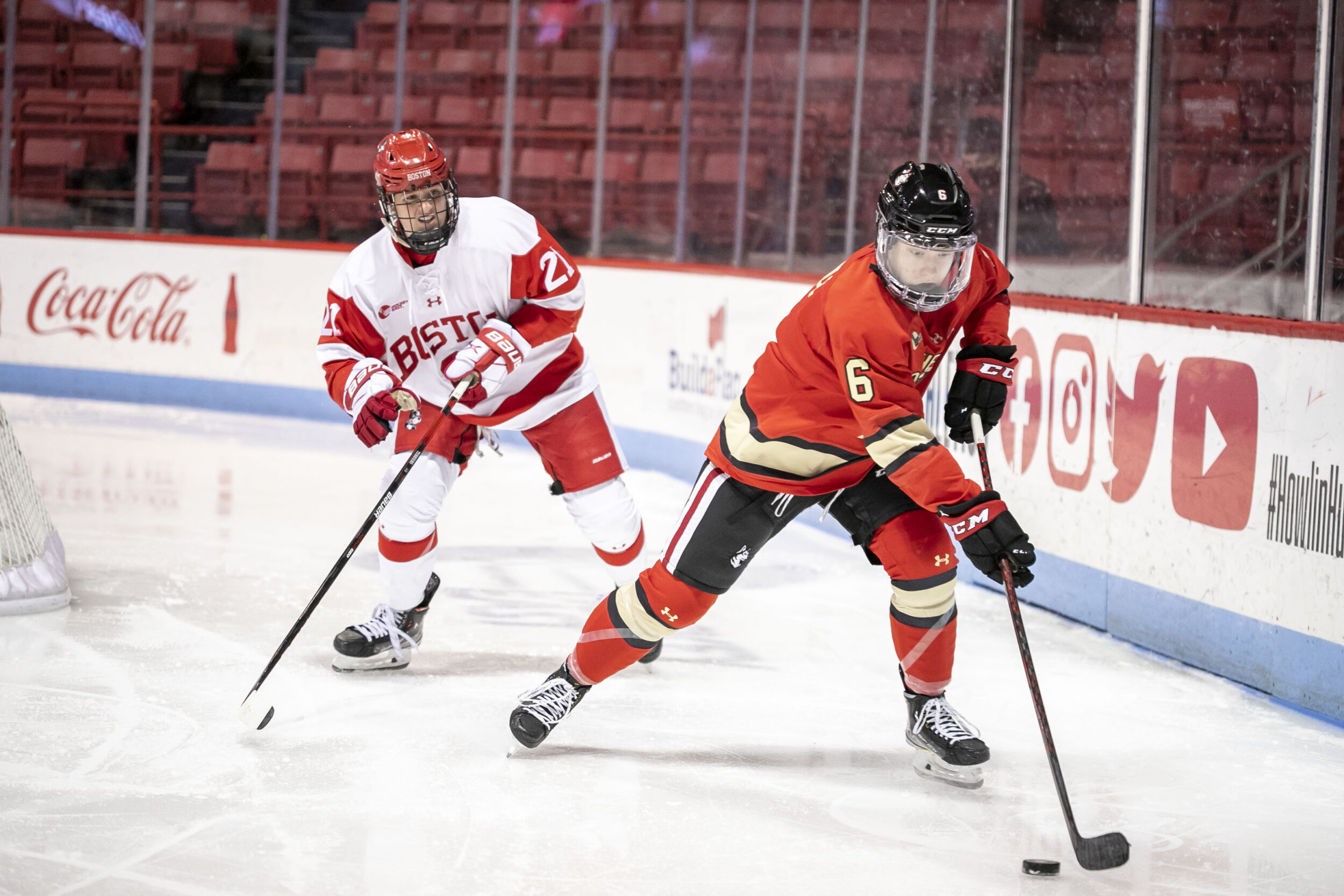 Hockey East lost a massive amount of talent in the offseason, leaving much of the conference with question marks headed into the upcoming year. With that being said, the incoming freshman class is one of the strongest to date, including top NHL prospects and immediate difference-makers. With changes across the board and some big names deciding to stay around, here's a preseason preview and ranking for Hockey East for this upcoming season.
1. Northeastern (Hockey East Coaches' Poll Rank: 1)
The Huskies finished first in Hockey East last season and qualified for the NCAA tournament, losing to Western Michigan in the first round. Heading into this year, Northeastern retained multiple foundation pieces, one of them being forward Aidan McDonough, who led the team in points and finished second in the nation in goals. Defender Jayden Struble also returns for his senior campaign and will be relied on heavily to lead Huskies' back end both on and off the ice. The most crucial retention for the Huskies is starting goaltender and reigning Richter Award winner Devon Levi. Levi posted a .952 save percentage last year, which is tied for the second best single season save percentage in NCAA men's hockey history.
Though the Huskies have significant talent returning, they also had a few crucial losses. Former captain Jordan Harris, who was the team's top defender a season ago, signed with the Canadiens. Harris blocked a team-high 69 shots, which was tied 11th best in the nation. He was also the Huskies' biggest offensive contributor from the defensive end, posting five goals and 15 assists last year. Northeastern also loses Harris' defensive partner Tommy Miller, who graduated this past year. Miller was a trusted partner alongside Harris on the top pairing, and a key penalty killer. Expect the Huskies to have a young defensive lineup this year with these losses, with three freshmen defenders added to the fold. The Huskies also lost key middle-six center Ty Jackson to Arizona State, and will look to Merrimack transfer Liam Walsh to fill the role.
Forwards Jack Hughes and Sam Colangelo are expected to take bigger roles this season. The Huskies need increased production on offense, as the team had one of the lower goals for totals in Hockey East with 68 last season.
The Huskies earn the top preseason ranking due to their elite offensive talent, combined with impressive depth and experience across all four lines. The big question lies on the defensive, with a young core being asked to step up right away. With Levi in net, the Huskies should be able to overcome any early-season bumps on their way to another NCAA tournament-caliber season.
2. Boston University (Coaches' Poll: 2)
BU finished tied fourth last season with UConn in the regular season standings. The Terriers parted with head coach Albie O'Connell in the offseason, promoting associate head coach Jay Pandolfo to the lead role. Pandolfo won the national championship as a player with BU in 1995 and two Stanley Cups as a player on the New Jersey Devils.
Aided by the stability of the internal coaching promotion, the Terriers are returning a very deep roster this season, with minimal losses. Some big names returning are top six forwards Wilmer Skoog, Jay O'Brien, and Matt Brown. Skoog led the team with 15 goals last season, complemented with 15 assists.
The Terriers also retained key defensive pieces, highlighted by Domenick Fensore, who led the team with 31 points last season. Top pairing defender Case McCarthy also returns to the lineup and will be looked at for his defensive ability and offensive contribution. Drew Commesso enters his junior season in net for the Terriers, looking to build off his high-level play last season.
The losses for BU going into the season are Robert Mastrosimone and Alex Vlasic. Mastrosimone, who transferred to ASU, was a top line winger for the team contributing 11 goals and 14 assists. Vlasic was called up to the NHL for the Chicago Blackhawks after last season finished. Vlasic was an elite defender, but freshman Lane Huston will be looked at to fill the role. Hutson went 62nd overall in this year's NHL draft.
Last season BU was projected as a top team before battling through injuries and underperformance. Staying healthy will be a challenge for the Terriers this season — Fensore and Skoog were the only two players on the team to play the full 35-game season last year.
3. Providence (Coaches' Poll: 4)
Providence finished seventh last season in Hockey East, but the team was young in comparison to the rest of the conference and has a lot of potential going into this season. Providence will be returning two top 50 forwards in terms of point production in the nation in juniors Brett Berard and Nick Poisson. Berard had 18 goals and 20 assists, while Poisson produced 10 goals and 25 assists last season. Also returning for his senior season is forward Parker Ford, who tallied 13 goals and 14 assists. Top pairing defender Cam McDonald will be relied on for his defensive prowess and veteran smarts. Two other notable defenders to mention in the lineup are Guillaume Richard and Max Crozier who are the top two offensive minded defenders returning to the lineup. Crozier led defenders in points with 23, and Richards produced three goals and 11 assists in his first season. A major addition from the transfer portal is defender Connor Kelley who will be looked at to help fill out the defense. Kelley is a defensive-minded defender who transfered from Minnesota-Duluth where he played on the third pair on a very deep Minnesota team.
Providence returned almost all of its key pieces but like every other team had some losses. Three-time captain Michael Callahan moved on to play for the Providence Bruins after four years as a top defender and leader. Callahan contributed three goals and 11 assists in his last season with Providence. Another loss for Providence is second-line center Kohen Olischefski who graduated after an eight goal and 10 assist season.
Led by head coach Nate Leaman, Providence will look to show its offensive talent and finish out games. Despite their low finish last season, the Friars had the highest goals for total in the conference at 118. The roster didn't lose any of its offensive heavy hitters and filled out its defensive losses. The final question is around goaltending — transfer Austin Roden from Nebraska-Omaha will be contending for the starting job against freshman Philip Svedebäck and sophomore John Driscoll.
4. UMass Amherst (Coaches' Poll: 3)
UMass comes off another impressive season, winning the Hockey East tournament before falling to Minnesota in the first round of the NCAA tournament. The Minutemen have a few star players returning from last year's team, highlighted by defenders Scott Morrow and Ryan Ufko — both of whom are only sophomores. Morrow put up 33 points as a freshman last season, leading UMass defenders. Ufko will also be looked at to contribute heavily offensively from the defense, as he himself had 31 points.
UMass will be without former captain and reigning Hockey East Player of the Year Bobby Trivigno, who is now playing for the Hartford Wolfpack. Trivigno was the team's highest scorer last year, posting 20 goals and 29 assists. He was also tied third in the nation for the most points. UMass is also losing last year's first-line center Josh Lopina, who signed with the San Diego Gulls. Lopina had 12 goals last season, which was fourth highest on the team. UMass also graduated veteran second-line center Anthony Del Gaizo, who contributed seven goals and 10 assists. The big shadow surrounding UMass is what forwards will step up or be able to step up in order to fill the contribution of Trivigno, Del Gaizo, and Lopina.
Defensively, UMass lost Matthew Kessel, who was a top-pairing defender the team could rely on. The team lost a key defender and penalty killer in Ty Farmer who transferred to North Dakota. The Minutemen will look to Colgate transfer Elliott McDermott to fill the role.
UMass has lost vital pieces across the lineup, and head coach Greg Carvel will have to look at his incoming class to help fill the spots. The goalie situation also looms over the team, as UMass will look to fill the massive hole left by five-year starter Matt Murray.They will look at a combination of Arizona State transfer Cole Brady, or inexperienced in-house options Henry Graham and Luke Pavicich. Under Carvel, UMass has reloaded and replenished talent as well as anyone in the conference, but faces an vigorous pathway to doing so again this season. With that being said, the talent and pieces are there for the Minutemen to make a run for the top of Hockey East once again.
5. UConn (Coaches' Poll: 7)
UConn is coming off a very strong season last year, finishing tied for fourth in Hockey East. For the first time in program history, the Huskies made it to both the Hockey East semifinals and final. UConn will return a decent lineup from last season, but will have some key players missing from it. Some big names that are returning are forwards Ryan Tverberg and Hudson Schandor. Tverberg had 14 goals and 18 assists, while Schandor contributed five goals and 13 assists last season. Also returning is Harrison Rees, who was a well-rounded defender last season producing three goals and 10 assists. From the transfer portal, UConn was able to pick up Ty Amonte, who was an assistant captain at BU last season.
UConn suffered big losses this offseason, most notably top point producer Jachym Kondelik. Kondelik had 12 goals and 21 assists for a team high 33 points last year. Another key forward loss is Vladislav Firstov who signed with the Iowa Wild and had 12 goals and 11 assists for UConn. Top-pairing defender Ryan Wheeler signed with the Iowa Heartlanders in the ECHL after being a trusted lock down defender with the Huskies..
UConn can look for players such as junior John Spetz to have increased production on offense. The Huskies will have to figure out its starting goalie situation with a contest between Arsenii Sergeev, Matt Pasquale, Logan Terness, and Ryan Keane. UConn should still manage a strong season offensively and should be equal to last year defensively as most of their defenders return.
6. UMass Lowell (Coaches' Poll: T-5)
UMass Lowell had an impressive season last year, finishing third in Hockey East and qualifying for the NCAA tournament. Lowell was eliminated by the eventual tournament winners, the University of Denver, in the first round by a score of 3-2.
Lowell retains key players such as forward Carl Berglund, who tied with forward Andre Lee for a team high 28 points last season. Forward Ryan Brushett also returns for his senior season, after contributing eight goals and 14 assists last year. Defender Jon McDonald, who tallied a goal and nine assists last season will be relied on to continue leading the defensive group again this year.
Lowell had some major losses over the offseason as well. Star forward Andre Lee will not be returning for his senior season, after he signed an Entry Level Contract with the LA Kings. Lee had a team high 16 goals complimented by 12 assists last year. Also not returning for Lowell is forward Lucas Condotta, who graduated last year and had 10 goals and 13 assists last year. The River Hawks have a huge hole to fill in net, after losing standout netminder Owen Savory, who had a .926 save percentage and 1.93 goals against average through 29 games last season.
Lowell's 74 goals against was the second-lowest mark in the league last season, behind only Northeastern. The team was built around being solid defensively and capitalizing on their opponents mistakes. Now, with their top goal scorers gone, the River Hawks will have to rely on others to make up for their goal production. If Lowell can fill the goaltending spot they should still be one of the better defensive teams in Hockey East, however with their key goal scorers now gone they might regress offensively this season. They will look to players like forward Matt Crasa coming off a 12 goal freshman season to make up for the goal production.
7. Boston College (Coaches' Poll: T-5)
Despite lofty preseason expectations last year, Boston College finished the 2021-22 season eighth in the conference. Going into this season, BC will have a completely new look as longtime head coach Jerry York has retired after 28 years as head coach. The Eagles will not be returning six of its top seven point producers from last season.
Returning for BC are forwards Colby Ambrosio and Nikita Nesterenko, who played as second line wingers last season and will be looked at to take larger roles. Ambrosio had nine goals and 13 assists last season while Nesterenko had seven goals and 17 assists. Returning to lead the defense is Marshall Warren, who produced six goals and 15 assists last season playing on the top pairing. Transferring in from Notre Dame is forward Cam Burke, who had eight goals and 11 assists for the Fighting Irish last season.
With few returns BC has lost the top end of last year's roster. The starting line of Jack McBain, Marc McLaughlin, and Brandon Kruse all signed professional contracts. McBain tallied 19 goals and 14 assists in only 24 games last season. McLaughlin had 21 goals and 11 assists, while Kruse had three goals and 21 assists to end the year.
On the defense BC lost top point producer from the back end Drew Helleson, who tallied 25 points. Some other notable losses for BC include forward Patrick Giles who centered the second line and defender Jack St. Ivany. Giles had 15 goals and seven assists and St. Ivany had four goals and 20 assists. Eric Dop will also not be returning for BC, leaving a spot in the net needing to be filled.
With most of the top end players not returning to BC and the loss of York, BC will be an interesting team to watch this season. The historically dominant program might not look the part this season but has potential to still do well. The freshman class will be looked at to take on large roles this season, highlighted by forward Cutter Gauthier, who was selected fifth overall in the 2022 NHL draft by the Philadelphia Flyers. Though Gauthier is not a long term option for the team — he has expressed he will not be staying for more than a year — he'll still look to contribute during his lone season in Chestnut Hill. Graduate transfer Mitch Benson, who played 20 games with Colgate last season, should get the starting job though he may contend with junior Henry Wilder.
8. Merrimack (Coaches' Poll: 8)
Despite low expectations, Merrimack had an impressive season a year ago, finishing with a 19-15-1 record — the best they've done in a decade. That record landed them fourth in Hockey East tied with UConn and BU.
Merrimack will be returning key pieces such as Filip Forsmark, who had 11 goals and 16 assists last season. Ben Brar also returns for his senior year after he contributed 11 goals and nine assists. Brar will also be looked at along with Forsmark to lead the forward group going into this year. Zachary Borgiel and Hugo Ollas both return to the net this year. Expect them to get split time in net, much like last season.
Merrimack lost the majority of its top players both offensively and defensively from last year. Star forward Max Newton, who led the team with 14 goals and 24 assists last season, has graduated, along with forward Steven Jandric. Liam Walsh, who was an effective middle-six center for the Warriors last season, transferred to Northeastern. Jandric contributed eight goals and 20 assists, and Walsh had 10 goals and 17 assists last season. Merrimack also loses its top defensive pairing of Zach Uens and Zach Vinell, and will have trouble replacing their contributions. Uens moved onto the Charlotte Checkers AHL and Vinell transferred to Bowling Green.
With Merrimack having these major losses up and down the roster, expect the team to regress. The team didn't bring in anyone that stands out to fill the role players lost after last season, and the current team is a shell of last years with the loss of these key pieces. Sophomores and juniors will be expected to step up in order to fill out the losses. Some players to look for are forward Alex Jeffereis and defender Adam Arvedson, who should take a bigger role on defense going into his sophomore year.
9. New Hampshire (Coaches' Poll: 9)
New Hampshire will look to improve on their 8-15-1 conference record and ninth-place finish last season. Luckily, a young core of sophomores and juniors are returning with some Hockey East experience under their belt. Some key returning players include forwards Liam Devlin and Robert Cronin, who had impressive rookie seasons last year. Devlin produced nine goals and seven assists, and Cronin had seven goals and five assists on the year. Also returning is defender Colton Haurd, who in his first season had the most points by a defender on the team totalling 16. Defenseman Alex Gange, who had a notable debut season last year, will again be paired alongside Luke Reid this season.
UNH loses its top three point producing forwards to graduation in Tyler Ward, Jackson Pierson, and Fillip Engaras. Ward and Peirson, who both played on the Wildcat's first line last year, lead the team with 27 and 24 points respectively. Engaras, who was the team's second line center for most of the season, produced seven goals and 14 assists in his final year. UNH also loses its top pairing defenders Ryan Verrier and Will MacKinnon to graduation.
The Wildcats will have to fill its top lines back in both offensively and defensively going into this season. However, the team had young pieces last season that will be looked at to fill the roles as well as some veteran players who will be expected to step up more and produce. UNH will look to do better than last season, as they hope for the young roster to develop. But in comparison to the rest of Hockey East, they are towards the bottom of the conference for tallent.
10. Maine (Coaches' Poll: 11)
Maine finished with the worst record in Hockey East last season, but the Black Bears return their top five point producers from last season. Lynden Breen returns at the forward position for Maine — he produced a team high in points with nine goals and 16 assists. Donavan Villeneuve-Houle also returns after putting up 10 goals and nine assists, as well as Grant Hebert who is back as a graduate student and had seven goals and nine assists last year. Defender David Breazeale returns on defense for Maine, after leading the D core with 16 points last season.
Maine's biggest losses are forwards Keenan Suthers and Jacob Schmidt-Svejstrup, who both graduated. Suthers contributed five goals and eight assists, and Schmidt-Svejstrup had four goals and eight assists in his final season.
While the losses for Maine were minimal in terms of their top pieces, the team as a whole is not very deep when it comes to talent. Two additions that could have an impact for Maine are recent forward transfers Justin Michaelian and Didrik Henbrant who both had over 20-point seasons last year. With the main standouts of the team returning there's a possibility for Maine to improve a bit, but most likely not enough to get them outside the bottom three this year.
11. Vermont (Coaches' Poll: 10)
Vermont is coming off a 10th place finish in Hockey East last season, barely inching out Maine for the bottom spot.
UVM is returning senior forward Jacques Bouguot, who had six goals and nine assists last year. Will Zapernick also returns for the forwards. Zapernick had five goals and six assists last season. Trusted top pairing defender Joe Leahy returns for his graduate year after tallying two goals and eight assists last year. Blue line mainstay Robbie Stucker returns as a graduate student after a 14-point season, leading defenders on the team in scoring. A big return for UVM in net is goaltender Gabe Carriere, who posted a .905 save percentage and had a 2.88 goals against average last season.
UVM's biggest loss is forward Philip Lagunov, who produced eight goals and eight assists for a team high 16 points. Lagunov was UVM's sole professional contract out of last season, after signing with the Tucson Roadrunners. They will also be losing defender Andrew Lucas, who transferred to UConn. Lucas tallied the second highest points total by a defender for the team with 13 points on the season.
Vermont's roster didn't have any standout pieces compared to the rest of Hockey East and did not add any going into this year. The Catamounts will most likely finish near the bottom of Hockley East once again.