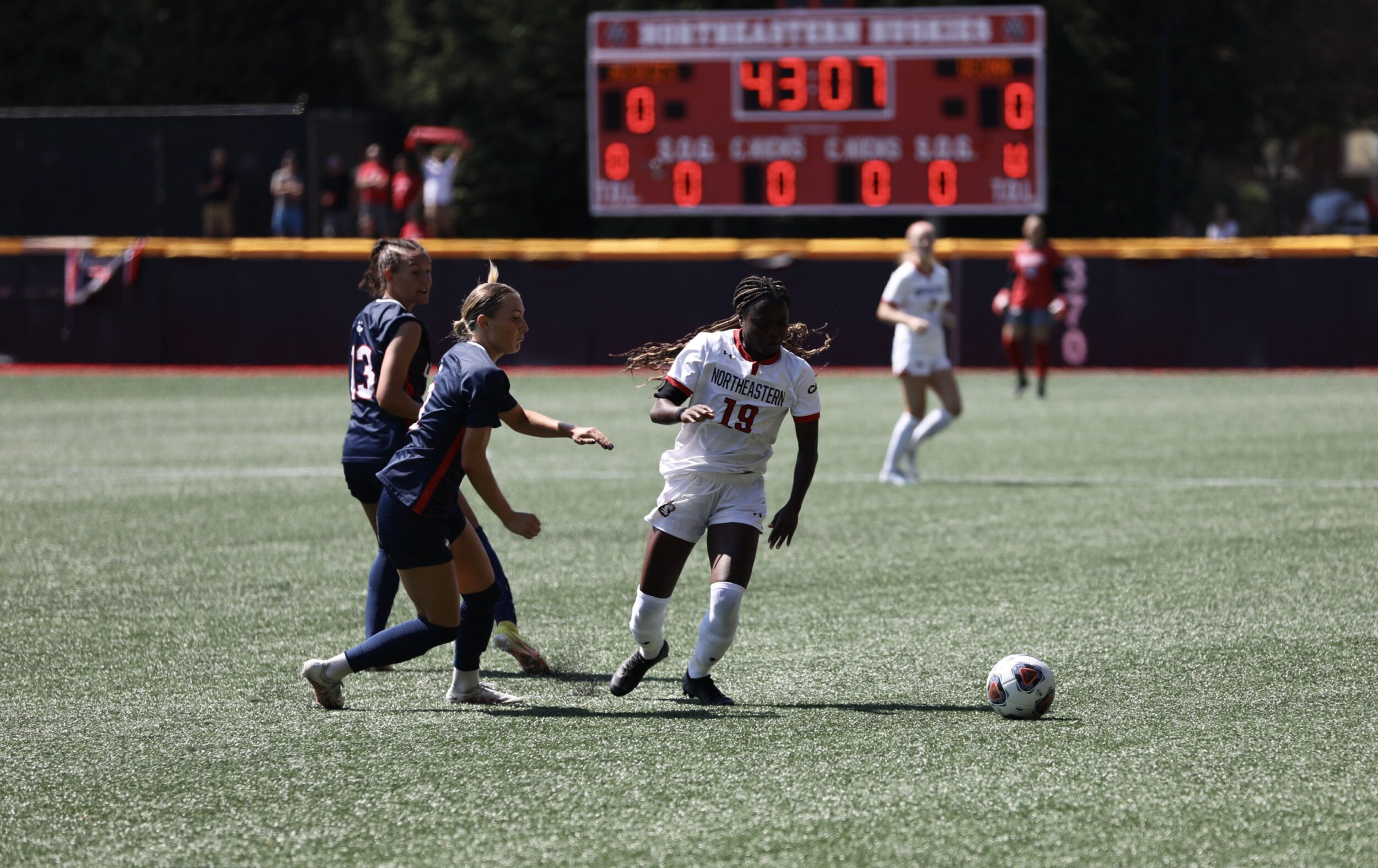 Vivian Akyirem's Northeastern career has started like a firecracker.
The freshman forward has notched six goals in her first 12 career games, something that hasn't been done by a Huskies' women's soccer player in over a decade. The last time a freshman even had six goals in a season was 2014.
Akyirem currently leads the Huskies in goals. If she can keep her pace, she'll be the first freshman to lead the Huskies in scoring since 2008, and just the fifth freshman to do it this century. Scoring is something she is used to though — she holds the single-season record for goals scored at Berkshire School, a preparatory school in Western Massachusetts, with 29. While she found early success, Akyirem still needed to adjust to the college game like any freshman.
"The biggest challenge has been the speed of play and how technical all of the players are," Akyirem said. "You have to be focused every second and know your next move and where your head is at."
Akyirem though is just trying to get used to college life and newfound independence. She's not too swept up in how many goals she can net this year, but rather how to navigate the waves of students between classes.
"I've been getting lost a lot," Akyirem said. "Now I am more familiar with getting to my classes and finding my way, but the first week was … not great."
Akyirem is like any other student. She has classes and professors she loves while others she says are "hard to get along with." She also has the added pressure of missing classes for games and fitting homework around her training schedule.
"Some are super understanding and have been super helpful, with others you are a little bit more on your own which is something I am getting used to," Akyirem said.
While she didn't share some of her less favorable classes, Akyirem said that she's loving the business and marketing courses she's taking and that she hopes to continue down that path in the future.
Back on the field, Akyirem also noted the physical strength of new opponents, which her head coach Ashley Phillips knew could present a challenge, like it can for many freshman athletes.
"We're still trying to help her adapt to a little bit more of a physically competitive market," Phillips said. "She's not the biggest kid out there and sometimes with the way she plays she can get herself into some crazy tackles."
In terms of how she physically prepares before and during the season, Akyirem has also seen a big difference between Berkshire School and Northeastern, where strength and conditioning coach Blair Lloyd manages the gym.
"I have realized that before [at Berkshire] when I could do whatever I wanted at the gym I might not have been doing it right," Akyirem said. "Most of the time when I lift here Blair has to correct me and says 'you have to lift it this certain way.'"
Before Northeastern, Akyirem chose from a handful of prepatory schools before she moved to the United States from Ghana in 2018.
"When I came to visit I visited Taft and Hotchkiss and when I went to Berkshire it was the community," Akyirem said. "It had a pretty campus that was small compared to the other schools and that's what I like, I like the mountains and everything [Berkshire had]."
Despite her love for the mountains and the small setting of the Berkshires, Akyirem also said she loves the city, something that attracted her to Northeastern. She had only been to the school and to Boston twice before committing, but had a lot of contact with Phillips and the coaching staff virtually.
"We definitely got in contact with her fairly early in her process," Phillips said. "Then being in Boston, a city school that has such a diverse demographic I think was something that was really important to her."
Phillips knows that the program is fortunate to have the kind of player like Akyirem. Not only does she constantly find herself in great positions to shoot on goal, the majority of the time she takes accurate shots. Akyirem has twice as many shots as any of her teammates but also has the best shots on goal percentage by far, finding the target on 73% of her tries.
Her 19 shots on goal puts her at sixth in the CAA, while she sits tied for sixth in goals as well.
"I think she's just special as a player both with her athletic qualities and her technical qualities," Phillips said. "She's been incredibly fun, a really fun personality to have within a group, she really cares and is invested. It's always enjoyable to see someone young really shine and carry our group in goal scoring this year."
Even on days when she's not finding the back of the net Phillips knows she's making a difference.
"Just her being on the field even if she's having a day that's not perfect, makes every other team worried," Phillips said. "We want her to understand what she can add to the group without it feeling like she has to add that to the group."
At first, Akyirem said she wasn't sure why she was even being interviewed for this story. But according to Phillips, that's the self-effacing, modest attitude that's led to her success at Northeastern thus far.
"She's so humble, she's kind of oblivious to her own talent ability sometimes, which is a good thing that makes her work hard," Phillips said.
Those who have seen her play, or have had the misfortune of playing against her, always let Phillips know the kind of player she is.
"Every coach says, 'how about that 19,'" Phillips said.
Fortunately for the Huskies, the world of college soccer is just beginning to get a look at the incredible talent of Vivian Akyirem.