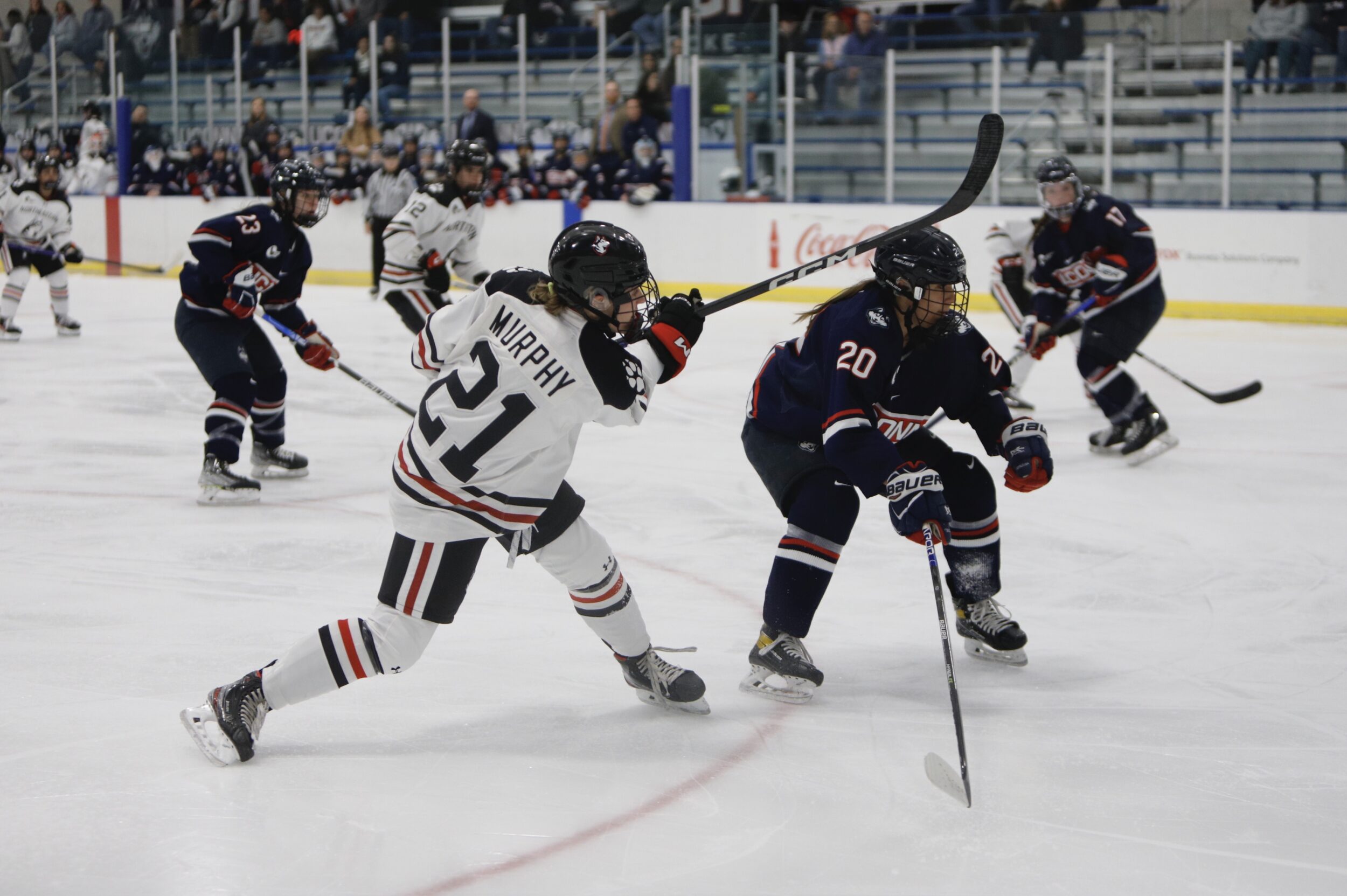 STORRS, Conn.– Northeastern completed the weekend sweep of UConn on Saturday afternoon, with a dominant 4-1 road victory to improve to 4-0 on the season. The visiting Huskies were powered by three goals in the second period, including two from senior forward Katy Knoll.
UConn opened the scoring just over four minutes into the first period, when senior defender Camryn Wong sniped one home from the high slot. Junior forward Jada Habish created the play, going coast-to-coast before passing behind the back to Wong.
Ten minutes later, graduate forward Maureen Murphy tied the game with a poke from a rebounded shot.
On the goal, Northeastern's captain Alina Müller was credited with the secondary assist, giving her 200 points in her NCAA career. It's another milestone for the graduate student forward, who is one of just three players in Northeastern women's hockey history to reach the 200-point mark.
"It's a testament to how great of a player she is," said Northeastern head coach Dave Flint after the game. "I'm really proud of her and she's still got a lot more points ahead of her."
Northeastern finished the opening frame outshooting UConn 21-6, but couldn't find the back of the net after Murphy's tally. Then, the buzzer sounded for the second, and they exploded.
For the second straight game, Northeastern tallied three goals in the second period. This time, it was all generated by the second line, as Knoll scored twice and the Harvard transfer, sophomore forward Taze Thompson, notched her first strike in red and black.
Thompson struck first to open the period, sticking in a rebound from a Knoll shot. 15 minutes later, Knoll took a feed on the rush from sophomore forward Skylar Irving and rifled it home. Knoll closed out the period with a goal from the doorstep, capitalizing on another rebound from a shot by junior defender Abbey Marohn. Irving had assists on all three goals.
Neither team would score again after Northeastern's three-goal avalanche in the second.
The second line of Knoll, Thompson, and Irving is a unit that was expected to take a major step forward entering this year, and they have not disappointed. So far, they have combined for 13 points in four games played.
"We are all big powerful forwards and we can definitely get under the skin of some teams," said Knoll postgame. "We try to cause a little chaos for the other team and try to get pucks to the net… it's coming together really nicely."
For a team that often relied on their top line for the majority of their scoring last year, Flint has found lightning in a bottle with this second line.
"If we are going to be successful we need different lines stepping up at different times," said Flint. "We had the second line step up… Katy Knoll was all over the place, she was blocking shots and making big plays."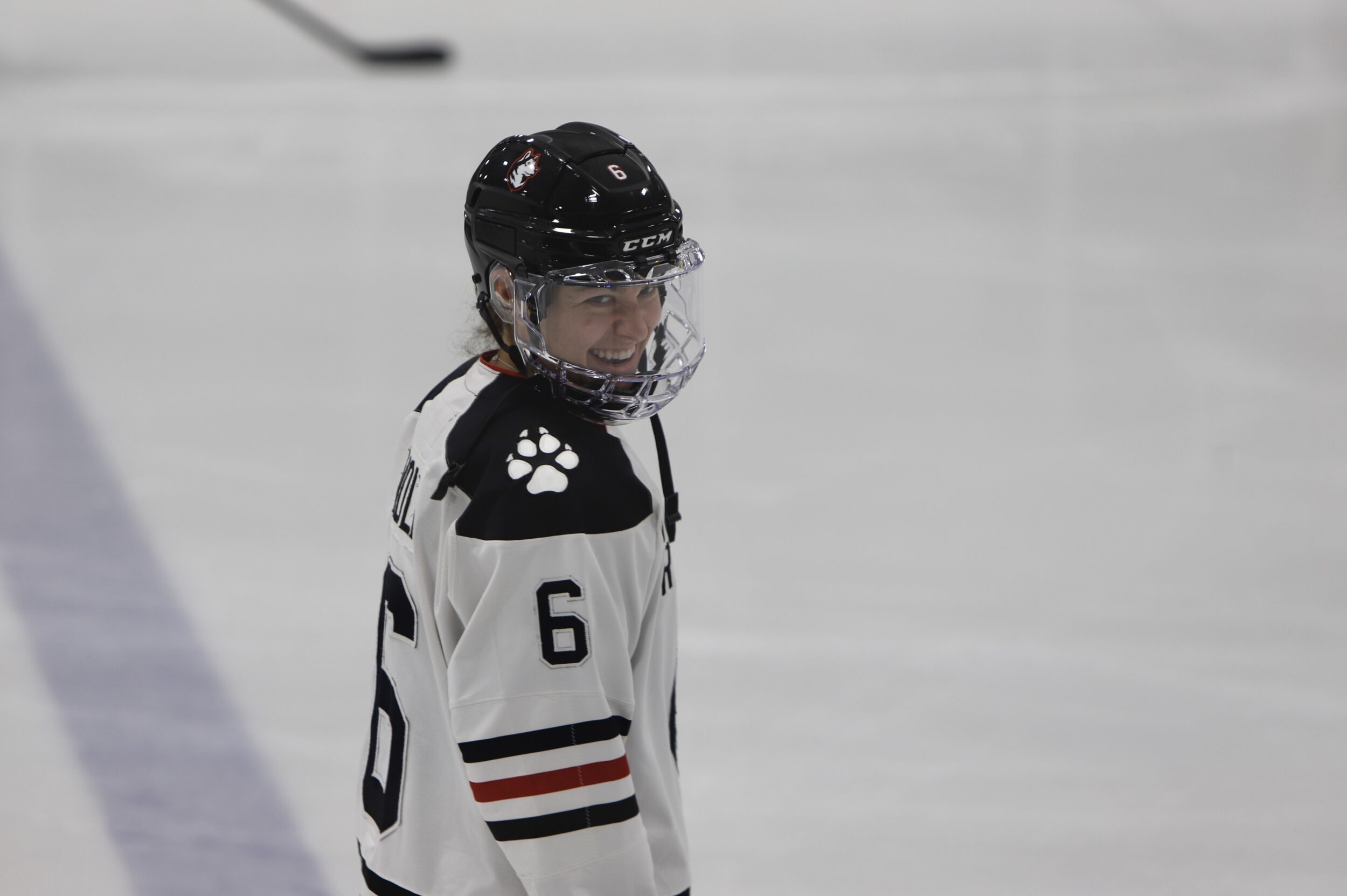 Fresh off of her first shutout of the season the game before, senior netminder Gwyneth Philips was sharp once again, stopping 16-of-17 shots for her fourth victory in as many games. She did not see too much action, but stood strong on a couple odd-man rushes at the end of the second period to prevent any momentum swing in UConn's favor.
Northeastern's new-look defense also shined, limiting UConn to single-digit shots in each period. UVM graduate student transfer Maude Poulin-Labelle and freshmen Jules Constantiople and Kristina Allard were dominant on the backcheck late in the game, preventing any chances for UConn to get back in the game.
In their first four contests, Northeastern have outscored their opponents 20-4. They are allowing just 19.5 shots per game. There were some questions about this team entering the year, but this sweep of Hockey East rival UConn goes a long way in answering them.
The Huskies from Huntington Ave. will be back in action on Friday in another away contest, this time in North Andover against the Merrimack Warriors. Catherine Morrison and Emma Sullivan will have coverage from Lawler Rink for WRBB starting just before puck drop at 6 p.m.