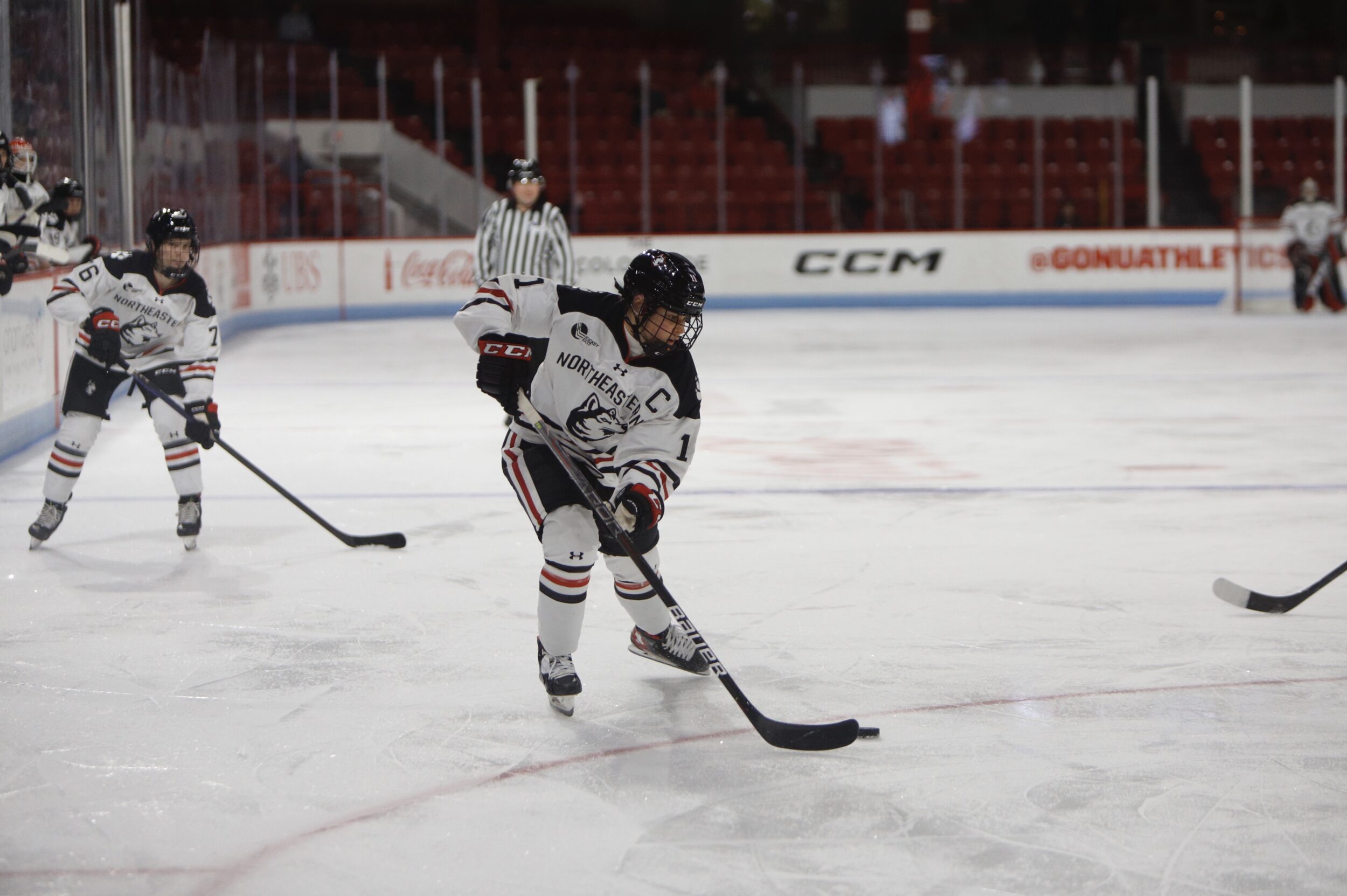 Story by Daisy Roberts and Jack Sinclair
ORONO, Maine — While lying at the most extreme north end of the Hockey East map, Maine has found their women's hockey team in the southern end of the standings for several years running. Northeastern has long stood in the way of the Black Bears success, holding an all-time record of 45-22-7 and winning their last eight meetings, the most recent of which a 3-1 win in the Hockey East Semifinals March 2.
The Huskies demonstrated their consistent command over Maine with a decisive 6-1 victory over the Black Bears in Friday night's game at Alfond Arena, with freshmen forwards Alyssa Antonakis and Alyssa Anderson finding their way into the lineup for their NCAA debuts.
Northeastern's opening score came from senior defender Megan Carter when she found herself in a rather unfamiliar position. Carter broke out from the blue line as the Huskies transitioned through the neutral zone for her first goal in 2022. Through some amount of luck and a poorly-timed change by the Black Bears, Carter was left to face freshman goaltender Brooklyn Oakes 1-on-1. Carter, hardly known for her stick handling abilities, opted to rely on her strongest offensive tool — her howitzer. With a fluid windup and follow through, Carter powered the puck past Oakes and off of the far post. Carter's luck continued, as the puck ricocheted off the post, off of Oakes' rear end, and across the goal line. Antonakis was credited with an assist on Carter's goal, giving her her first collegiate point.
The remainder of the first period was underwhelming by the incredibly high standards of the Huskies.
"I thought Maine carried the play in the first period," said associate head coach Nick Carpenito after the match. "Everyone is going to come at us strong right out of the gate. We need to do a better job at matching that intensity right away."
The Huskies carried a 1-0 lead into the first intermission, but the feeling around Alfond was that the game was nowhere near settling.
Northeastern's most lethal forward duo, graduate students Alina Müller and Chloe Aurard connected on a simple play during a 2-on-1. Müller found a wide-open Aurard on the back post, and it was simple for the two international stars to link up for the Huskies' second score. Müller's assist put her at a career total 85 Hockey East assists, breaking the conference record for career assists, previously held by former Boston College captain Alex Carpenter.
Maine could not be held back for long, as just under two minutes later, they broke through on the scoreboard. A centering feed from sophomore winger Alyssa Wruble caused chaos in front of senior netminder Gwyneth Philips, and Black Bear captain Morgan Trimper tipped Wruble's pass cleanly into the top corner of the net. Trimper's goal cut Maine's deficit in half, but her shot was the only one for Maine that found the back of the net all game, as Philips put up another fantastic showing for the Huskies.
"[Philips] is a really level-headed person," Carpenito said. "You never really see her get overambitious in net. She's really efficient, really athletic. Sometimes, you'll see her make an athletic save here and there, but because of her efficiency and because she's always in a really good spot, you don't necessarily see a ton of that out of her because she doesn't have to."
Müller struck once more in the second period, this time with a score. The fast-moving forward seemed to have the puck glued to her stick as she weaved her way through three Black Bear defenders. She needed only the smallest gap to free enough space and time for her to fire off a snapshot to the glove side of Oakes. The young goaltender was left stationary as the veteran's shot scorched into the lower right hand corner of the net.
"Our offense typically goes with [the first line]," Carpenito said. "They're going to get everybody's best shutdown play, but they're an elite group. They're doing exactly what we expected of them."
Northeastern's momentum was sustained throughout the third period, as they tacked on another three goals before the final buzzer sounded. The first two of the period came off the stick of senior forward Katy Knoll, the first of which coming four minutes into the period. Knoll utilized some tricky stick work in the center of her offensive zone to maneuver around three Maine skaters, and after creating an open lane for herself, she fired the puck into the net with precision.
Knoll's second came after an interference call on junior defender Olivia King gave the Huskies a power play. Thirty seconds into the penalty, Knoll skated along the blue line with the puck, put it through the legs of fifth-year winger Grace Heiting, and slammed a shot past Oakes, giving Northeastern a commanding 5-1 lead.
"Katy Knoll has been lights out," Carpenito said. "She's an incredible talent. … She's got the skill, for sure, but she's also got the power, she's got the speed, the size. She's got the ability to just walk right around people, as we've seen all season so far. On a lot of other teams, she's a first line kid. She's doing a great job."
Northeastern's fifth goal and Knoll's second saw graduate student Maureen Murphy tally her third assist of the game, putting her total into the double digits this season. Murphy has become more of a distributor this season, and she credited her teammates for her own personal successes as well as those of the team's.
"When you play with four other people on the ice that can all score, it's pretty easy to get them the puck," Murphy said. "I'm super fortunate to play with [Müller], [Aurard], and I'm usually on the ice with [Carter] and Abbey Marohn. I know if I'm not having a great night, I can lean on them, which is awesome. I think sometimes it's hard if just one person on the team is the primary goalscorer, but we're really fortunate that that's not the case on our team."
A major addition to the Huskies offense has been freshman forward Lily Shannon. The rookie notched her third goal of her budding career, cradling a centering pass from junior forward Molly Griffin in the slot. A swift snap of the puck into the lower corner past Oakes' blocker side — a cross-seam shot — was all she needed to give the Huskies a 6-1 lead, and her seventh point of the season.
"As a freshman, it typically takes a little bit to adapt to the speed of the game, the strength of everybody else, but [Shannon]'s got skill, she's got strength, and she's not afraid to go to the dirty areas," Carpenito said. "She had a heck of a shot. We're excited for her, she's earned every bit of what she's gotten so far from a playing time stand point. As long as she keeps continuing to cash in, she's going to get plenty of those opportunities."
Northeastern's victory brings their season record to 7-0-0, 5-0-0 in conference play. Another incredibly successful season seems to be in order for the Huskies, as they look to continue to remain undefeated.
The Huskies stay overnight in Maine for another matchup with the Black Bears on Saturday at 2 p.m. Jack Sinclair and Daisy Roberts will have the call on WRBB Sports 104.9 FM from Alfond Arena.