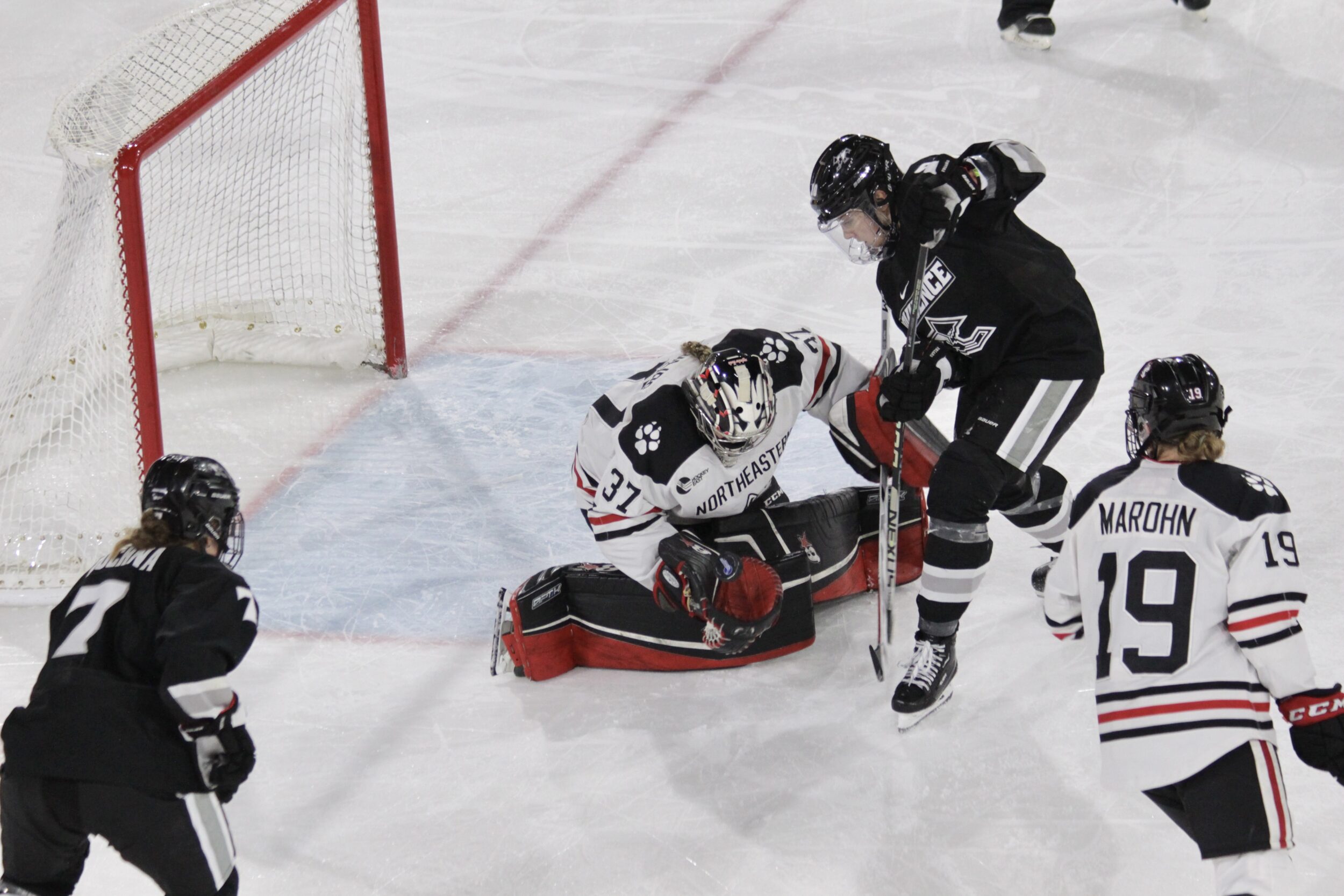 BOSTON -– Northeastern ended the second leg of a home-and-home series against Providence with a tie on Saturday night, but picked up the extra Hockey East point with a shootout win. The physicality and chippiness of Friday night's tilt carried over to the second game, with a total of 13 penalties whistled on Saturday.
The Friars opened the scoring 12 minutes into the opening frame, with graduate student forward Noemi Neubauerova poking in the puck from the doorstep off a rebound. The play was created by junior forward Lindsay Bochna, who deked around Northeastern defender Abbey Marohn to take the initial shot.
The Huskies would respond four minutes later, with Marohn sliding in a rebound of her own past Providence netminder Sandra Abstreiter during a brief stretch of 4-on-4 play. After being held without a goal in the first two seasons of her Northeastern career, Marohn has tallied twice this season.
Northeastern held the momentum for the final minutes of the first until senior defender Megan Carter took a delay of game penalty with just 17 seconds left. The officials deemed that Carter covered the puck herself in the crease, and Providence was awarded a penalty shot.
Bochna was the shooter for the Friars, and tried to snipe low-glove on Northeastern netminder Gwyneth Phillips, but Phillips made the clutch save.
After ceding just 14 shots on goal Friday night against the Friars, Northeastern faced 15 shots from Providence in the first period alone in Saturday's game. Phillips, who'd only seen more than 30 shots in a game once this year, stood on her head for the Huskies and made a few grade-A saves to keep the score knotted entering the second.
"Providence came out a lot faster than we did and we had to match their speed," said Northeastern assistant coach Lindsay Berman. "It was hard fought back and forth."
Neither squad was able to light the lamp in the second stanza, although both had opportunities on the power-play. Northeastern had to kill off a 5-on-3 midway through the frame after defenders Megan Carter and Abbey Marohn took tripping calls 30 seconds apart.
Northeastern's vaunted penalty kill entered this matchup an impeccable 26-for-26 on the season and stood strong once again on the 5-on-3. Phillips made a few diving saves in the sequence to keep the deadlock intact.
"That was unbelievable, we were laying it on the line, we were blocking shots, we were reaching for pucks," said Berman. "We had great goaltending and we fed off of that. We got a lot of energy after that kill… I'm really proud of them for how hard they fought on that 5-on-3."
Entering this game, the Huskies power-play had been a subject of concern. After going scoreless in over seven minutes of power-play time on Friday night, Northeastern was blanked once again on four power-plays through two frames. 
However, just four and a half minutes into the third period, after a Caroline Peterson hooking pentalty, Northeastern finally put the "special" back in their special teams.
With just 15 seconds left on the advantage, former Providence star Maureen Murphy whipped the puck in top shelf off of a Tory Mariano rebound to put the Huskies up 2-1. That was Murphy's third goal of the season and was a much needed breakthrough for a beleaguered power-play unit that was struggling up to that point.
"Not many people could place the puck where [Murphy] did with very little time and space," said Berman. "It gets frustrating when you work at it so much and you don't get rewarded for it so I'm happy for them that they finally got one."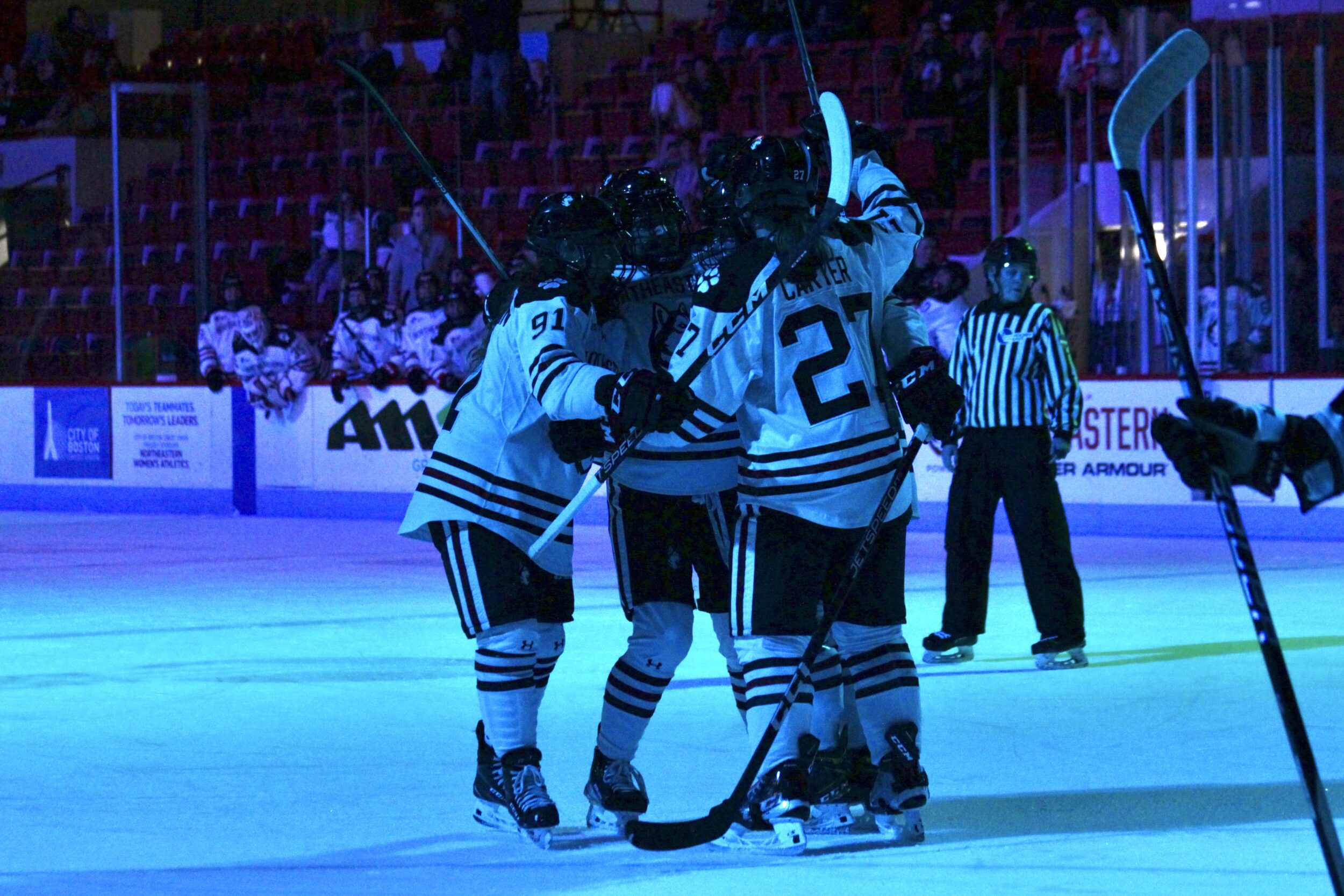 Providence responded with a power-play strike of their own after a Megan Carter tripping call, when senior defender Lauren Deblois rifled the puck in from downtown for the equalizer. It was the first goal Northeastern's penalty kill had given up all season.
The score would stay at 2-2, and the game went into 3-on-3 overtime. Northeastern dominated the extra frame, tallying 9 shots to the Friars' 1, but they were unable to convert. The Huskies did have 46 seconds of power-play time after a Lindsay Bochna interference call, but they could not find the back of the net.
After 65 minutes, the game officially ended as a tie and a shootout would determine who would snag an extra Hockey East standings point. It was Northeastern who came away victorious in the skills competition, with forwards Alina Mueller and Chloe Aurard both converting on their chances and Phillips making a game-ending save on Providence forward Sara Hjalmarsson.
Phillips finished the game making 31 of 33 saves, including 13 of 14 when Northeastern was shorthanded. She is staking her claim as one of the best goaltenders in college hockey, with a 3rd-ranked .961 save percentage and just 8 goals allowed on the season.
"[Phillips] is just so locked in, you saw her all the way through the shootout standing on her head for us," said Berman. "She stays so level headed and she's a great goaltender…I'm glad she's finally getting some spotlight."
Providence played a much grittier game Saturday than they did on Friday, pushing Northeastern to the limit with excess physicality and extended power-play time. The Huskies rose up to the challenge and put together one of their most complete performances of the season against what will be one of their toughest conference opponents.
Next up for Northeastern is another conference home-and-home series against UNH. WRBB will have coverage of both games, starting on Friday night from the Whittemore Center. Emma Sullivan, Catherine Morrison, and Zach Lyons will be on the call starting at 6 p.m.