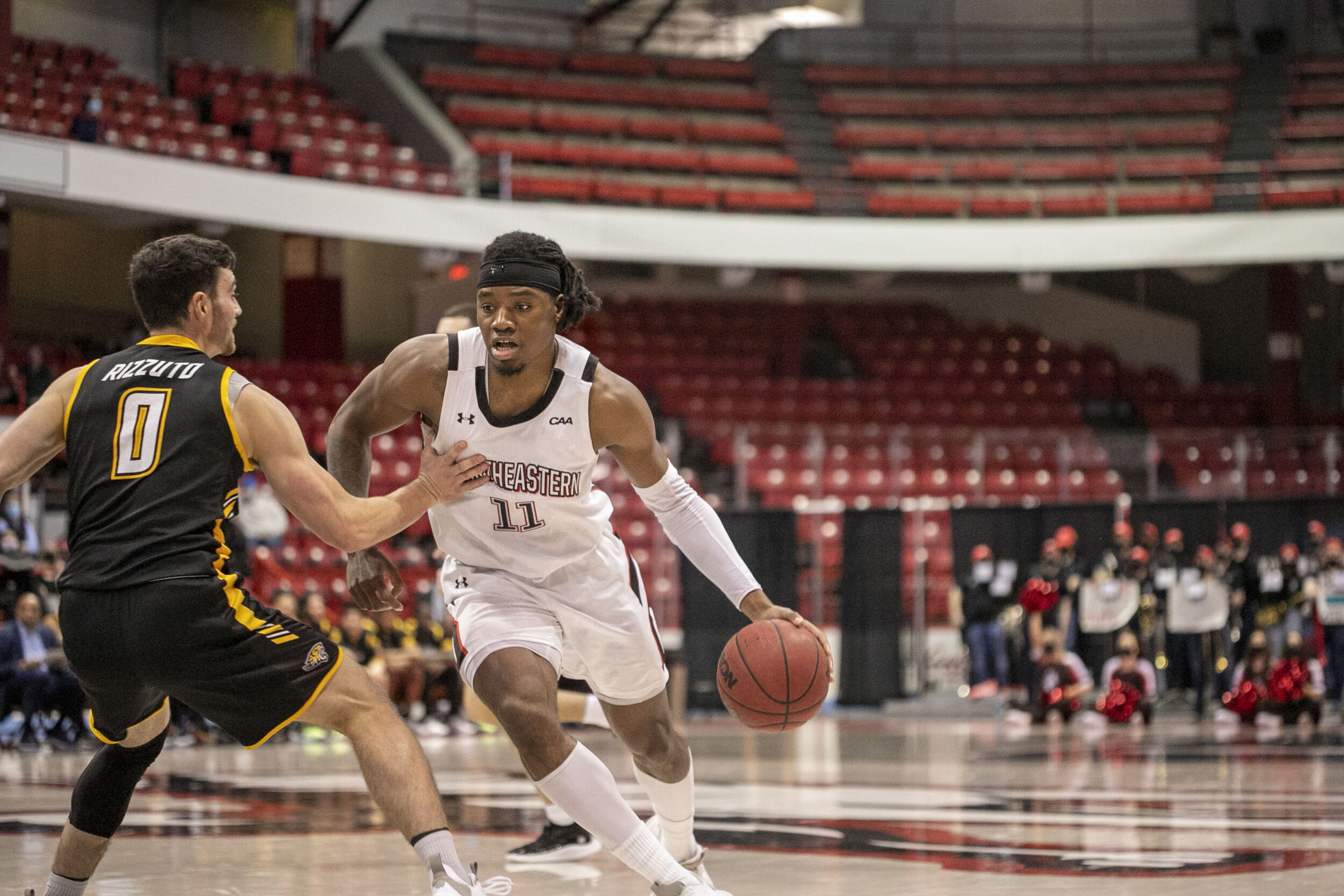 Last season could not have gone much worse for the Huskies.
Just one year removed from a CAA regular season title, Bill Coen scored big in the transfer portal ahead of the 2021-22 year, bringing in tall sharpshooter Nikola Djogo from Notre Dame, dynamic guard Tyreek Scott-Grayson from Alabama at Birmington, all-around wing Joe Pridgen from conference rival UNCW, and point guard Glen McClintock from Air Force, who figured to provide steady bench play. The returning core and these additions added up to a No. 2 ranking in the preseason poll.
The team's outlook took a turn for the worse before the season even started, when news broke that Pridgen would not be granted a transfer waiver and had to sit out the season. Scott-Grayson ultimately played just six games for the Huskies, before succumbing to a season-ending shoulder injury. Djogo and McClintock lived up to expectations, but neither blazed past them, leaving the Huskies additions as a disappointment overall.
Much of the team's returning core failed to develop. After winning CAA Sixth Man of the Year in his freshman season in 2021-22, Jahmyl Telfort seemed primed to take over the departed Tyson Walker's position as lead guard and scoring option. Instead, Telfort struggled mightily as a primary ball handler and shot below 25% from three and below 70% from the line. Forward Coleman Stucke became a decently reliable shooter to be a role player by the season's end, but by then the team was in desperate need of much more. The one bright spot was center Chris Doherty, who became the team's best scorer and overall contributor on both ends of the floor. However, the team was so reliant on Doherty that it sometimes felt as though the team would fall apart at the seams if he rested on the bench for even a few minutes — a common occurrence due to his penchant for getting in foul trouble.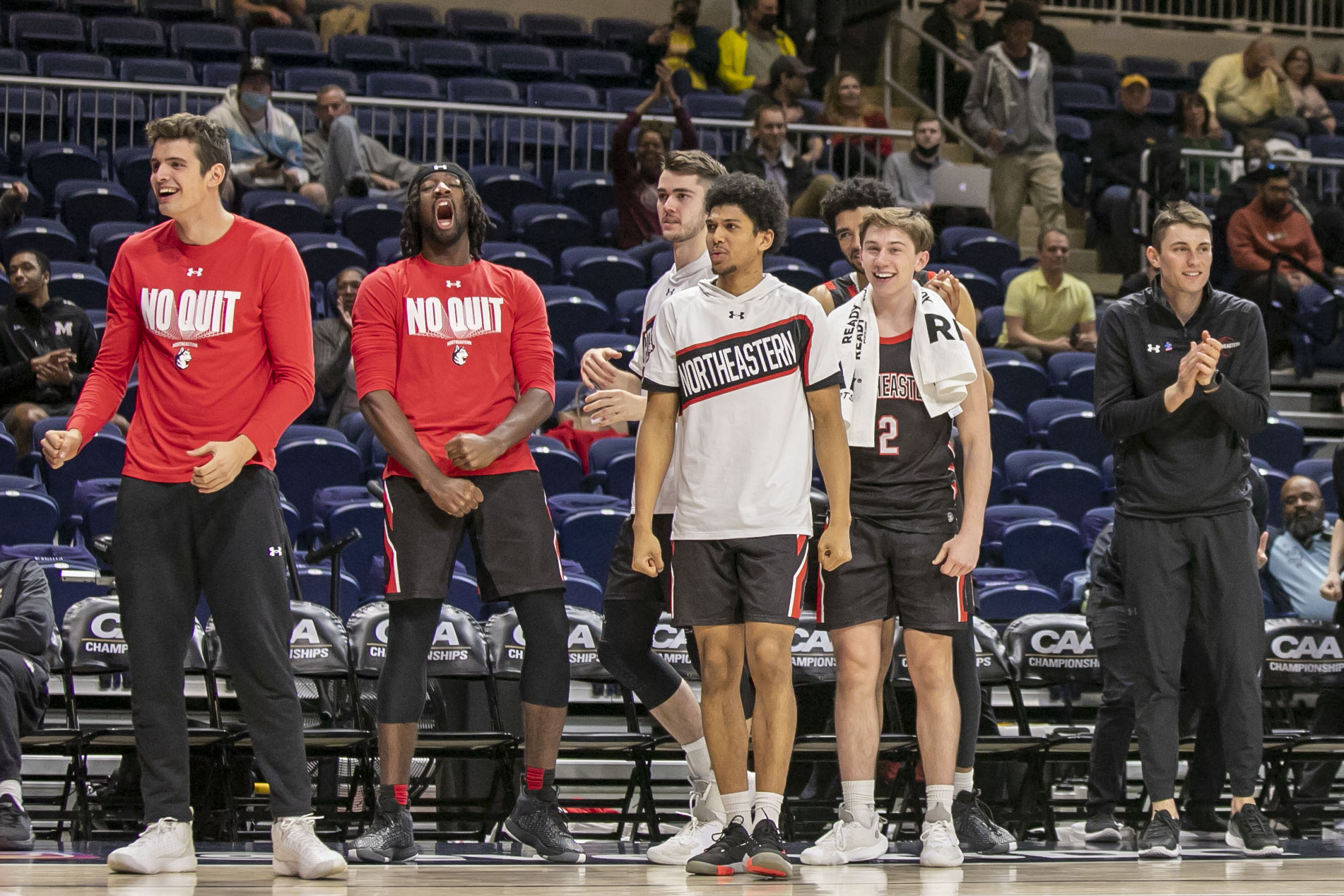 The bottom fell out when the Huskies reached CAA conference play. Northeastern dropped their first 11 conference games, ultimately finishing last in the CAA with a 2-16 record and bowing out of the conference tournament in the second round. From there, the unraveling of the team's core began. Walters, Strong, and Djogo graduated as expected and bench players Vito Cubrilo and Connor Braun forwent their remaining eligibility and joined them on commencement day. Defensive stalwart Quirin Emanga moved on to the professional ranks in Europe. Scott-Grayson transferred to Old Dominion in search of a win-now team for his final year of eligibility. When the dust settled, only six total players and two starters — Jahmyl Telfort and Chris Doherty — remained from the lost season.
So, where do the Huskies go from here? Clearly, a total program reset was in order. Fortunately, Coen had already laid the foundations for just such a reset. Still riding high off the success of 2020-21 at the time, Coen secured early commits from three huge names.
Combo guard Chase Cormier of Decatur, Georgia is the highest ranked Northeastern recruit of the last 20 years, according to 247 Sports. Cormier, who had offers from major programs such as Florida, Mississippi State, Georgia, and Ole Miss, possesses rare athleticism for a CAA player. He's a major piece of a shift towards more athletic, flashy guard play that the incoming class signals. Cormier will most likely be saddled with the starting point guard job from the first game of the season and a big piece of whether or not the Huskies can stage a major turnaround rests on how well he handles that crucial role.
The second piece of Northeastern's early commitment trinity is wing Jared Turner. Turner, a D.C. native, is close behind Cormier as the third highest ranked Northeastern recruit of the last 20 years, per 247 Sports. Turner is a dynamic scorer who can play both guard and forward and earned offers from programs such as Penn State and George Mason. Even more importantly for a Huskies team with a startling lack of returning shooters, he's a knockdown three point shooter who can find space for a triple easily at 6'8". On the Huskies' trip to Canada over the summer, Turner shot a sizzling six for seven from downtown in the final two exhibition games.
The trifecta of early recruits is rounded out by shooting guard Masai Troutman. An AAU opponent of Turner from Potomac, Maryland, Troutman had fewer stars on his recruiting profile than his freshman Huskies peers, but he may have had an even more eye-popping offer sheet, earning offers from college basketball powerhouses Indiana, Georgetown, and Florida. While he had less of an impact on the Huskies offseason exhibition games than his peers, Troutman's incredible hops and flashy dunks have blessed the Huskies social media accounts since his arrival. He could have a field day in the CAA as few in the league can compete with his sheer athleticism.
Once it became clear a hard reset on the team was needed, Coen doubled the size of his freshmen class to six. The first addition was 6'9" center Collin Metcalf, who is originally from Nortof, Germany and played high school ball in Mercersburg, Pennsylvania. He showed himself to be an asset under the basket on both sides of the court during the Canada trip and will likely immediately take over as the primary bench big man to hold the fort while Doherty is out of the game. Guards Harold Woods and Rashad King were the fifth and sixth additions to the freshmen class. While neither had major prospect pedigree, both flashed abilities beyond their years in Canada, eclipsing the efforts of their freshman peers in some of the games. Woods, a ​​Hammond, Indiana product, was inserted into the starting lineup for a game against reigning Canadian national champion Carleton and answered the call with 19 points and three assists. King, who comes to Northeastern by way of Evans, Georgia, came off the bench in that game to put up 13 points, four rebounds, and four assists. Both guards could be major pieces of a turnaround this year.
Perhaps the biggest addition of all will be Pridgen, who will finally return to action after sitting out last season due to transferring two years in a row. Last time Pridgen played in the CAA back in the 2020-21 season, he put up 12 points, eight rebounds, and two assists per game on great efficiency (56% shooting from the floor) for UNCW. Each of those stats would have ranked second on the Huskies last season. With him in the fray, Northeastern gains a much-needed reliable veteran scoring option.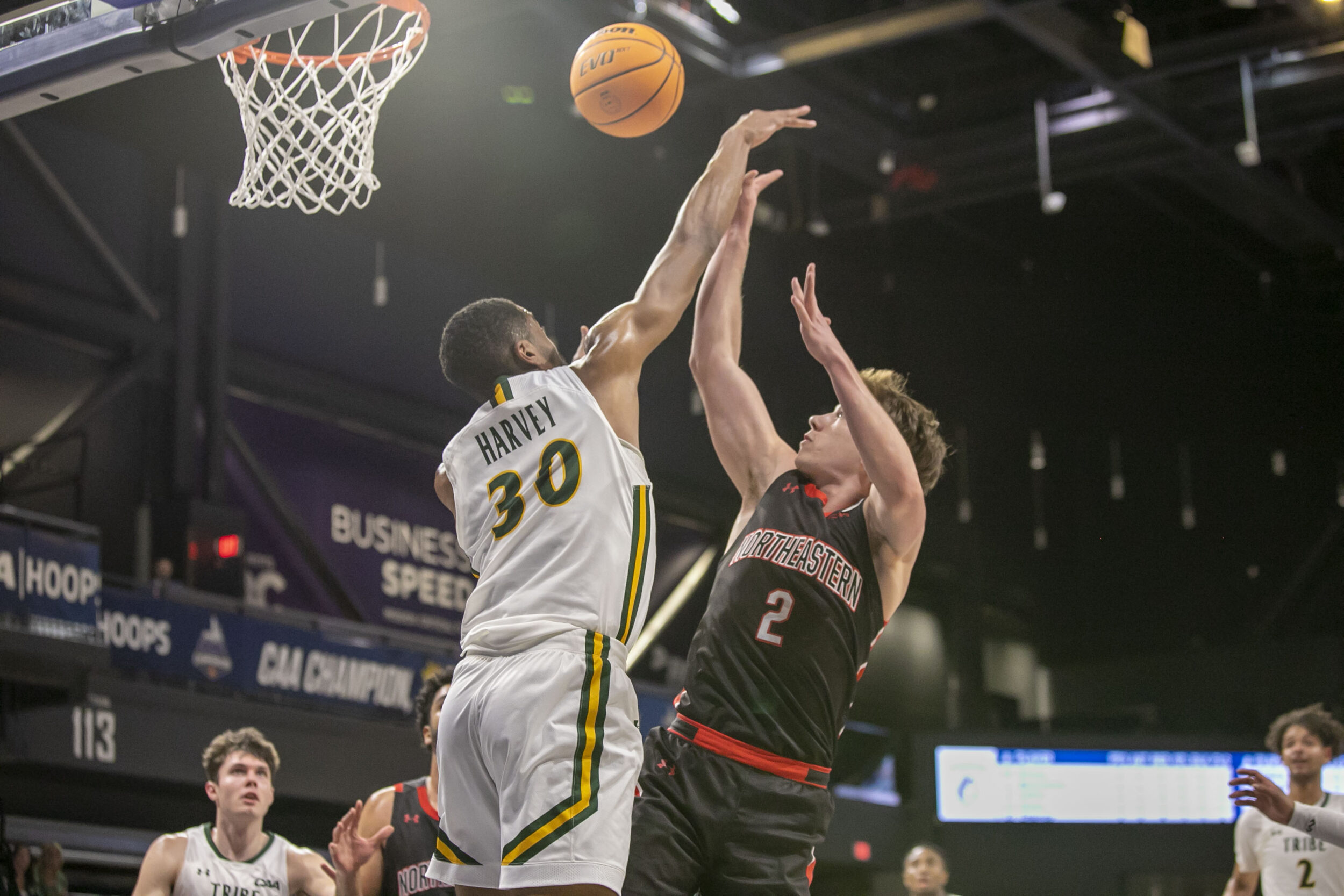 As for the returning Huskies, it all starts with Doherty, who was a preseason All-CAA honorable mention. The man in the middle was second in points and led the team in rebounds last season. As the only senior on a now extremely young team, Doherty will be asked to shoulder a major load on both ends of the floor and as a leader on the court. Doherty made huge strides scoring from the paint last season, but he will need to continue improving his discipline to avoid the fouls that plagued him and forced him to sit crucial minutes on the bench. Additionally, Doherty mentioned recently that he is working on his midrange and jump shooting game, so he may expand his game outside of dominating the paint. Overall, Northeastern needs him to put up an all-conference level season if they are to compete at the top level of the CAA.
The Husky with the widest range of outcomes is Jahmyl Telfort. Telfort was recently voted to the preseason All-CAA second team, but to maintain that status at year's end he will need to make major strides. Last year, he was simply unable to make the leap to top scoring option Northeastern had hoped for. It's possible that Telfort makes that leap a year later (especially now that he won't have to also be the lead playmaker) and reminds the CAA why he outscored Tyson Walker and Cameron Wynter in the 2021 conference tournament semifinals. However, it also isn't difficult to imagine Telfort continuing to shoot at an inefficient rate and being passed in the offensive hierarchy by many of the talented freshman guards.
As for the rest of the returners, only Coleman Stucke is likely to have a major impact this season. Stucke will likely start for Northeastern out of the gate, as they need his veteran presence in the sea of freshmen. He will also always have a place off the bench, as Northeastern is fairly thin at forward. Guard Glen McClintock may play a solid amount early in the year as well, but figures to have his minutes reduced heavily by the freshmen class, while To Randriasalama will be hard-pressed to find any minutes with so many incoming guards. Alexander Nwagha seems to be a distant third behind Doherty and Metcalf on the center depth chart.
It's almost impossible to say how well this Huskies team will perform. With so many freshmen being relied on for major contributions immediately, whether their talent will shine through the inexperience is a difficult question. There will likely be days they look brilliant and others they look like they're struggling to find their footing.
The good news is that after Towson, who projects to be far and away the best team in the conference, the CAA is wide open. Many teams lost huge names to the transfer portal and will be struggling for a new identity just like Northeastern. The CAA's four new schools — Monmouth, Hampton, NC A&T, and Stony Brook — make projecting the conference more difficult than ever, but all either struggled last year, or in the case of Monmouth, lost an armada of major contributors to graduation. The preseason coaches poll put Northeastern at sixth out of 13 schools. This might seem optimistic for a team that finished last in the conference, but with so much incoming talent, Northeastern certainly has a chance to not only match but exceed this projection.
As for Huskies schedule, there are no free wins to be had in the nonconference slate. Northeastern has only one home game in their first month of play, with the home opener against Harvard the lone outlier in a slate that would not be out of place for a power five school, including road tilts against Boston University, Providence, and Syracuse. After a trip to London over Thanksgiving weekend, Northeastern returns to face another powerhouse foe in Georgia Tech, again on the road. The nonconference schedule concludes with two home games against Georgia State and Holy Cross and two road games against Illinois Chicago and Davidson. Coen has always loved to test his teams against a gauntlet of the nation's best (and as many offensive and defensive styles as possible) during nonconference play. Some hard losses are worth it if it can turn this young team into a group that is experienced beyond their years by late December.
Will Northeastern's young talents show out and allow them return to their usual place among the CAA's elite, or will they struggle to find an identity and remain at the bottom of the league? Will Doherty and Telfort validate their preseason all-conference status or fail to step up as the team's veteran leaders? One thing is for sure: the Huskies are a very different team than last season and there are no shortage of reasons to be excited. A rapid return to the top of the league from the basement isn't just a pipe dream — with a boatload of new talent and Coen at the helm, the sky's the limit for the Huskies.
The journey starts Nov. 6 at 7 p.m. against Boston University. Be sure to listen in on WRBB 104.9 FM as Northeastern tries to extend their all-time series lead against their biggest rival.