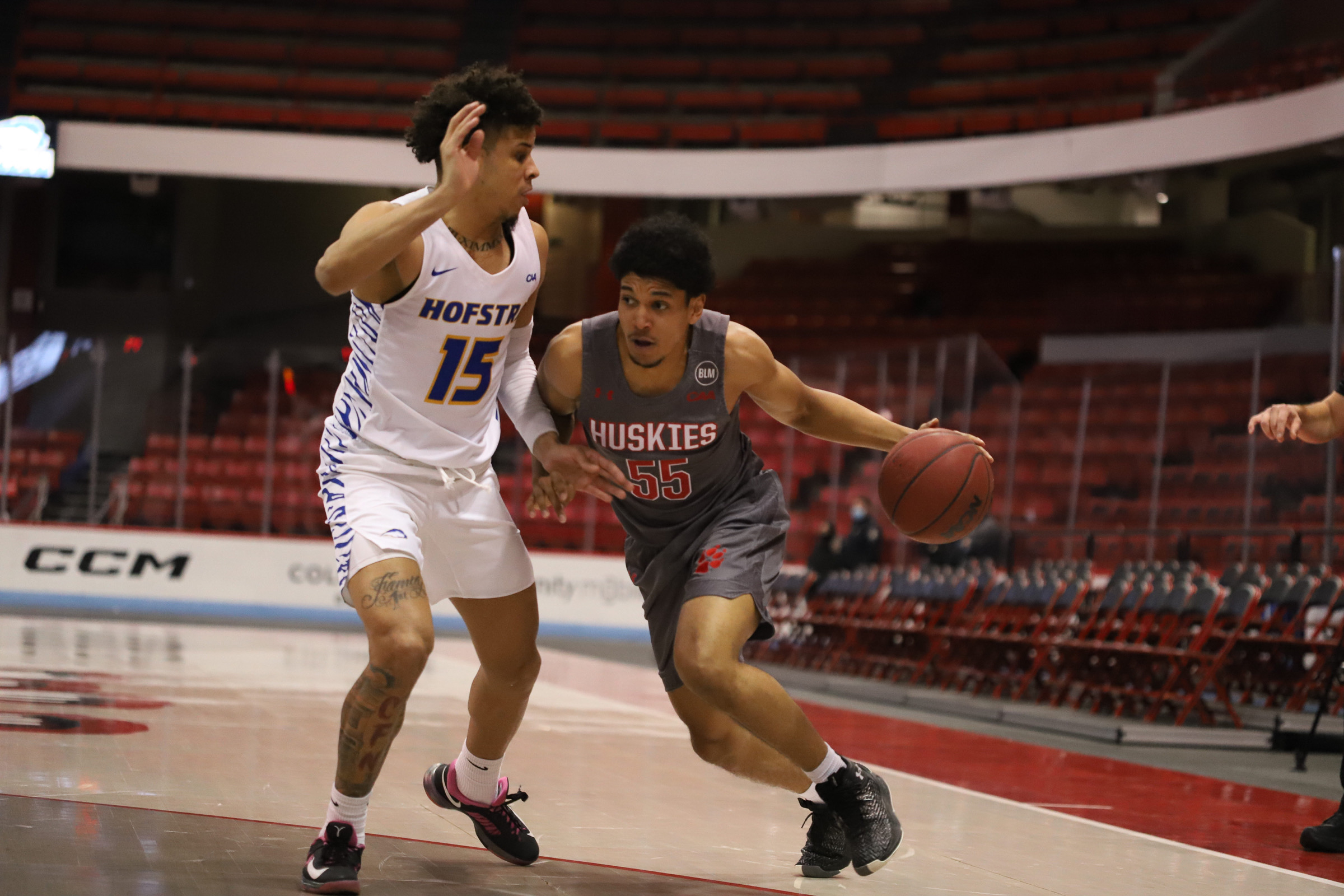 ALLSTON, Mass. — In the 150th matchup between the Northeastern men's basketball team and the Boston University Terriers, BU won 72-63, tying up the all-time series at 75 wins a piece. The Terriers were fueled by graduate Guard Walter Whyte who starred in his season debut. Whyte scorched the Huskies for a career high 27 points while compiling 13 rebounds, two steals, and two blocks.
Huskies head coach Bill Coen talked about Whyte's performance post-game.
"Walter Whyte was unstoppable tonight," Coen said. "He's an experienced player, a really talented player. Every time they needed an answer, he provided it."
Northeastern was led by junior guard Jahmyl Telfort, who immediately bounced back from last year's down season with 26 points on 50% shooting from the field.
Telfort was one of two All-CAA preseason selections for the Huskies, as he was named to the second team and fellow returnee, senior center Chris Doherty was given an honorable mention.
While Telfort tore up both the interior and perimeter for NU, the paint-bound Doherty struggled to establish himself in the contest, finishing with just six points after scoring 16 against BU last season.
Doherty's main issue was early foul trouble, leading to him playing only nine minutes in the first half. In the second, although he played nearly the entire 20 minutes, Doherty was limited to just two rebounds and two points. He was kept silent by the impressive post play of senior forward Nevin Zink for BU and stingy defenders on the perimeter denying entry passes.
With Doherty near silent in the second, another of Coen's returners stepped up to play. After showing off his skills in the transition game with four steals and three assists in the first half, junior guard Glen McClintock got things going with his shot making in the second. The junior scored eight second half points, six coming from triples and finished second on the team in plus/minus at +6.
The leader in plus/minus you may ask, freshman center Collin Metcalf who was +12 in his seven and a half minutes of relief of Doherty. He contested shots well and attacked the rim when he saw action, earning four foul shots and hitting three with a smooth release.
Metcalf was one of five freshmen who made their Husky debuts Monday night. The others presented a wide range of performances. The sixth member of the freshmen class, forward Jared Turner, was absent with a wrist injury and is waiting to be reevaluated in the near future.
Of the freshmen that played, it was guard Masai Troutman who provided the most to the team, finishing with 14 points, four rebounds, and a steal. Troutman began the contest on the bench for the Huskies but was the first man off, playing 25 minutes, fifth most on the team.
"[Troutman] has been very consistent for us in that regard [scoring], he's probably our best athlete," Coen said. "You've got to love his intensity and he's in attack mode all the time. He's a guy who is gonna get to the foul line and generate some points. He's only going to get better and better."
Troutman struggled in terms of his shooting but consistently found himself open looks, as Coen said he's always able to take it to the rim and draw fouls, attempting eight free throws in Monday's game.
The other freshman of note was guard Harold Woods who was the lone member of his class to start the game for coach Coen.
While Woods didn't make much noise on offense, scoring just five total points, the Indiana native did dominate the defensive end, swatting three shots, securing one steal and constantly hounding the opposing ball handlers for BU.
"Harold's been pretty consistent with his defensive effort and his rebounding, that's his calling card," Coen said. "He's shown an ability to make shots. He didn't do that today as well as he's done in practice, I thought he got some clean looks that just didn't go. He's a two way guy who plays with a lot of energy, a kind of on-ball defender that we need. He got the nod today, but any of those guys could've."
The downfall in the end for the Huskies was poor ball control, giving up 17 turnovers to 11 from the Terriers. Many of the mistakes that led to their loss could be attributed to poor communication and an overall lack of game experience together, which should solve itself over time.
The next game for Coen and the team will be Saturday at Providence College against the Friars. It's the first game against PC for NU since 2010-11, when the Huskies lost 77-72. WRBB will have coverage from Justin Diament and Jordan Walsh live starting before tip off, scheduled for 8 p.m.