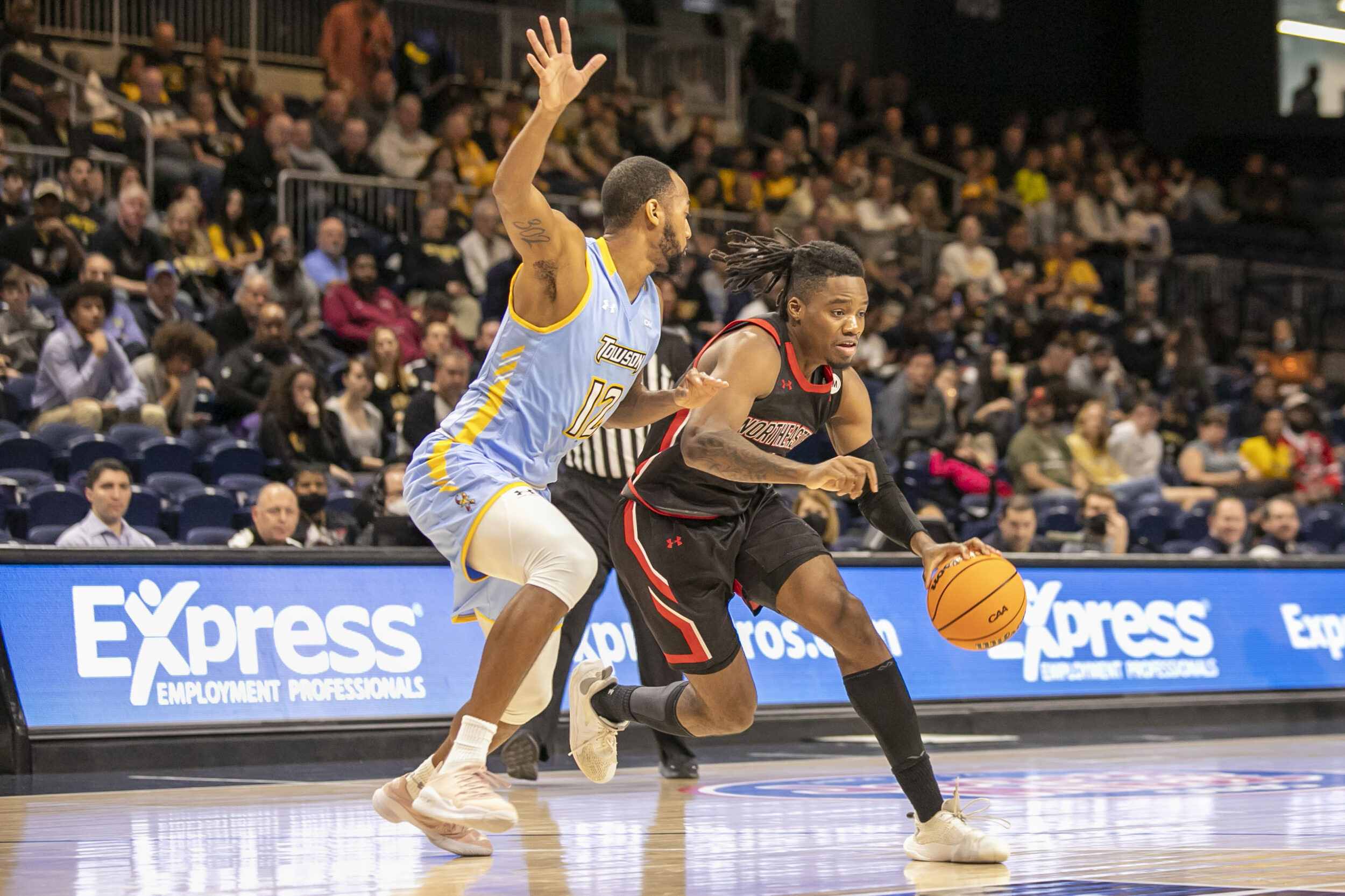 Speaking at the CAA Media Day in October, Hampton head coach Edward Joyner summed up how he's approaching this season as the leader of a program in its third league in five years: "In essence, we're playing 31 nonconference games again."
The same could be said for NC A&T, changing conferences for the third time in the past three seasons, and the other CAA newcomers Monmouth and Stony Brook. However, it could arguably apply to all 13 members of the conference. In this new era of college basketball, the introduction of the one-time transfer exception has led to unprecedented season-to-season roster turnover, making it so difficult to gauge where teams stand. Last year's CAA regular season co-champions Towson and UNCW were picked to finish eighth and ninth, respectively, in the 2021-22 preseason poll. Northeastern was ranked second in that poll, and ended up finishing dead last in the conference standings.
A conference known for its parity expanding to the largest membership base in its history means this season is wide open; don't expect the final standings to match or even resemble this order. With that being said, here is a breakdown of the expectations for each team in the CAA, ordered by their ranking in this year's coaches preseason poll.
1. Towson
The Tigers were picked unanimously by the 12 other CAA head coaches to finish first, which is no surprise, considering they return four of their starters from last year's first-overall campaign: graduate student guard Nicolas Timberlake, redshirt senior guard Cam Holden, senior forward Charles Thompson, and senior guard Jason Gibson.
Timberlake and Gibson are the team's beyond-the-arc sharpshooters, each boasting a three-point clip upwards of 40% last season. Holden is a threat on both ends of the floor, second on the team in scoring last year and second in the CAA in both rebounding and steals. Thompson is a force on the interior, second in the conference in blocks and fourth in offensive rebounding. Head coach Pat Skerry's teams have always excelled at inside play (the Tigers have been a top-50 offensive rebounding team nationally every season of Skerry's tenure), so Thompson's post presence combined with Towson's perimeter shooting will be part of a balanced and dangerous offense.
Towson does lose guards Antonio Rizzuto, who started in 27 games last year, and Terry Nolan Jr., a key part of their backcourt who led the CAA in assist-to-turnover ratio.
Transfer forward/guard Sekou Sylla, last season's Division II National Player of the Year, is perhaps the most intriguing addition for the Tigers. Sylla earned the honor as the leading scorer and rebounder on a Nova Southeastern team whose only loss all season came in the Elite Eight of the NCAA Tournament. Graduate student guard Nygal Russell, via Southeast Missouri State, is another transfer that figures to get significant minutes, as he joined the aforementioned returners in the starting lineup for Towson's exhibition game against Saint Joseph's.
The Tigers have been a member of the CAA since 2001 and have never appeared in the conference championship game. Towson is running it back this season with a team motivated by last year's semifinal loss, and as of now is the odds-on favorite to win the title.
2. Hofstra
Like Towson, the Pride is a talented team coming off a disappointing early exit in the conference tournament, although Hofstra did not return as many players as the Tigers did. Guards Jalen Ray and Zach Cooks, who have almost 4,000 career points combined, both graduated, while guards Omar Silverio and Caleb Burgess and forwards Abayomi Iyiola (the team's leading rebounder) and Kvonn Cramer transferred.
The Pride lost more than 60% of their scoring, but the roster got a huge boost when redshirt senior guard Aaron Estrada chose to withdraw from the NBA Draft and return to Hempstead. The 2022 CAA Player of the Year was picked as this season's Preseason Player of the Year, and he will be expected to once again lead Hofstra in scoring. Sophomore guard Darlinstone Dubar, who was voted by CAA coaches as this season's breakout player in a poll, is the other starter returning to the Pride. Dubar is listed as a guard, but standing at 6-foot-8 most often plays as a forward and has defended multiple positions.
Hofstra's biggest addition may be redshirt senior guard Tyler Thomas, who led Sacred Heart in scoring last year. Estrada and Thomas will be a dangerous duo of shooters, especially if Dubar can provide spacing through his presence in the frontcourt. Head coach Speedy Claxton also picked up a big through the transfer portal in graduate student forward Warren Williams, who spent four years at Manhattan. Claxton has been impressed with Williams' play so far, calling him a "pleasant surprise" at the CAA Media Day.
Hofstra last won the conference tournament in 2020 but was denied a March Madness appearance due to the pandemic. The Pride have not appeared in the NCAA Tournament since 2001, but they look to be a top CAA contender this year in Claxton's second season at the helm and with Estrada leading the way.
3. Delaware
The Blue Hens are another team that returns their top scorer from last year but loses several starters. Forward Dylan Painter and guards Ryan Allen and Kevin Anderson all graduated, while junior forward Andrew Carr transferred.
Redshirt junior guard Jameer Nelson Jr. is returning and will aim to replicate his team-high production last season (13.6 PPG). Nelson will step into the role of leading point guard with the departures of Allen and Anderson, and figures to be the key cog in head coach Martin Ingelsby's motion offense.
Redshirt sophomore forward Jyáre Davis is probably riding the most momentum of any Blue Hen entering this year. After averaging just 4.5 PPG in the first 17 games of last season, his role was elevated after Painter suffered an injury. Davis averaged 16 points per game the rest of the season, starting every postseason game after coming off the bench in all of his regular season appearances. He was named the CAA Tournament Most Outstanding Player after scoring 49 points in three games, leading Delaware to its first NCAA Tournament appearance in eight years.
Senior guard Ebby Asamoah also returns, the Blue Hens' best volume three-point shooter last year, shooting 39% on 133 attempts. Inglesby was able to add an even more impressive deep shooter from the transfer portal in graduate student guard LJ Owens, posting a 43% clip from beyond the arc last season at UMBC.
Delaware will look for Nelson to adjust to his heightened role in stride and for Davis to build off of his scintillating February and March, as the Blue Hens aim to become the first team to win back-to-back CAA Tournaments since UNCW did it in 2017.
4. Charleston
When Pat Kelsey was the head coach at Winthrop University, he instituted a high-tempo style of play that led to four regular season conference titles in six years. He brought the same pace to Charleston in his first year with the Cougars last season, inheriting a team that had the 13th-slowest KenPom adjusted tempo in the country in 2020-21 and turning it into the second-fastest in the nation. However, while his successful Winthrop teams had decent ball control, Charleston was sloppy last year, averaging almost 16 turnovers per game, 10th-worst in the country.
The Cougars' best returning shooter is sophomore guard Reyne Smith, second on the team in scoring last season, averaging 12.1 PPG. Sophomore forward Ben Burnham, a solid inside presence who joined Smith on the CAA All-Rookie Team last year, is the other starter sticking around for Charleston.
Among several acquisitions from the transfer portal, Kelsey picked up graduate student guards Ryan Larson (via Wofford), who will likely be the Cougars' lead point guard after junior Brenden Tucker transferred out this offseason, and Jaylon Scott (via Bethel College), winner of his NAIA conference's Player of the Year and Defensive Player of the Year awards last season. Five freshmen also join Charleston this year, including guard Jordan Crawford, a three-level scorer who was a finalist for the North Carolina Mr. Basketball award.
Kelsey's squad will again attempt to push the pace this season. If the Cougars can protect the ball, they should be a legitimate contender to return to the NCAA Tournament for the first time since 2018.
5. UNCW
The Seahawks were perhaps the most surprising and exciting team in the CAA last season, just one year after finishing dead last in the conference in a campaign decimated by COVID-19. This season, UNCW loses guards Jaylen Sims, an All-CAA first team selection last year, Mike Okauru, and James Baker Jr., but returns senior guard Shykeim Phillips and sophomore forward Trazarien White to the starting lineup.
Phillips is an excellent defensive guard, leading the Seahawks in steals last season (65), and is the best returning shooter for UNCW, averaging 11.3 PPG on a 47.5% clip from the field. The Seahawks were a very guard-heavy team last year, so the additions of graduate student center Victor Enoh (Marist) and sophomore forward Eric Van Der Heijden (Ole Miss) via transfer will bring size to UNCW's frontcourt and should improve their rebounding. Head coach Takayo Siddle also added two guards on opposite ends of the height spectrum in 6-foot-1 junior Donovan Newby (Milwaukee), a solid ball handler and shooter, and 6-foot-7 senior Maleeck Harden-Hayes (North Dakota State), a deep-threat wing.
The Seahawks will try to ride the momentum of their College Basketball Invitational championship, hoping to replicate last season's success. If it's anything at all like last year, expect plenty of close finishes.
6. Northeastern
Head coach Bill Coen described the Huskies' 2021-22 season as "kind of like Murphy's law: anything that could go wrong did go wrong." Guard Joe Pridgen was forced to watch the season from the bench after his waiver request for an intraconference transfer from UNCW was denied. Guard Tyreek Scott-Grayson's season ended in December due to injury. And Northeastern could not fill the void at point guard left by Tyson Walker post-transfer to Michigan State — Jahmyl Telfort struggled in his second season, and while Air Force transfer Glen McClintock was serviceable his sophomore year, he was not brought in for the lead role.
The Huskies lost just over half of their scoring this offseason, most of that via the graduations of guards Nikola Djogo and Shaquille Walters and forward Jason Strong. Bucking a trend seen throughout college basketball, Coen did not sign a single transfer and instead brought in a class of six freshmen. Guard Chase Cormier leans more towards the shooting guard position, but is capable of starting at the point and will likely have to do so out of necessity. Four other freshmen — guard/forward Jared Turner and guards Masai Troutman, Harold Woods, and Rashad King — all bring reliable wing shooting.
Redshirt senior forward Chris Doherty, a force down low and one of the best rebounders in the conference, averaging 8.9 per game, was the most consistent player for Northeastern last year. Defenses collapse on him when he's in the paint, opening up perimeter shots. However, the Huskies' shooting struggled mightily last season, even when they were able to get clean looks. The influx of freshmen guards as well as Pridgen's return to the court should help to maximize Doherty's impact and keep defenses honest.
The Huskies may have the biggest difference between their ceiling and floor out of any CAA team. A young team will naturally come with some growing pains, but if the squad is able to gel, they should be able to show that last season was the exception and not the norm for this program.
7. Drexel
The Dragons lost their top three scorers this offseason: guards graduate student Camren Wynter and sophomore Xavier Bell transferred, while guard/forward Melik Martin graduated. Drexel does return their big man, forward Amari Williams, who was named the CAA Defensive Player of the Year last season after leading the conference in blocked shots per game (2.0). Also returning to the Dragons are fellow starters graduate student guard Coletrane Washington, who led the team in three-pointers per game last season (1.5), and senior forward Mate Okros.
Similarly to Northeastern, Drexel is bringing in six freshmen rather than adding impact transfers. With the offseason departures, the Dragons' backcourt is thin, particularly at point guard with the absence of Wynter. Freshman Justin Moore is a true point guard who may see minutes right away due to Drexel's lack of depth at the position, while combo guard Shane Blakeney is another first-year who could impact the backcourt early on.
The Dragons are only two seasons removed from their surprise run to the NCAA Tournament in 2021, a recent reminder that anything can happen in March. Drexel can build off of Williams' superb rebounding and rim protection, and if they can get their offense to click, they could be a threat to advance in the postseason.
8. William & Mary
The 2021-22 campaign was a season to forget for Tribe fans. William & Mary went 4-14 in CAA play and finished second-to-last in the conference standings, only ahead of Northeastern, who held the Tribe to 28 points in the penultimate game of the regular season and knocked them out in the play-in game of the conference tournament. William & Mary had one of the worst offenses in the nation, with the sixth-worst offensive turnover percentage in Division I. In the offseason, the Tribe lost almost two-thirds of their scoring, with guards junior Connor Kochera, sophomore Julian Lewis, and junior Yuri Covington among the transfers out, and guard/forward Brandon Carroll graduating.
Junior forward Ben Wight, William & Mary's reigning top scorer at 11.6 points per game, returns for the Tribe, along with sophomore guard Tyler Rice, coming off a CAA All-Rookie selection last season. Among several transfer additions by head coach Dane Fischer, sophomore guard/forward Gabe Dorsey (Vanderbilt) is a three-point sharpshooter and driver, while junior forward Noah Collier (Pittsburgh) should add strong rebounding and defense down low.
With plenty of roster turnover, Fischer brings in a balance of experience through high-major transfers and youth in the large freshman class. CAA coaches ranked William & Mary as the conference's sleeper team, so there is clearly respect around the league for a program coming off such a dreadful season. The Tribe will hope to put the past behind them as they seek their first NCAA Tournament bid in program history.
9. Stony Brook
Last season, the Seawolves got out to a 5-2 start in America East conference play before it was announced that they were banned from participating in the conference tournament due to their then-impending move to the CAA. Whether by coincidence or not, Stony Brook went 5-6 to finish out the season after finding out they had nothing to play for. Now, they are full members of the CAA, sharing a conference with Long Island rival Hofstra for the first time.
The Seawolves lost several of their highest-scoring guards during the offseason, with leading scorer Anthony Roberts declaring for the NBA Draft, Tykei Greene transferring out, and Jahlil Jenkins graduating. Senior guard Tyler Stephenson-Moore, a 45% three-point shooter last year, and graduate student forward Frankie Policelli are the returning starters for Stony Brook. Head coach Geno Ford added graduate student guard Aaron Clarke via transfer from Sacred Heart to run the point, coming off a season in which he led the Northeast Conference in assists per game (4.1). The Seawolves also add a pair of 7-foot centers to their frontcourt in graduate student Keenan Fitzmorris and freshman Rocco Muratori, the latter of which stands at a whopping 7-foot-3.
Stony Brook is the highest-ranked of the four CAA newcomers in the preseason poll, albeit in the bottom five overall. The Seawolves will fit right into the league with their guard play, and could be a sneaky contender in a conference that is not as familiar with them.
10. Monmouth
The Hawks had the most successful year last season of the four newcomers, advancing to the Metro Atlantic championship game and falling to eventual NCAA Tournament Cinderella story Saint Peter's. However, head coach King Rice lost all five of his starters, with guards George Papas, Shavar Reynolds Jr., and Marcus McClary along with forward Walker Miller all graduating, and forward Nikkei Rutty opting to transfer for his fifth year.
Junior forward Myles Foster is a key returner who will bring solid rebounding, while junior guard Myles Ruth is also back for the Hawks and will likely inherit the lead point guard role from Reynolds. Though last season's entire starting lineup left the team, many bench players stuck around, so there will be at least some continuity for Monmouth. Rice also welcomes a freshman class featuring guards Jack Collins and Andrew Ball as well as 7-foot-1 center Amaan Sandhu, the first Indian-born player to receive a scholarship to play Division I men's basketball.
After losing more than 80% of their scoring this offseason, Monmouth is essentially in "rebuild mode" as they get acclimated to the CAA. This young squad could end up being part of a core similar to the group that just graduated, and it will be intriguing to see how the Hawks are able to mesh this season.
11. NC A&T
As mentioned earlier, the CAA is the Aggies' third conference in three years. A longtime member of the Mid-Eastern Athletic Conference, NC A&T had a one-year stint in the Big South last season before coming to the CAA. To add on to the whirlwind of conference changes, the Aggies fired former head coach Will Jones in August and named Phillip Shumpert as interim head coach for this season, although they don't appear to have suffered from any decommits or transfers despite the late change in leadership.
Guards Tyler Maye, David Beatty, and Kameron Langley all graduated after last season, as well as forward Collin Smith, a rebounder on both ends of the floor. However, leading scorer and rebounder Marcus Watson, a redshirt junior forward, is returning to Greensboro, along with senior guard Demetric Horton, who was second in both those categories last year.
The Aggies brought in a pair of true freshman guards in three-star recruit Tyrese Elliott and Garrison Powell, who would both figure to get minutes considering NC A&T's backcourt departures. Sophomore guard Kam Woods, who scored 17 points in the national junior college title game last season, should also be a key part of the Aggies offense.
NC A&T is once again embracing the challenge of a new conference, with a new head coach not making it any easier. The Aggies have plenty of talent and might end up being underrated in this poll. While they will try to make the NCAA Tournament for the first time in ten years this season, the program is building towards more sustained success in the CAA.
12. Elon
Another team with an offseason coaching hire, the Phoenix selected Billy Taylor as their new head coach after Mike Schrage left for an assistant position at Duke. Elon's top three scorers from last season also left, as guards Darius Burford and Hunter McIntosh as well as forward/center Michael Graham all transferred out.
The Phoenix do return four dual guards/forwards in graduate students Torrence Watson and Jerald Gillens-Butler, senior Zac Ervin, and junior JaDun Michael. Redshirt senior center Andrew Junkin will likely take Graham's place in the starting lineup. Elon brings in several transfers, including graduate students guard Sean Halloran and forward John Bowen III, both of whom Taylor coached when he led Division II Belmont Abbey.
The Phoenix had poor metrics in nearly every category last season, although Graham's rebounding and defense stood out. Taylor will likely have his work cut out for him this season, but a solid freshman class that includes guard LA Pratt, guard/forward Max Mackinnon, and forward Deandre Smart could be a foundation for the future.
13. Hampton
Edward Joyner's teams have been in the top 80 nationwide in KenPom adjusted tempo for the past five years, and there's no indication that this season will be any different. The Pirates will push the pace while emphasizing defense, and it will be interesting to see how that translates to the CAA.
Senior guard Deuce Dean returns to man the point for Hampton, while Joyner gets a great transfer pickup in sophomore guard Jordan Nesbitt, a starter at Saint Louis last season. Senior guard Marquis Godwin joins Dean as the other starter to return for Hampton. The Pirates do lose a handful of contributors, most notably power forward Najee Garvin, who averaged more than 15 PPG last season.
Hampton and NC A&T followed each other from the Big South to the CAA this offseason, and the addition of two premier HBCUs to the conference is a great step for the league to take. Hampton was always a top contender in the MEAC, and made a national postseason tournament for six consecutive years in a stretch from 2014 to 2019 that included back-to-back NCAA Tournament appearances. The Pirates will look to get back to that level of play in a league that is a step up in competition compared to their previous opponents.